Posted in SHOFT on Friday 20th April 2012 at 11:04pm
---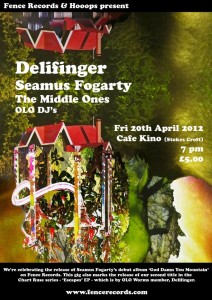 There are some bits of Bristol which I very rarely visit these days, but which were once frequent haunts in my youth. One of these is Stokes Croft, most recently famous for local efforts to resist a new Tesco store and now something of a bohemian, multicultural enclave. As I waited to head for tonight's performance I reminisced about the area and - I'll be honest - it wasn't always quite like this. My own memories focused on bewilderingly threatening graffiti, grimly dangerous pubs, methadone queues and creeping dereliction. But following a walk through what was once an isolated, sunken network of subways and which is now the newly christened 'Bearpit Open Air Gallery', the revitalised and re-sited Café Kino is something of a surprising triumph for localism. Upstairs, all manner of culinary delights are served alongside good Fairtrade coffee and organic beer while downstairs is a sizeable performance space with a low stage, plenty of seats and a bit of ramshackle charm. All of this run under the auspices of a successful Social Enterprise too. The ideally defiant and unusual venue then for another Hooops! night - by my calculation the fourth in fact. Tonight's show once again used the familiar formula which has worked well so far - taking advantage of artists passing through on tour, and combining this with local opportunities. Whether by happy accident or design these Hooops! nights manage to become significant events in their own right and this was, after all a double record launch event which coincided with Record Store Day. However, that event with all it's fetishistic vinyl releases meant that tonight was almost a launch night without any records, as the few remaining pressing plants creaked with the demand of producing special editions for tomorrow's festival of retail.
Tonight's opening act harked back to Bristol's past too in some ways, invoking something of the guileless honesty and simplicity of the city's indie-pop past and the spirit of Sarah Records. The Middle Ones are Anna and Grace tonight, although I understand there are sometimes others too depending on where and when they convene. For this evening, their set-up is simple - a single guitar, two voices and lots of nervous giggling. As one of the duo hails from Bristol, there is something of a local following and it's good to see their set getting a great response from the small but growing crowd. The charm of The Middle Ones lies in those little off-mic whispers, the occasionally fluffed guitar chord and the sometimes wayward vocals. Because, when these two start to get comfortable within a song, when their voices manage to do the strange, twisting and turning around each other thing, and when suddenly it all shifts into focus this is really rather good. Bands just don't sound like this just now, perhaps because it's not hugely fashionable to - or perhaps because this kind of exposed, heart-on-sleeve artistry is actually pretty hard to get right? The short set touched lyrically on just the areas that perhaps you'd expect - love found, love lost, love unrequited - but it did so in a surprisingly frank and down-to-earth way, that managed to avoid contrivance and cringing. That's no small feat for this embattled old hack, and there is something refreshingly uncomplicated about The Middle Ones which makes me feel both much younger and much older all at once. They just don't make music like this anymore.
I wondered if seeing Seamus Fogarty performing twice in the space of a week would detract from the experience, but I'm happy to say it didn't at all. A quietly polite, unassuming gent, it's sometimes easy to forget Fogarty's fund of tales and experiences. Far from that straightforward and woefully inadequate description singer-songwriter, once again he used this to support a set of beautifully spun songs which seemed to emerge from chaos and confusion, coalescing into mesmerising, quietly beguiling pieces of music. Despite having set up a complicated mess of electronics, he once again decided to focus on his guitar and voice. While he told his strange, sometimes almost surreal stories to the rapt, silent audience he would tune the guitar. Sometimes this would go on for quite a while, but suddenly without even realising it had begun and the song would emerge slowly and quietly from the tuning. Fogarty's storytelling skills were effortlessly extended into his songs, and while some familiar material from last week's Eye o' The Dug performance re-emerged, there were new delights too. This included a hark back to his "country phase" with a curiously misogynistic ballad which he assured the audience wasn't representative of his views these days. Seamus was keen to promote his new album "God Damn You Mountain" which had arrived just hours before the show - but perhaps not for the self-gratifying reasons you'd expect. Rather, he was dreading the experience of persuading Ryanair to carry even a gram of extra luggage without him parting with a huge fee. This meant the hugely frustrating experience of seeing, touching and very much wanting a record but knowing that my own copy is still winging it's way to my home from rural Fife. So near and yet so far, and made all the worse by the fact the album is a very beautiful artefact in itself. Tracks from the tantalisingly close at hand album made up much of the rest of the set with "The Waterside" forming a surreal and lovely highlight with its curious images of "birds with dinosaur bodies". On record this is a jittery, busy shuffle of a track, but here it's delivered slowly and reflectively, with Fogarty's voice no less brimming with emotion and gravity than when he's tackling darker lines. While you hope Seamus got his albums home safe, it's hard not to wonder if that story too will crop up sometime, buried in a song and delivering the little moments of light relief which pepper this warmly and genuinely appreciated set.
Headlining tonight, and due to the manufacturing delays sadly minus the Fence "Chart Ruse" EP that he was here to launch Delifinger took the the stage with his stony-faced but highly effective band of musicians. Looking much more relaxed in this more intimate setting Matthew Lacey began a set which pulled off exactly the remarkable trick he manages on record - that is, to take the popular music of the last four decades, throw it into a blender with a little of the oddness of his other project OLO Worms and some vintage electronics, and to turn out something much greater and far better sounding than the sum of these varied parts would suggest. The new "Escapes EP" was aired in full with "Take It Slowly" becoming a collision of easy-listening, country, pop and strange, warbling synth sounds which worm their way dangerously into your consciousness. In fine voice, Lacey switched moods and delivered the sinister "It's Not Going To End Well For Me" against an ominous rumbling bassline provided by Paul McGuinness who quietly patrolled the back of the stage. The title track, "Escapes" is as edgy and pensive as on record with weird shudders of electronica supplied courtesy of Rich Amino who emerged from behind the worlds tiniest electronic drumkit to do the honours. It's sometimes hard to determine whether this is a futuristic take on music from the past as filtered through a fine record collection and an ear for a cracking melody, or whether perhaps this is what they seriously thought music would be like in the future? I can picture Delifinger on Tomorrow's World, representing how life will change by 2012. But the star turn here is the songwriter, with his simple but atmospheric tunes and mildly disturbing but always affecting words. If there is ever a Delifinger album - and mid set I'm almost convinced I should start seeking the finance to make sure there is such a thing - it will, just like tonight, sound like a time machine. An odd, clattering and whirring thing which once it has reached the correct operating frequency hums and sings wonderfully through the ages of pop. Timeless is an over-used word in the reviewer's lexicon, but for Delifinger tonight it's a highly appropriate one.
Sadly, all too soon it was time to pick my way through the seething mass of humanity which Stokes Croft had become during the time I'd spent in the strangely soothing bubble of Hooops!. Leaving folks chatting about Record Store Day, and then seamlessly moving on to obscure heavy metal picture discs and classic local gigs of the past, it was very tempting to stick around and miss the train - but I'm getting too old for sleeping in subways, even if it is now part of an art installation. Whilst this was a quiet, relaxed and understated sort of evening it was also a chance to witness some musicians who seemed to be enjoying absolutely doing something a little different from the norm. If these nights have a guiding philosophy at all, then that's probably the part that appeals to me. Gigs that no-one would ever dare put on, here in Bristol. You'd be a fool to miss this...