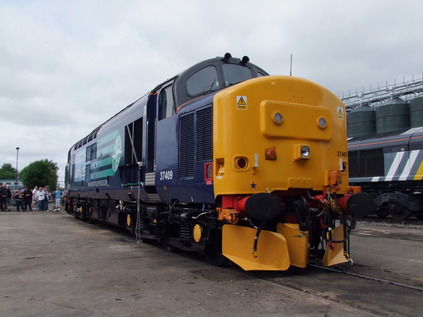 Posted in Railways on Saturday 10th July 2010 at 10:57pm
---
DRS Open Days are a lottery...you punch your email in each year, and maybe a ticket will arrive in due course. It never has for me. This time around, by buying a copy of their actually very classy looking calendar, I assured myself of the chance to get into Gresty Bridge Depot. Even then, there was no word from DRS until a couple of weeks before the event - and a speculative booking to Crewe looked like it might need to be extended elsewhere. However, eventually the ticket arrived and I found myself boarding the early train today with a bunch of locals all heading the same way. There was a sense of occasion which harked back to the last open day at Crewe Works in some ways - and though this was on a much smaller scale, there were a good few familiar faces heading north. Changed onto the quiet and thankfully cool Voyager at Bristol, and had breakfast and a chat with some cohorts before another change at New Street. A few among us hadn't experienced the Class 350 before and were pleasantly surprised as modern units go. Like always when large groups of cranks are in one place, the atmosphere became a strange mixture of humour, extreme seriousness and plain oddity. Enjoyed the ride up through Stafford to Crewe very much.
At Crewe, decided to wait for the Swindon-Llandudno charter to pass through before heading for the Depot. This had 47270 at the helm, and I was keen to get a shot as the last time I'd seen this loco it had been very dark indeed! A fair crowd was in evidence which signalled a busy day at the Depot. Had already decided to walk if the heritage bus service was busy, but on heading out of the station found one waiting with plenty of seats available for the short run down Gresty Lane to the gates. The bus used the entrance to Freightliner's side of Basford Hall Yard as a turning circle too, giving a tempting glance over the sidings! A short walk into the depot, and charitable donation made, we were greeted with a small site teeming with DRS locos. The crowds and the lack of space made moving around without getting in someone's shot fairly challenging, but most people managed to be fair and polite about it - certainly an improvement on some open days I've attended.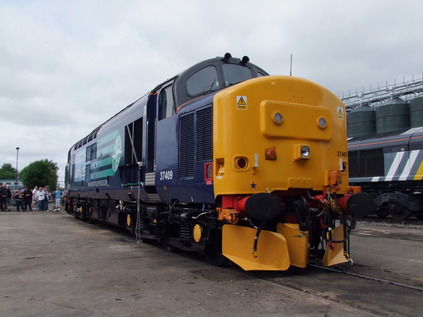 One of the highlights of the day was the naming of refurbished 37409 as "Lord Hinton" by the grandson of this pioneer of the nuclear power industry. As 37409 will play a part in the final MAGNOX decommissioning programmes, it seems fitting that the loco should be named after the man who started it all. Will be good to see 37409 out on a tour soon too, as the loco looks and sounds fantastic. Also in attendance was a line up of four out of the five 66/3s, latterly owned by Fastline until the liquidation of Jarvis, their parent company. These locos formed the boundary of the site, and there were frequent dashes to the ends of the line of engines to see what was happening on the mainline, with some interesting Freightliner manoeuvres happening. Given the recent lack of Class 20s on tours, it was notable that only two were in evidence, a very tidy looking 20308 and a rather forlorn 20306 marked up as "on decision". With the commitment to provide locos to TfL for Underground stock moves, trips behind these venerable locos will become something of a rarity. It will be interesting to see what happens to the upcoming multi-traction tour on 31st July in fact...
In conjunction with the DRS event, the Heritage Centre at Crewe was also offering reduced price entry to ticket-holders. So, after a quick lunch and a final wander around the now very busy and very hot site, we boarded the bus once again. I hadn't been to what was formerly known as "The Railway Age" for a good many years, and it was great to see the prototype APT-P still on display. The interior of a number of the coaches seemed to have been tidied up somewhat - but I don't think some among us realised quite the effort this had taken, with the project literally dumped by BR and the preservation a seeming impossibility back then. Thought a bit about how we'd got into the strange mess of imported vehicles, cancelled orders and complicated railway politics, before moving on to look at 87035 'Robert Burns' resplendent in BR Blue - another age of West Coast motive power, which had outlived the APT and only gave way almost 30 years later when we imported a train which built on our own work in the field of high speed travel.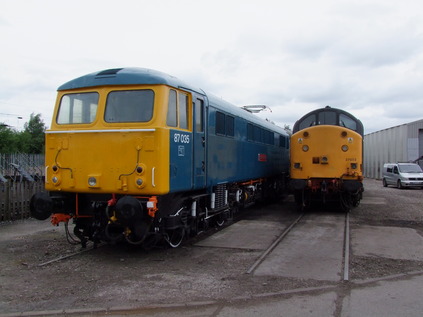 Shook off the gloom with a turn on the break van rides, hauled by 03073 along the short stretch of track near the relocated Exeter West signal box! Then, had spell on the viewing platform at Crewe North Junction, and a pleasant walk back to the station. Arrived to find 47826 and 47851 passing through for a crew-change, before watching the loco-hauled Holyhead arrive and detach it's loco. Plenty of activity and a chance to sit and watch the station go about it's business. At this point our little group parted - some booked on different trains, others deciding to take a different route home. So, I settled into my seat on a pleasantly cool Virgin service back to Birmingham, and caught up with some listening as we sped south. It had been a good, old-fashioned open day with plenty to see and a chance to catch up and chat with people. A welcome diversion from the strange situation I find myself in at work too. DRS put on a fine display and I hope I can somehow find a way to the next one too.