Posted in Railways on Saturday 3rd July 2010 at 10:07pm
---
After seven weeks of charter trains which have all gone amazingly well, there was something strangely exciting about being on my own plan today. It seemed like a long time since I'd constructed an itinerary and decided where to stick with the plan and where to deviate. What better place to do this than London - and with the East London Line having reopened for business at the last timetable change, this was the obvious aim for today. I'd sketched out a rough plan and set off - a very familiar move to start, with the first train out and a change at Weston-super-Mare onto a cool, quiet HST bound for Paddington. The morning promised to be fine, and it was fantastic just to sit back and enjoy breakfast as we sped east, catching up on some listening along the way. It had been a tough week in lots of ways, and despite ending a little more hopefully than it started, there was plenty of stuff to try not to worry about which I almost achieved on the run in to London. I'd checked the status of the Circle Line and knew I'd be getting a bus for the next bit of the journey, so I deftly skirted the groups of meandering early tourists and found my way to a 36 heading for Victoria. Amazed at how hot the day was already, and also by the amount of early traffic. There were a number of events on in Central London today, which were probably contributing to this, but I also spotted some tell-tale incident tape sealing off a restaurant on Edgware Road - although the story hadn't surfaced as to why just yet. At Victoria, time to get a good coffee and still make an earlier train to Crystal Palace than planned. Onto the surprisingly quiet 09:36 which was soon scudding along the viaducts of South London, through Clapham Junction and the suburbs. Hopped off at one of the curved through platforms at Crystal Palace, and walked into the impressive main train shed, using the long staircase to reach Platform 5 which has been created as the current terminus of the East London Line. 378225 was just arriving as I did, and I managed a sneaky picture as it drew quietly to a halt.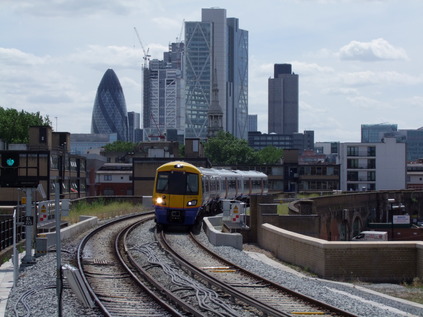 A quick turn around, with the notoriously efficient air-conditioning providing a pleasantly cool atmosphere. I began to find the longitudinal seating frustrating almost immediately however, particularly as I was keen to see what had changed on the route. Once through New Cross Gate, we soared over the new bridge and descended beside the depot. For a brief stretch here I was on new track, as I'd left the East London Line undone south of Rotherhithe when I first visited. At Canada Water, noted that the Jubilee Line was closed today - another possibility, which would now have to wait. Instead pressed on under the Thames on more familiar track to Whitechapel. From here the line began to climb, away from it's former alignment which terminated at Shoreditch Station just east of Brick Lane, and into the new Shoreditch High Street in a concrete box high above the street. Once underway again, the line swung onto the alignment of the former lines to Broad Street, a generous four track brick viaduct now carrying our two lines. After a curve into Hoxton the line ran dead straight alongside Kingsland Road, flying over the Hackney rooftops before dipping down into the dark, cool box of the new Dalston Junction station. No time to explore the four platform terminus as we were encouraged to leave swiftly, and I soon found myself above ground in startlingly bright sunshine with the Dalston traffic whirling around me. Wandered up to Ridley Road to take some pictures and get some provisions, before heading back to the station.
I was determined to cover all the branches and routes on the new line, so I set off again this time heading south to New Cross, the other 'leg' of the original line. After retracing our steps to Surrey Quays, the line branched with a junction allowing further expansion for the planned extensions. The line curved away to run alongside the tracks from London Bridge, terminating at a platform on the eastern side of New Cross station. Out of the station briefly before heading back onto the same unit to return to Surrey Quays, and a dash over the bridge to get a West Croydon bound service. With the lines now complete, I decided to return to Hoxton, wanting to get some pictures of the line in operation. Found the station deserted, but was troubled by the thought of security cameras. Found my spot and in my haste, shot a blurred and unfocused image. With station staff starting to take notice of me, I decided to hop on the next train up to Dalston, and to return on the other platform. Finally got my shot of the train and the city, and headed south to Wapping. This was a visit I'd planned to try many years back - but which the long closure of the line delayed. The station here is an immense brick shaft, with a spiral staircase curving around lifts. Took the lift to street level and emerged in a peaceful and very hot Wapping High Street. Explored, and finally found St. Hilda's Wharf and a worn stone staircase to the Thames shore. Spent a little while in this quiet spot, watching the city around me. Sometimes London produces these strange, quietly magical moments - and this one made up for a week of pretty difficult stuff. I was sorry to leave the spot to the locals, but I needed to head back west.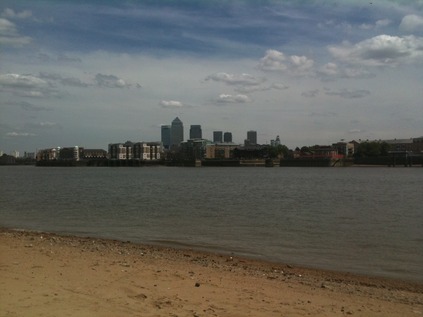 With the Circle Line out of commission, I decided to head back to Whitechapel, surfacing in the busy street to catch a 205 back towards Euston. Things seemed to go well until we became ensnared in traffic around Kings Cross. As time ticked by, I contemplated seeing the journey all the way through to Paddington just in case things didn't ease. However, I hit on a plan to use an old faithful route to get back - and the times worked pretty well too. So, in to Euston and onto the 16:04 train to Harrow and Wealdstone. Grabbed a drink from the now almost familiar newsagent and basked in the afternoon sunshine, watching trains from the platform. Flagged a Euston service back, and plumped for the next Milton Keynes train which retraced our steps past Willesden Depot, where a line up of new units - including several of the elusive new Class 172s - was in evidence. After diving under the mainline, we resurfaced to take the line via Acton Wells to West Brompton. A swift cross-platform change and I was soon squished into a District Line train back to Paddington, full of slightly jaded looking crowds just out of Wimbledon.
Reflecting over a quality coffee whilst waiting for the customary 19:00 back home, I realised that today was, in a sense, just what I needed. The last few weeks have been an amazing experience - and seeing vast swathes of the UK has been fantastic. But sometimes it's the unexpected twists that journeys take which make them all the more interesting. As ever, London offers more twists and turns than anywhere else - from teeming Ridley Road to the quiet beach at Wapping. The future feels terribly uncertain, but I hope I get the chance to continue with these travels.