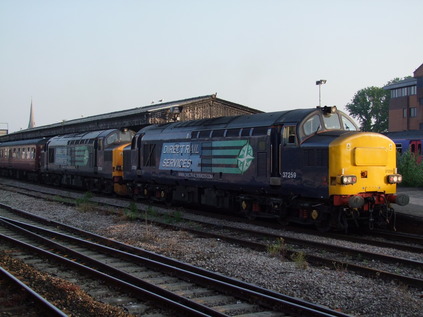 Posted in Railways on Saturday 26th June 2010 at 11:55pm
---
I've always enjoyed wandering around Gloucester, and it was one of the first places I decided to visit when I started using trains to explore my independence many years ago. However, I was amazed to find how early everything seemed to shut up shop last night, leaving the city centre deserted and very quiet aside from the odd pub or club where people spilled out onto the pavement to smoke or enjoy the warm evening. I was in Gloucester because the last trip of my now near-infamous 'UK tour' started, rather unusually, here - perhaps because it was originally designed to be hauled by slower locomotives which prevented a start further north? In any case this meant a night in the rather tiny and very warm Station Hotel before creaking and hobbling the few feet to the station this morning. As I arrived, 37259 and 37218 were running around the stock in already very hot sunshine. Met some friends and found our seats before settling in for the leisurely trip down to Bristol, enjoying breakfast and coffee on route. I was determined that this fairly local trip by recent standards, was going to be a relaxed and enjoyable affair.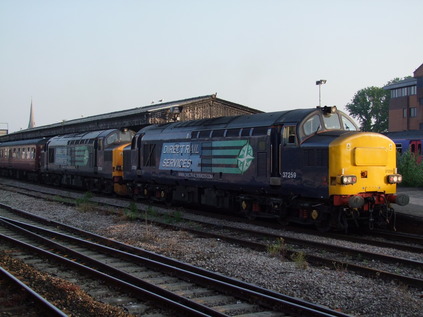 As we headed south, noted a number of local folks boarding, and was soon presented with a glass of bucks fizz by one of the patrons of my former local pub! This set the ball rolling on the real ale consumption, and I confess a fair few different brews were sampled on the journey down through Devon and Cornwall. The seawall at Dawlish was teeming with people out in the sun, and we sped past making a fair racket and causing quite a spectacle. As we crossed the Royal Albert Bridge I realised that this was probably the first time I'd crossed both the Forth and the Tamar in less than a week for many years! The party atmosphere on board continued as Mr Spinks changed into a lurid Hawaiian shirt for the festivities in Penzance! It seemed very soon that we were passing Long Rock Depot where a bunch of orange jackets were scratching their heads in genuine bewilderment at the sight of a derailed HST power car. Managed a snap at the depot shunter, rarely seen out and about, but patiently sitting at the end of a rake of stock today, likely trapped by the stricken power car.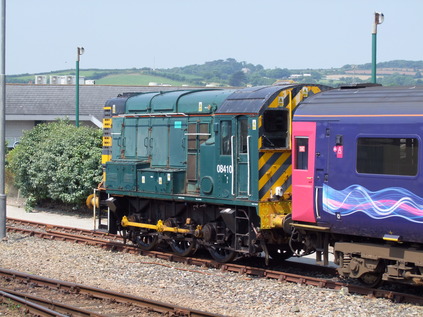 Once into Penzance a few moments after time, we followed a plan devised by our resident Head Brewer, and visited a number of pubs. This took us right through the heart of the apparently good natured but clearly totally unhinged Mazey Day festivities. The highlight has to be when a large group of men crashed noisily into Wetherspoons wearing the uniform of the Life Guards and singing songs about Cornish independence. A surreal moment, topped only by standing in Chapel Street listening to a very loud Methodist Band whilst enjoying a pint of Sharps Own. Wandered back to the station much later than planned, with the first of the three railtours which had made the journey down to Cornwall today having already left. However, it hadn't managed to get far as a lineside fire near Camborne was holding up all services. Our own train had yet to make it back into the station from Long Rock. A long, but good natured wait followed from the mostly merry and tired crowd. Eventually our stock reversed in, squeezed between a string of late arrivals, and we boarded for home. Despite some fine effort by the driver, who was suffering with some power issues from 37259 too, we were very late and onward connections were in disarray. Made some calls to sort a fast car from Taunton and tried to help out where I could by offering the single spare seat. Everyone seemed eventually to find a way of getting home, so settled in and relaxed for the last bit of the journey to Taunton.
So my seven-week railtour odyssey is over, having run almost faultlessly despite the new computer system at Network Rail, some incredibly complex trips and the rule that railtours never really run to plan. I've travelled the length, and a fair bit of the breadth of the UK in the past few weeks, and not encountered too much delay - despite today's unavoidable snarl-up. Next week it's back to pottering around the network under my own steam for a while, and with the work and financial situation brewing into a storm, this might in itself end up curtailed. This last few weeks will be remembered for a long while though. Even the weather worked pretty well!