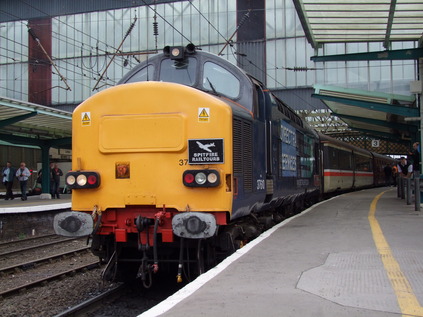 Posted in Railways on Saturday 31st July 2010 at 10:28pm
---
It seemed like a long time since I'd been away from home, which is all the stranger given that I spent most of May and June zig-zagging across the country and setting up camp for weekends at a time in various spots. A few weeks of strangely introspective, mostly solo travels had been just the thing in some ways. There is such a lot of change in the air just now that these quiet missions to revisit far off places, sometimes in new ways, have become incredibly valuable, contemplative times for me. So, after a fitful night in a new hotel I found myself trudging the empty centre of Birmingham towards New Street at around 05:30. The hotel was fine - an improvement in fact, but my mind had been whirling around all night and I'd not really got to sleep for any stretch of time. Oddly, yesterday I'd leapt out of bed thinking it was today and I was late! Things are confusing just now it seems... Got to the station to find it almost completely empty. No hope of a coffee to wake me up, and as ever the lack of any advance warning of which platform the trip would use. This was a bigger problem today as no staff were in evidence either. Hedged my bets based on other departures, and spotted some familiar faces on Platform 3, so took a chance and thankfully got it right avoiding a last minute dash. Rewarded by the sound of 37610 thundering out of the tunnel, with 57003 already running on the back. Soon on board, meeting up with some very familiar Coach K faces and learning that 37611 hadn't even made the start of the tour, having failed at Carnforth on the empty stock move. Having spent a weekend in the Highlands with 37610 recently, rather disappointed not to have had 37611 - however, the performance put in by 57003 on the fairly straightforward run to Sheffield via the Old Road made up for this.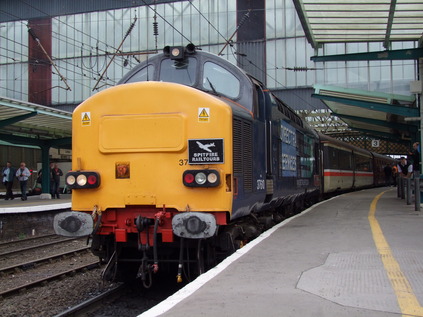 At Sheffield, we reversed and headed north via Moorthorpe and the complicated mess of lines around Wakefield, this took us over the Crofton to Hare Park section before using the curve between Calder Bridge Junction and Turners Lane Junction - a few chains of track I needed. Settled in for the run via Methley and Woodlesford, avoiding Leeds by way of the Whitehall Curve, completed accidentally on a previous similar trip. Discussion on board turned to the Settle-Carlisle route, and the fact that despite being one of the most famous journeys in the country, it was - well... a little bit boring! Having done the run already this year, I confess I wasn't too interested in the line - and it can be a tiresome slog when any chance of a picture is destroyed by 'normals' hanging out of the droplights for a view of Ribblehead Viaduct. However, the day was warming up outdoors and there was a steady supply of beer and conversation, so the trip passed pleasantly enough and rather swiftly in fact. Very soon we were arriving in Carlisle. A dash to get photographs followed, as due to a number of charters being in town our stock was to go to Kingmoor Depot.
Took advantage of a few hours break to wander into town and revisit some favourite spots. No pipe band this time, but while I enjoyed a coffee The Borders Brass Band struck up. Watched the busy town scenes whilst jotting some notes and thinking lazily about work and associated things. Realised I've become rather mentally lazy lately and not considered things too sensibly. Having put myself in some strange scrapes lately - which I'd normally avoid - it was good to take stock, and wander the city in the bright afternoon sun. Revisited the beer shop too and found that the proprietor had stocked up on brews from a few new local breweries too. Chatted for a while and pondered my choices carefully, tending to go for the lighter and hoppier summer ales for our trip home. Back to the station for a snack and another good coffee from the little van just inside the entrance, before joining the vast crowd of enthusiasts watching 6201 'Princess Elizabeth' manoeuvring to rejoin her train. There was a brief time that it seemed the loco wouldn't make the gradient from Upperby to the station - but slowly but surely the stock drew into the station. Around then a further charter arrived, having come from Kings Cross in the charge of 67024 and 67021. This stopped only briefly at Carlisle before returning south. Add a couple of passing freights, and there was something of a gala atmosphere on the platforms today.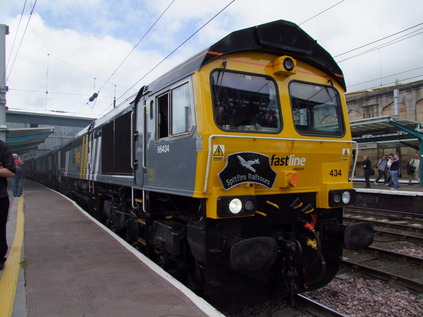 Our stock soon arrived, with the predicted 66434 accompanying 66421 on the front. The loco, carrying the now defunct Fastline livery was a bit of a celebrity and caught the imagination of the photographers I noted as we headed east into the Tyne Valley. Again this is a slow route, but has it's pleasant points and is perhaps a route less travelled for me. Have often thought I should visit some of the communities along this line at some point, rather than flying through as I did again today. Noted we'd lost a bit of time, and a further check on the approach to Newcastle meant we crept in about a minute before we were due to depart. Thus the leg-stretch was cancelled (much to the amusing annoyance of one of the railtour scene's more persistent moaners!) meaning no chance of getting a daylight shot of 37259 and 37608 which were to haul us forward. As these were veterans of recent Cornwall and Scottish tours respectively, not too concerned by this. Soon off, and found myself chatting pleasantly in the vestibule with a couple of staff members as far as York. Here there was some confusion about the routing, which saw us fly through the station rather quickly rather than use the line behind the yard. The route from here was all a little uncertain, as news had reached us of a lineside fire at Swinton. Noted we were routed via the mainline to Doncaster, and thus watched the developing situation with interest.
Things all ran surprisingly efficiently from here, with us heading onto the line through Mexborough via the Goods curve, then using the 'old' line through Thrybergh Junction to avoid the closed section, then sitting briefly in Brightside Loop outside Sheffield to wait time before calling at the station. Here we were joined by another regular, doing a part fare back to Birmingham. Celebrated with further beer and had a very quick ride back with 37259 performing a little better after some attention during our stop at Brightside. Noted some inexplicable crossover activity at Chesterfield South and Clay Cross too, as we sped south towards home. Soon pulling into New Street, where the train was due to complete a final circle to regain the line to International without a reversal or run round. Headed back to my hotel, having had a strange and rather distracted day - but ultimately a sociable and pleasant one. Good to see a few more trips lined up too, and some from nearer home. However miserable I might sound sometimes, I'm never happier than when I'm travelling...