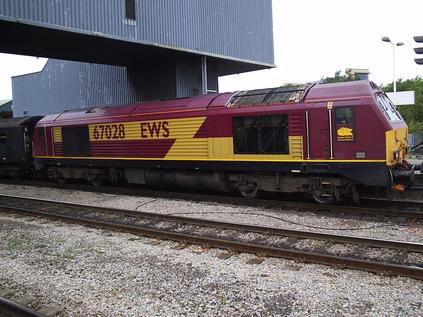 Posted in Railways on Saturday 4th September 2004 at 10:36pm
---
I almost wondered if I really wanted to go out for the Virgin 67's today, having done so every Saturday for weeks - but since it was the last week, and since I don't know when we'll get any decent haulage around here again, sentimentality overcame idleness! Glad it did, since it turned out to be a varied and interesting day.

Started with the customary jaunt down to Exeter, via a change at Taunton. Quick dash over the bridge and onto 1M89 for 67028 - one of three required locomotives out today.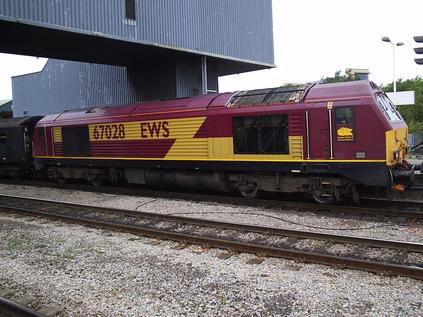 Uneventful run back to Bristol, and the usual photography session - including some shots of 67011 on 1E99 - which I also needed, and hadn't been expecting today. A spot of lunch, and then a bit of time to lurk before 1V15. During this slack time, noted a plume of steam on the line from St. Phillip's Marsh. Soon saw 5051 which was out from Barton Hill being turned for tomorrow's Torbay Express. After running towards Bedminster, it reversed through the station on the up through line.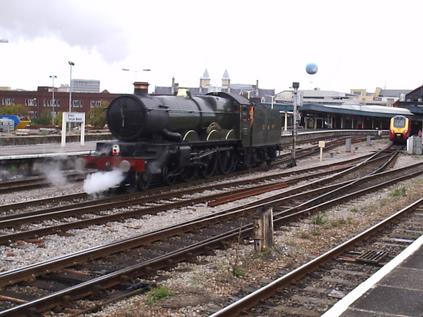 A late platform change nearly tripped a couple of us up, but made it over in time for 67026 - another new one for me, previously seen from a distance on the first week I did these services. Set off in improving weather for Exeter once again. It was about now strange messages and rumours began to circulate about 1M25, being the Newquay-Manchester HST running for the holiday season. All kinds of things were mentioned, since it seemed that an ailing power car was causing problems, and something was likely to drag the service back. First concrete information was that 37425 had left Newport for Bristol to haul the service forward from Temple Meads. Quick calculations and timetable checks to ensure I'd get to see this later in the evening. Also noted that the Train Manager on 1V15 uncannily resembled minor British celeb Abi Titmuss!
Later, more news - 37425 was now heading for Plymouth to drag the service to Birmingham, and would be passing Exeter soon. Revised my plans, and settled in for a long wait at Exeter. Considered pressing ahead to Newton Abbot , but decided that there was likely to be more action at St. Davids. Thankfully, there was quite a bit going on - firstly watching 37425 go by light engine to Plymouth (after a helpful cry of 'yer tis!' from the level crossing staff). Next 67014 on 1V19, and finally 5A15 and 5A19, the two top-and-tailed sets of empty stock from today's 67 hauled services on their way back to Old Oak Common. Also ate too much and read a great deal whilst waiting.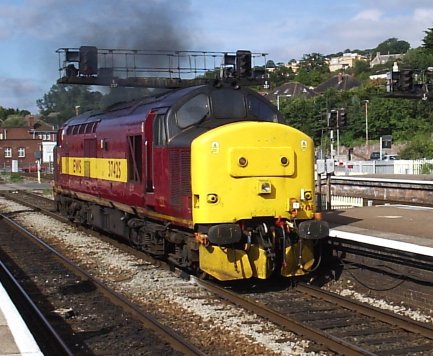 The service finally arrived at 1859, with 37425 storming into Exeter, approximately 100 minutes late. A very speedy run indeed, with a noisy start at Taunton which could be heard a couple of coaches away! Amazing, bright evening sunshine on the way back too, with a brilliant sunset somewhere around Highbridge. Other photographers along the way took some
fine shots
before the gloom set in.
Lots of activity at Bristol. Watched 37425 depart before heading over to catch the 2030 service back to Weston. A long, but eventful day in the south west - and a fitting end to a summer of 'real trains'.