Posted in Railways on Saturday 18th March 2006 at 11:09pm
---
With last week's tour cancelled, and a strangely restless week off work coming to a close I had staked a lot on this tour. Set off from Redditch early in sub-zero temperatures and arrived at a bleak Barnt Green station to find a respectable and growing crowd of enthusiasts - some here to board the tour and some just to take pictures. Wished I'd brought a warmer coat, or a flask. Chatted a bit to a number of locals. A few minutes into my twenty minute wait we heard that a late arrival of the stock into Gloucester meant the tour was already 25 down. Sulked for a bit and felt colder. This wasn't the plan!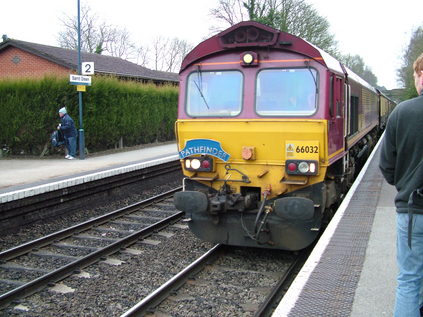 Almost exactly half an hour later lights appeared in the distance, and 66032 rolled in. Coach H landed right next to me, and I was relieved to find the heating on full. Settled back into comfy first class seats, knowing that soon enough at New Street the carriage would fill up. First leg was a run through Birmingham, and down to International where we switched to electric power. All ran smoothly and we arrived with time to spare. Back out into the cold to watch 92037 creeping around the station in preparation for our departure for Crewe. Away at booked time, and once through the suburbs via Aston and Bushbury Junction, some spirited running up the West Coast. A little outside Crewe station noted our next locmotives sitting outside the LNWR depot - DRS 37218 and 37059. Not a hope of a decent shot of our new traction at Crewe as the world and his dog had turned out to see us pass. A closed platform end on 12 added to the difficulty. Contented myself with waiting patiently to see the locos safely on the front, and returned to the relative comfort of the carriage and the real ale bar.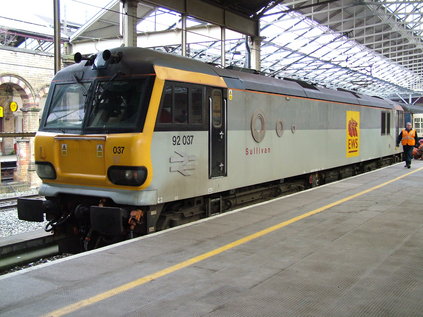 The next stretch was probably going to be the most fun for me. A thrash through Manchester Victoria and over the Pennines, followed by a little new track around Brighouse and a loco change in Healey Mills Yard. There were rumoured to be a few on board from Crewe who stedfastly refused to travel on any other part of the tour because they regard the pair of class 37s as the only rateable traction. Lots of speculation how they'd get off the train once the 60 was on the front at HM! Somewhere here, the sun came out and we were presented with stunning views of the snow-dusted hills surrounding us. Since I didn't get a chance to photograph this leg of the trip, I'll link to someone who got a fantastic shot of the train instead.
Much confusion as we passed through Healey Mills without stopping - as ever, completely in the wrong place to see anything on the depot. Plan was to switch locos at Wakefield Kirkgate due to 'safety concerns' at the yard. Speculation rife about EWS vs. DRS politics being the real story. Later we heard we would not be able to stop for pictures at Wakefield, but that we would stop briefly, presumably for the disgusted 37 bashers to hop off before we set off with the 60. A little before arriving in Wakefield we heard we would now be stopping for a while longer, and literally seconds later that we wouldn't, and that we'd meet the 60 at Calder Bridge Goods Loop. No idea what was happening, so sat back and watched the fun.
With the 60034 finally on the front at Calder Bridge, we set off for our destination - officially Goole! The plan was to offer people the chance to get off at Goole, and for the rest of us to complete a loop around some incredibly rare track in the Hull suburbs, and then to pick up at Goole on the way back. Amazingly, we watched huge amounts of people disembark. I later discovered that this was for a couple of reasons - firstly that the real ale had just run out on board, but also for a far more sinister reason. These people were J D Wetherspoon's pub spotters! I had heard that this was a new tendency among cranks, but I had never before witnessed the extent to which it had taken hold. The rest of us enjoyed our slow creep around the rusty rails beside Hull FC's former home, Boothferry Road and back onto the mainline near the site of the curiously named Dairycoates depot.
The next loco change was planned for Doncaster - on the two-way goods line beside the station, so again no pictures. After losing a bit of time around the circle in Hull, and some slow running over the avoider to Adwick we found ourselves a bit late. It also took some time for Freightliner's 66560 to turn up, but there was much relief for some when it did, as 66952 had been a proposed and unpopular alternative earlier. Either would have been fine by me! From Doncaster we took the Old Road to Tapton Junction where just like always, we stood for endless minutes waiting for Virgin services to pass us. This has happened on every tour which I've taken via the Old Road. Eventually back on course, and some pretty high speeds were achieved to Derby. Popped out in the cold again to watch the loco change at Derby. After a chilly wait 66063 emerged from the darkness and was attached for the final leg of the journey. Somehow from here we made up some time, with the almost miraculous feat of passing through Grand Junction and Proof House into New Street without stopping once! On my own in the carriage again for the last leg back to Barnt Green, and a short wait for the local into Redditch.
Having never done a 'Spin and Win' tour before, I wasn't sure what to expect from today. In the end it was the usual social event coupled with some new track and some interesting traction. A little before I left the train, a steward announced that this wasn't, as has been rumoured, the final such tour and that they would continue as long as we booked on them and the traction providers supported them. Long may they continue in my view.