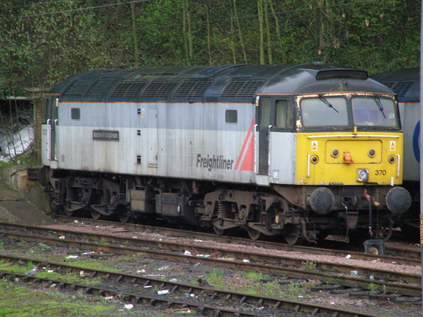 Posted in Railways on Monday 11th April 2005 at 9:47pm
---
Just like last time I returned from a week away, today plunged me into all kinds of work-related whirlwinds, and I'm still trying to catch up with all the attendant admin - downloading pictures, recording sightings and the like. I remember last time I also said I'd put a quick summary of the trip here, but didn't actually ever find the time, so here goes for this time:
Monday 4th April
Struck out eastwards on the first train off Weston. Delayed on the approach to Paddington for no obvious reason. Circle line also running slowly with long stops between stations. Got to Liverpool Street with moments to spare to find Lowestoft train ominously delayed. Incoming stock arrived over thirty minutes late due to an earlier failure at Stowmarket. Wondered whether to bail at Ipswich and head direct to Norwich - meant missing new track, but would keep me on time. 'One' made the call for me, announcing the train would terminate at Beccles with a bus forward. Spent a few minutes grabbing pictures at a wet Ipswich before heading for Norwich. Earlier than expected connection to Peterborough, then easy going up to Doncaster on a 'White Rose' service. Arrived at Cleethorpes on a brisk but pleasant evening. Checked into a very nice hotel and wandered out for a well-earned (but not great, unfortunately) indian meal and beer.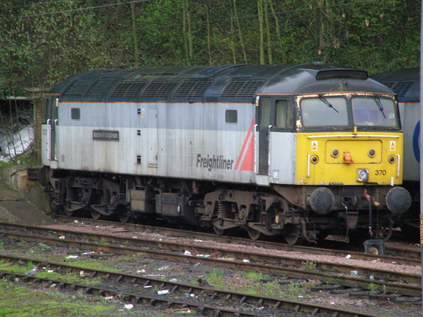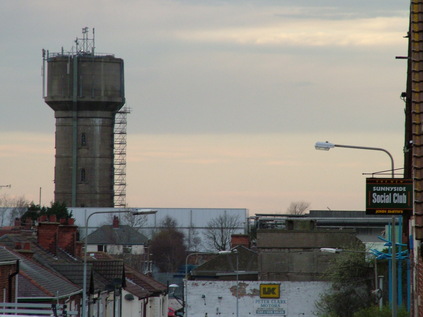 Tuesday 5th April
Set out early from Cleethorpes on an attempt to cross the country a couple of times, working my way slowly north. First to Doncaster, then Leeds where I had time for breakfast and provisions shopping. Via Bradford to Manchester Victoria running to time. Here things collapsed, the Victoria-Liverpool train just didn't appear, and it was left to a member of staff to phone for an explanation and explain the situation to waiting passengers. A fifteen minute delay on top of the time we'd already waited to find out what was happening. Uncertain now whether I could make my originally quite generous Liverpool turnaround in time. Lost confidence and hit the tram across town to Piccadilly, missing a swathe of new track in the process. Picked up a Transpennine service direct to Middlesbrough there. A very quick change on to a Newcastle bound service, followed by a pleasant evening travelling along the coast via Hartlepool. Insane queues in the Travelodge, and a desperate evening trying to find something not overpriced and achingly, self-conciously posh to eat in Newcastle of all places! In the end, impossible to escape 'pan-fried tuna with pesto mash'. Slunk off to bed feeling somewhat cheated.
Wednesday 6th April
Started today with a knee injury gained whilst stomping around looking for food the previous evening. Picked up some track I missed back in October between Newcastle and Carlisle - a wet and bleak stretch, but happy to have done it at last. Carlisle station busy - 87028 and a pair of DRS Class 33s visiting whilst I waited for a delayed Voyager to Glasgow - giving me a slightly earlier arrival time than my planned Pendolino. Weather much better as I headed north. Quick foot crossing to Queen Street, and a pair of 156s bound for the West Highlands. Awe-inspiring scenery as we headed for the coast via Loch Lomond and Ben Nevis. Decided to hop off at Fort William rather than press on to Mallaig. Instead, explored the town a little, sampled locally caught Haddock and awaited boarding time for the Caledonian Sleeper. Enjoyed some ale whilst crossing a snowy Rannoch Moor in the twighlight - almost like a lunar landscape. Last memory of the journey was Glasgow twinkling to the south as 37416 roared through the suburbs.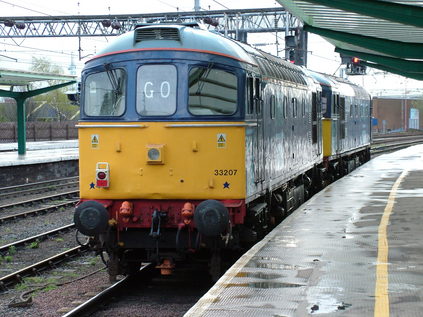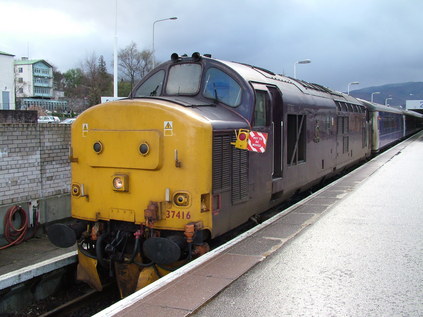 Thursday 7th April
Woke somewhere north of Rugby on a promising morning. Washed and dressed, and watched the world pass by - arriving a little early at Euston. Spent the extra time crossing over to Kings Cross and enjoying a huge but expensive breakfast. On to Hull Trains' 0833 departure - one of their small fleet of Class 170s. Comfortable, speedy ride along the East Coast Main Line - and plenty of evidence of their attention to good customer service. Arrived at the grand Hull Paragon and explored a little. Next, a Northern Trains service to Meadowhall. Slow running outside Hull and pointless hanging around at Doncaster gave me seconds to spare at Meadowhall. Predictably missed my Leeds service. Caught a following Midland Mainline 222 to Barnsley - my first short trip on the class. Surprisingly different feel to their cousin Voyagers. Wandered around Barnsley, almost upsetting some locals, before noting a fast service taking a similar route to Leeds and arriving in the direction of Midland Road. Made my original connection at Leeds with seconds to spare, finding myself jammed into a wedged Transpennine 158 heading for Preston. My poor luck this week so far seemed to be changing, and once again made a short connection into a Manchester via Bolton service. Voyager from Manchester to Birmingham also very busy indeed. Pleased to get back to my grandmother's house for a good sleep and a chance to rest painful leg.
Friday 8th April
Revisiting old haunts today. To Birmingham and then a rainy Crewe. A quick look around before boarding an all too familiar Arriva Trains Wales 158 for Holyhead. Stormy seas along the coast, with unintentional onboard entertainment provided by a couple of Irishmen heading for the ferry home. Arrived at Holyhead to find it little changed from my old bolthole where I would escape for weekends. Today it was wet and cold with a biting wind. Revised my plans somewhat, as a couple of hours exploring would not be fun in these conditions. Caught the same unit back as far as Llandudno Junction where I stopped in at the station tearoom to avoid the snow which had begun to fall. Another first-time trip on a class 175 to Manchester Piccadilly via a little more new track between Chester and Warrington. Running around an hour early now, onto a Crewe bound stopper and then a cross-platform change for a Pendolino to Nuneaton. Confused by the changes to the station, which leave the older buildings looking somewhat forlorn from the elevated viewpoint of the new platforms. At one strange moment snow was falling and blowing across the rather exposed new parts of the station, whilst at the other end bright, warm sunshine was beating down. Watched a parade of passing freight including a car train with 47847 tucked within its consist. Quite a wait for a Birmingham bound train.
Saturday 9th April
Today I realised a long harboured ambition! Set off for Birmingham, then onto a Manchester service as far as Stockport. Wandered the station, noting a few passing freights whilst waiting for the arrival of a 156 on platform 3b. Finally, at 11:23 exactly we departed for Stalybridge - at last I'd managed to travel on the legendary Stockport-Stalybridge 'Parliamentary'. Friendly and informative guard too. At Stalybridge joined the surprisingly large group of enthusiasts travelling from Stockport for an excellent pint in the near-legendary buffet. Resisted the urge to try other beers, and pressed on for Huddersfield where I walked into the middle of a massive Police operation to safely convey Doncaster fans to the stadium for a football match. The worst side-effect of this was the closure of gents toilets on the station! Another depot fly-past now, heading for Wakefield via Healey Mills. From Wakefield to Doncaster for the last time this week - definitely a place to revisit soon with longer to watch happenings. A pair of rather tired looking Central 153s now to Lincoln and then Sleaford. All new track except for short stretches around Lincoln station. A bit of a dull leg of the journey however. Sleaford cold, windy and abandoned. To Nottingham next - on a train which should have gone on to Derby and Crewe in the view of the timetable and station monitors, but didn't. Tried to discuss this with the guard who promptly hid from me for the rest of the journey! Perhaps after six days of travel I was looking slightly haunted and manic? Back to Birmingham after a rather quicker change at Nottingham than my leg was willing to endure. Painful ride home.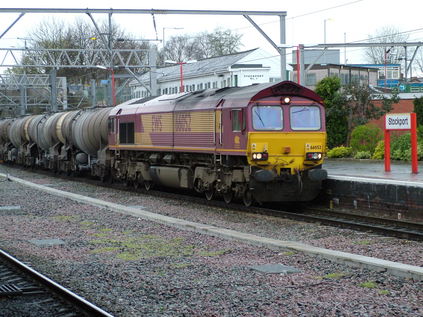 Sunday 10th April
The final day of my trip. Last time out I went home on Saturday and used the last day as a bonus, but got boxed in by engineering works. Realising that south and west of my home was likely not accessible, decided to head home via a trip north and east. Didn't avoid trouble entirely however, and a change in timings on Midland Mainline meant cutting my journey short and changing for St Pancras at Derby rather than Sheffield. Pleasant morning at Derby - chatted with the driver of 47832 who'd left it in the sidings overnight after a railtour and returned to find it heavily grafitti covered. A longer trip on a Meridian this time, and I'm very impressed. Some bonus track too, as we set off in the direction of Birmingham and reversed via Stenson Junction and Sheet Stores Junction instead of the usual route via Long Eaton. From the chaos surounding the Interim Station at St Pancras, quick underground trip to Paddington, a present for my nephew purchased, and then onto a Weston train diverted via the Berks and Hants. Beautiful sunshine, wonderful views and a celebratory pint of Bass as I headed homeward.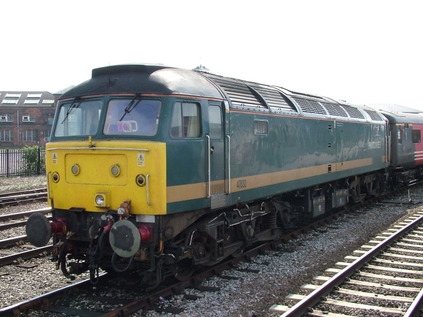 A crazy week of dashing around, using many more class two trains, with the attendant timing troubles, poor frequencies of service and chances to fix things when they went wrong. Overall however, I had a fantastic time, scratched a good deal of new track, and the train operators did me proud.