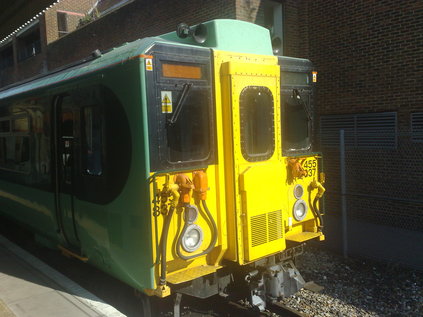 Posted in Railways on Saturday 20th September 2008 at 4:49pm
---
September has been an odd month - with the long anticipated trips at the end of August over, and with little planned until the middle of October, its been a fairly quiet and uneventful time. Equally, financing the various events in October and beyond has meant a bit of belt tightening, not helped by exploding power supplies and the like! Feeling the need to get away, despite all the indicators it might not be the best idea, decided that a trip to chase some new track in the London area might be interesting. So, despite spending much too long in the pub last night, set out for the first train of the day in darkness and mist. Changed for the London train at Weston, and hearing that the buffet wouldn't open until after Bath Spa, settled in for a lazy ride into the rising sun - which eventually managed to beat the mist into submission and promise a very pleasant morning. Good to be speeding east in much nicer conditions that for a very long time.
I'd rather hastily planned today, and had equally rapidly re-planned things again yesterday to do the various bits of track in a different order. They were largely unrelated, geographically disparate and really didn't make up a logical trip at all - but undaunted I set off on the partly-suspended Circle Line to Victoria where I finally found coffee and food, drinking two strong cups to make up for the one I missed on the train. From here, a refurbished 455 took me deep into the southern suburbs, passing Selhurst Depot and heading through Croydon for the third time in a fairly recent history! The plan was to take the remaining undone branch to Caterham and finish this little batch of lines. All went well, and we were soon on the leafly branch line and making good pace through the suburbs. Saw little of Caterham given timings, and simply hopped back onto the unit which reversed and became a London Bridge train. Back by a different route, skirting another side of Selhust and snaking into London Bridge over the viaducts east of the station, terminating in the fine old trainshed.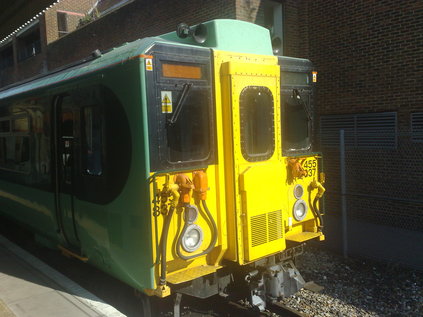 After queuing for what seemed like a very long time at a ticket machine, dashed for an Orpington-bound train and made the short leap to Lewisham. Here I picked up the DLR, under Greenwich and the Thames and alonside the mainline to Stratford where it terminated in a pair of new platforms. Watched 90043 rounding the distant curve and then plunged into the new station with its bright, open concourse, just in time for the 12:32 to Watford Junction. There was much confusion on the North London Line, with people simply not yet used to the closures - trains were either going to Gospel Oak or Watford, and a chunk of line from Camden Road to Willesden, and a similar stretch near Euston were blocked. Hence the joining of the two services by traversing the line through the former Primrose Hill station. I've desperately wanted to do this line for a long time - going back to my wanderings in this part of the city, and it proved to be an interesting if short piece of track - high above Camden High Street and the infamous market on a viaduct, curving slowly into the overgrown station at Primrose Hill - surely a candidate for reopening as part of the London Overground project? As soon as the West Coast Mainline appeared beside the line we delved deep into tunnels, connecting somewhere underground with the DC lines from Euston, and back onto familiar territory at South Hampstead. The plan was to remain on this train all the way to Watford Junction in order to achieve one last bit of new line today.
A surprisingly busy train from Bushey onwards, we arrived at Watford Junction and after a confusing struggle with Oyster Card readers I found my way out to rebook and get coffee. Then back into the station, along the subway, back into the open, down a short footpath and finally onto platform 11. Remote from the rest of the station it sits on a curve beside a cement loading point, serving only the rather downtrodden and forgotten St. Albans Abbey branch. Despite its lowly status as a 'one train in section' self-contained branch this line was electrified, presumably at the same time as the WCML, and was today operated by one of London Midland's fleet of Class 321 EMUs. A short, slow trip with a number of stops at rather menacing Watford suburbs which gave way to small, pleasant looking commuter villages. Again, little time to explore at the terminus before boarding again to head back to civilisation, or more accurately Watford Junction once again!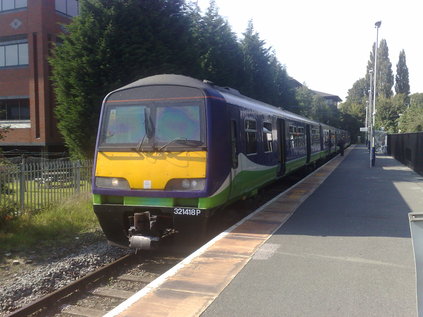 With the DC lines closed, hopped onto a semi-fast service and made the short journey back into Euston in brilliant sunshine. Having not eaten all day and not being used to the warm weather I was beginning to feel rather strange, and decided that even though I had time to linger it would be better to head back to Paddington and sustenance. Passed a leisurely hour people-watching and emailing while I had coffee and waited for the 1800 to be called. A nice easy journey back west into a red sunset, spoiled only by some annoying, fare-dodging passengers who'd been to Newbury races who decided to racially abuse the guard and generally make idiots of themselves. It was dark when I arrived back at Temple Meads. Trust the summer to come when summertime is almost over.