Posted in SHOFT on Monday 20th June 2011 at 10:06pm
---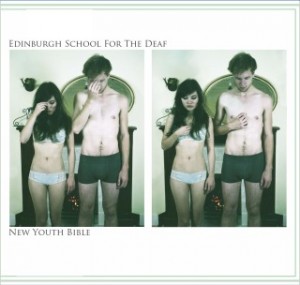 Having returned to attempts to express myself about music after a very long break, I'm sometimes alarmed how easy it is to slip into old, tired cliches with surprisingly little effort. It's particularly worrying because I don't really read much mainstream music critique these days, and certainly the days of waiting feverishly to see who the NME were beknighting are long since passed. However, one enduring and much misunderstood term which I've always desperately wanted to see realigned is that of 'pop music'. Somewhere between the excitement of the sixties and the moribund present day it's come to mean "disposable and universally saleable" rather than carrying any of it's former sense of accessibility or ingenuity. Whilst 2011 has borne all kinds of musical riches to date, it's yet to produce a fantastic pop record - the kind of record which hooks its barbs instantly into the skin and refuses to let go, which merits end-to-end listens on infinite repeat, and which delivers snatches of tunes which wedge themselves into your brain to rear up unannounced later. Whilst it might not be an immediately obvious place to start the search, strangely this album might just be what I've been looking for. Over the next 37 minutes or so, pop is pulled apart, carefully examined and put back together in a slightly off-kilter, but always frighteningly clever and disturbingly noisy way.
Somehow emerging from Ashley and Grant Campbell's previous band St Jude's Infirmary, Edinburgh School for the Deaf appear to have gone through a stage of being known as Deserters Deserve Death before settling into their current incarnation. This band delights in two distinctive and varied voices in Ashley Campbell and Kieran Naughton alongside the ability to select from both a broad, colourful palette of styles and an awe-inspiring, thunderous racket when required. It's also pretty clear that Edinburgh School for the Deaf don't care too much for being restricted by modern genre politics and are happy to play with the idea that being loud, messy and noisy can sit happily alongside more delicate, literary and considered work. So it's with a squall of distant feedback and a fanfare of overdriven guitar that "Of Scottish Blood And Sympathies" is unceremoniously announced. Things soon resolve into a gentle strum, with Ashley's voice delivering strange, devotional lyrics. Then things simply erupt - martial drums and guitar so loud it seeps into every corner of the mix. Clocking in at a little over seven minutes, this is hardly the snappy punk blast I'd been led to expect - but as layers of guitar add a strangely shoegazey texture to things, it just gets bigger and bigger. It's a strangely fitting opening chapter to a record full of surprises, and not nearly as easily pigeonholed as perhaps you'd expect. There's more of this gloriously hazy, discordant noise on "Eleven Kinds of Loneliness" but this time it's coupled to a gorgeous sweep of a pop melody with swooning, breathy vocals. It's short, almost to the point of incompleteness in a sense - but I can instantly forgive this as it collapses into the storm of "Thirteen Holy Crowns". A relentless distorted and driving bassline is slung beneath a serrated guitar melody and Kieron's eerie baritone vocals. I can only apologise in advance for describing the combined effect as Joy Division providing the theme tune for a Gerry Anderson TV show while Black Sabbath jam next door. The result is blistering, ear-splitting and very, very effective indeed. In fact I'm going to pop the track down below, and I'd urge you to listen before you castigate me for that painful description!
Once again Edinburgh School for the Deaf manage a chameleon-like change of skin for "All Hands Lost" which introduces a warped country-pop element to proceedings. Whilst I bang on endlessly about avoiding comparisons I've done incredibly badly so far - so I'll unashamedly express my sheer joy at hearing the wonderful and long-forgotten Renderers buried in here. Ashley's voice mutates once again, behind an explosion of distorted guitars. Not the first time, the off-kilter noisy pop music of New Zealand springs to mind when listening to "New Youth Bible", and "Lonely Hearts Beat As One" revisits this territory later albeit with a more abrasive, fuzzed-up edge. "Love is Terminal" stutters into life like Beat Happening with a heartbeat of primal drums, but ultimately owes more to New York than Olympia. It's infectious and captivating - and it's nearly impossible not to howl along with this urgent, punky mid-album squall. And who couldn't love a song which pauses it's relentless rant to announce "chorus!"? Stepping down a gear in the sonic stakes but edging up the social satire dangerously, "My Name Is Scotland And I'm An Alcoholic" introduces a discordant violin and a quietly intoned spoken-word over a gently strummed acoustic guitar, but even this most delicate of openings builds eventually into a wall of noise. After this curious interlude, huge Motown drums and spluttering, angry guitars herald a return to the mission of de-constructing pop music song by heartbreaking song. "The Memory of Wounds" has a menacing hint of Joan Jett and The Blackhearts meeting The Jesus and Mary Chain, as the ever-versatile Ashley becomes a coolly disinterested rock goddess for the duration of this number. Closing track "." - and yes, that's just a dot between those quotes - is a closely observed study in guitar, glockenspiel and violin. A fragile melody supports an aching, melodramatic lyric and in any other circumstances, closing an album like "New Youth Bible" in such an understated way might not work. But, perhaps unsurprisingly now, Edinburgh School for the Deaf pull it off amazingly well.
Sometimes, its all too easy to throw around terms like 'pop music' without the tiniest hint of irony - and I'm very much guilty of that at times. But I'm also sure that my idea of pop music is somewhat distant from the unchallenging, underwear-flinging variety favoured by the over-excited hordes of hormonal Take That fans I encountered on the train last week heading for the stadia of southern England. So perhaps when I speak of pop I'm talking about immediacy, brevity and an ear for melodies which embed themselves into your memory the second you hear them? Sometimes Edinburgh School for the Deaf are all of these things. Sometimes they staunchly refuse be any of them at all. But "New Youth Bible" is a succinct, targeted blast of a record which establishes them as one of the most exciting bands I've heard in a long while. It's also an intelligent, broad and ambitious listen delivered entirely on the band's own terms. However, I maintain it's easy to forget there is a brilliant pop record somewhere in here, which is sometimes hidden behind the walls of feedback and beautifully impenetrable noise you'll crash through while exploring. The journey is definitely worth the effort.
"New Youth Bible" is out now on Bubblegum Records.

Edinburgh School for the Deaf - Thirteen Holy Crowns