Posted in Railways on Sunday 4th May 2008 at 2:59pm
---
Despite a tiring day and a late night, I was up and about early enough to visit my folks then head out with my nephew and brother-in-law to see the Duke of Gloucester pass by on a charter. As we were all heading out in the car, plumped for Crooked Lane which would certainly give an interesting photographic location. It soon became apparent that all was not well, and messages from up the line were not positive - as it looked like a diesel locomotive might haul the train, the small crowd of onlookers departed. We stayed, with nothing to lose and my nephew enjoying his time out, watching local trains and HSTs pass under the bridge.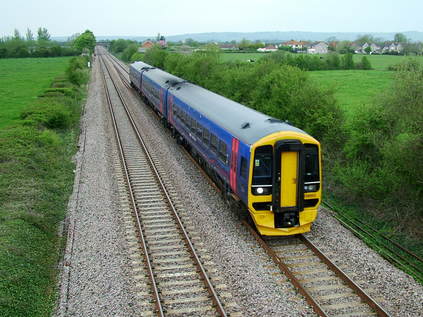 Out patience was finally rewarded around an hour later when a light in the distance and a small plume of smoke heralded the appearance of the Duke. In apparently light steam, and the diesel pushing quite a bit tucked inside the train, it sped by saving it's whistles for Springfield Road.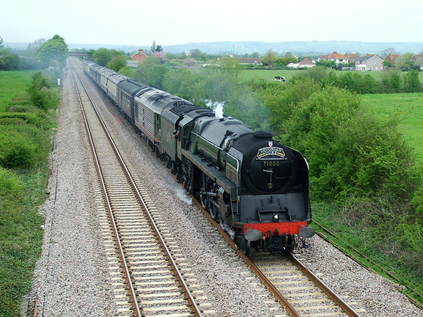 Really good to pass an hour or so with my nephew just watching trains go by, something I rarely end up doing these days!
Posted in Railways on Saturday 3rd May 2008 at 11:18pm
---
It was all going to be so efficient - companies would compete on key routes, and impartial regulator would decide on services for the good of the network and user, and new rolling stock would pour into the market. Well, finally, fifteen years after the Railways Act promised a bright future of competition - and despite the meddling of DfT and others, this week saw the third Open Access operator begin to run trains - Wrexham, Shropshire and Marylebone Railways. It's been an eventful first week, and today wasn't going to be any different, as I decided to try out the new service. The first challenge was fitting a trip into the Saturday timetable, with four awkwardly timed (for us) trains from London to Wrexham and back. Settled for a later than usual start at 08:16 with a run up to Paddington, fairly uneventful and mostly early running meant time for breakfast, to chat and generally to enjoy the promising morning. It also allowed time to make the transfer to Marylebone - although this wouldn't have been necessary. Arrived to find the service shown as delayed almost an hour before it was due to leave! A locomotive breakdown had necessitated fueling a substitute loco, and as time slipped by it was touch and go whether the train would leave with the new loco and stock, or with that of the next incoming service. Time slipped by, and so did the alternative option to travel on a Chiltern unit to Leamington and change a couple of times for Wrexham. However, a small core of us stayed firm - we'd come for the loco-hauled service and we'd wait for it to run. A few knowing smiles from the gateline staff showed they knew our game, and we were left alone by the large British Transport Police presence at Marylebone due to football, and this being the only place Birmingham trains were arriving.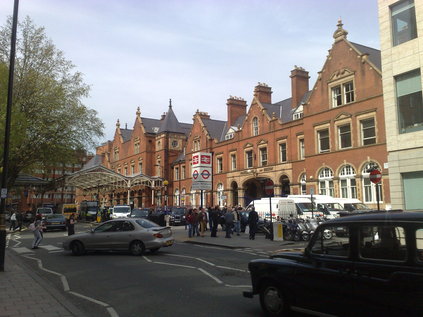 Finally the service was called, and we walked out to the new platform 4 to wait for it's arrival. The staff waiting for the train were clearly relieved and pleased to be running, and there was a fine atmosphere as the recently repainted 67014 slipped into the bay, with three immaculately turned out blue and grey coaches bearing Wrexham and Shropshire branding. Taking us forward would be 67024 - the replacement engine we'd waited for. Until the modified Driving Van Trailers are ready, these services will continue to use pairs of 67s. Soon on board, settled into a comfortable coach and away from London, well over an hour late. As we moved through the suburbs, alternating bursts of good running with slacks due to speed restrictions or local units ahead, tried to recalculate the journey ahead? Once we'd called to pick-up at Banbury, we had a better idea of timings. Should we leap and Tame Bridge Parkway and risk a couple of hours at New Street, or could we press on into Shropshire? It was clear we were now unlikely to make it to Shrewsbury, where we'd originally planned to turn for home. The staff onboard made up for this with excellent free coffee, friendly service and a genuine interest in what they were doing. A promising start for this new company.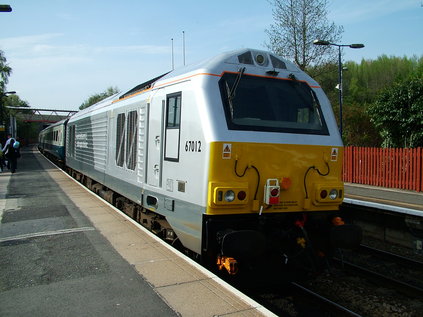 At Leamington Spa we took the line for Birmingham rather than the single-track via Kenilworth. A number of these services, and reportedly all of them at weekends, run fast through Birmingham New Street - making a mockery of the idea of fair competition. We crawled through the southeastern suburbs of the city, passing Tyseley and travelling via Small Heath South Junction and Bordesley Junction to reach Proof House. We came to rest in platform 9 of New Street for some minutes, the driver out of the cab and showing some dismay at the signal check. The doors, of course, stayed locked. Off again, taking the line for Bescot at Soho and reaching our next stop at Tame Bridge Parkway. Calculations showed Telford Central was possible, so we nervously sat tight as we pressed on, getting inevitably stuck at Crane Street Junction before our next pick-up only stop at Wolverhampton. On the move again we passed Oxley, teeming with stored Adelante units, until recently working locally for First Great Western. Stuck behind another local service we crept into Telford with eleven minutes to spare before our train back to New Street. Time for a quick picture in the afternoon sun, then over the bridge to head home via a packed and stiflingly hot Voyager ride which left me tired and cranky.
The restrictions which cynically ensure that Wrexham and Shropshire's service isn't a competitor for Virgin and Arriva are going to make this operation a challenge, and technical issues like today's failure won't help either - but while the staff retain their air of genuine concern for service and interest in customers' needs, this operator will be winning the battle by other means than short journeys. The popularity of the much missed South West to North West trains shows that for many people a direct train with no changes is often as attractive as an early arrival. If Wrexham and Shropshire keep their spirits and level of service high, they'll become popular and well used.
Posted in Highbridge on Thursday 1st May 2008 at 9:21pm
---
Passing the Highbridge Hotel earlier in the week, I was struck by it's haunted and forlorn aspect. After much debate about how to manage it's precarious condition, the powers that be seemed to do nothing, and a little fencing to stop the public straying into it's immediate environs are all that is preventing further disaster. As you approach from the south, it's windows gape - black and empty. The very part of the building which is listed - which should inspire us with it's endurance - looks like some house of horror caricature of a building. It doesn't feel nice to walk past - and strangely, even though the pavement is open on both sides of the road, and I'm sure the onlooker could get a better view into the blackened rooms from the other footpath, at night we are all walking on the eastern side of Huntspill Road.
So, with all this still fresh in my mind I found myself agitated and distracted by tonight's meeting. I attended the Annual Town Council meeting last night and heard the Police say how they'd been unable to attend to a variety of crimes in the area last weekend because their resources were committed at the Hotel, guarding the private property which had become a public nuisance. Tonight, Derek Mead - the developer himself was the main act. Defiant and bluff, he affected a warm openness at the start of the meeting which soon collapsed, as from a room of sixty or so souls - some of them not young by any means - a collective spirit of Highbridge's own defiance rose. Again and again, the developer pressed the blame back on the community - our young people couldn't be trusted. Finally, and in a dignified and heartfelt speech, Janet Keen spoke of the people of Highbridge being good, respectful and decent in the majority and applause filled the room. A turning point, and from here on in, Mr Mead was less tactful, more combative. Perhaps now we were talking his language?
The meeting took a circular path - much was said about youth facilities, policing and the much misunderstood Section 106 process. The prospective Liberal Democrat candidate managed to make a fairly blatant election broadcast, whilst our local councillor - one of her own party - struck a much more dignified and communitarian tone. There were arguments, a face-off between Mead and a local simply wanting to tell him about metal security shutters, an older lady who asked the simply truthful question "was the hotel in your way?" menaced. As the meeting found its feet and began to challenge, Mead fell back on foul language and counter-accusation. It was the Police - they didn't guard the property, or it was the Council. Hamstrung by Mr Meads' constant references to another authority - my employer - I stayed as calm as I could and found myself frustrated and feeling worthless. The bellicose atmosphere fuelled by Mead's increasingly surly tone and repeated refusal to acknowledge that the building's security lay at his mercy. To claim indeed, that there was no electricity on the premises is absurd. The lights have been on for weeks, and someone has been at home.
So Highbridge found a voice, but naturally it's been hard for people to report how the meeting felt, and the soundbites are as carefully shored-up as the hotel with legally couched promises and pledges. A few of us chatted after, revealing our web-forum identities to each other, comparing notes on what we knew but couldn't say. Interestingly, it is the internet which has fanned the flames of this debate from the start - and Mr Mead let it been known that he hates the internet. Probably because it can't be controlled, bullied or jostled into order. It's hard to know quite where things will head next, but there are storms ahead I suspect.