Posted in Railways on Saturday 18th April 2009 at 8:14pm
---
This weekend is, in a number of ways, the calm before the storm! Aside from some work-related issues which don't belong here for a number of reasons, starting next weekend I plunge into an intensive month or so of events and trips which I'm really looking forward to. With the blockade still in force here, it left a lull today which demand some leisurely semi-local travels on long neglected lines. The day started with the 07:20 bus to Bristol - a later start than usual, but a bit of a drag. However, the buses have yet to let me down, and have been on time every time I've used them so far. The much more sensible pattern of bus services seems to work too. The bus dropped us outside Arch 51 bang on time, producing Mr Spinks' first trek into the bowels of Temple Meads station, emerging at the coffee truck and with a few minutes to spare until the 08:41 for Worcester. A rumbling overhead alerted us to something interesting happening, and we emerged from the subway to find 57006 uncoupling from a rake of InterCity 'Swallow' liveried Mk 2 coaches in the centre road. It wasn't clear why they were there, but it made for an interesting start to the day.
Over to platform 9 to find a pair of 158s coupling up for the journey to Worcester. We'd flagged the Voyager to Cheltenham in favour of the more leisurely saunter directly to our destination. As we pressed on northwards, the clouds parted and the day started to get warmer. Soon heading into Foregate Street for the first time in a good few years! With half an hour or so to spare, headed down the steep stairs for a brief wander outside. Found the Post Office beside the station had turned into a less than brilliant example of a Tesco Metro store, whilst Mr Spinks headed for the local newsagent to claim his free Slush Puppy! Back onto the platform to board the London Paddington bound train, via the North Cotswold line. This rather slow, meandering line hasn't figured in my itinerary for many, many years - but it seemed to suit today with its rather warm drowsy weather, and leisurely feel. Through Shrub Hill and over Norton Junction into places which featured large in my childhood - like Pershore and Evesham. The predominantly single line route occasionally displaying signs of former importance, not least at Honeybourne where signs of the former route to Stratford remain, of which the Gloucestershire and Warwickshire remainder and Long Marston complex are the only operational traces. Dozed my way towards Oxford in a reasonably busy HST, remembering my last trip this way was on a cramped Turbo which seemed to take much longer. Noted some long waits in stations, with no obvious crossing services. Difficult not to consider the connections in this area with Algernon Gissing, to whom the title of this entry is a passing reference.
Soon crossing over at Wolvercote Junction and heading into Oxford. From here, the route was a little more familiar into London Paddington, via the avoiding curve at Didcot. Noted much of Old Oak Common depot had been cleared of stock and locos, but this had exposed a clear view of a line-up at the rear of the depot in which former royal locomotive 47999 was clearly visible. About an hour in Paddington - time for coffee and a wander around before boarding a Bristol bound service. The plan was to head back and get one of the diverted Crosscountry services down to Taunton for a bus back home. 1V47 duly produced a HST to our relief, and we enjoyed a very relaxing and entertaining cruise down to Taunton via Westbury and Castle Cary. It was touch and go all the way whether we'd arrive in time to watch the NENTA tour from Kingswear on it's return journey. In the end we made it by minutes, reaching the end of the platform and pointing the camera just as the tour thundered under Forty Steps bridge.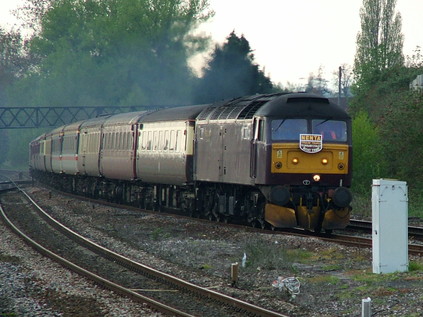 Stuck around to chat with some of the locals about the sterling performance, before heading for the buses home. Later heard that 47854 caught fire at Westbury, leaving 47804 to head home solo! A nice, easy day out with some interesting surprises.