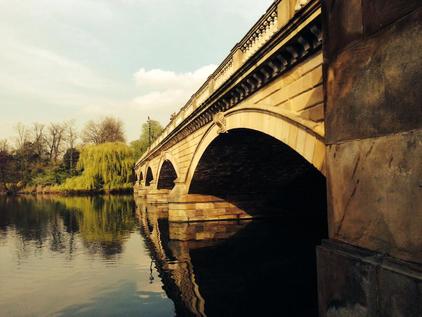 Posted in London on Tuesday 1st April 2014 at 9:04pm
---
Today we headed east, in order to travel west. The trip to Heathrow has been a fraught one in the past - either a prelude to separation, or a nervous weather-beaten dash to meet up. In either case, it has been a strange and sometimes painful excursion. This time, we wanted to make sure it was going to feel different. It was the beginning of a new era of travel for us after all... It began, ominously though, with a call downstairs. One of our angelic and innocent kittens was petting at her first kill - a baby Water Rat which had strayed from one of the Rhynes nearby no doubt. With a surprising turn of violence, she lifted the bedraggled item and hurled it a the curtains. Our trip was blessed with a sacrifice it seemed.
We set out around noon, heading for the station in a burst of sunshine. Standing with our luggage at Worle Station, it seemed improbable that we could pull this off. The train to Bristol provided entertainment in the form of an attempted fare-dodger scuppered by travelling Revenue Protection Officers. He told them he was "a very busy man!" but it didn't wash. We grabbed a leisurely drink at Temple Meads before changing to our London train. Amazingly, given First Great Western's recent record, things went smoothly and we were soon creeping under the roof of Paddington station on a surprisingly springlike afternoon. Our first stop was souvenir hunting for people we'd be meeting overseas - Paddington Bear and London related items purchased, we headed for our hotel to integrate them into our luggage.
We'd thought about a trip to Harrods for some time, and the need to pick up some small but classy things as gifts gave us the perfect opportunity. Given the pleasant afternoon we decided to walk through Hyde Park, passing the Long Water and the Serpentine, with the Albert Memorial shimmering through the haze. Thus we echoed the hidden route of the Tyburn Brook - another lost river, and another entry point into the story for me. The park was busy with Londoners surprised by the sun. A girl clad in hipster velvet rolled up her skirt to get her pale knees tanned, and the Diana Memorial Fountain was busy with paddling children and lounging tourists. The haze was in part a product of the Saharan Dust Cloud, whipped up in North Africa and deposited on us by a warm current of air. It promised terrible issues for some in coming days, but for now though it leant an unreal shimmer to the park, blooming with the new Spring.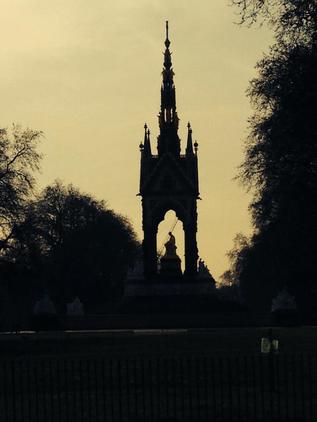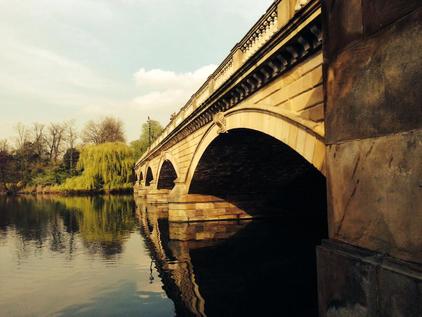 We walked along the edge of the park, diving in between some Mews to reach Knightsbridge. Harrods loomed suddenly between the buildings, inducing a gasp of surprise at its scale. Before we headed in, we stopped into a gushingly ornate Italian place for an early dinner. Watching the world go by outdoors, we contemplated our trip and its complexities. Just now, it was all possibility and potential. Things felt uncommonly good. Eventually, we headed across the street. As ever, Harrods didn't disappoint - the Food Hall heaved with ludicrous temptations, harassed businessmen picking up 'something special' competing with tourists for space. We trailed through endless departments, few of which declared their prices openly. House music thudded in the fashion quarter, while the kitchenware area was marked by calm, bucolic music. Meanwhile in Bedding, a head-scarfed Arabian woman bounced on a bed and receieved a quote of "Four thousand, seven hundred" - though it wasn't clear if this was for the whole ensemble, or just the linen. Our last stop was the foot of the Egyptian Escalator. In itself, this is a highlight of the building - a period piece which documents the craze for all things Ancient in the early 20th century - but the bizarre and gauche memorial to Diana and Dodi placed by Mohammed Al Fayed is like a magnet. It's impossible to ignore the terrible statue, while puzzling over the weirdly masonic 'pyramid and hourglass' device under the soft-focus icons of the tragic pair. We took surreptitious pictures before leaving it to the tourists.
A taxi ride back through the park in a hazy sunset completed our excursion for the day. The driver navigated us into Bayswater and the knotted streets of stucco-clad hotels, and we settled in for the evening. Tomorrow would be more hectic, but just for now London was strangely homely and comfortable territory.