Posted in Railways on Saturday 9th January 2010 at 10:01pm
---
Having spent the last week pretty much confined either to the house or the office, I was desperate to get out and about today. It had looked pretty unlikely though, not least because the journey from home to the station had deteriorated into a glassy slither along sheets of ice which used to be pavements. However, with Somerset County Council finally agreeing that the bus and pedestrian route to the station was of strategic importance, at least parts of the trip had become a little easier. So, a little earlier than usual I set out for what should be the routine walk I've managed thousands of times before. Starting with a brisk trot up the cleared margin of the road, a quick slippery bit of pavement, then onto the road again as far as the station entrance. Here, the slushy remains were more unpleasant than dangerous, and once into the station there was plenty of fresh snow to walk on. I found myself on the deserted and very cold platform with time to spare. I felt almost elated - after all, I'd escaped at last! For now, I wasn't even going to worry about the return trip when the road might be just a bit busier!
The purpose of today's trip had been a visit to the Great Central Railway for their winter diesel event. However, just now I wasn't going to speculate on how far I'd get or what I'd find when I got there. I was content enough to be thundering along in the dark. The first leg of the trip took me no further than Bristol, but it felt like a journey into the unknown after a week of confinement. It probably wouldn't have been so bad, but after the recent week of enforced quarantine for H1N1, the feelings of cabin fever came on all too quickly. Arrived at Bristol just in time to hear my train being cancelled! Not in this case due to the weather, but because stock was out of place following the problems at Birmingham New Street yesterday when a contractor cut a signalling cable. Checked I was OK on the 07:30 and found coffee, if nothing else because holding the cup kept my hands warm. Soon off on the 07:30, and noted how quiet it was. The weather had clearly taken it's toll on passenger numbers. Relaxed and watched the first hints of dawn in the east as we sped northwards. Soon announced that we'd make a brief detour around the triangle at Gloucester to pass a train up front with 'a problem'. Turned out as we passed that it was in fact 66154 with 6M60 - the Bescot-bound clay tanks. Made a sleepy posting to a mailing list (in which I made lots of silly mistakes in fact!) and returned to enjoying the bright cold morning passing outside.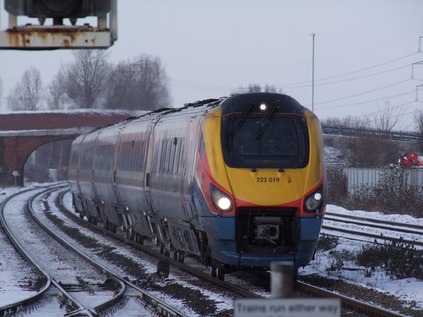 Arriving later than planned at New Street, I found it just beginning to wake up. Made my way to the platform for the next train where an anxious woman pushing a thoroughly wrapped up child in a pram asked me if I was going towards Leicester. I said I was, and she asked me when I was coming back. I explained that I'd be back today, probably around 5pm - and she looked pleased. She was making a similar journey and was convinced it was all going to go wrong because of the snow or the problems from yesterday. Cautiously reassured her that things had actually run pretty well, but that stuff could always change. She seemed a little brighter - but it got me wondering about how the day would pan out, as the very delayed 170 rolled in for the journey out to Leicester.
After another pleasant journey I found myself damp and cold at Leicester station. No snow yet, but the platform was slippery and I decided that since I'd have to wait for a Loughborough train I'd do so in the warm, settling for more coffee in the buffet. Reluctantly out to wait for the 10:54 which arrived on time, warm and surprisingly quiet. Settled in for the quick run to Loughborough, arriving to find the station quiet and enveloped in snow - but so far, still nothing falling. Wandered out to assess conditions - the car park looked bad, with vehicles doing little pirouettes as they deposited passengers. In the sun, it felt warm and it was nice to be crunching around in fresh snow instead of sliding on ice. Had a test walk towards town, and found it hard going. There was ice under the snow, and the walk was challenging. Slogging across town to the GCR would be tricky - especially as the quickest route didn't really involve the generally clearer main roads as such. Agonised a bit - I'd come for the diesels and it seemed a shame to miss them, but given the way the week had gone it was good just to be out. As I pondered, the sky grew suddenly purple-grey and large flakes of snow began to tumble down on me. I set off back to the station, rebooked for Sheffield and purchased yet another cup of hot, strong coffee...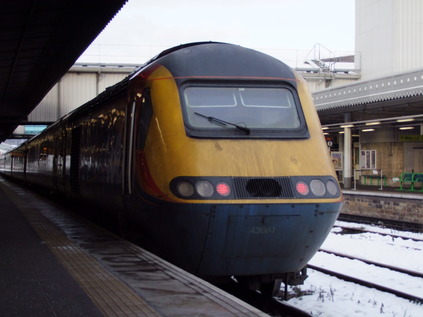 The run up to Sheffield left the snow behind and once again I found myself in strong, bright sunshine. Passed a host of locos at the Railway Technical Centre in Derby, and some spectacular winter scenes in the surrounding countryside. Soon in Sheffield, where the redeveloped Sheaf Square was a mass of gleaming metal reflecting the sunshine and snow back at the station. Wandered the station a little, and sat for a while in the cafe drinking more coffee and people watching. Pleased just to be out and about, and not regretting my decision to head further up the line at all. I did however have quite a bit of time to kill as I'd allowed plenty of time for the gala. Decided to head directly back to Leicester, and had another pleasant trip in a lightly loaded Meridian, and inevitably more coffee at Leicester station before hopping onto the busy 17:16 back to New Street.
Noted along the way that the 19:12 was beginning to get very late on it's journey south via York and Leeds. Delays had been affecting a lot of the services heading that way, and this one seemed to have got really entangled. Realised that in fact I'd have a very long wait at Bristol if I stuck to my booked service. Instead popped into Customer Services, politely explained my situation and was soon out sporting two endorsed tickets allowing me to travel on the preceding 18:42 which was on time. Made my way to the platform and settled in to the warm train which arrived just minutes later. It meant a bit of a wait at Bristol, but it was the best option by far. Soon speeding south again, catching up on weeks of podcasts which I'd not had a moment to listen to. At Bristol, I had a little while to wander before the 20:40 arrival - the 19:00 from Paddington in fact, and a train I've used a fair amount lately. Purchased yet more coffee to keep me warm, and pondered over how much today's caffeine insulation had set me back! Onto the HST the moment it arrived, happy to spend it's 15 minute dwell in the warm.
In the event, my walk back from the station went pretty smoothly, and despite feeling cold and tired, and not really achieving what I set out to do, I felt a sense of accomplishment having travelled 450 miles or so despite the weather and it's effects. I had felt that perhaps travelling for fun when others were struggling to get home or to work was a little irresponsible. Looking back though, I think I'd have struggled to face the next bout of grim weather without this trip!