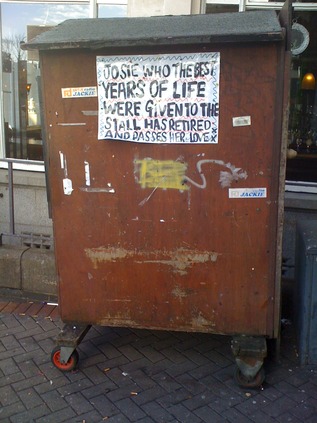 Posted in Railways on Saturday 2nd January 2010 at 11:13pm
---
As the final trips of last year were passing by, I began to wonder how to fill the early weeks of 2010. This time of year is always a little tricky as the preserved railway sector snoozes through it's off-season and railtour operators become somewhat risk-averse in planning anything unusual. Last year we had the bonus of lots of interesting changes in the timetable leading to new services, but this time around it's mostly down to me planning some trips to places familiar and perhaps less so to pass the time until things brighten up - both figuratively and meterologically!
But one change which did take place today affected travel in London significantly - the expansion of the Oyster pay as you go scheme to all National Rail stations. Thus the Oyster card is now just as flexible as a Travelcard, and means that travel - particularly to the south and north-east of the city is much, much simpler to do on a whim. So today's mission was to have no plan - to turn up in the capital on a complementary First Great Western ticket and to see where things went. There were of course a fair number of closures dotted around the city given the opportunity a long weekend of closure presents for major engineering. However, there was still enough to be sure of occupying myself. Decided not to take the easy and direct option, but to go for the early train via a change at Weston onto the 06:24. A smooth, drowsy trip east - finding myself woken by the sunshine around Didcot. As the sun rose, it promised to be a clear and cold day in London - probably perfect conditions from my perspective.
My first decision was to head south - primarily because it's south of the river which has always been hardest to get around and which should benefit most from Oyster PAYG being available. Firstly, had to negotiate the closed Circle Line via a change at Earls Court. Into Victoria in time for a coffee and breakfast - though both weren't quite how I'd ordered them. Wondered if this was somehow symbolic and today was going to be complicated and difficult? However, I tapped my Oyster card on the reader and found myself through and safely onboard a very lightly loaded eight-car set bound for Sutton. Due to closure around Crystal Palace this was going via Norbury. Despite the route being fairly well travelled, the bright sunshine on the city rooftops along with a day of wandering ahead made me feel relaxed, content and surprisingly happy. This almost never happens, and was clearly a sign that things wouldn't go to plan! At Sutton, planned to head back via the former-Thameslink route. This meant a brief wait, so wandered into the street and explored a bit before descending once again to the platforms to board a very tired looking 319371 bound for London Bridge via the meander into Wimbledon.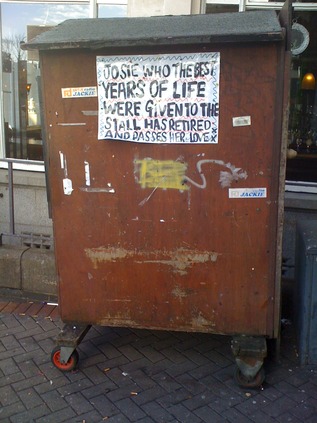 Arrival at the buffers at London Bridge heralded a search for a working toilet at this amazingly poorly-convenienced station! Finally back into the station feeling much better, and after grabbing a snack onto a train bound for East Croydon via Norbury Junction in the hope I could make the 12:10 Milton Keynes train. These services fascinate me with there complicate manoeuvres around Clapham Junction and their use of the lines around Acton and Willesden which have always been of great interest for some reason. Comfortably made the connection, and noted that the unit was surprisingly busy - likely with shoppers bound for Westfield. This was confirmed on arrival at Clapham where large crowds squeezed on, only to disperse again at Shepherds Bush. Relaxed and enjoyed the space for the remainder of the journey, taking the diving route under the West Coast Mainline and surfacing adjacent to Wembley Yard. Not much action here or at Willesden, but interesting move nonetheless. Decided to bail at Harrow and Wealdstone for a connection back to Euston. Also had a chance to look briefly around Wealdstone - a rather uninspiring spot, but happily good coffee was available back in the station. Soon on board a mixed pairing of 350/1 and 350/2 heading non-stop into Euston. Since the sun was still out, decided to make the next leg of the journey on foot, passing the British Library and grand St. Pancras on the way to Kings Cross - itself the subject of an ongoing, but as yet not very visible programme of improvements. The plan was to travel on a local service from the suburban platforms here, again new territory for Oyster. However, the staff here had largely abandoned the scheme, with the ticket gates left open. The advice given to a fellow passenger by a member of First Capital Connect staff was "not to touch out at the other end then" on observing this. Knowing how notoriously vicious I've heard Revenue Protection staff on FCC can be, I thought twice about travelling. However, curiousity overcame concern, and I soon found myself heading north near Finsbury Park, on route to Harringay.
The plan here was to make another foot transfer - from Harringay to Harringay Green Lanes station on the Gospel Oak to Barking line. This made the northern excursion a little more interesting, as otherwise it was a case of covering just part of the two branches out of Kings Cross. Instead I could cut across the north of the city, with some ideas forming about the next move into Fenchurch Street. However, this particular scheme was my undoing - although not at first, as my wander got me to Green Lanes in good time with even a short pause to take a snap of the New River on it's sluggish route into the City. At Green Lanes, I had a brief wait for a near empty 150120 - although as we headed for Barking things got busier. However, our station stops were getting longer and longer, and we were clearly losing time. As we left Wanstead Park it became clearer - there was a major signalling fault and the train would terminate at Woodgrange Park. Moreover it was unclear when services might resume. Trudged up the steps to Romford Road, planning to hit the buses, as the alternative rail service from nearby Manor Park was suspended for the works. However I hadn't bargained on the effect that the closure on the Great Eastern Lines would have, and several buses from Ilford passed by, clearly wedged to full capacity. I sulked in the cold shelter, telling an odd woman that I had no idea how to get Barking easily, and doing my best to help a young lady force her pram onto a heaving Oxford Circus bound 25.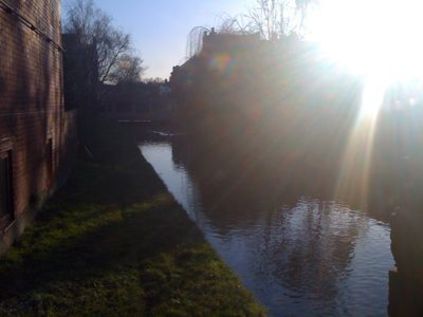 After flagging a procession of 25s and 86s with faces and bodies pressed up against there steamy windows, several arrived at once meaning I could sneak onto a relatively empty 25. Considered my plans as we snaked south towards Stratford. With local rail options largely out of the window, I could bank on a very busy shuttle to Liverpool Street, or I could cover the Jubilee Line - something I need to do at some point. However, in mulling this over I missed the appropriate stop for Stratford bus station. I could of course have hopped off and walked back, but the weather and my innate laziness prevented this. Instead, decided to stay on the 25 as it travelled into the more familiar East End, via Bethnal Green and into Whitechapel. Noted lots of familiar sights as we headed into the sunset, the sky darkening almost by the minute. Not wishing to head into the City or the West End, hopped off outside the depressing hulk of the Royal London Hospital and boarded a following 205 as far as Liverpool Street. After a much needed refreshment break, tried to decide what to do. There were Oyster options from here too, but with the closures and being aware of how tricky getting back to Paddington would be if I didn't get back around to the southern reaches of the Circle, I decided to flag these. Instead, hopped on another 205 heading West and enjoyed a familiar winter bus journey back to Paddington via Moorgate, Angel and Marylebone. I've become attached to this trip during previous closures and tonight was no exception. However, it did mean an earlier arrival than planned at Paddington. Noted a surprising Police presence at the station and decided to lie low upstairs with a Coffee. A wander around later confirmed that a football match was the cause of the concern, and I watched one or two loud but mostly good natured fans get a warning from the BTP on appearing at the top of the underground stairs. Stuck to my planned 19:00 train as I imagined most of the fans would have dispersed by then.
The journey home was strange - a little dull being in the dark again after such a fine day on the rails. The presence of a few straggling fans heading back to Chippenham was mildly diverting at first, but as we slowed to an unexpected halt at Wooton Bassett and failed to budge an inch for the next 40 minutes they became more and more angry and menacing. The Polish train manager though dealt well with the group, and happily nothing major occurred. Some further frustrating delays as we let the 21:13 Voyager pass by at Bedminster, and waited at Weston for a northbound train to clear the single line. The first excursion of the year was a strange mixture - some fine weather and interesting travels - by rail and unexpectedly also by bus - but a strangely muted ending thanks to delays and me brooding on work and future trips as we waited. Perhaps I should resolve to stop worrying and get on with it this year? In any case, it was good to get out and about, and to kick of the year with a varied and interesting dash around London.