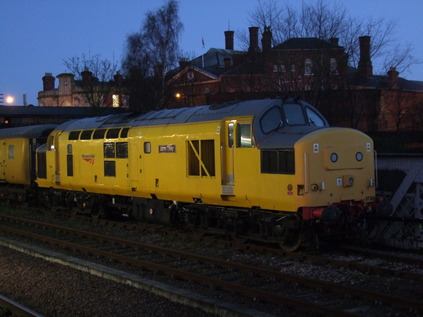 Posted in Railways on Saturday 23rd January 2010 at 10:03pm
---
After a good few years of trundling around the UK, I thought I'd encountered most of the hazards which travellers meet with these days. However, this morning convinced me otherwise. Having stayed in a very convenient hotel mere seconds from Wolverhampton station, I blearily stumbled down to reception ready to catch the early train to Machynlleth. There was no-one at reception but I didn't let this bother me, dropped my keycard into the slot and walked towards the automatic sliding doors. But they didn't. I wandered back to the desk and found a sign suggesting I press the bell for attention. I did. No-one came. So, I dug out the particulars of the hotel and telephoned. The phone chirped loudly behind the desk. Still no answer. With my keycard now out of reach I was trapped in the lobby. The minutes before my train ticked by. Eventually, a rather dishevelled looking chap arrived and unlocked the doors from the outside. He looked rather startled as I cannoned out of the building and launched myself up the stairs to the walkway leading to the station. He shouted an apology, but having no time to vent my frustration I decided not to answer. He let fly a somewhat quieter expletive, but I was now getting into my stride and didn't let it stop me. So began a very strange day on the rails!
Once at the station, there was just time to grab breakfast and a newspaper before the 06:24 arrived. There were a surprising amount of people on board - most of which seemed to be going home from a night out in Birmingham. We made good time in the dark, and I began to relax after my odd start to the morning. Eventually we slipped quietly into a dark and freezing Shrewsbury where we were due to reverse and head for the coast. Spotted one of Network Rail's Class 97s stabled beside us, but decided not to go for a shot as we'd soon be leaving. But we didn't. After what seemed like a very long wait indeed, we were turfed off the train and asked to wait for more information. The incoming service was delayed with our driver on it, so they planned to turn our train back to Birmingham and let us wait. My connection at Machynlleth wasn't particularly tight, but as the expected departure got later and later I realised I had a big problem. Talked it over with a member of staff - he was sure they'd do something for people going up the coast - a taxi maybe? But it wouldn't be them who organised it. They'd wait until we were further into the journey to decide what to do. It might be that given the disruption, the next train in two hours time was the sensible option. Almost quit there and then, but a wander into a dark cold Shrewsbury morning put me off. Back onto the station to get a shot of 97304 before boarding the unit which finally arrived around 35 minutes late.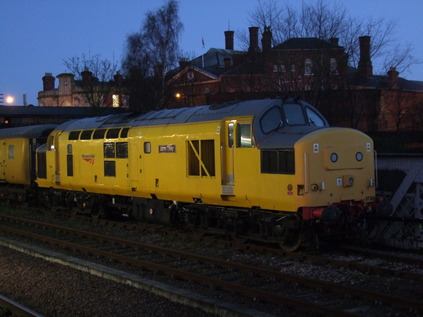 The guard on board was a little more helpful, and he explained he'd wait until after Caersws to decide what to do. He pointed out though that if it was a taxi it would take some time to get organised, so they might just hold the train. I asked him to Excess me to Aberystwyth and I'd decide what to do as we went along. Settled in to enjoy a quiet run through the hills of central Wales. A lot of snow remained on the hilltops, and there had been a hard frost. Soon at Machynlleth where the depot was shrouded in mist which stayed with us out to Dovey Junction. Here I was amazed to find the unit to Pwllheli waiting for us. Contemplated the leap to do the original plan. However, the train was now well over 25 minutes late and would turn around as soon as it arrived - I didn't have the stomach for a straight six hours of rail travel without break or refreshment. Realised that my last bit of track wasn't going to happen today, so pressed on to Aberystwyth - an unexpected second visit within a year in fact.
Aberystwyth was just getting going as we arrived. People were waiting to head back east on our train when it turned around, and the streets were beginning to get a little busy. Strolled into town, noting the Central Fish Restaurant and the National Milk Bar - two blasts from the very distant past, when I convinced myself that Aberystwyth was in the grip of some sort of authoritarian restaurant-based regime given those names. Took some pictures before getting food and coffee and settling on the chilly and misty seafront - a short curve of black sand with a dilapidated pier and mess of stuccoed hotel fronts. I was calm, comfortable and despite being way off track, strangely enjoying myself. In fact I felt fairly relaxed for the first time in a week or so, no doubt helped by a call to the Customer Services department of the hotel to vent my frustrations! Eventually returned to the station for the 11:30 train back to England. This was a little busier and I amused myself by watching and listening to the odd mixture of passengers. It's easy to forget this is a long train journey in an area where road travel isn't much fun - and there was just a hint of the romance of rail travel around today. As we climbed the easy side of Talerddig the sun finally broke through the mist and warmed the carriage. Possibly the first time I've seen the sun this year, and oddly the atmosphere of the train changed with it. At Welshpool we passed 97304 with a short rake of coaches and 97303. A pleasant wait in the sun before we set off once again towards Shrewsbury and eventually back to Wolverhampton.
As I was back a little before I'd planned to be, had a wander out into the city. It was still the rather rough-edged spot I remembered from previous visits. A match at Molineux added to the crowds, but as they began to disperse a little I found a spot to enjoy a coffee while watching people wandering about. Sent some emails planning future trips, and had a slow wander back to the station for 350125 in to New Street. A bit of a wait here for the Bristol train, which I spent out on the open-air end of the concourse watching trains - something I haven't done at New Street for a long while. Glad to be on board the 17:12 to Bristol and in the warm at last. Snoozed through the dark journey home, which was all on time until the last few frustrating minutes when we got held up behind other local services. Made the unit back to Highbridge without any bother, and was soon heading for home.
So, the last major goal in the Baker atlas remains unconquered! A strange couple of days, which ended a rather odd week in many ways. A lot of uncertainty lurks around the corners at present, so these jaunts become as ever, far more important. There is clearly something about West Wales which stills the disquiet, as my forays to Holyhead over the years have proved. For now though, I'm content to research the curious history of the National Milk Bar chain. I suppose I'm never far from some sort of conspiracy.