Posted in Railways on Saturday 29th August 2009 at 10:55pm
---
The last week or so has been busy and trying at work, and the very hobby which is supposed to relieve this stress has caused it's own frustrations - not least in the arrangements for this tour which have caused a few headaches for me. I can only imagine, knowing a little more now following some very open and honest communication from the tour promoter, how much bigger and more painful the headaches were behind the scenes! However, the news by the end of the week was positive - if daunting. The train would run as planned with some minor re-routing in Manchester, but the 05:15 kick-off from Huddersfield was non-negotiable. It's hard enough to explain to people why I get up to some of the rail-related oddness I record here, so I didn't much expect people to appreciate getting up at 2am for the 03:15 from Leeds to Huddersfield. I think I told most of them I was having "a quiet bank holiday weekend up north". Nevertheless, I found myself in the eerie artificial light of Leeds station with a mixed group of returning revellers and Ringway Airport bound tourists boarding the 03:15. Tempted to doze off, but then noticed we were passing through Wakefield Kirkgate and thus had taken an unusual route for a Class 185. Watched the rather forlorn shapes of stored Class 56s at Healey Mills slip by in the darkness before arriving in a cold and windy Huddersfield. The predicted staff response soon followed, with suspicion and concern where waiting in the station was concerned. Contented myself in finding a spot between the great pillars of the listed station entrance where the wind couldn't find me, and watching the last few straggling drunks drifting home. Eventually a few more passengers for the next airport train began arriving, along with people who planned to travel on the tour. So, less conspicuous now I went back into the station to find that the owners of The Station Buffet had taken pity on the crowds and were open for the sale of bacon rolls and coffee. I don't think I've ever been so pleased to hand over money - and it was hard to hide my pathetic gratitude from the bluff northern folk serving me, who'd surely have thought me a 'southern jessie'.
After a contented munch and a brief wait, a distant headlamp signalled the arrival of 47832 hauling a rake of pristine blue and grey stock courtesy of Cargo-D. The assembled crowd seemed very grateful to be on board, and we were soon away. Inside, the stock was even more impressive. Clean, comfortable and refurbished to a very high standard. Everything seemed to work - lights, PA system - all the things which seem to let down some of the older stock used on tours which could use similar care and attention to that which has been lavished on these coaches. Since we had a Mk3 kitchen car in our set, Network Rail had decided that the Brewery Curve just outside Manchester was out of bounds - a bit of a blow for me, as it effectively reduced the new track covered by the tour by 50%. Instead we climbed Miles Platting bank and reversed at Victoria station, with DRS owned 20306 and shiny, ex-works 20301 leading the train noisily onto the Oldham Loop. This rather unloved and previously ignored bit of track will soon be closed for conversion to Metrolink Tram operation, thus a number of tours are covering the line. Since there are no substantiated reports of Class 20 hauled passenger trains before, this was an equally historic event. After picking up at stations around the loop, we again briefly visited Manchester Victoria before setting off westwards to the coast.
The train made steady progress via Bolton and into Preston where a brief break allowed for a quick photograph. The weather was improving, and everyone seemed to be enjoying the sense of occasion which our unusual train seemed to be providing. While railtours are always in my experience, very pleasant and sociable occasions, there was a particular good atmosphere on board this trip. This was due in no small part to the excellent stewarding and catering which worked well. The presence of additional staff due to Network Rail's stipulations around parts of the Cumbrian Coast line could have made for a heavy and draconian feel, but the Retro Railtours team seemed to pitch it just right. Had a chance to chat with James, the organiser too, and to apologise for my email rants over the past week or so!
At Carnforth we curved away from the mainline, passing through the remaining platforms, and pausing at a signal directly outside the West Coast Railway Company depot. Lots of locomotives on display, bringing back memories of last year's excellent open day. Soon underway again, and approaching the track highlight for me - the short stretch of double track which cuts out the long curved section of line serving Barrow. A very brief section indeed, but one I've managed to miss on previous trips! At Park South Junction we were back on the single line north along the coast, hugging the edge of the Irish Sea, and passing the huge complex at Sellafield where a good number of DRS' other locomotives were in evidence.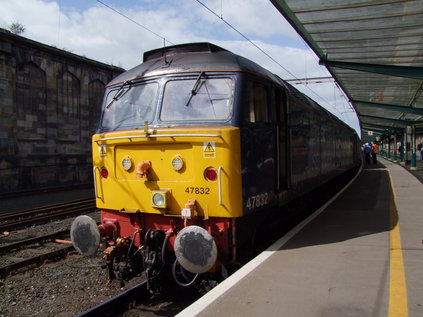 After passing through Workington, we turned inland again, and traversed the always rather long and dull section through Maryport. However, for the organisers this was perhaps the biggest headache - with clearances between the train and lineside structures, a steward is required in every coach vestibule to ensure the droplight windows are not opened. We passed the section without event, and were soon crawling into Carlisle station, passing the rather forlorn abandoned depot and the tangle of freight lines which avoid the southern approach to the station. A much briefer wait here than on my last visit - but quite a lot happening, with a brace of stabled Class 57s attracting attention and the arrival and subsequent shunting of a steam charter operated by 6201 'Princess Elizabeth'. Time also to venture out into town briefly, finding the square which had been host to a pipe band a few weeks back now hosting an international produce market. Had a relaxing wander, enjoying the decent if rather windy, weather. After some lunch, back to the station to watch the further shunting of the steam excursion alongside a passing freight, and then for our own train to head back in. As a nice touch, the locos had been reversed with 20301 now leading the pair back to Manchester. Having a chance for a good look at the loco, realised just what an amazing job had been done on it's repainting and overhaul. Despite being (as one dining car passenger reportedly told the organiser) "awkward looking engines" both were also performing extremely well scotching concerns about managing to produce a working pair earlier in the week. Soon back on board and heading back onto the coast. With a hazy autumn sun shining, the views out to sea were truly fantastic and the journey seemed to pass very quickly. Soon we were traversing the Barrow avoiding line in the opposite direction and curving back onto the West Coast Main Line. As ever, the setting sun over Hest Bank produced memorable views.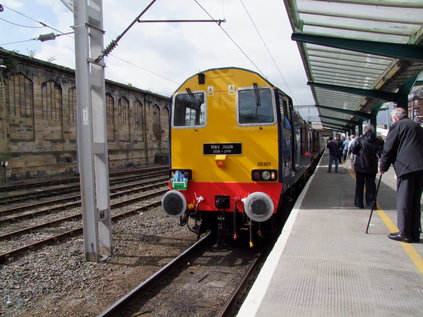 After arrival back at Manchester Victoria we once again headed onto the Oldham Loop. It was dark and wet, but the sheer racket our locos made in the quiet and rather deserted stations was worth the trip alone! There were a couple of frustrating delays awaiting other services here, and it's easy sometimes to get frustrated on the homeward leg of a railtour, but we managed to maintain our schedule falling only a few minutes behind. After arriving at Victoria for our reverse, we experienced a further hold up as the train hadn't cleared the signal and needed to pull forward. Cue lots of walking back and forth for the driver! After an impressive run with 47832 back in charge and despite a long fester at Stalybridge awaiting the platform, we made Huddersfield practially on time. As I watched the stock thunder out of the station into the darkness, and contemplated the journey back to Leeds on a busy 185 full of people doing 'The Ale Train' I realised that a day which I'd assumed would be just a pleasant jaunt with unusual engines to fill a free weekend had actually been a rather memorable railtour. In no small part this is due to the fantastic organisation and stewarding on board. As I waited to squeeze onto the train back to my hotel nearly 20 hours after leaving, I also remembered that my next railtour will also be heading this way with rather different traction and route. Lets hope that is as successful a day as this one.