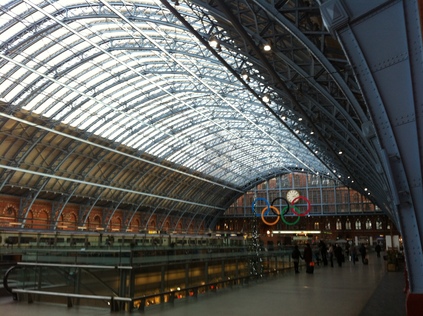 Posted in Railways on Saturday 26th November 2011 at 11:07pm
---
As the working weeks descend into a bit of a strange, stressful rut I'm once again beginning to really value these escapes. As winter approaches, railtours become sparse but cheap tickets seem marginally more plentiful, so I find myself building my own trips once again. This generally means zipping around the country, with a loose mission to cover unusual bits of line, but mostly ending up with extended coffee breaks where I can watch the world go by. In some ways I'm very easily pleased, but by others' standards Sheffield is a hell of a way to go for a cup of coffee!
Today didn't start promisingly, with the Temple Meads branch of Starbucks not open on arrival at the station. Whilst sipping hugely inferior coffee and watching the staff inside resolutely failing to open, I fired off a rather bitter email to their customer services. As I was waiting for the 07:30 this morning I was here a little longer, and the store still hadn't opened as I headed for the platform. Onto the train, which should have given me a straight-through journey to Sheffield via a diversion to Lichfield City. As I settled back, music on, I noticed the rather over-attentive Train Manager chatting generally to the carriage. Catching the end of her speech, it seemed that there was a problem with the windscreen and the unit would be swapped at Birmingham New Street. Quite why she chose to speak this monologue to each carriage in turn rather than use the perfectly adequate PA which we would all have heard, I don't know. On arrival, efforts had been made to make the switch easy, just needing to walk forward to the set in front of us. However, lots of people had been allowed to board the train before we arrived. Coupled to a problem with reservations because of the diverted route, this meant no seats for most of the people who'd booked. Some zealots ranted. I just waited, finally getting a seat just after leaving Birmingham. My ire, and my will to write a complaint letter subsided as we sped on via the Cross City Line, calling at Lichfield, then rejoining the mainline at Wichnor Junction. The first time I've done this route in daylight for a long time.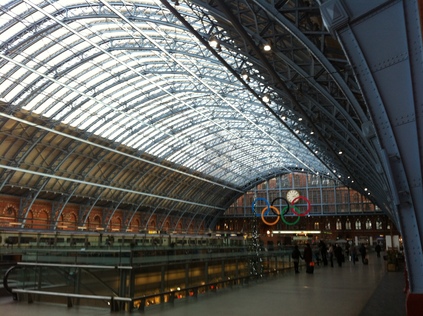 At Sheffield, I wandered out into the city and as usual took a much longer circuit to get to my coffee shop of choice than necessary. It was a bright, chilly morning up here, and finding my usual seat and watching the slightly better wrapped-up than usual population of the city wandering about was a fine way to spend an hour. Finally decided to head out into the chill, and stumbled down the hill to the station to do a bit of shopping and head for the 12:47 to London which was sitting in the bay platform 7, all ready for boarding despite being early. I planned to wander the station a bit first, but a sudden freezing shower of rain persuaded me onboard. Found a seat in First Class, and settled in for the ride down to London. Once through the East Midlands and onto the comparatively quiet Midland Main Line, I found myself dozing a bit and only really waking up properly at Luton. Enjoyed the run into London via this route immensely as it's not an arrival I've made often. Having a little more time to appreciate St.Pancras was rather good too, and I found myself wandering the upper level today rather than making a dash for the underground station. Walking around to the end of the Eurostar platforms, I realised that the main entrance arch was again open now that the hotel was complete. So, for the first time in a decade or so I headed out through this grand entrance, orienting myself by the memory of the old station - a dark, rather quiet and forlorn place with mysterious corners and grimy, forsaken spaces. It's good to see this amazing transformation, and a huge increase in services, but I do slightly miss the blackened old place, littered with trollies and silent between departures.
Down the impressive ramp and over the road for more, possibly ill-advised coffee. Then, just as the sky turned pink and the sun began to set, onto a 205 bus for the journey along the Euston Road which I've grown to love. This was the perfect time of day for it, and I had enough time not to worry about it taking a little longer than usual, as I looked for the landmarks - the mansions on top of Baker Street station, the canopy over the road at Marylebone, the beginning of the suburban sprawl as the flyover heads west and we turned south for Paddington.
The final leg of the trip home was uneventful, relaxing and a chance to finally finish Iain Sinclair's "Ghost Milk" which has dogged my travels for a while now, not being an easy read in some ways. Perhaps these trips are my very own 'grand project'? For now though, they remain a very important escape. People still think I'm fairly insane I'm sure, but they'd probably be more disturbed by my sanity if I didn't disappear around the country like this on a regular basis!