Posted in SHOFT on Tuesday 1st February 2011 at 8:02am
---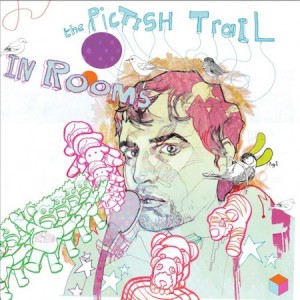 I've written about music intermittently for the past ten years or so, and during that time I've read a fair bit about it too. I've been constantly amazed how often people reviewing things, and I include myself in this, use the phrase 'indescribable'. Is it the ultimate get-out clause perhaps? To suggest that something is beyond the writers comprehension (either as a positive or negative statement) seems a bit of a weak response to challenging art. But some things are difficult to pin down and to glibly describe in a short review - and 'In Rooms' is very much one of those odd things. Born of a challenge laid down by comedienne Josie Long to The Pictish Trail, this record contains fifty songs of exactly thirty seconds duration. This could be a gimmick - it could be a disaster in fact - but what has emerged from this project is a set of fully formed miniature songs. Beautiful works in themselves, and full of the heartbreak and hilarity which Johnny Lynch specialises in - but tiny and detailed. A bit like the toy soldiers your granddad used to paint perhaps.
The album is available as a vinyl only release - a recent Fence policy which is causing me to hunt down a decent USB turntable very much as I type, but there is a concession with this release to a CD-R of the tracks. This isn't to facilitate or appease the digitally-obsessed among us at all - it is in fact to offer the listener the opportunity to hear the tracks in an order of their choice. While Pictish Trail has assembled what he feels is the best running sequence on the vinyl, each CD-R has a different run. In the spirit of this, my first instinct was to hit 'random' and listen. A strange, bewildering and sometimes frustrating experience followed. Songs appeared, the constraints of the timescale meaning that introductions were short. Then a verse and a chorus and they were gone. For some tiny nuggets like 'Sweating Battery Acid' this was just enough - the idea of the song condensed into a thudding electronic pulse made sense. In other cases like the sublime 'Not To Be' its much too quick - and the song could happily have carried on. Indeed, I understand it does when Johnny sings it live - and I wonder how many of these little gems are in fact experiments which will develop further?
However it would be a mistake to think this album is a joke or gimmick - or indeed anything less than a collection of carefully constructed songs like any other. There is wonderful music here to be savoured - ranging from the bizarre and entertaining disco romp of 'My Fizzy Bitz', through the plaintive acoustics of 'Tell Me What Is On Your Mind' to the throbbingly danceable falsetto of 'Arm In' - which has more in common with Johnny's Silver Columns project. Personal favourites include 'Wavelengths' and 'Prequels' which in their short spans manage to summarise the clever, intricate and detailed songwriting which are hallmarks of The Pictish Trail. There are of course, far too many tracks to mention - and the breadth of material means you definitely shouldn't listen to my opinion. Go and buy this soon instead!
In considering this record though, the curious world of Fence Records is also a key factor. There is something warm and encouraging about the ethic at work up in Cellardyke which makes every listener feel like part of a special family - but like all families, there are frustrations and disagreements at times. However, they're soon healed with a talk and a drink, and an invitation to visit. After all, this is nothing that won't be fixed by shelling out on a turntable! However, out of respect for the stance Fence are taking, I'm not going to include an MP3 with this review, as we all know there are clever ways to misappropriate them from media players! No, folks - this is one to discover yourself via the shop at Fence Records. The oddity and novelty of the presentation aside, this record manages to showcase the many and almost impossibly varied talents of Johnny Lynch. Don't let the strangeness put you off - it's time to embrace the Fence and learn to love The Pictish Trail all over again.

Posted in SHOFT on Tuesday 18th January 2011 at 6:01am
---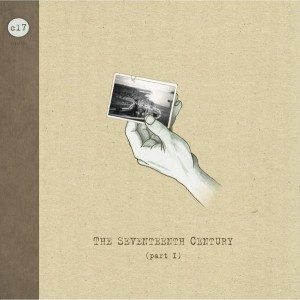 It's strange to think that this is a debut release, because it feels like The Seventeenth Century have been around for ever. When I first began to discover a new tranche of bands emanating from Scotland, they were a name which seemed to be on everyone's lips as a result of impressive live performances and demos. Dubbed 'baroque folk pop' it was perhaps hard to distinguish them in a list from a whole slew of bands tumbling out of Glasgow at the time - however, this time persistence was rewarded....and anyway, I'm a sucker for a bit of antique folkery! My own first exposure was via glimpses at Youtube clips and the occasional compilation appearance - and it was clear that this was something a little different, something worth waiting for perhaps? And so, after quite a wait the '(part I)' EP has finally arrived courtesy of Electra French records. Pressed on serious 10" vinyl and in a sepia-tinted sleeve it looked just like I'd imagine it should from my limited hearing of the band.
From the opening military drumbeats of 'Young Francis' this record strikes a strangely uplifting tone. It's hard not to be carried along on a swell of martial percussion, sparkling brass and intricate strings. Powerful though the music is, particularly on this opening track, it's the choir of voices which impress most - ranging from haunting and pained to strident and soaring. 'Roses In The Park' also benefits from the interplay of the band's multiple vocalists - and the pop elements of the band start to shine through the classical mists a little. The ghost of Brian Wilson stalks this multi-layered and intricate production as the voices twist around the simplest of melodies. The effervescent brass driven introduction out of the way, this should become a fragile, awkward sounding thing - but in fact it becomes a startling, almost monastic sounding chant before the brass once again takes the song spiralling into the stratosphere. A genuinely lovely pop song emerging from the curious introduction.
Initially sounding like perhaps the most traditional composition is 'Countryside' - a veteran of a compilation (or perhaps two in fact?). Carried in on a quietly strummed guitar and a rather formal folk-tinged vocal, it's not long before the song enters waltz-time and the brass and strings once again turn this rather sad and plaintive hymn to the lost bucolic into a dizzying and playful burst of pop. It's almost as if you can't keep this band down - and no matter how maudlin the story, they just have to burst into triumphant life!
Ultimately, this perfectly crafted and genuinely fine set of songs is a wonderful introduction to the timeless and eccentric world of The Seventeenth Century. It's said that '(part II)' is following close behind this debut, which certainly can be no bad thing.

The Seventeenth Century - Roses In The Park

Posted in SHOFT on Saturday 15th January 2011 at 11:01pm
---
It's not often I need to begin a live review with a picture of the venue, but on this occasion at least it saves a lot of explanation to bewildered readers. Trevor Moss and Hannah-Lou promoted their first album by touring the UK's village halls, and now following signing to Heavenly and in advance of their second record, they are touring the remaining Tin Tabernacles around the land. I'm lucky enough to have one of these originally temporary places of worship fairly near to my home. However, being an avowed atheist, despite having passed by over the years of living here, I'd never been inside until tonight. There was an authentic 'church fete' feel to proceedings from the start. Access to the church was via a narrow bridge over a rhyne, which was signposted with a hand painted board and a little lantern. This was necessary - it was very dark indeed out here in the sticks. Once inside the tiny building, I was greeted with a wood panelled room with small and uncomfortable looking wooden pews. The stage was a tiny raised area beyond the altar rail, and tickets were checked in a cupboard just inside the door. All in all, this was an inspired choice of venue - and I harbour secret hopes there may be ways of using it again.
So following a surreal introduction from the local Vicar, first up was Pepe Belmonte. Pepe's origins in West Cork, and from his own accounts a fairly nomadic life, have left him with a curiously placeless and unfocused accent. This allows him to slip effortlessly from his own, simple and precise English folk ballads to a take on 'Carrickfergus' with little effort and a massive confidence. If anything, his delivery was hushed and a little restrained, but that probably had a lot to do with this being a truly tiny venue with the audience quite literally in his face. It may also have been due to the fact that the Church Committee seemed to have bagged the majority of the tiny amount of tickets available for this show, and were clearly expecting some appropriate and wholesome entertainment! Pepe's strengths tonight were in the more upbeat numbers, where his lightning-like picking technique and malleable voice warmed-up the restrained crowd. He closed his set by inviting Pete Greenwood and Trevor Moss onto the spatially inadequate stage for an impromptu and rather excellent take on Gillian Welch's 'Everything is Free'.
After a short break, Pete Greenwood took to the stage alone for his brief set. Originating from Leeds, Pete seemed to embody the self-deprecating and gruff northern humour I've always associated with the city. This seeps through his songs, bittersweet stories which by his own account take a darker turn during the writing process. His delivery is quiet, understated and earthy - a whisper of a voice which occasionally soars when the song needs it to, most particularly on his own composition 'The 88'. Again, some truly superb guitar picking held the church spellbound. Somewhere mid-set Pete played an inspired and surprising cover of Stuart Murdoch's 'Another Saturday' - an obscure gem from 2009's 'Dark Was The Night' charity compilation. Pete left the stage as he'd found it - apologetic and clumsy, but without any need. This was remarkable music. We just don't get this kind of thing here!
Another interval, where the highly symbolic acts of passing around free glasses of wine and collecting donations took place. I'm assured though that this was to avoid licensing issues, rather than for any more sinister liturgical reasons. Finally, Trevor Moss and Hannah-Lou stepped up and we were treated to a warm, engaging set from this funny, clever and unashamedly enthusiastic pair. Starting with 'The Allotment Song' from their first album, I looked around to see the tiny audience spellbound and open-mouthed at their simple, clear and shimmering performance. The people who'd turned out just because "it seemed like the rather fun thing to do on a Saturday night in Burnham" looked most stunned. This was original music, from genuine talents, and here on their doorstep. The pair's voices twisted around each other - sometimes blending into one clear, high note. Working through a number of further older songs such as 'Concorde' and the desperate and plaintive 'England', Trevor and Hannah interspersed the compositions with banter which felt more like a conversation in the intimate setting. They were genuinely engaging people, clearly very happy to be here - and indeed on this tour of Tin Tabernacles - and grateful for the support, even in this tiniest of venues. Towards the end of the set, they talked about The Lantern Society - the London folk club they'd started, and how they'd met the other musicians on the tour. This led into a very different but equally affecting version of Pete Greenwood's 'The 88', rather a surprise to him too it seemed. The new songs performed tonight bode well for the recently recorded new record too, with Hannah's voice taking perhaps more of a foreground role on some of the numbers, and a new complexity which they pulled off in a tricky live setting without breaking a sweat. The audience reception to the set was as near rapturous as things get around here - it had been a successful night in Edithmead.
As people started to shuffle out, delayed by the encouraging activity around the merchandise area near the door and with an exhortation to join holy communion tomorrow morning ringing in their ears, I realised this was probably a one off. If we ever asked the Vicar to let us do something else like this he'd probably cluck and sigh and say "we'd have to see...". So, putting ideas of future cultural activities aside, I contented myself with having been involved in a truly unique evening and hearing some beautiful music.

Posted in SHOFT on Wednesday 5th January 2011 at 10:01pm
---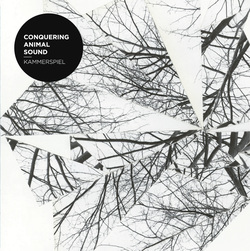 Some records just don't sound like anything else, which makes the lazy art of comparison a redundant tool in the reviewers kit. This is just such a work, and despite the sometimes charmingly ramshackle and unplanned feel to Conquering Animal Sound's output, there is a precision at work in this set of songs. I confess was almost prepared not to like this band when I first stumbled across the beautifully packaged seven-inch single on Gerry Loves Records, on the basis that I have a strange and inexplicable aversion to 'animal' band names! However, I was sold from the start on the simplicity and purity of their sound. Kammerspiel has since become one of the most anticipated releases for some time in the Songs Heard on Fast Trains household.
The band translate the title of the album as "Machine Music", but interestingly it also translates roughly from German as "Chamber Piece" and there is perhaps something rather baroque about the sounds generated by the range of toy percussive and string instruments which are deployed throughout the record, which evoke the harp and the harpsichord. There is more than a hint of a European sensibility about this record too, not least in the strangely stark production which lets the songs echo around their own spaces, and in the sometimes curious phrasing and inflection of Anneke Kampman. Björk comparisons will be inevitable as this record acquires deserved critical acclaim, but I'd risk sacrilege in some quarters by suggesting I prefer Anneke's quieter, atmospheric delivery. In fact, Conquering Animal Sound are an Glasgow-based duo, the other half being the multi-instrumentalist James Scott who manages to combine found instruments and warm analogue electronics with newer technology and good old fashioned musical instruments to create tense, building landscapes. This stall is set out from the outset on opening track 'Maschine' which begins with an insistent clockwork chime, before looped handclaps and a droning undercurrent of low frequency organ lead into a pulse of drums. That this is capped by a vocal which ranges from whispered threats to joyous yelps makes this all the more uplifting a beginning.
Recent single 'Bear' slides in with an insistent heartbeat, and a strange repeated war cry which is echoed and amplified as the song grows into a menacing, glockenspiel flecked paean to being eaten alive. In the sense that there is such a thing a 'single' format anymore this is an obvious choice as it summarises Conquering Animal Sound's manifesto perfectly, with it's understated vocal and final descent into strange, but infectious electronic warbling. Anneke's voice is allowed a wider range on 'Tracer' which is driven by her sweet but oddly sinister singing, over bass and a click-track which hint at Young Marble Giants in their brief, brilliant prime.
I realise I've spent a lot of time describing the processes and the sounds which underlie Kammerspiel which surprises me - and it's possible of course that a record which relies on an unearthly vocal talent and lots of technology could come across as a cold and somewhat distant experience. It's testament to Conquering Animal Sound that they have produced a warm, human record with melodies which although sometimes as fractured and fragmented as the cover image, manage to worm themselves into the listener's mind. I defy anyone not to find Kammerspiel an engaging and uplifting piece of work.
Kammerspiel is released on 7th February, on Gizeh Records . Conquering Animal Sound are embarking on a UK tour during early February.

Conquering Animal Sound - Bear