Posted in SHOFT on Sunday 13th February 2011 at 2:02pm
---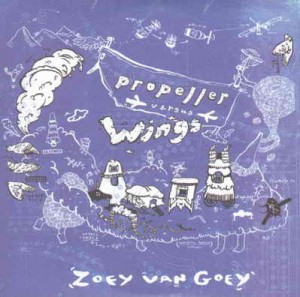 A few years back I wrote a foolishly impassioned entry on my more whimsical and less interesting personal blog about Zoey Van Goey. At that point, two clever and engaging singles into their existence, I knew I'd unearthed something worth watching. Something which seemed to combine the thrill of short, simple pop songs with the storytelling ethic of folk music - but without any of the painful sense of forced tweeness which is usually never far from such efforts. That the band have turned in a joyous, intelligent and almost impossibly varied second album isn't a surprise at all, but it's packed with them from start to finish.
Its plain to hear that Zoey Van Goey still have an embarassment of riches in the vocal department - with Kim Moore's high, clear vocals soaring over Matt Brennan's incredibly flexible voice which lends itself equally to racing, punky pop of "Robot Tyrannosaur" and the tender slide-guitar swooning album-closer "Where It Lands". Singing duties seem to be shared a little more evenly than on the first album, but they still feel most affecting when dueling or duetting - particularly on the gentle, but lyrically entangling "Extremities". The straightforward indie-pop hit on this record - if indeed that's an accurate description of any of these eleven compositions - is surely going to be "Sackville Sun". I've seen some attempts to compare this kindly or otherwise to Belle and Sebastian. I can see the links - but I can't help but feel there's more than a little gentle parody of over-studied art-school songwriters in this song. It descends into a strange Gary Numan-esque finale as Kim imagines what an "eight track of her favourite bands" might sound like, and its impossible not to feel the conspiratorial glee with which the stereotypes are demolished - by the force of unabashed fun and clever lyrics!
The sheer range of instruments and musical styles employed on 'Propeller Versus Wings' keep this record as fresh and surprising as those first two singles I fell in love with. The album opens with a perhaps entirely unexpected squall of mechanical noise as "Mountain on Fire", and works it's way through piano, accordion and all manner of percussion and string accompaniments alongside the usual tools of the modern band. By the time the curious "Another Day Another Disaster" has arrived, the band are indulging in what sounds like a French waltz with a raucous percussion section barely containing it's surfeit of energy for the song's clattering ending. The brass band onslaught of the infectiously clever Matt-led "You Told The Drunks I Knew Karate" needs to be heard to be believed. Zoey Van Goey's strength seems to lie in their ability to turn their hands to almost anything, and to make it strangely, compellingly their own. A small band with an unashamedly sizable talent for writing pop songs shouldn't really have this kind of range at their disposal - but they do. The even better realisation is that they probably have plenty more where this came from.
On "The Cake And Eating It" Kim sings "If it works, then it's probably worth repeating it". It does work, and on this remarkably infectious, clever and entertaining second album they haven't repeated themselves at all.

Zoey Van Goey - Sackville Sun

Posted in SHOFT on Friday 11th February 2011 at 11:02pm
---
The promise of sunshine yesterday had given way to a damp evening, so I elected to take the bus instead of walking. Lazy perhaps, but I'm on holiday after all! I couldn't see out of the fogged up and grime-covered windows of the bus, and given that I'm no native here that meant I spent most of it trying to puzzle out when to hit the bell via my iPhone's sat nav. I recall a drunken previous visit to The Captain's Rest - a tiny hole in the ground beneath an almost painfully cool pub, where I naturally feel entirely out of place, deeply ancient and worryingly conspicuous. However, it was worth the pain and self-sacrifice tonight to see a couple of acts who I've raved about here and elsewhere. So, after a much delayed start and a clumsy stumble through the snug and down the stairs, Edinburgh based Debutant swiftly took to the stage. It would be easy to pin one man and a guitar in the singer-songwriter category and have done with it, but that would be missing the point where this one-man avalanche of sounds is concerned. With a guitar and a loop pedal, Debutant builds washes of atmospheric noise and melody, the tiniest touch of the instrument appearing to conjure impossible complexities of sound. Throughout his short set he was self-conscious, indeed self-deprecating at times - the sheet weight of anticipation of Conquering Animal Sound's set bearing heavily on his connection with the audience. However, he needn't have worried. Over the course of three compositions, culminating in the sublime and epic "King of Doublespeak" he convinced more than a few of those present of his talent for constructing a moving, emotional atmosphere and then turning it on it's head in the space of a few flicks of his guitar. This is remarkable music which is beautifully unaware of it's power. An album is promised, and hereabouts certainly much anticipated.
Hot on the heels of Debutant's short set, the live line up of Field Mouse arrived. As I understand it, Field Mouse is essentially the recorded output of Jai Kural. I first, stumbled across this on the 45 A-side Glad Cafe fundraising album and was curious to discover how what seemed like a studio-bound project would translate to the stage. It's testament to the skill of Jai and his band of multi-instrumentalists that this works so amazingly well. Throughout the technically complex set, the warm fuzz of analogue clicks, buzzes and bleeps grounds the music and provides an essential human element to the machine-generated noises. Live bass adds a depth to the mix, and somehow it all spirals together to form far more than the sum of it's parts. I always struggle to connect wholly with instrumental electronic music somehow, but the sheer delight in making interesting sounds which Field Mouse displayed tonight was enough to keep me listening.
I've offered my thought's on Conquering Animal Sound's recent album "Kammerspiel" elsewhere - and after repeated listening it's grown more and more essential to me. So, like much of the audience I was anticipating something special from this evening. The annoyingly noisy crowded hushed completely as James and Anneke began to play, the sudden strange silence creating the same tense backdrop which is evident in many of their recordings. The mechanics of reproducing their work live were remarkably complicated - James' flitting around the stage manipulating an array of instruments and machines, a one-man sound generation industry. Meanwhile Anneke stood before three microphones, connected to a bewildering array of loop pedals and clever tools which enabled her to generate live the multi layered vocal performances which the record showcases. Her voice is as much an instrument as James' various contraptions - manipulated and echoed around the tiny venue, an unassuming chanteuse. It was especially good to hear the remarkable "Bear" reproduced, with it's dynamic and soaring vocal even more powerful at first hand. The short set drew heavily on the new record, and its clear that this short tour is going to create interest around what has evidently been a well-received debut. Again, the warm human elements of their songs shone through the wash of electronica - the lyrics particularly leaping forward in the live environment and surprisingly revealed more as poems than songs as such. A rapturous response from the hometown crowd called James and Anneke back for an encore, and they chose to end with their own take on Robyn's hit "Dancing On My Own". Like lots of things this incredible duo attempt - it probably shouldn't work, but it does - and in doing so it redefines things entirely.

Posted in SHOFT on Thursday 10th February 2011 at 11:02pm
---
It had been a bit of a bewildering day or two. I'd practically fled England as things collapsed behind me with the dust licking at my heels like all the best disaster movies. My uncertain employment situation forgotten, somewhere on a train heading through the sun-flecked lowlands today I managed to switch off all the noise - and just to make sure, I decided to replace it with a whole different kind of noise this evening. I'd not even thought much about this rescheduled St.Andrew's Day show, but with a spare hour between arriving at Central Station and checking into my digs for the weekend I decided to drop into the Union to see if tickets were left. The place was in chaos, with the bands gear arriving and clogging the foyer - but the kindly receptionist took me into her tiny office and sold me a ticket. She was most concerned I'd still got my bags with me and wanted to make sure I knew where I was going before I left, and had all the directions. This is one of the reasons I love coming back to Glasgow.
So, wandering back to the Union tonight through a barrage of text messages from people back home having a tough old time, I'm wondering if I'm too old to be trawling around Student's Unions? Eight flights of stairs convinces me I definitely am, but before I can get too maudlin about it Kasule take the stage. I knew nothing of this band - and they weren't about to impart too much information either. Indeed, I had to resort to Twitter later to discover exactly who they were. By all accounts they've been away for a while, springing up in the difficult few years when I'd all but abandoned music, disappearing and then being coaxed out of retirement in the past few months. I was struck first by the projections - strange rural images which centred on a wind turbine, then a stream of Factory Records related images - classic Peter Saville sleeves, scenes from the Hacienda, close-ups of the wild-eyed face of Ian Curtis. I wondered if this made any sense to the majority of the somewhat fresh-faced crowd at all? The parallels didn't end there - Kasule's music harks back to those early New Order recordings - when they hadn't quite found their slick, eighties identity and the harsh edge of the late seventies still permeated the sound. There was stark electronic percussion, a rumbling undertone of bass and guitar work which varied between a sparkling, light cascade of sound and a crashing wave of post-rock noise. The projections faded into a montage of shots of the late, much missed John Peel - and it all made sense. I could imagine him loving this and playing it gleefully, knowing that it wouldn't be easy listening, but that some of his listeners would understand. I still know very little of this band - least of all where one song ended and the next began - but I'm almost tempted to leave it that way, and preserve the odd, unsettling but dizzyingly varied mystery of Kasule.
After an incredibly short interval due to squeezing three bands into an early curfew, Endor took to the stage. Their debut album made my 2010 list by being possibly the most engaging and varied straightforward pop or rock record I had the pleasure to hear last year. That's in no way playing down it's clever twists or moments of intensity - but the songs are instant and accessible, revealing their deeper structure after repeated listens. There is something so effortless about the way David McGinty captures genuine moments of emotion in small, carefully-crafted songs that burn up in the atmosphere almost as quickly as they spring into being. From the outset the band tears into "All Your More Buoyant Thoughts", with trombone and accordion augmenting the four-piece as it reaches a triumphant climax. Straight away, "Without The Help of Sparks" and "Two Lovers" follow - and it dawns on me that the album is an endless stream of highlights. Endor come across as a hard-working, genuine band who want to please an audience - and the slower, more considered "Chapel Doors" does just that. As it's final aching notes fade, you can see the couples fold closer into each others shoulders, and the loners shifting uneasily from foot to foot. Endor seem to speak to everyone tonight. "Seek Cover" closes a brief but near-perfect set, and I feel vindicated in backing this fine record.
I have a poor record with The Twilight Sad. I've managed to miss them on numerous occasions, and will be missing them again next week nearer home. It's become something of a joke because, since dashing back from Glasgow in 2007 feverishly declaiming I'd found the holy grail in "Fourteen Autumns and Fifteen Winters", I've failed ever to see this band perform. Live, the band offer a different perspective on their sound - with the slow burn of their studio work giving way to a scorching wall of sound, with a nod to a less whimsical My Bloody Valentine. The Twilight Sad are possibly the loudest band I've heard in years too, and the oddly-shaped venue sends the walls of feedback bouncing around us in disconcerting and dizzying ways! It's unusual to see a band these days who have among their number a vocalist who isn't responsible for anything else - and in James Graham they have a consummate performer who reminds me oddly of Robert Pollard in the way he is focused totally on responding to the music around him. He isn't, however, a front man in the traditional sense - this isn't a band fixated on personality, and Graham's voice is ultimately one of the instruments. One that dips and soars, chants and wavers with emotion over the keening guitars and thundering rhythm section. A new song is introduced as "Charles and Camilla" and the crowd respond with incredible enthusiasm. This band is loved here, it's plain to see. And I can see why - tonight my foolish hyperbole over that first record makes utter sense - and seeing finally this band lay waste to a room through force of emotional will and thunderous noise is something clearly I'd put off for far too long.

Posted in SHOFT on Friday 4th February 2011 at 8:02am
---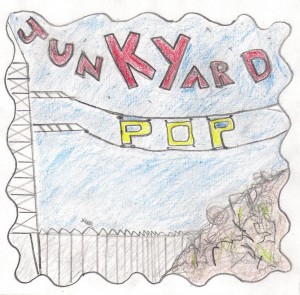 This is probably destined to be an all-too-frequent series of posts where I very publicly catch up on something I should have heard a long time back. Often, things will crop up on the various blogs and podcasts I peruse, and I'll end up thinking I should have followed that link much earlier - especially when there is such a fantastic array of free stuff out there which requires almost no effort or investment to check out. This is just such an item, with Male Pattern Band making this three track EP available for nothing. The great risk of such a strategy is I suppose that people won't value the product in a society where despite times being tight, the idea that you get what you pay for still prevails. That patently isn't always the case as this short but direct and insistent set of songs amply illustrates.
Listening to Male Pattern Band I'm not moved to draw comparisons with their contemporaries at all - there really isn't much which sounds like this right now. In fact, with the solid but melodic rhythm section and sparse guitar work I was moved more towards the clipped US post-punk anthems of Mission of Burma. There is an inevitable nod to Pavement too - in a sense bridging the gap between the 1980s and this frighteningly young band. However, a band hailing from Renfrewshire can't possibly avoid Glasgow's strong magnetic pull, and there is equally a distinct influence from the slew of sorrow-tinged lyricists which the city has produced. This is evident not least in the frequent reference to 'rain' in the three songs here!
Opening with the short but well-crafted Kinks-like pop of 'Raining' the record peaks with 'Wilt' - opening with Chris McCrory's melodic vocals and driven forward by a solid but spiky instrumental backing. The track takes a menacing turn before exploding back into melodic life with a lyric full of regret and bitterness - and lets be honest - that's what we need from music like this with it's sparse, direct and emotional connections. 'Cable and Cloth' is a gentler, more wistful and reflective affair - where a loping synthesised melody and the ubiquitous glockenspiel join the trademark guitar strums and play over a near country-and-western rhythm. Apologies readers, it's much much better than I make it sound! The true test of a record is perhaps how much it reflects the band's live performance, and I hope to get the chance to test this out soon. In the meantime, this EP is finding it's niche on those home-bound commutes after frustrating days - when things don't quite go to plan, but you know you were right all along...
You can read an interview with Male Pattern Band at Glasgow PodcArt's site.

Male Pattern Band - Wilt