Posted in SHOFT on Tuesday 18th January 2011 at 6:01am
---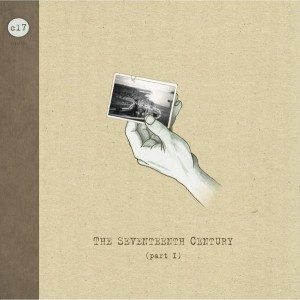 It's strange to think that this is a debut release, because it feels like The Seventeenth Century have been around for ever. When I first began to discover a new tranche of bands emanating from Scotland, they were a name which seemed to be on everyone's lips as a result of impressive live performances and demos. Dubbed 'baroque folk pop' it was perhaps hard to distinguish them in a list from a whole slew of bands tumbling out of Glasgow at the time - however, this time persistence was rewarded....and anyway, I'm a sucker for a bit of antique folkery! My own first exposure was via glimpses at Youtube clips and the occasional compilation appearance - and it was clear that this was something a little different, something worth waiting for perhaps? And so, after quite a wait the '(part I)' EP has finally arrived courtesy of Electra French records. Pressed on serious 10" vinyl and in a sepia-tinted sleeve it looked just like I'd imagine it should from my limited hearing of the band.
From the opening military drumbeats of 'Young Francis' this record strikes a strangely uplifting tone. It's hard not to be carried along on a swell of martial percussion, sparkling brass and intricate strings. Powerful though the music is, particularly on this opening track, it's the choir of voices which impress most - ranging from haunting and pained to strident and soaring. 'Roses In The Park' also benefits from the interplay of the band's multiple vocalists - and the pop elements of the band start to shine through the classical mists a little. The ghost of Brian Wilson stalks this multi-layered and intricate production as the voices twist around the simplest of melodies. The effervescent brass driven introduction out of the way, this should become a fragile, awkward sounding thing - but in fact it becomes a startling, almost monastic sounding chant before the brass once again takes the song spiralling into the stratosphere. A genuinely lovely pop song emerging from the curious introduction.
Initially sounding like perhaps the most traditional composition is 'Countryside' - a veteran of a compilation (or perhaps two in fact?). Carried in on a quietly strummed guitar and a rather formal folk-tinged vocal, it's not long before the song enters waltz-time and the brass and strings once again turn this rather sad and plaintive hymn to the lost bucolic into a dizzying and playful burst of pop. It's almost as if you can't keep this band down - and no matter how maudlin the story, they just have to burst into triumphant life!
Ultimately, this perfectly crafted and genuinely fine set of songs is a wonderful introduction to the timeless and eccentric world of The Seventeenth Century. It's said that '(part II)' is following close behind this debut, which certainly can be no bad thing.

The Seventeenth Century - Roses In The Park
Lost::MikeGTN
I've had a home on the web for more years than I care to remember, and a few kind souls persuade me it's worth persisting with keeping it updated. This current incarnation of the site is centred around the blog posts which began back in 1999 as 'the daylog' and continued through my travels and tribulations during the following years.
I don't get out and about nearly as much these days, but I do try to record significant events and trips for posterity. You may also have arrived here by following the trail to my former music blog Songs Heard On Fast Trains. That content is preserved here too.
Navigate Lost::MikeGTN Find articles by category
Search Lost::MikeGTN
Other Places...