Posted in Railways on Saturday 9th June 2012 at 11:25pm
---
It's around this time of year that Railtour operators seem to turn their attention to the South West, and when we become a destination rather than a starting point. This has it's advantages - in that some tours can then be picked up at sensible times of the day, fairly locally. Of course it also means lots of tours are mostly jollies for 'normals' - trips to the Eden Project, or steam-hauled excursions. Neither of these being of particular interest to me, it was good to see this trip appear. It did eventually fall prey to it's ambitious itinerary, and as predicted the Moorswater branch with it's very little used connection from the mainline at Liskeard was a casualty. The requirement to detrain, bring the stock into the short branch platform and re-embark proving a hugely time consuming task and interrupting the now very well used local service. How about letting the passengers stay on around the tight curve? No way it seems! So a tiny section of connection and the stub to Moorswater are now the most significant bits of track undone west of home I think. In any case, I'd decided not to take the late start and make more of a day of this trip. Some judicious planning and a decent advance fare meant I could get to Cheltenham Spa comfortably by getting the first train to Bristol as usual. This was populated by a young family with two screaming babies they didn't seem keen to shut up. Not sorry to get off and get breakfast at Temple Meads, but then amazingly they decided to travel in the same 'Quiet Coach' as me on the 07:00 service. I can imagine that didn't go down hugely well later in the trip. I however hopped off at Cheltenham, changed platforms and waited for the tour to arrive. Having done some checking online, I'd noted there were only two Class 37s on the train due to poor availability. As I boarded, I noticed the usual moaners were already complaining about the route and loco issues. I kept an open mind at this point, and sat back to enjoy the day. After pick-ups at both Bristol stations we sped south, coming to a grinding halt just outside Highbridge as we caught up with the stopping. Some slow running to Taunton, but we'd kept time. Not taking the booked operational stop at Exeter St. Davids put us roughly half-an-hour ahead and we arrived at Plymouth for an extended break in the sunshine. Chatted and watched the front loco run around to give us a top and tailed formation for the branch to Parkandillack, which had replaced Moorswater as the Cornish target. Once underway, I relaxed and even snoozed a bit - I didn't need the branch, but I was keen to see it's strange china clay related moonscape once again. The weather began to cloud over and rain began to spit down, but that just added drama to this very queer area with its pits, piles of white dusty soil and huge quarried absences.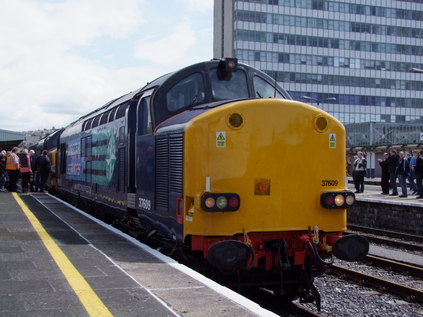 We headed back along the branch and onto the mainline, pausing briefly to collect stocks of excellent pasties from Pearns of Par. Then, a little short of Bodmin we began to slip and stutter. With just the front loco hauling ten coaches and a dead Class 37, the greasily damp rails were proving a challenge. The driver coaxed the train as far as he could, but with time slipping by, the decision was taken to fire up the rear loco. We were soon away and heading back into a damp Plymouth for more loco changes. Here, the 37s both returned to the front, and 66156 which had come up from St.Blazey was tagged on the back. This would draw us back from Heathfield, and ensured that the vast majority of the tour was still 37 hauled despite the lack of a third loco. The run over the South Devon Banks was swift and sure, and only about 14 late we crept into a much sunnier Newton Abbot. Here, after a bit of a wait, we took the branch curving north around the racecourse. The bed of a former canal owned by the GWR appeared immediately beside the railway - with evidence of locks, long since dry but still to be seen. The branch reminded me of the Buckfastleigh line - a near neighbour - with its tree-lined climb towards the moors. The log loading area was very evident - with piles of freshly cut trees waiting for next week's train. Teigngrace station followed, and then more evidence of the canal which petered out before the platforms at Heathfield. Clearly substantial and mostly intact, the recent First Great Western charter allowed passengers out here! Almost unheard of on a modern-day railtour, but perhaps the reward for enduring those Class 142s on the trip? We pressed on though, through the station and onto the run-round loop used by the timber train empties. We came to a halt at a point where the driver reported the remaining rails disappeared under water! It was pretty close to the end of this once very well used line, and an excellent result.
Returning south, several folks disembarked at Newton Abbot for London-bound services, and left us to have a quiet and very speedy non-stop run to Bristol in the evening sunshine. We halted at Parson Street Junction to allow 66105 and 001 to take the High Output Ballast Cleaning train onto the Portbury Branch, the possession being opened and closed for the works train to pass. Then we slipped into Temple Meads where I hopped off. Some folks dashed for the late-running 19:53 home, but I'd planned to linger for my usual 1C27 which meant I got to watch the storming departure of our train northwards for Crewe, roughly at its booked time. I settled down for a coffee and a peaceful run home. It had been a successful day, and despite the changes to the plan I'd got new track, an unexpected new Class 66 and had an interesting and relaxing day out. That, after all, is what it's all about.
Posted in Railways on Saturday 2nd June 2012 at 11:30pm
---
Everyone told me I was insane to travel this weekend, and particularly so to consider going anywhere near London. They were, on reflection probably right for a number of reasons. This trip was conceived in a desperate attempt to find something - anything - to occupy me for part of this extra-long Bank Holiday weekend. The plan I'd opted for was one suggested by a friend offering her opinion on Eastbourne. It wasn't positive - but where there is a seaside resort to visit, I'm usually up for it. Perhaps it's living in a series of blighted, slowly dying resort areas myself? So this morning didn't start well - a mild but persistent headache, the threat of rain and an argument with a cash machine dogged my journey to London. The early train was perhaps a little busier with families heading up for the weekend, but not hugely so and I was left to ponder my irritation in peace. Having resolved my financial position with some relief that the machine at Paddington willingly gave me money, my paranoia switched to considering that perhaps the ATM at home had some sort of evil skimming device inside it? I headed to Victoria via a very quiet Circle Line train, and with some time to spare decided to breakfast here. It was much busier, with all manner of oddly-hatted people heading for Epsom Downs and Tattenham Corner trains to reach the Derby, where the Queen would be making her first appearance of the Jubilee weekend. There were a lot of people here who didn't travel by train often it was clear - as they tried to insert bus tickets into the gates, and in one notably silly case where a woman bitterly complained to a Network Rail official about "YOUR pigeons attacking us and stealing our food". It all seemed so distant from last weekend - this was a reality of London of course, but not the one I knew. I found my coach in the 12 carriage service to Eastbourne which combined with a Littlehampton service as far as Haywards Heath. Even the locals seemed confused by where they should be despite clear announcements. Otherwise it was an easy enough journey, delayed a little at East Croydon by signalling issues - and passing a notably long queue of London-bound trains as we headed south.
And so I arrived at Eastbourne's rather grand terminus. I'd been this far before, on a train which called and reversed for Brighton, but had never wandered onto the interesting concourse - an odd lozenge-shaped building nestled into a road junction. It was clean, spacious and had a pleasant feel to it. I was tempted to linger for coffee but remembered the challenge, and pressed on into the town. I was immediately struck by the 'onion skin' effect here - Eastbourne has been built in layers around the station it seems. Beyond is the Old Town, mostly residential and unvisited now - so I headed along Terminus Road which cuts through the various layers of the town. The retail area is frankly depressing - it's only redeeming feature being a range of small, local traders still clinging on by their nicotine-yellowed fingertips among the national traders. The pedestrianised areas are cramped, illogical and seem to cause people to cannon into each other. Several times I stepped aside to let a pram or a wheelchair through, and was shoved hard from behind and sworn at. It seems here showing any sort of respect is to show weakness in the struggle. The older people were worst - like the other south coast excursions I've made, the volume of their voices struck me. They crowed and shouted at each other, expletives dotted their regular speech. The younger generation just seemed depressed and downtrodden, fake tan and ludicrously comic breast enhancements featured, males gripped females like they owned them. Meanwhile a foul smelling Wimpy Bar poured greasily sated young people onto the street. This was a grim, demoralising place.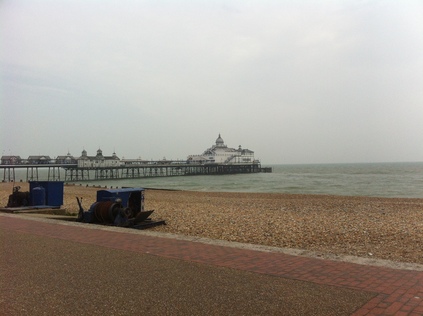 The next layer of Eastbourne was more sinister. A curved ring of huge victorian villas and town houses surrounds the town, with Terminus Road cutting across it. It was quiet here, and the architecture was stunningly original seaside chic. I explored a little but soon realised that despite being a few yards from town I was in fact alone. The reason soon became clear. These huge sprawling properties, once guest houses or private dwellings had been divided into hundreds of flats, some of them were dry houses or supported accommodation, all of them looked decrepit and run down. Especially those which were still clinging on as guest houses despite the change in tone of the neighbourhood. This area felt dangerous, it's silence oppressive. I headed back to the crossing and turned towards the seafront at last. Here I encountered an odd avenue of restaurants and tat shops which led the short way to the sea. It was a little after 11am, and the restaurants - competing in the size or price of their breakfasts - disgorged tourist families, still picking rind from their teeth and wondering as in one half-captured conversation "what the fuck we're going to do until lunchtime?". Their weekend a procession of meals with empty, bored oblivion between them. I called into a shop and grabbed some lunch, the assistant smiled pleasantly and wished me a nice day - she seemed world-weary and turning to see the queue of men behind me with one can of Special Brew each, I sort of understood. The jewel in Eastbourne's crown should of course be it's seafront - and in many ways it is. Dominated by a sweep of white stuccoed houses and hotels, it's tidy and clean, and seems well used. The shingle beach is not swept by huge tides, so there is no need for sea defences, and instead there is a wide, tarmaced cycling and walking path alongside the beach. I found a spot to eat and rather liked the view - a slightly forlorn pier in the distance, decaying groynes and a churn of atmospheric sea mist. I realised here how important the sea was to me, whether I was home or in the far reaches of Fife or Strathclyde, it always called me. I noted a woman passing by, eyeing me with distrust. She did so once or twice and clearly didn't like the look of me. Clutching her sandwich, I expected her to move off and sit elsewhere, but clearly I was in her spot as she sat down feet away, and with every slowly chewed, deliberate mouthful she glared at me. This was now a battle of wills and I was determined to outstay her. Eventually, she finished the sandwich and left. I think I might, inadvertently, have ruined her day? I made my way back to the station as fast as I could. Eastbourne was just as it had been described to me, and I didn't like it at all.
My ride back via Brighton was colourful, with all manner of weird and wonderful folk arriving at the terminus for the Fat Boy Slim concert that evening. Having found myself there a couple of times lately, it was interesting to see the station respond to events in town calmly and efficiently. My own plans didn't quite work out as some sort of diagramming change saw the pair of Wessex Electrics I'd hoped to catch on the 14:49 disappear north on the 14:19, leaving me with a meagre six coach Electrostar back to Victoria. I cowered in First Class, listening to a coach full of gleeful middle-class monarchists enjoying their picnic and mid-priced Tesco wine. London had brightened up when I arrived, and I waited in the sun for a No.36 bus back to Paddington happily enough. Hyde Park was a mass of humanity, a huge screen erected and a concert of some sort going on. I was moved to think of George Gissing's novel set in the Jubilee year of 1897 - he railed against commercialism and advertising, and foretold much of what I could see from the window of the bus. I'm pretty sure he also spent some time in Eastbourne. I wonder what he'd make of it today?
Posted in Railways on Saturday 19th May 2012 at 10:27pm
---
Lately my wanderings have gained in importance once again due to frustrating and dull times at work, but have also decreased in imagination. Often, all I'm aiming for is journeys long enough to distract me - to see movement and feel distance pass by. As the schedule of engineering works and diversions slows to a crawl ahead of a summer of events, it's proving tricky even to find interesting diversions. So, I'm drawn repeatedly to London. I can easily spend hours doing nothing there and still feel part of something bigger than the rather tiny life I seemed to have got myself wedged into back home. There is also the sense of London being off-limits soon - the Jubilee and Olympics making an always chaotic city even more difficult to navigate, and the attempts to impose order no doubt creating an unpleasant edge. So perhaps I'm unconsciously cramming as many London trips as I possibly can into these few precious weeks of relative sanity?
This one was a little different - my drive to take long, relaxing trips had suggested the normal run out to Birmingham, which is generally a good start to the day. Noted the Phantom Seat-Stealer back on the train and wondered if I'd have a scrap for my booked seat at Temple Meads, but noted him still on the platform as we left, heading for Cardiff I suppose. Ruminated on how the railway led me to know all these people by association - but not to know much of their lives, or mostly even their names. The journey was quiet and uneventful - just what I needed it to be. Changing trains at New Street left me time enough for coffee and people-watching on the concourse. I hope this possibility is preserved when the station is refurbished, because it's become something I rather enjoy. This station always signified mystery and a long trip somewhere - but suffers of course from a rather grim experience at platform level. Even though being delayed here is an unwelcome proposition, I recall breaks in epic trips with some fondness. Down to the platform for the 10:13 service which was a little late in arriving. This led to a lot of people milling around asking about the unit that arrived. In particular, a group boarded first class a little in front of me - a sarcastic, sleepy man and two babbling women. They'd snapped up the cheap London Midland tickets eagerly enough but wanted the Virgin experience - Where were the people handing out refreshments? Why did it call at all those stations? Headphones in, for a snoozy but pleasant journey south along the WCML, as always enjoying the approaches to London particularly.
I wondered if I'd left long enough to switch trains in London, as this was to be quite a fleeting visit? Though a short journey to Marylebone it can be a slow and congested one - but in the event I was able to get a 205 and have a fairly smooth trip. Along the way I noted the Euston Road pubs were full of West Ham supporters. It was the Championship Playoff Final today, and I'd completely failed to notice this. It wouldn't interfere with my trip, as the Birmingham Snow Hill service I'd chosen didn't call at Wembley Stadium, but Marylebone itself was an interesting experience! Chiltern were running additional shuttles to the stadium which worked well, and the crowd were nothing if not good natured. They were very, very vocal however - and everytime the chanting, singing or shouting died down there would be a solitary, clipped and almost embarrassed rallying call of "Irons!" which would kick it all back into life. The police looked amused and unconcerned in the main but I was stopped by one and asked some questions about my business. He was polite and friendly, and seemed keen to talk so I explained I got stopped a lot and asked if he could tell me why? He told me the simple truth was that I appeared unusually confident and knowledgeable in the station. I knew where things were, didn't mill around in confusion like most passengers in the off-peak seem to. It was unusual enough to make him wonder what I was up to. I'm not sure I'm any happier with this explanation, and I told him that - but I suppose I can sort of see the logic.
Away on the 14:00 to Birmingham via the Chiltern Line, surrounded by a loud group who kept swapping seats and moving around. They were comprised of a couple of asian women and their children heading off to Bicester Village to shop. But they didn't know where to get off, and asked a pair of black guys sitting opposite them. The response was quite frankly racist - some of the worst and most open I've ever seen in public. They asked me and I set them right, but noted that they seemed used to the response which disappointed me. Otherwise the trip was quiet and pleasant, just like the last time I passed this way which was fairly recently in fact. This time I bailed at one of the through platforms at Moor Street, and spent an idle hour watching people and trains, particularly the new Class 172s, shuttling back and forth.
After another leisurely linger on the concourse at New Street, I took the usual 1V65 back to Bristol. As ever it was a quiet, pleasant run into the slowly setting sun - echoing trips of old. While waiting for 1C27 homewards at Bristol I figured that today had broken no new ground at all, but it had been just the tonic I needed.
Posted in Railways on Saturday 12th May 2012 at 11:05pm
---
Considering how much I gripe about the line from Bristol to Southampton, I've found myself using it a fair amount again lately. It's mostly the huge potential for overcrowding on the service which means using it for my leisurely meanderings isn't always much fun - but also that interminably long, dull section between Warminster and Salisbury which is always a drag. I recall one of my earliest trips after returning to the rails went this way using a Replacement Bus service - and even that godforsaken mode of travel seemed preferable to this bit of the run. Considering how I love rail travel and promote it, I amuse myself by how outspoken I am about some dull lines - not least this and the truly dull Settle and Carlisle run which despite its scenery, is a long, slow drag. So it was strange to find myself willingly subjecting to this run a second time in a week!
But there was a purpose. In the absence of other goals, and with a freebie First Great Western ticket in hand, I decided to do a multi-modal skip across the South Coast, ending up in Brighton and getting the once much favoured 1V96 back. This meant an early start and a run up to Bristol for breakfast. Once again, despite having a while to wait around the station's Starbucks failed to open even at its much later advertised time. Settled for an alternative and boarded the 07:22 - about the only train on the Portsmouth Harbour route which doesn't get rammed here or at Bath. I managed to snooze for much of the less interesting bit of the run, waking in time to alight at Fareham. The weather had turned out to be really fantastic, and as I made the slow transit to the station bus stop under the subway, I enjoyed the sunshine. The aim here was the Eclipse service which uses a dedicated busway towards Gosport. This is significant because it occupies the former railway alignment into the town, and thus as soon as it opened my curiosity got the better of me. Tracing the route by map, there was a fair amount of evidence of its former status too. The bus when it arrived, was very impressive. Leather seats and a bright, clean interior. Destination displays and free onboard wi-fi completed the sense of a modern services. I found a seat and settled in for the run to journey's end at Gosport Ferry. Once off the main road we turned onto the busway. A two-lane carriageway which cut directly through the tangle of streets. No guideway like in Cambridge, and the route is shared with cyclists - and at least one errant or perhaps just truculent motorist too. However, speeds are reasonable and the stops were showing signs of reasonable use - even on a sleepy, warm Saturday morning. Suddenly just under the Tichborne Way bridge we slowed and took a sharp curve via the 'Tichborne Link' back to the conventional streets at Fareham Road. The way onward hinted at Phase 2 to be completed soon. Having tried this out, I think I'll come back too - because once back on the road network the advantages became starkly clear. The long-wheelbase buses struggling around parked cars, over traffic calming bumps and through endless traffic lights showing the huge advantages of the busway for this journey. However, the trip into town meant passing the strange naval forts and signs for the curiously named 'Explosion Museum'. Occasionally the route came tantalisingly close to the former rail route too as we wound through the suburbs. While a busway is definitely not my preferred option for these things, I have to say this works pretty well.
The centre of Gosport looked busy and prosperous despite some evidence of run down looking areas on the way into town, however today I stayed on to the rather 1970s vintage bus station and made the short walk to the Ferry terminal, buying a ticket from the man in a tiny booth with his old-fashioned dispenser. The ferry service is frequent and fairly keenly priced - and for these reasons appears well used. Queueing on the covered gangway, the ferry was expertly guided alongside and the gates opened allowing swift disembarking and boarding at opposite ends of the vessel. Given the sunshine, everyone dashed upstairs onto the open deck, but I found a window below in the curved bow and settled in for the short ten minute trip across to Portsmouth Harbour. It was quite an experience - as water travel always is these days - and one I'm glad I'd opted for. Arrival at the Harbour means only a short walk up to the station platforms too. I had some time here though, so I had a little lunch, watched the world go by and enjoyed the sunshine.
The next leg took me on one of Southern's very well used West Coastway services to Brighton. These get far too busy for my liking, and soon the train was fairly full. I also suffered the indignity of being asked to turn my music down on this leg of the trip - something I don't think has ever happened to me before. I felt rather sullen and pathetically wronged after this. Looking back I can chuckle - but at the time I felt surprisingly silly and down about it. I surprise myself with my oddness at times. Arriving at Brighton meant decanting a lot of people via the narrow Platform 1 and 2 island, then squashing around to the ticket gates. The Great Escape festival was on in town this weekend, using a range of local venues - and thus the station was incredibly busy. To speed things up, staff opened the gates and let us tumble through. I aimed straight for the exit, and some recommendations for shops I'd been offered - including the excellent Resident Music tucked away in The Laines. It was years since I'd wandered in Brighton, and it still had the slightly strange but very pleasant edge which I'd immediately liked on my early trips here. After browsing the friendly, and somewhat enlightened environs of Resident for a while, I decided on coffee and a chance to reflect. With Brighton delighting in lots of artisan type places, the large Starbucks I found was reasonably quiet and importantly nice and cool in the growing heat of the day.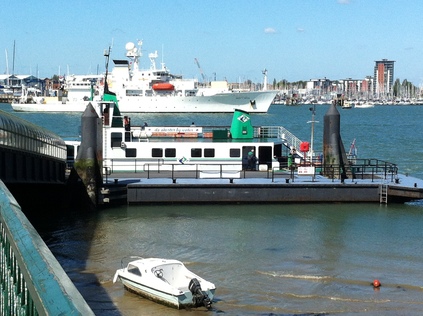 Having some time now, I decided to head for the Volks Electric Railway. I'd never made it to this tourist favourite before, and it was a fair walk - but not an unpleasant one milling among the festival crowds. On getting there, the queue for the tiny single-car trains was huge and I calculated I couldn't easily wait in the queue and safely make it back to my mainline train so after watching a departure, I resolved to revisit at a less touristy, sunny time and do the line. The walk back to the station was a hot, long and irritating slog through huge crowds. Once at the station I improvised a meal while listening to a band playing in a venue next door. No idea who it was, but they were pretty good. Finally over to Platform 2 to beat the crowds and wait for the First Great Western unit to be opened up. Some amusing scenes as a Southern unit occupied the end of the platform ahead of my train, and people debated the idea of front train, first train and 'First' train as written on the side of the unit. Did some impromptu directing, before getting a seat on the unit.
It was strange to be back on 1V96. I'd used this train once or twice to visit friends here many years back, and also when I returned to the rails and it was Class 31 hauled on Fridays. I recalled particularly the last ever 31 hauled diagram in December 2004, and realised with some horror just how long ago that was, and that it was probably the last time I'd spent more than a few minutes in Brighton! The run back was pleasant and lazy - with me feeling ultra paranoid about music volume. The train didn't get hugely busy, even at Southampton - a fact I filed away for future use. The guard was fine with my odd combination of tickets too, and I settled in for the long winding route back to Bath Spa. Changing here meant a short wait for 1C27 from Paddington, a frequently used train home which I could have picked up at Bristol as I often do. It was nice though to relax for the last leg. Amazingly my multi-modal run had gone very smoothly, and the bus and boat rides had impressed me hugely. It's days like these which restore faith in public transport along with being entertaining trips in their own right.