Posted in Railways on Saturday 9th June 2012 at 11:06pm
---
It's around this time of year that Railtour operators seem to turn their attention to the South West, and when we become a destination rather than a starting point. This has it's advantages - in that some tours can then be picked up at sensible times of the day, fairly locally. Of course it also means lots of tours are mostly jollies for 'normals' - trips to the Eden Project, or steam-hauled excursions. Neither of these being of particular interest to me, it was good to see this trip appear. It did eventually fall prey to it's ambitious itinerary, and as predicted the Moorswater branch with it's very little used connection from the mainline at Liskeard was a casualty. The requirement to detrain, bring the stock into the short branch platform and re-embark proving a hugely time consuming task and interrupting the now very well used local service. How about letting the passengers stay on around the tight curve? No way it seems! So a tiny section of connection and the stub to Moorswater are now the most significant bits of track undone west of home I think. In any case, I'd decided not to take the late start and make more of a day of this trip. Some judicious planning and a decent advance fare meant I could get to Cheltenham Spa comfortably by getting the first train to Bristol as usual. This was populated by a young family with two screaming babies they didn't seem keen to shut up. Not sorry to get off and get breakfast at Temple Meads, but then amazingly they decided to travel in the same 'Quiet Coach' as me on the 07:00 service. I can imagine that didn't go down hugely well later in the trip. I however hopped off at Cheltenham, changed platforms and waited for the tour to arrive. Having done some checking online, I'd noted there were only two Class 37s on the train due to poor availability. As I boarded, I noticed the usual moaners were already complaining about the route and loco issues. I kept an open mind at this point, and sat back to enjoy the day. After pick-ups at both Bristol stations we sped south, coming to a grinding halt just outside Highbridge as we caught up with a local stopping service. Some slow running to Taunton, but we'd kept time. Not taking the booked operational stop at Exeter St. Davids put us roughly half-an-hour ahead and we arrived at Plymouth for an extended break in the sunshine. Chatted and watched the front loco run around to give us a top and tailed formation for the branch to Parkandillack, which had replaced Moorswater as the Cornish target. Once underway, I relaxed and even snoozed a bit - I didn't need the branch, but I was keen to see it's strange china clay related moonscape once again. The weather began to cloud over and rain began to spit down, but that just added drama to this very queer area with its pits, piles of white dusty soil and huge quarried absences.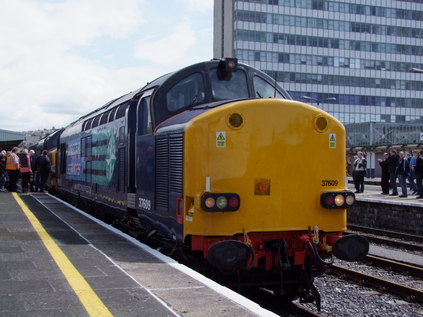 We headed back along the branch and onto the mainline, pausing briefly to collect stocks of excellent pasties from Pearns of Par. Then, a little short of Bodmin we began to slip and stutter. With just the front loco hauling ten coaches and a dead Class 37, the greasily damp rails were proving a challenge. The driver coaxed the train as far as he could, but with time slipping by, the decision was taken to fire up the rear loco. We were soon away and heading back into a damp Plymouth for more loco changes. Here, the 37s both returned to the front, and 66156 which had come up from St.Blazey was tagged on the back. This would draw us back from Heathfield, and ensured that the vast majority of the tour was still 37 hauled despite the lack of a third loco. The run over the South Devon Banks was swift and sure, and only about 14 late we crept into a much sunnier Newton Abbot. Here, after a bit of a wait, we took the branch curving north around the racecourse. The bed of a former canal owned by the GWR appeared immediately beside the railway - with evidence of locks, long since dry but still to be seen. The branch reminded me of the Buckfastleigh line - a near neighbour - with its tree-lined climb towards the moors. The log loading area was very evident - with piles of freshly cut trees waiting for next week's train. Teigngrace station followed, and then more evidence of the canal which petered out before the platforms at Heathfield. Clearly substantial and mostly intact, the recent First Great Western charter allowed passengers out here! Almost unheard of on a modern-day railtour, but perhaps the reward for enduring those Class 142s on the trip? We pressed on though, through the station and onto the run-round loop used by the timber train empties. We came to a halt at a point where the driver reported the remaining rails disappeared under water! It was pretty close to the end of this once very well used line, and an excellent result.
Returning south, several folks disembarked at Newton Abbot for London-bound services, and left us to have a quiet and very speedy non-stop run to Bristol in the evening sunshine. We halted at Parson Street Junction to allow 66105 and 001 to take the High Output Ballast Cleaning train onto the Portbury Branch, the possession being opened and closed for the works train to pass. Then we slipped into Temple Meads where I hopped off. Some folks dashed for the late-running 19:53 home, but I'd planned to linger for my usual 1C27 which meant I got to watch the storming departure of our train northwards for Crewe, roughly at its booked time. I settled down for a coffee and a peaceful run home. It had been a successful day, and despite the changes to the plan I'd got new track, an unexpected new Class 66 and had an interesting and relaxing day out. That, after all, is what it's all about.