Posted in Railways on Saturday 6th October 2012 at 6:16pm
---
Today could have been a very different day if it happened a week ago...
I wasn't going to head for the Severn Valley today. It didn't feel like the right thing to do from the very outset of the morning. A frantic dash around the house to create enough time to make a phonecall. This began to define the pattern of the day, which from that point stopped being about inland waterways and extended to oceans. The usual dash up, changing at Bristol and heading onto 1M21. Then, in the absence of a backup-plan, into the coffee shop. Then over to the yard of St.Chad's Cathedral. Empty and quiet in autumnal sunshine. The benches wet, a couple of early drinkers stumbling around the grounds. I paced and talked...time passed...the park became busy with commuters heading for retail jobs, then shoppers, then the commuters returned for lunch...
I talked for a long time.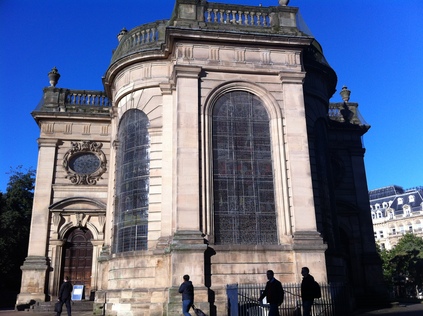 Dizzy and somewhat stumbling I edged around the city. I headed for the water, but the gentrified fringes were too busy. The crowds became busier. I found myself briefly at Moor Street station having scooted around Selfridges silver, bubbled flank. I'd not been this close before and was amazed by its strangely organic feel. The bridges delving deep into it at odd angles cut the strange soft edges. I was fascinated and took a shot, struggling to avoid the glare and needing to wait for a passing bus to get it quite right.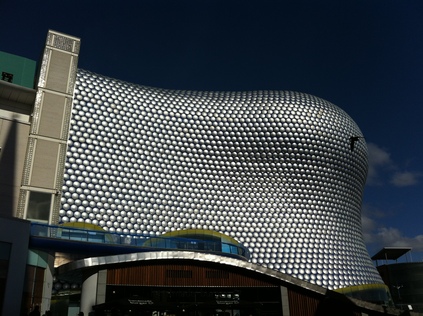 Eventually, I sought solace in the mall above the station and settled to write. I managed to express what I'd hoped and sent it winging across the Atlantic again. I wondered what would happen next. I could only look to more coffee, a journey, music and the rest of the evening...
This was not the day I expected to report on, nor the day I expected to experience. But it was an important day nonetheless.
Posted in Railways on Saturday 22nd September 2012 at 10:41pm
---
There are hints as I write that we might just be emerging from the summer of strangled trips and cancelled plans, and that the autumn and winter might in fact be something of a renaissance. It's early days, and as I headed for Crewe last night after work I reasoned it would probably have felt less like an imposition had the original BLS-related plans have stood. In the event, the relatively late trip worked well - and I had a decent and interesting journey before arriving and going almost directly to bed. I did this because this morning required a very early start indeed for my replacement entertainment. I'd toyed with various options but the one which appear most cost effective and sensible was to head for Glasgow. I feared the usual experience of being frustrated by the limitations of a one day visit - but I booked the first one in and last one out to maximise my time, and also had something of a plan for my trip. So, I set out on the 05:57 and had a quiet and relaxing trip north. As the sun rose over misty Cumbrian scenes, it was clear it was going to be a beautiful day up here too. Glasgow in autumn should be a favourite trip - but could I make a one day visit work? It's always good to be back in the city, regardless of my concerns and as ever I got that little spine-tingle of excitement stepping onto the platform at Central Station. As places to arrive go, this must be one of the most appropriate and impressive. Before I went anywhere I grabbed breakfast since Crewe station had been closed up tight at 6am on a weekend. I then proceeded directly to a favourite coffee spot. I had no intention of today being rushed at all, and spent time watching the fairly pointless security staff marshalling a non-existent crowd outside the Apple Store as a few early purchasers shuffled inside on the first weekend day of the new iPhone's availability. I'm sure it got busier later - but right now it appeared overkill, as a green-shirted Apple employee looked anxiously up and down Buchanan Street. It was time to enact my vague plan - which as ever lately related to waterways...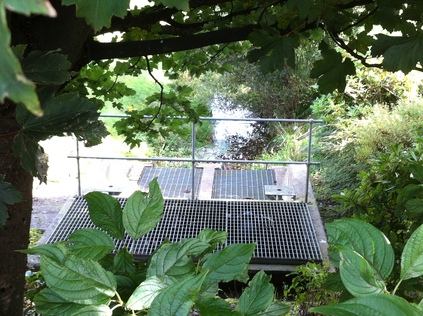 In short, I reasoned that I ought to be able to get pretty close to the source of the Molendinar Burn. This curious and once highly important waterway plays it's part in the founding of Glasgow, but is now mostly conducted to the Clyde from the North East of the city as a sewer of sorts. Having read intriguing accounts of it's course on Hidden Glasgow a while ago, I'd been intrigued to find it - visiting the extant above-ground part at The Great Eastern a few years back. But the source? This was at a pair of Lochs on the edge of the city - it meant a walk, but that lately at least, has been the chosen mode of travel. So, I headed for Stepps station on a Falkirk train.
Initially my walk took me through a pleasant enough housing development tight against the northern flank of the railway. The other side of the tracks where I'd thought I might walk appeared to be swampy, rough ground. I was unsure and stuck to pathways, cursing my lack of adventurous spirit somewhat. I also reasoned that this wet, boggy plateau in the dip occupied by the fledgling Molendinar was probably related to its existence. Skirting the estate and edging along Cumbernauld Road I found my way to Frankfield Loch - the source as per records. But Frankfield Loch now belongs almost exclusively to Taylor Wimpey. A huge swathe of housing, named for the Loch, is being built in the gap between the A80 and the motorway suburb of Craigend. There appeared to be no safe or approved route around the lake here, so after finding a spot for a picture I returned to the road thwarted and turned west again. Looking at the map, post walk I could perhaps have progressed to the south and skirted the Loch via woodland pathways - but that wasn't the walk I wanted. The outlet of the Molendinar on the western edge of the Loch was close - but obscured.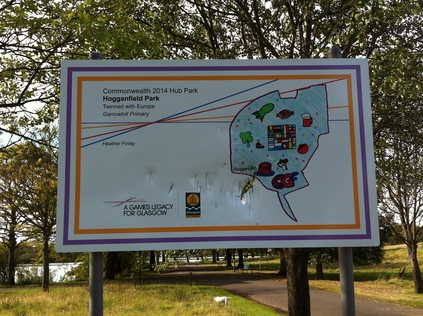 My next aim was to find the point that the Burn entered Hogganfield Loch. This too proved incredibly difficult to achieve. I edged my way along the main road, noting that in fact despite the peeling stucco on some of the little cottages, this wasn't a bad place to live. The road pushed busily on to the City around five miles away, and there was something of a rural feel to the place. I trudged alongside a green municipal railing that enclosed a well-kept park. In there somewhere, the above-ground expression of the Molendinar lazily ran between the Lochs. There was a large sports centre, and the railings were locked wherever there was a gate. I eventually found Avenue End Road. This strangely empty, semi-derelict rat-run delves south to link with the M8 and Edinburgh Road, and as such was well used. It also became clear there was no way into the park. It was Strathclyde Region land, marked as playing fields and privatised. I could see where the woodland would have brought me in far to the south, and tantalisingly under the rise of the road, I could see the gratings which led the Molendinar into it's first culvert. Crossing the street and an alarmingly boggy triangle of land, I entered Hogganfield Park. The North East of Glasgow is a closed book to me, and merits exploration in the same way that this quarter of London which has occupied my thoughts. Here there was another echo - a sign declaring the park a "2014 Games Legacy". I shuddered, suddenly aware of how this would change the city.
I pressed on around the fine and extensive park which circles Hogganfield Loch. It was quiet except for joggers and dogwalkers, and I sat and watched for a while. At the far, western end the municipal golf club offered facilities - but not for the likes of me. Children ate ice-cream and fed ducks or swans with Waitrose bread. This was a strange collision of a working class playground for the North East and the edge of suburbia. I contemplated a return to the city on foot, braving motorway bridges and edgelands, but now my time- and range-anxiety kicked in. Maybe if I'd not needed to be back for a train - which was in reality hours away - I'd have done it. Instead I boarded a bus which clung tight to the Burn's hidden route - at least as far as the head of Wishart Street on the edge of the city. This was to be my first arrival at Buchanan Bus Station too, that busy confusing mass of humanity and machinery which decants vast portions of the city, especially from the areas I'd been walking today.
I spent the rest of my day reading, writing, drinking coffee and just enjoying being in the city. I can't help feeling my jaunt to the North Eastern edges is incomplete and unresolved. Perhaps when I'm back in October I'll revisit this odd quadrant of the city. For now though I have grainy, indistinct pictures of the Burn before it disappears from view. Mission sort of accomplished?
Posted in Railways on Friday 7th September 2012 at 9:09pm
---
I used to refer to these strange interludes when something went wrong with the plan as "Lost Weekends". They've mercifully been rare over the years - save for the bad patch in 2007 and last year's "Lost Week" which oddly enough coincided with the riots - a strangely distracted and depressing week indeed. It's a little late to claim this as some sort of anniversary of those events, but it's oddly close. So, we face an uncertain Autumn, and sad to say I have a rather worrying sense that for some of the tour organisers, this is now terminal. ASLEF's dispute is about rest day working, and the fact that TOCs should take on more drivers rather than stretch the existing workforce. I think that's unrealistic. They key to success in straightened times is flexibility - and a whole host of new drivers during uncertain financial events just puts a lot of people at risk of redundancy. Some might claim that it suits the unions, as it provides a buffer between their members and the bleeding edge of cuts. But the fact remains that a healthy company is more likely to retain staff, so attacking customers isn't a good strategy. Sadly of course this little niche market is just a fragment of the rest day working done so the lobby is powerless. We're at the mercy of the unions in an uncomfortable way and one of my prized hobbies is dying as a result.
And its exactly because of this that I find myself in Basingstoke.
Last weekend I complained bitterly all over social networks about Doncaster. It was certainly deserved - despite its good shopping opportunities and its excellent position on the ECML, its a grim and occasionally lawless spot. The fact was I had a fairly neutral experience despite the dullness of the time there - I could have been doing other things elsewhere and felt a bit trapped. That was the key to my dismay. But this week, after a fairly good week at a new job I ended up taking a train to Basingstoke. It was planned that this would let me pick up the Charity Railtours trip to East Anglia. This had already taken a battering - banned from the GEML because it fell during the Paralympic period, redated once, and finally cancelled to be run later.
I arrived in Basingstoke late, in evening sunshine. It is, in my experience, the best way to see a town. I'd been here before - the useful station facilities are good and I recall being taxied here from Southampton once too. I'd even waited for a late-running Voyager to arrive in a little more style than a Networker. But once out of the station I was plunged into a mall - a long, insulated stretch of covered shopping space. Having consulted my maps before travelling, I couldn't see any other way to get across town except taking a very long route around. The first mall, a spacious, ominously empty affair gave way to a short stretch of daylight before the doors of another mall reared up. There was no escape or alternative route - except for access to a car park. This second, older mall was white, tiled, shiny - probably of 90s vintage. It was largely empty too - I'd wondered if these routes would even be open in the evening, but it seems that they are so fundamental to getting around town that they have to be. One consequence of the accretion of building projects is that the signage and wayfinding is inconsistent. It's impossible to plot a route without instinct. I pitched it just about right - emerging in a car park at the end of the mall. To my right, an old town street curved up a hill - even that was pedestrianised and made part of the sweep of retail. I veered left, across the empty expanse of parking spaces.
The Red Lion Hotel is a strange, red brick 1970s extension to an old pub. Like many independent hotels of it's vintage it feels a little tired, a little unkempt and weirdly cold inside - but it was pretty good. Clean, safe and staffed by some really good people. A bright, open smile and an unexpected conversation awaited me. It felt like the first human experience I'd had since I left the train and as such was very, very welcome. My room - home for the next two days - was fine too. I had nothing to complain about, yet I was still finding Basingstoke difficult to understand. I didn't want to be here, hated the way the Town Centre space had been privatised and didn't have the planned trip to fall back on as a reason for this. It was a difficult, dull night I faced...
Tomorrow, I'll predictably go to London again. It's still the midst of the Paralympics of course, and I wonder what I'm going to find - I'm also acutely aware how much time I seem to be spending there lately. But it feels like the only reasonable escape from here just now.
Posted in Railways on Saturday 28th July 2012 at 10:59pm
---
I woke up this morning feeling like I had a hangover. I'd not imbibed a single drop of alcohol last night, and had settled down early to watch the circus around the Olympic Opening Ceremony. Perhaps it was the overload of images, provoked emotions and confusing messages which gave me the headache? This morning there were messages suggesting I "probably wasn't such a cynic now, eh?". I checked. I certainly was - though Danny Boyle's gently subversive take on a Britain stuck somewhere in the mid-2000s was oddly inspiring. I fell asleep somewhere during the parade of nations, and caught up guiltily with the rest this morning before setting off. Today then, was about escape. About going in the opposite direction to the Games, and about heeding that long-drummed in advice to travel differently. On that basis I'd headed north - not without it's risks as the football matches were scattered all over the country, but from initial indications reasonably quiet. Certainly, aside from the bonkers 'seat stealing' bloke, the first train was a little busier than usual due to being just two coaches, but 1M21 was mostly empty. I settled in for a lazy spin to Birmingham, hoping to shift my fuzzy head on the way.
With not long to change at New Street, I prioritised. Straight to the coffee shop then down to the Nottingham train. Again rather quiet, as I managed to find my way accidentally to my booked seat. Again the trip was hazy and sleepy, but I was beginning to feel human again. The sun had risen unexpectedly given the forecast and any hope of snoozing was dashed by a local with a gratingly noisy West Midlands accent who sat a few seats away, moaning at his dad mournfully about energy drinks. We reversed at Derby, where I'll be again next week on very different business indeed. Even here things didn't really get too busy, so I dared to hope the next journey might be OK too. After a passing of the Railway Technical Centre which is always interesting, we made the slow creep around Trent Junction before accelerating towards Nottingham. The station is in something of a transformative stage, and is due to close entirely at some point for this purpose. But for now it's cordoned off, temporary toilets and hardboard hoardings on the platforms. Amongst this, things function pretty normally - the Skegness unit was as ever two coaches for a huge crowd. This didn't bode well. However, a good deal before due time, a pairing of a 156 and 158 arrived on our platform. Plumped for the 158 because of the aircon and found a seat at the back of the unit. Amazingly, as we departed Nottingham, there were just two of us in the back coach. Granted, the front unit was busier - but this was rather surprising given previous experience on these services. The plan was to stay on all the way to Liverpool - something I'd not done for about six years on the way back from an All-Line Rover trip. After a scud along the Erewash Valley we reversed at Sheffield. Still the unit was pretty quiet, as we did the fast run over the Pennines through remarkable summer scenery. West of the hills things weren't quite so summery, but after a pause at Stockport we pressed on for Manchester. The expected crowds once again failed to materialise and we departed for the last leg of the trip to Liverpool with just a group of boisterous lads sitting nearby.
Arrival at Lime Street was dogged with difficulties - getting off the train was hard enough as I became entangled with my seat, then had to negotiate the bottleneck on the barrier-controlled section of the station. As I wandered towards the exit the standard "Be careful in today's wet weather" announcement could be heard. I sniggered at how they'd got mixed up - until I realised that the loud noise in the background was the station roof being pelted with heavy rain. A huge summer storm swept across the city, the now opened out glass front of the station providing a panoramic view of people dashing for cover. Nearby, a hen party dressed in flimsy costumes looked worried. I was almost as ill-prepared without a coat. Decided to get some lunch and see how things worked out. In the end, I managed to make a dash between showers to my usual coffee haunt in Bold Street, and then back to the station getting a little damp in the process. This circuit of the city always feels strangely therapeutic for some reason. Hopped onto the late-arriving stock for the 15:34 back to Birmingham. Once out of Liverpool the skies cleared and it was a pleasant, slightly busier trip down to the Midlands, retracing last weeks steps to some extent.
Switching to the usual routine home after another break to watch the world go by on the concourse, I wondered at how quiet the network was today. We're people really keeping away as they'd been told to? Or were they just busy watching sport at home? Today's trip really didn't take me anywhere new - but it was a long, relaxing spin around the network, and especially to parts and services I don't often see these days. It was a world away from the events which still occupied my mind in Stratford, but it had also stilled my odd urge to head for London at the worst possible time.