Posted in Railways on Friday 30th December 2011 at 9:48pm
---
It's become traditional to try to squeeze some sort of railway value out of the holiday period, but often proves tricky for a number of reasons - confusing timetable changes, later starts to service and generally unpredictable passenger loadings to name but three areas which have scuppered things in the past. So, for this extended break I decided to do things a little differently, and get a Freedom of the South West Rover ticket. By combining this with a Southern Daysave on one of the days, I could get deep into the South East for a bargain fare, and could use the other days to wander aimlessly about fairly locally. Day One started with some local rambling - a spin down to Plymouth from Bristol on a CrossCountry HST, then up to Westbury via First Great Western, missing a connection into the rare Melksham service by literally seconds - seeing the tail-lights heading off as I opened the door of our train. Instead, headed for Bath then back to Swindon on a London service, only to find the next Cheltenham train was the continuation of the service we'd missed! An interesting day, with some surprisingly good weather.
An early start for the second day, and happy to find some timely retail outlet opening at Bristol so I could get coffee and breakfast before setting off on the 07:22 to Cosham. A brief wander around this station and it's environs which I'd not used since about 2004 by my reckoning revealed that much was the same - including the takeaway and burger van which provided necessary sustenance on the return from the fateful Southwick failure. before collecting my Southern ticket at Chichester and pressing on to Brighton. Loadings weren't as bad as they were on the Coastway a few weeks back, but there were still a good few on board, as evidenced by the wedged Platform 1 at Brighton on arrival. Here, took a Seaford bound train which headed out to Lewis before turning south onto the coast. Noted the remains of Newhaven Marine, still technically open if not served by trains any more. Some splendid views of crashing waves in the English Channel too. Time to wander around Seaford a little before heading back, feeling it was a bit like Swanage in some respects, if rather smaller and quieter perhaps. I'd last been here in the mid 1990s to deliver Christmas presents for a work colleague to an elderly aunt. In many ways, little had changed - but of course the slam-door stock was now missing! Returned via a change at the curious complicated Lewes station with its mysterious in-filled platforms, then directly into Victoria via an attachement at Haywards Heath to bring us to 12 carriages. Home was a long but fairly relaxing slog down to Portsmouth for the unit home. A very productive and nostalgic day.
Posted in Railways on Saturday 17th December 2011 at 11:35pm
---
It's been a rather odd, frustrating year for railtours. Lots of cancellations, lots of uncertainty, and a great deal of politics and rivalry entering the market. Amongst this, I've tried to do as many as possible, with an emphasis on rare or unusual track wherever possible. This hasn't always been easy, with UK Railtours and Pathfinder both refocusing somewhat on the enthusiast market, while Spitfire plough a steady furrow doing there own thing. None of these operators have been immune to problems this year, but there have been some memorable trips too. I reflected on this as I headed for Bristol Parkway this morning to pick up this tour - the last of the year, and one that again had no timings until late in the week, and for which tickets had yet to be delivered. The run up was surprisingly smooth, with time to grab a quick breakfast at Temple Meads before switching to the Swansea HST which reverses at Parkway. Just as well, as virtually nothing was open at Parkway despite things being fairly busy. Caught up with a few familiar faces while waiting for the tour, which had used the Rhubarb Loop to avoid Temple Meads and arrived exactly on time. Found my seat as notified by 'phone and settled in for what was to be an interesting trip.
With the skies starting to lighten, but the stock still very steamy - something that didn't change much all day really - we headed north to Birmingham, making pick-ups at Cheltenham and Barnt Green, before heading for Internation for a loco swap, where our Class 66 gave way to a Class 92. Frustratingly one I'd had before, but good to be behind one of these fast, powerful machines again. Also an opportunity to get a decent coffee before setting off north for Crewe via Bescot. Some very swift running once we were out on the mainline, and we were soon drawing into Basford Hall Yard where a Class 60 was to take over the reins for the exit via the Liverpool Independent Lines before our perambulations around Merseyside. This involved a bit of a spin on lines familiar from a couple of previous tours, ending up with a rather extended wait in the Down Wapping Siding at Edge Hill. Luckily, we weren't stuck in the tunnel - and after the stop we made our way back to Warrington via a highlight for me, the traversal of the through line in Dallam Royal Mail terminal, much to the surprise of a gang of postmen working hard to clear the festive backlog no doubt! At Warrington we deviated from our route a little, ending up in the Canal MSC Sidings rather than those at Warrington Old Junction. This whole area is a mess of tracks, but this stop was just to allow a reversal, via the addition of 31601 to the train. It was of course supposed to be a Class 08, but with the resident example out of action, this had to do. The Class 31 drew us along the line to Latchford, alongside a waiting coal train, before detaching and allowing 60011 to haul us forward to Ditton Reception Sidings via Fiddler's Ferry.
Another run around here accomplished swiftly and efficiently, as all of the manoeuvres were today, then off to Crewe once again using the Independent Lines to access Gresty Lane Loop, where the 60 was detached and 66206 arrived on the other end of the train to pull us home. The run back to Bristol was quick, on time and entertaining in a coach with no lights - who said it only happens to 'other operators' tours then? This only improved the fairly sociable atmosphere on board, despite an amusingly ill-informed and geographically challenged loudmouth sitting behind us! At this point I realised that I'd not taken a single picture all day - either the locos had been in the wrong place, we hadn't had a break or it had been too dark to get a shot on every occasion. I hope a few shots will turn up on the web in any case.
So, my return to Pathfinder Tours was an enjoyable, sociable jaunt to largely familiar lines with some winning traction. I can only hope the quality stays this high next year...
Posted in Railways on Saturday 3rd December 2011 at 11:22pm
---
My railway friends, locally at least, seem to spend a lot of time on the Southern Region. Perhaps it's because I did most of my ramblings here in the days of slam-door stock, and trains dividing and combining on route, that it sometimes feels just a little bit dull down there at times. However, recently I've begun to appreciate bits of Kent more than previously, and the magnetic pull of London with it's dense knot of lines and curious patterns of service is never far away. But, an excursion to the Southern from here means using rammed Cardiff-Portsmouth trains and getting frustrated in the process. So it's rare for me to head that way at all. But a couple of weeks back, in a search for upcoming diversions of interest, I noted that the route to Southampton was closed and that services were going via Eastleigh. I'd done this before when heading home from tours, but given that a single to Fareham could be had for the princely sum of £8 I decided to try to build a route using the cheapest tickets possible and see where I ended up.
Once again on arrival I saw the same staff team wandering around a closed Starbucks at Temple Meads. I'd had a reply from Customer Services only yesterday, so I fired off a new email of dismay. Given that the store is closed when I head back through in the evening, they're losing out twice given my usual levels of consumption - especially on chilly winter days. Settled for a poor substitute and headed for the platform for the 07:23 service to Portsmouth. This is one of the only trains which seems to have bearable loadings these days, and it was a little quieter too because a late arrival of the inward working meant the Bath passengers headed off to get the 07:30 HST which left a few minutes ahead of us. Had a lazy, quiet journey until a hen party boarded and cracked open the wine a little before 08:00! Still, it was entertaining, and passed the time until we took the route via Chandler's Ford and on to Fareham, with a bit of a wait for the single line section to clear. At Fareham, grabbed a coffee from a supremely disinterested shop attendant - though I suppose I'd forgive her, because for some reason the shop was full of people standing around not buying things. Very odd really, and not sorry to get out of the place and back onto the platform for the 09:56 to Hove. These Brighton services on the Coastway are pretty full nowadays too - and the service is a much busier proposition than when I first experienced it years back. Noted a number of trains in the hands of Class 313s, which I was secretly rather happy not to have to travel on. Nevertheless, the train got very full at times, including a battle-scarred young woman in university sports gear, sporting a nasty looking cut on her face. Strange folks down here!
I'd never used Hove station before, but incoming crowds heading for a football match put me off exploring in the short window I had here. Instead, found my spot on the service to London Victoria which would take the Cliftonville Spur avoiding Brighton, a bit of line I'm embarrassed to say I've never covered - certainly the last bit of passenger track around here I need I'm sure. Once through the tunnel and onto the mainline just north of Lovers Walk depot, I settled back for a doze, but soon realised that something was up. The guard, a bumbling and confused chap it seems, was trying to make announcements as we approached Haywards Heath, but seemed to be struggling to know what was happening. Eventually, by deduction, realised we were being booted off the train. It seemed to relate to some earlier delay or other, but dutifully we went over to the far platform, where another 377 soon arrived already full of passengers. He hustled us all onto the service, which was now pretty jammed with people, only to find that in fact another unit was to couple up. Our confused guard then told everyone that "the back four cars were empty". No kidding, and a bit of forward planning might have avoided a lot of discomfort and confusion. In the event, I stood for the fairly quick run up to East Croydon, noting that the rear unit which had joined us was in fact the one I'd ridden from Fareham to Hove. I'll never quite work the Southern out!
I'd planned a wander in Croydon, but settled instead for a coffee and some lunch. I'd slept very poorly the previous evening, and was still nursing the after-effects of a cold, so I just sat feeling a bit sorry for myself and watching the busy life of this station. Today wasn't quite working out as the stress-free ramble I'd hoped, and the weight of work wasn't lifting quite how I'd hoped. Nevertheless, I pressed on, catching the next Milton Keynes bound service. This route, with it's slow ramble onto the West London line and extended stops to switch voltage and so on, is now very busy indeed - in no small part due to Westfield at Shepherd's Bush. Found my seat and bunkered down for the busy stretch, then enjoyed the fly past Wembley Depot which seemed busy. Soon found myself at Watford Junction again. I seem to have been here a lot lately, and despite a lack of nearby facilities, don't mind the spot at all. Found a seat and enjoyed a bit of afternoon sunshine while watching the trains pass by. The London Midland units for Crewe and Birmingham arrived on time, and were surprisingly quiet. Watched the chaos as people ran around trying to get into the right portion for their destination before Northampton! At Birmingham International however, the train became very full - mostly with young, attractive women too! It turns out that the Clothes Show Live event was on - something I always seem to clash inadvertently with! The last ten minutes of the trip were busy, and amusing too as I eavesdropped on lots of strange conversations - a world away from the miserable chatter I endured the last time I did this route a couple of weeks back.
The crush of customers seems to be affecting New Street too, with the stairs jammed solid and people waiting in queues to leave! The works here aren't helping much - with passenger flows disrupted and quite a bit of confusion. Desperate for the toilet and for coffee I headed for the alternative exit, popping up outside the station and heading up the hill towards Starbucks. Hadn't bargained for the Christmas Market however - not only was the coffee shop very busy, but New Street was rammed with a slow moving crowd, window shopping and enjoying the market stalls. I say enjoying loosely because most of them seemed to be moaning - about the cost, the crowds, the cold, the queues...at one point I listened and heard all of the mournful Birmingham accents at once, braying their complaints. I wanted out of there as quickly as possible. Nudged and elbowed my way towards the edge of the crowd, down the slope and back into the entrance at New Street station. Not sorry to find myself squirrelled away in the waiting area at the back of the station, coffee in hand, writing my journal and watching the world go by.
Aside from some worries about an earlier cancellation of a south west bound service, all seemed to go a little smoother from here. As ever 1V65 arrived, emptied out and stayed oddly quiet. Enjoyed a relaxing, warm run back with headphones on. Perhaps today hadn't been quite so bad after all, despite having it's frustrations and complications? Most of all, the trip had been cheap - benefiting from some pretty fantastic fares and still covering well over 400 miles. And I hope Birmingham enjoyed it's market more than it sounded like...
Posted in Railways on Saturday 26th November 2011 at 11:07pm
---
As the working weeks descend into a bit of a strange, stressful rut I'm once again beginning to really value these escapes. As winter approaches, railtours become sparse but cheap tickets seem marginally more plentiful, so I find myself building my own trips once again. This generally means zipping around the country, with a loose mission to cover unusual bits of line, but mostly ending up with extended coffee breaks where I can watch the world go by. In some ways I'm very easily pleased, but by others' standards Sheffield is a hell of a way to go for a cup of coffee!
Today didn't start promisingly, with the Temple Meads branch of Starbucks not open on arrival at the station. Whilst sipping hugely inferior coffee and watching the staff inside resolutely failing to open, I fired off a rather bitter email to their customer services. As I was waiting for the 07:30 this morning I was here a little longer, and the store still hadn't opened as I headed for the platform. Onto the train, which should have given me a straight-through journey to Sheffield via a diversion to Lichfield City. As I settled back, music on, I noticed the rather over-attentive Train Manager chatting generally to the carriage. Catching the end of her speech, it seemed that there was a problem with the windscreen and the unit would be swapped at Birmingham New Street. Quite why she chose to speak this monologue to each carriage in turn rather than use the perfectly adequate PA which we would all have heard, I don't know. On arrival, efforts had been made to make the switch easy, just needing to walk forward to the set in front of us. However, lots of people had been allowed to board the train before we arrived. Coupled to a problem with reservations because of the diverted route, this meant no seats for most of the people who'd booked. Some zealots ranted. I just waited, finally getting a seat just after leaving Birmingham. My ire, and my will to write a complaint letter subsided as we sped on via the Cross City Line, calling at Lichfield, then rejoining the mainline at Wichnor Junction. The first time I've done this route in daylight for a long time.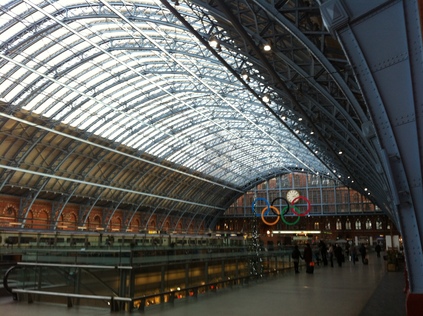 At Sheffield, I wandered out into the city and as usual took a much longer circuit to get to my coffee shop of choice than necessary. It was a bright, chilly morning up here, and finding my usual seat and watching the slightly better wrapped-up than usual population of the city wandering about was a fine way to spend an hour. Finally decided to head out into the chill, and stumbled down the hill to the station to do a bit of shopping and head for the 12:47 to London which was sitting in the bay platform 7, all ready for boarding despite being early. I planned to wander the station a bit first, but a sudden freezing shower of rain persuaded me onboard. Found a seat in First Class, and settled in for the ride down to London. Once through the East Midlands and onto the comparatively quiet Midland Main Line, I found myself dozing a bit and only really waking up properly at Luton. Enjoyed the run into London via this route immensely as it's not an arrival I've made often. Having a little more time to appreciate St.Pancras was rather good too, and I found myself wandering the upper level today rather than making a dash for the underground station. Walking around to the end of the Eurostar platforms, I realised that the main entrance arch was again open now that the hotel was complete. So, for the first time in a decade or so I headed out through this grand entrance, orienting myself by the memory of the old station - a dark, rather quiet and forlorn place with mysterious corners and grimy, forsaken spaces. It's good to see this amazing transformation, and a huge increase in services, but I do slightly miss the blackened old place, littered with trollies and silent between departures.
Down the impressive ramp and over the road for more, possibly ill-advised coffee. Then, just as the sky turned pink and the sun began to set, onto a 205 bus for the journey along the Euston Road which I've grown to love. This was the perfect time of day for it, and I had enough time not to worry about it taking a little longer than usual, as I looked for the landmarks - the mansions on top of Baker Street station, the canopy over the road at Marylebone, the beginning of the suburban sprawl as the flyover heads west and we turned south for Paddington.
The final leg of the trip home was uneventful, relaxing and a chance to finally finish Iain Sinclair's "Ghost Milk" which has dogged my travels for a while now, not being an easy read in some ways. Perhaps these trips are my very own 'grand project'? For now though, they remain a very important escape. People still think I'm fairly insane I'm sure, but they'd probably be more disturbed by my sanity if I didn't disappear around the country like this on a regular basis!