Posted in Railways on Saturday 24th March 2012 at 10:36pm
---
After a bit of an absence, it's back to the railtours with a vengeance these next couple of weeks. With a BLS trip to Immingham next weekend, and Pathfinder's long-awaited redate of their 'Coal Grinder' trip today, it's going to be a bit of a festival of red lines in the atlas. Given that it's been something of a low-mileage year to date too, and because Premier Inn had offered a free night I had to take soon, I'd also elected to head up to Crewe yesterday to do this tour from the start. As I stomped down to the station at 04:30 I doubted the logic of this. I could have been getting on three hours later at Bristol Parkway and have had at least an extra hour or so in bed, but instead I was wandering bleary-eyed around a very misty station with a bunch of very odd people indeed. Pleased to see a couple of familiar faces before long, and I was soon settled into the seat I'd hardly leave all day as we sped into the fog.
After an early breakfast to avoid the queues and picking up the rest of our as ever, lively party we continued towards Bristol and the Severn Tunnel. I realised that this was my first Class 37 haulage of the year - a rather unusual situation in itself, but also that I was travelling behind a member of the dwindling class I'd not had before. With a new 66 on the back too and some pretty big track on offer this promised to be a good day out. As the fog burned away the sun rode high above south wales. Enjoyed some new ales and chatted sleepily as I tried to maintain consciousness for the interesting bits - never easy on a warm, beery day. Eventually we curved off the mainline and headed for Tondu. The length of our train meant that the planned reversal in Llynfi loops was out, and we used Garw instead. I'd been here once before on a previous Pathfinder job. Making sure we headed right to the end, we continued this year's tradition of trying to do as much as possible on these trips - a welcome change from the era of 'paperwork issues' and lost track. Reversing we used the Ogmore Vale Extension to head past Parc Slip and Margam Yard, before a last fast run along the mainline via Cockett into Llanelli. Here things got interesting, with a reversal onto the Genwen Loop near Trostre Steelworks, then a brief chug along the bottom of the Central Wales line before heading away and climbing towards Gwaun-cae-Gurwen. This route, for which we'd received a special dispensation to travel, has only recently come back into freight operation and we were clearly a novelty with many folks coming out to see the train. Noted special notices fixed onto crossings announcing our presence today too, such is the rarity of trains passing. Finally at the top, near the opencast workings, we pushed as far as we could before coming to a rest. Mission accomplished at last, many months after originally planned!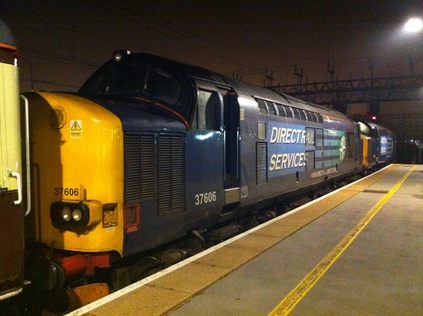 After heading back down the branch we took the rather unusual curve onto the district line at Hendy Junction, then turned south at Jersey Marine and took a long slow trip along the line to Burrows Sidings. Now a site reserved for crippled wagons, we pushed as far as we could to the boundary of ABP property before reversing once again and taking the line between the chords from the district line. At Neath and Brecon Junction this divided again - one branch tantalisingly heading for Onylwyn while we took the eastern fork and climbed, rather gingerly towards Resolven. At a crossing we came to a halt, and the pair of 37s didn't quite get us moving. The tail loco was swiftly powered up and gave a mighty shunt which got the heavy train moving again. We finally made it to the top of the line, bathed in beautiful sunshine and again drawing the attention of crowds of locals, including one rather gruff looking woman in her dressing gown who leant on her wall and surveyed us with disdain until we left her in peace. Back down to Jersey Marine to reverse again and take the third arm of the junction and regain the district line. Only a little late now due to some very odd timings, we sped up and headed east along the mainline. Through the centre roads at Cardiff Central, and then onto the relief lines in order to take the Bishton Flyover, there was no stopping us, and we arrived at Bristol Parkway a little early, and in plenty of time for my connection.
As I used the familiar trains home, I had chance to ponder the day - an early start, a long day and no photo stops or off-train breaks at all. Some were grumbling about it online, others just excited to have done the very rare track as advertised and planned. These are just the sort of tours I find myself enjoying more and more as time goes on - and combining these with more regular trips keeps me moving and exploring. That can't be a bad thing.
Posted in Railways on Saturday 17th March 2012 at 11:03pm
---
More than ever, the last week had been a challenging and long one with little opportunity to look ahead to today's trip. Thus, I had a long day in London with nothing planning. I decided to delight in this, and spent the trip up happily listening to music and watching the world go by. It was almost light on leaving Weston for the first time in months, and despite the weather being less than fantastic, it was good to see a glimmer of silvery sky rather than the pitch black which has characterised this journey over the winter. Having had a few leisurely arrivals in London over the past several weeks, I'd almost found myself in something of a routine. Breakfast, then a bus east being the usual start. Didn't stray far from that today, feeling that I was in fact relaxing for the first time in days. Having received the really curious and interesting "Stone Tape Shuffle" recordings by Iain Sinclair earlier in the week, my mind had wandered to some of the poems and images - not least those first, odd words about Hawksmoor churches which had resonated so much. So, taking a slow and much diverted No.23 into the City, I dived off at Bank and found coffee in the shop adjoining St.Mary Woolnoth. I don't think I'd been here before, with it usually closed at weekends in the past - unless perhaps I'd drifted in one Lord Mayor's Day when the city was a little more open. Moving on, and not feeling great pressure to do so swiftly, I made my way to Fenchurch Street and then out to Limehouse. The weather had turned wet now, and as I descended from the viaduct and turned east onto the A13, I was getting soaked. A quick detour down to the canal before finding my way to St.Anne's Church once again.
It had been years since I was last here, and not much had changed. The white ashlar was a little more discoloured, some of the benches gone from the windy curve of the churchyard, but otherwise all was as it had been before. Braver than my first visit, I picked my way over to the pyramid - glimpsed for the first time in a long time on the sleeve of the LP - and touched it. A damp, mossy feeling, surprisingly not cold and rather ordinary. I fantasised that if this really did wield any power, how I might use it. Sadly, but perhaps predictably, work issues sprang directly to mind! After a little wait in the hope the rain would stop, I headed for the main road. It was time to haunt the buses again, a favourite hobby of late. Unplanned, I headed onto a D3 going to Bethnal Green and the Chest Hospital - which was to rather coincidentally feature in the rather shocking on-pitch collapse of soccer player Fabrice Muamba later too. This took me around the sweep of Wapping, near the stair which took me down to the Thames on a sunnier occasion. Then, crossing Whitechapel Road near the Royal London Hospital, we progressed into the fuss and confusion of Bethnal Green. I bailed out here, near the station and found my way to the stop for the 106. Having done a quick look up, I noted this would take me deep into Hackney, completing the Sinclair-connection, before curving north into Stoke Newington, past Abney Park and to Finsbury Park station. I settled in for the journey, watching the wet day drying somewhat as we stop-started our way along Mare Street, then into Clapton before picking up a little speed. At Finsbury Park I headed directly up onto the platforms in time to get a non-stop train into Kings Cross. I noted that the new concourse was due to open on Monday, but that there still seemed to be an awful lot to put right before it could!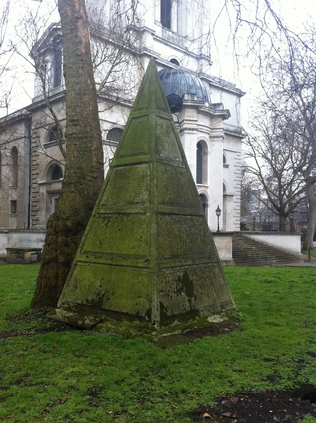 On leaving the station here I was a bit at a loss, so I leapt onto virtually the first bus I saw. This took me south, along the Fleet Valley and over Blackfriars Bridge. Instead of getting off here as I had a week or two back, I plunged into the uncharted south-of-the-river environs. Except that they weren't at all! Familiar from a work visit, Elephant and Castle gave way to Camberwell and then to the parts of Lambeth I'd wandered eight years ago looking for the shade of William Kent. Then into Brixton, familiar from the viaduct looking down, the streets seemed tighter and more cluttered down below. The bus had been busy for the last mile or two and I welcomed the chance to stretch my legs in the now rather pleasant afternoon warmth while pausing for a train into Victoria. Here I could have quit and loafed around the station until heading home. I'd heard there was an NHS protest on Whitehall despite a media blackout, and I didn't have the stomach to get entangled - so instead, on a whim having seen a 436 bus and recalled it's route, I decided to grab the next fast train to Lewisham. This meant a pleasant run out over the viaducts in the sun, then a dash around the roadworks near the station looking for a bus stop, watching a couple of obliviously loved-up youngsters trespassing alongside the Quaggy River. Finally found a 436, headed for the top deck, and had a long and pleasant run - passing not far from where a bus had caught fire earlier - through Peckham and back into Camberwell before circling the Oval and heading up Park Lane back to Paddington. It had been an unexpectedly busy and varied day and I was ready for a relaxing run home.
But I wasn't to get one. After an on-time start from Paddington, 1C27 ground to a halt at Swindon with brake issues. Eventually it was announced as cancelled, and I contemplated a wait for the 21:00 and a change onto a now inevitably busy unit from Bristol home. In the event, I decided to get the 20:30 and to wait at the comparatively interesting Temple Meads instead. As it goes, I'm glad I did - as Control had authorised this to run as an unadvertised additional to Taunton, almost unheard of these days! They'd tried to call Train Manager several times to convey the message, but didn't get him until moments before arrival at Bristol. Having swapped back to the original crew of 1C27, we were due to leave at 21:30, but in the event left around nine early and had a pleasantly quick run home, regaining about 30 minutes of time I'd have lost. Good to see some forward thinking and ingenuity from First Great Western on this.
So the last of my aimless weeks for a while proved to be fully of oddities, coincidences and unexpected incidents. It will almost be a relief to return to the unpredictable world of railtours!
Posted in Railways on Saturday 10th March 2012 at 10:35pm
---
After a flurry of activity at the start of the year, things have gone a bit quiet lately. In this lull which leads up to a busy period around Easter, I've taken to making trips which don't really gain much in the way of new ground but go back to the roots of my travelling - getting to places I've never visited and collecting impressions of the country I live in. Now, I've clearly managed to visit lots of places over the years, but in many cases I've not wandered far beyond the immediate limits of the station. As my track-bashing obsession has increased, this has particularly been the case and in recent years unless I've been staying somewhere for the start of a tour I've seen little of the towns I visit. As I tried to book tickets for these weekends I realised I'd never visited Leicester. In fairness I'd never needed to, but it felt like an omission I should correct.
The other plan for these trips is to aim for some pleasantly long, relaxing rail journeys to contrast with the fragmented, frustrating weeks I'm dealing with at the office. So, after a quick hop to Weston I found myself on the familiar 06:24 to Paddington. With a fair amount of time at the other end to cross to St.Pancras, I felt relaxed and free of pressure as we sped through a misty morning. I'd slept really badly the night before, and knowing I'd be up early for a Rally in Wales tomorrow, knew I'd have fairly little hope of a decent sleep tonight either, so I stretched out and relaxed. On getting to London, I made a slow progress via coffee and buses to St.Pancras, lingering in a favourite spot before heading for the train. Quite without meaning too I'd booked on one of the now seemingly fewer East Midlands HST services, and it was good to have a spin in First Class on these trains from a company I rarely get to use. The run up the Midland Mainline went remarkably quickly, and with a little weak sun shining through the mist it was a fine journey. I arrived in Leicester to find that the station refurbishment I'd read about was in full swing. The fine brick entrance was mostly cordoned off with the stairs leading up to it removed - I'm sure that's a recent change but couldn't quite remember. Access was via the modern footbridge which connected into the tiled arrivals and departures hall, which despite being adorned with modern ticket gates and information screens, had a busy 'proper station' feel about it.
After negotiating the diversions through the boarded walkways out of the station I got my first glimpse of Leicester in the outside of the station building. I'd seen this from trains passing under the road bridge, and it remained an impressive, low brick sweep. Turning towards town, I noted a very new Premier Inn which might conceivably be useful in the future. This area had obviously seen a fair deal of regeneration, and had a clean busy feel. Crossing and wandering into Granby Street the limits of the scheme were soon reached. This slightly shabby but appealingly open street runs directly into the city, and is home to some fairly impressive victorian buildings. As ever, eyes raised above the (often abandoned) shop fronts are rewarded with little towers, detailed brickwork and remarkably complicated designs which would never grace a utilitarian commercial building nowadays. Finally, after a detour into the market and a small record shop still struggling on, I found the city centre. A sprawling pedestrianised zone with a couple of modern shopping developments. People ploughed relentlessly along this retail river, from one centre to the other. They didn't look where they were going, and despite the not inconsiderably obstacle I presented, didn't seem to see me.
Dipping into a side street to regain my route home, I found myself passing groups of young but decrepit looking drunks. I'm not sure why they'd congregated here, but they lolled weirdly in a little seated area not feet from a busy street where prosperous folk bustled by. Hurrying on, I regained the route to the station passing a band of orange-robed Hare Krisna folk singing and drumming loudly. Leicester is a strange place - a mix of old and new, rich and poor - but with very little middle ground it seems.
My route home, in slightly improved but rather chilly weather involved a detour to a very windy Derby station, then a dwell at Birmingham where I enjoyed coffee and a bit of ethnography, as I watched one of the strange gatherings of emo kids which seem to descend on railway stations on Saturday afternoons. In comparison to Glasgow Central or Manchester Victoria, this was a small and rather less committed bunch - but the hugging and preening was still evident, and the collection of fringe misfits who gravitated around them seemed to be genuinely decent kids. Amused, and somewhat pleased to see this strangely British subculture, I headed for my sleepy train home. Sometimes I feel like David Attenborough out here on the railway.
Posted in Railways on Saturday 3rd March 2012 at 10:29pm
---
There is an almost universal rule in planning trips around this early part of the year, which says at some point I'll end up in Cambridge. This is partly because it makes for a pleasantly long, circular journey when done right - using track I neglect at other times of the year. It's also because doing so means a bit of time in London, which is a rare pleasure amid other trips - though promises to be fairly commonplace in the coming few weeks. On the last couple of visits though, Cambridge has offered new things - the guided busway and the new Class 379s last time, and this time a chance to see the completed new platform in use after a rather quick and efficient build.
The day began with one of the textbook beginnings I've adopted in recent times - the early train to Bristol, catching up on news and social networking from the last few days, then breakfast at Bristol cursing Starbucks for the truculence around opening times. I was pleased to see that the phantom seat-stealer wasn't around today as I don't think I could have stomached a scramble for my booked pew this morning, so it was onto 1M21 to Birmingham, watching the sun slowly rise and listening to music. A cracking start to the day in fact, after a tricky few days at work. Had a bit longer than usual at Birmingham so I grabbed a coffee and watched the station coming to life. I never tire of busy stations, and there is something special about being relaxed and quiet while the crowds buzz around. Down to the platform for the 09:22 which was a little late arriving and performed a very swift turn-around, causing lots of silly seat reservation related frustration. Found a comfortable spot and settled in, noting that someone on the platform had already had a heavy day, as a drunk sprawled alongside the train with a couple of Network Rail staff trying to stop him wandering away until we'd left. Finally off, taking the familiar route through Nuneaton and Leicester before heading onto the rural section via Melton Mowbray. It had been a little while since I'd done this, and it was interesting to spot the changes as we headed south and east.
After noting a load of locos lined up at Peterborough and the customary one stabled at March, I settled in for the last bit of the journey. The unit was getting busy with daytrippers for Cambridge, and I was restless to stretch my legs. We soon arrived on the new island platform after a slow, lurching switch over to the left of the alignment. Cambridge has always had a curious one-platform with a middle crossover arrangement, with a couple of bays at each end for good measure, and this solution using a bit of the stabling yard had been talked about for years before finally getting built. Noted a few passengers looking bewildered and asking for Platform 8 though! I'd decided not to head into the busy city this time noting that the busway was still a building site at this end, and contented myself with a spot of lunch on the windy platform, awaiting the train to Kings Cross which was booked, apparently into Platform 0. Resisted temptation to board a shiny 379 for Liverpool Street once or twice.
In the event, the train didn't make it into Platform 0, instead bumbling over to No.3 on arrival. It was a pleasant journey down, made more amusing by how much my presence in First Class seemed to annoy the couple who arrived seconds before departure and glared at me for being present. They were visibly upset when the ticket check failed to see me thrown out of the train too. The run down the southern end of the East Coast Main Line isn't one I do often, and for that reason it's always an interesting one - certainly in comparison to the northern sections which I see more of! At Kings Cross, I wandered into the walkway through the new ticket hall. The sweep of the building was visible, and the large open space was pretty impressive. With the main trainshed roof cleaned and the concourse opened out, there is a light airy feel to the whole station, and this new section promised to change the station into a nicer spot to hang around. I do miss the cafe in the corner where I ended up eating an obscenely big breakfast after the sleeper one morning though! Outside the station I found myself wandering into the area behind the station which was buried behind hoardings. The 'small print' on these reminded you that you should use this private area responsibly, and the moment a down-on-his-luck type stumbled into view, a couple of skinny security goons in ill-fitting blue caps scurried out of nowhere to escort him back to the road. After making a couple of 'phonecalls, I quickly headed back to civilisation and made for refuge on a bus.
Finding myself heading down Farringdon Road, I decided to hop off south of the river and have a look at Blackfriars Station, now spanning the Thames, covering the full length of the bridge - the first London station to do so. The Thames Path was busy, a jazz band pelting out tunes under Blackfriars Bridge, and a stream of people enjoying what had become an unseasonably warm, sunny afternoon. I descended the stairs onto the shingle shoreline, littered with shells and debris. There were a surprising number of folks strolling along the waters edge, the ferries and pleasure boats sending waves against the stones. Took some pictures of the city under the piers of the bridge, before heading back to the path and struggling against the crowd to Tate Modern, then over the busy Millennium Bridge to St.Pauls. Instinctively hopped on a bus again - a No.26 which took me through the city and onwards towards Shoreditch and eventually to South Hackney. I bailed just before it turned East for the Wick, electing to wander over to London Fields station for a run back into Liverpool Street. It was now very warm and sunny, and I was enjoying just being out and about in London for the first time in a while.
From Liverpool Street, it was time to start heading back - albeit a little early. In the event this was a good thing, as after picking up the 205 bus on Houndsditch due to the Crossrail works and getting delayed heavily in the diversion along Beech Street to Old Street, the route was curtailed to terminate at Marylebone. Weighed up my options, bailing at Great Portland Street for the short tube trip to Paddington and a pleasant coffee before heading home on the usual train. Today was a varied and rather busy one - and probably not quite what I'd had in mind when I set out. All the best ones end up like that somehow!