Posted in SHOFT on Wednesday 5th October 2011 at 11:10pm
---
It's that time of year, once again, when I find myself in Glasgow for a little while. Having planned one or two musical things for later in my stay, I was content to see how this evening panned out. Faced with a choice which I'm just not used to, I decided to kick my stay off with some quiet, acoustic music. It also meant a chance to visit The 13th Note again, which is always welcome, and as I relaxed with the newspaper during my pre-gig pint and listened to the selections from the near-legendary jukebox, I reflected on recent experiences elsewhere - and how much more civilised live music seems to be up here. In the event this was a wonderfully haphazard gig - and a real labour of love, with handmade CDs available on the door, a disappearing soundman, and one of the politest and most respectful audiences I've been part of for a very long time. That the organiser - also performing tonight - managed to pull this together seemed unlikely - but in the event it all turned out very well indeed.
First up is Laura Carswell from Paisley, and part of folk band The Magick Circle who by a quirk of coincidence I'm expecting to see later in the week. Laura trades in simple, direct and insistent compositions which, despite her background in folk music have the knack of turning into quiet, acoustic pop songs without warning. Moving from introspective, carefully constructed verses into clarion-call choruses, there's a little tension and drama in her delivery which keeps the audience rapt and surprisingly attentive. Song titles are a little hazy but "I Don't Blame You" has hints of a bitter edge - not wanting to play around anymore, but with perhaps a sense of resignation which is reflected in the bluesy, robust delivery. I'm also reminded of former-Glaswegian Lonely Tourist when Laura sings about the internal conflicts of the music business, with an uncompromising observation of "...the price you had to pay/for all that shit on stage" - and I'd love to know who is this about. Mid-set, a well chosen cover of Cat Power's version of "Sea of Love" is delivered raw and soulfully. Having consider this at some length, I'd say this one has the edge because, whilst I love the original, I'm sometimes put off by the overtly laconic edge in Chan Marshall's take. New material abounds in tonight's set, and by her own admissions nerves come with it. But this is assured, honest and beautifully direct music. I look forward to seeing Laura in a full band setting soon.
Next up is the humble, self-effacing and disorganised I, Khant who has also, it seems, doubled as the promoter and organiser of tonight's show. When on target, he delivers lyrically complex, if rather downbeat acoustic songs with plenty of dramatic shifts and clever melodic twists. With a low, reflective voice which occasionally leaps with emotion and stretches for impossible high notes, I'm moved to think of an acoustic Twilight Sad perhaps? There are even some brave acapella moments. Like all of these Glasgow acts, everyone is of course in everyone else's band, and I, Khant adds a kind of quantum take on this by peforming a cover of his own band's song which seems to be called "Momo". Moving to a piano for this, he delivers a sparse clipped melody and impenetrable but rather mournful lyrics. Picking out minor notes he intones with what seems to be genuine dismay "I'll be stuck like this for a while". Some of the material feels like a demo for a fuller band treatment, and I find my mind filling in the spaces and wondering what other projects I, Khant is related to. A quick internet search is fruitless, so I'm going to have to dig deeper.
Finally, Tom Morris steps up. Keeping his donkey jacket on due to feeling grim this evening, he shows no signs of this in his performance. His bluff, northern voice translates into a surprisingly mobile falsetto at times with almost no sign of effort. I'm familiar with Tom only from his vocal duties in the sprawling, dramatic post-rock outfit Her Name Is Calla, and a couple of band compositions feature tonight in stripped down form. What these solo songs share with their full-band counterparts is a sometimes ambitious, sprawling structure and Tom's vocals which which stray from a whisper into a remarkable howl. The songs are complex, heartfelt, consciously well-constructed nuggets of pop music, encapsulated in the familiar singer/songwriter format, but hardly limited by it. In particular "Survivor Guilt" is literal and painful, and when cut loose, Morris's voice is big, characterful and compelling. I'm also struck how matters of faith and religion recur in the lyrics here. Thrown in for good measure is a surprising cover of Kate Bush's "Running Up That Hill" remembered from childhood, however it's clear than many of the audience tonight don't have enough years on the clock to share this recognition. Finally "Could Have Been A Fire" closes - a low key, high pitched ache as Tom shuffles off the stage, almost apologetically. With something like six self-released EPs of his material out there somewhere, this is going to require lots of further investigation.
Shuffling along the rain-soaked street back to my base for the weekend, I reflected on how I always go home with a list of music to investigate, and all kinds of new leads to follow up on. It's rare that I wander off from gigs closer to home with the same feeling these days, and again I'm struck by Glasgow's ability to both nurture local talent and to attract performers from elsewhere. It's going to be a busy few days, and this evening was the perfect way to kick things off.

Posted in SHOFT on Wednesday 5th October 2011 at 10:10am
---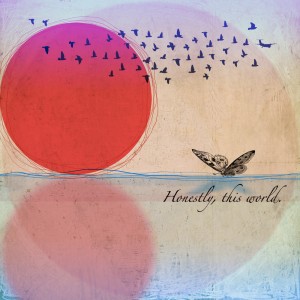 As the summer, and indeed it's slight return begin to fade into memory, the music industry is starting to wake from it's slumbers once again. Amidst the plethora of fairly high profile releases which seem to be tumbling out during October is an understated gem of a record which, were it not for the other activities of it's members and the flurry of entirely justified critical acclaim, might go criminally unheeded. This is The Moth & The Mirror. Formed from various bits of Frightened Rabbit, Admiral Fallow and Reindeer Section among others and loosely pulled together around The Boy Who Trapped The Sun before he decamped south for fame and fortune, the band centres on the vocal talents of Stacey Sievwright, alongside Gordon Skene and Louis Abbot. But this isn't a record made by a disparate bunch of musicians filling in down-time in their day jobs with a low-key project - The Moth & The Mirror look, feel and most importantly sound like a band in their own right, and "Honestly, This World" is something pretty special which sits more than comfortably alongside anything the musicians involved have done elsewhere.
Opening with "Everyone I Know", the prevailing mood of the album is set early on. Gentle melodies grapple with a robust rhythm section and swirling atmospherics. This effortlessly slide into a huge crashing guitar riff - no slow build-ups or time wasted noodling for The Moth & The Mirror - they clearly mean business. A delightful duet of boy/girl voices and lots of tinkling and dancing glockenspiels appear, and I'm beginning to wonder if the band have slipped their entire repertoire into this first track. Despite her sometimes quiet, delicate delivery Stacey Sievwright is never quite drowned about by the band even at full volume, until she barely whispers "I don't have the heart for this" before a final thunderous blast. Louis Abbot shares the vocals on "Fire", delivering a more upbeat track with slashes of noisy guitar and heart-warming, blissful harmonies as the pace and volume crank up.
The tense, acoustic opening of "Boxes" is all childlike innocence - keeping the bad things under the bed. But we all know that strategy never works, and in a strange twist they escape as Stacey's voice mutates into a Kristen Hersh like howl of desperation and madness. Alongside odd, off-kilter rhythms and squalling, discordant noise this is epic - but damaged and a little overwhelming too. Then just as unexpectedly it's back to the gentle tinkling opening. This is unnerving, unhinged brilliance. More complex rhythms and mariachi trumpets are allied to a jazzy vocal delivery on "Beautiful Creature". A song built of several parts with moods, perhaps even personalities of their own as it merges into title track "Honestly, This World". As an almost welcome relief, the band swing into the spiralling woodwind and surprisingly formal rhythms of "Hope is an Anchor" which strikes by far one of the most optimistic notes on the record. This middle section of the record displays Stacey's skill as a character actor - capable of becoming any one of myriad voices and veering from pensive child to slighted, dangerous ex-lover. It's as impressive as it is disturbing. That the band manage to produce the dramatic shifts of mood needed to support this is nothing short of miraculous.
I probably don't need to expand on my previous thoughts on "Germany" (a new Headron remix of which is below for your listening pleasure) except perhaps to remark on how, in the context of this album, it fits so perfectly. Its choppy, upbeat exuberance and ridiculously infectious nature slipping effortlessly into "Honestly, This World" alongside all the other curious stylistic shifts and surprising turns of musical phrase. Quiet different again, "Closing Doors" is an early-morning ballad of dejection and resignation, the achingly dull and commonplace turned into a love song for a lost home while the soundtrack to real life echoes and shudders in the background. It's a common enough theme perhaps, but rarely so neatly encapsulated without undue melodrama or overwrought emotion. Stripped back to some of the simplest music on the entire record, this is a reminder that we're dealing with an entire band full of talented songwriters here. Finally, "Oceans and Waves" sweeps in. A majestic closing epic full of grinding, swooping guitars and washes of quiet melody. The record closes as quietly and unassumingly as it opens, and you're left wondering if what came in-between those whispered bookends really happened?
It's easy to trot out the line that The Moth & The Mirror are something of a Scottish supergroup - I'm guilty myself - and there is always the worry that this will become their albatross. It would be the greatest shame if this record bypassed judgement on it's own terms, because the bottom line is that if you come expecting to hear some thread of one of the constituent parts, you'll miss out on the whole frankly amazing package. Having said that, there's much in the complexities of the band's lineage and their individual journeys to the present day which makes this a rich, complex and sometimes overwhelming brew. "Honestly, This World" presents the lazy blogger with a problem - it's just so unlike anything else that it evades easily tripped-off comparisons. I sense it's one of those albums which will only reveal it's full potential over time - but for now it's a dramatic, imposing and breathtaking debut.
The Moth & The Mirror's debut album is released on the always surprising and eclectic Olive Grove Records on 7th November. The single "Germany" is available now, backed with a fantastic Strike The Colours remix.

The Moth & The Mirror - Germany (Headron Remix)

Posted in SHOFT on Sunday 2nd October 2011 at 6:10pm
---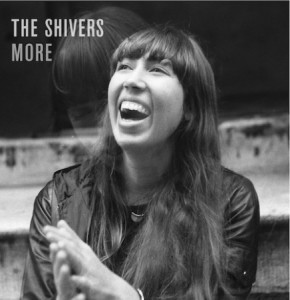 There are some record labels where it's safe to take a punt on a new release - either because they've established a reputation over the years, or because in my experience I appear to have similar enough taste to the people running the show that I'm going to at least be interested in what they're doing. One of these of course is Fence. While their release schedule is slower and steadier now than it was in the heady days of the past, everything they choose to release has a link to their frontier spirit and an utter indifference to the prevailing winds of fashion. Having said this, I was a little wary of The Shivers at first - were they just too far off the Fence map to fit? How indeed had this New York based outfit come to rest on the Fife shores? Or was it just a sense of unease about one of those band names which suggests some sort of bland, US mainstream friendly indie-rock. Well, on the early evidence it's fair to say that my suspicions are entirely unfounded.
Any band with a good backstory is going to grab my attention, and their tale is a compelling one - telling how Australian Jo Schornikow was so moved by the simple, affecting songs she heard New York native Keith Zarriello play that she upped sticks and relocated to play organ and sing in The Shivers. This becomes entirely believable as "More" begins to unfurl itself on my turntable, and Zarriello's simple but direct approach to tugging heartstrings is revealed. He does this through the medium of timeless, classic pop songs which have little regard for where in the last four decades they seem to originate. Sometimes, as the organ churns away low down in the mix he sounds like a revitalised Bob Dylan free of the decades of being a jaded spokesman for a generation. At other times he takes on the swagger of cynical Lou Reed, spinning arch lyrics and coming on like he knows it all to beat down the bile and sorrow. Put simply, the gamut of American music history underpins these songs and The Shivers major accomplishment is managing to channel it's wayward spirit into this record. If this suggests that this is a mixed bag, that wouldn't be inaccurate - but the album manages to blend styles and genres seamlessly by sheer force of personality.
An early highlight is "Irrational Love", a staccato tick of drums, and rumbling bass and organ introduces the track which jerks and stutters into a soaring chorus with Zarriello's voice stretching for the notes - and in the face of his romantic tragedies somehow recalling the defiant swagger of Springsteen at his strutting early finest. No sooner has this incongruously joyous romp of a track shuffled away and "Kisses" changes tack with its organ-drenched, tense urban blues which appears to have teleported in from the late sixties. Once again Zarriello's voice mutates from a mumble into a pained moan, and his delicate splashes of guitar augment Schornikow's organ work wonderfully. There's a special moment here where the organ mimics Zarriello's choppy vocal delivery, before launching into a wonderfully atmospheric swirling solo. By "Used To Be" the band have skipped forward a decade or two in the East Coast canon, and the track is a tight, focused synth-heavy burst of New Wave pop. Zarriello's voice drops to a compressed snarl while the playful melody jitters and scuffles around him. A ridiculous but perfectly-placed one string guitar solo leads into the incredibly catchy ending where the synths dance around the jangling guitars. In complete contrast "Two Solitudes" harks back to Schornikow's former life as a church organist, as sepulchral notes create an uncharacteristically downbeat atmosphere. Zarriello's broken, pained falsetto is delivered apparently from the next room, buried deep in the gloomy folds of organ. The Shivers manage to invoke Leonard Cohen on the folky, delicate "Silent Weapons Are For Quiet Wars". Just enough support from a clipped, formal piano and trills of military drums while Zarriello intones dense, detailed lyrics. There are hints here of the slight political edge which the band occasionally entertains - never overt, but enough to hint that it's not possible just now to be a US musician without a nod to the growing gulf in their society. However, The Shivers do their bit to bridge this with the joyous, universal pop of "Love Is In The Air" with its low-budget soul stylings and soaring broken vocal.
The sheer diversity of approaches employed by The Shivers on "More" belies the fact that this is essentially the work of a duo, and if anything the minimalism instils a discipline which keeps this a tight, focused record. It's fair to say that over the course of "More" they shamelessly plunder the finer moments of American pop's recent history, but it's done with genuine affection and reverence - and never feels contrived or affected. This is an aching, damaged-at-heart record in many ways with more than a little bitterness at its core, and there is a sense that all the sweet soundtracks and upbeat moments can't quite rescue it from it's lovesickness. However, it's also just the kind of music you'd hear on the radio every single day if there was any justice.
The Shivers UK debut album "More" is available from the Fence Records webshop, along with any of their usual stockists. The rather wonderful sounding vinyl LP is accompanied by a CD of the tracks. A UK tour is to follow in October and November 2011.
Song's Heard on Fast Trains is also pleased to announce exclusively that The Shivers will also be part of the line-up of Hooops #3 at The Louisiana, Bristol on 10th November.

The Shivers - Irrational Love

Posted in SHOFT on Wednesday 28th September 2011 at 10:09pm
---
One of the side-effects of the computer catastrophe here has been the inability to buy music. Given that times are tight, and it's difficult to squeeze another notch on the belt, this isn't all bad - but it did delay my access to two eagerly awaited releases.
King Creosote & Jon Hopkins - Honest Words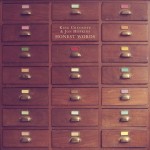 And as if to tease me for my reliance on soulless, compressed digital products,
King Creosote & Jon Hopkins
's "Honest Words" slides in against a backdrop of tape hiss. Almost immediately,
King Creosote
's voice ascends into gorgeous, clear high notes while
Hopkins
provides a dramatic backing based around a sonorous, doom-laden organ which eventually dissolves into a twinkle of shattered electronics. The lyric is intriguing as once again
Kenny Anderson
elects to demolish the 'fourth wall' and bring the listener in on the songwriting craft. Listening to him singing about the process and the pain of writing is a little voyeuristic, a distant ache in the third person. As the song ends, the cycle begins again as the backing fades leaving
Kenny
rewriting his own ending.
Supporting this King Creosote tradition of revisiting and reworking songs in new situations and contexts, the next two tracks take the rewriting process of "Honest Words" as a model. "Aurora Boring Alias" originated on the "Love + Hate = Hate" collaboration with HMS Ginafore and here is supported by a surprisingly gentle, almost absent touch of atmospherics from Jon Hopkins. Just a music box piano tinkling and the subtlest of drones shimmer in the background whilst Kenny floors me once again with one of those lyrics which grasp a mood and hold it up for inspection as he intones "a magnet at my very core pulls me northwards". With eyes turned skyward the song agains becomes self-referential with the revealingly honest claim that 'I'm aware it's me that I describe in code'. Finally a reworking of a recent reworking features in "Bats In The Attic (Unravelled)". I've never quite shaken off my love of this "Bits of Strange" song in any of it's forms, but here it becomes a gentle but powerfully phrased construction. A bit of regret, a little bitterness, some bile even. The simple melody here is reduced to a background shimmer and a quiet clanking rhythm drives the song onwards. Stripped back to this degree, King Creosote's voice is revealed even more than usual as a delight. My only sorrow is at the loss of the line about "Fife council" before song echoes away, fittingly into nothing.
The critical acclaim which "Diamond Mine" has enjoyed seems to have caught this unlikely duo completely unawares, but this brief addendum to their slight but affecting and already much loved canon continues the story. I hope there is more, because I genuinely don't think I'll ever tire of listening to them.

King Creosote & John Hopkins - Honest Words
"Honest Words" is available from Amazon, iTunes and local record stores near you.
Mogwai - Earth Division EP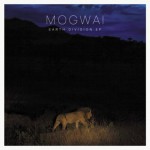 Coming surprisingly soon after the superbly titled "Hardcore Will Never Die But You Will" album earlier this year, I had something of a sense of dread about this EP. Often these rapid follow-up releases are nothing better than studio-floor salvages, and I didn't want that to happen to a band which has been part of my musical landscape for more years than I cared to remember. I need not have worried, because "Earth Division" is a work made entirely on it's own terms. "Get To France" opens, with poise and tension which would ideally grace the opening titles of a movie. An insistent piano refrain echoing with noirish portent. If this is the opening scene, then the closing credits could easily be delivered over the wistful and delicate "Hound of Winter". It's rare a
Mogwai
track features vocals in the traditional sense, but here they are just that - and allied to a surprisingly gentle folk melody complete with harmonica and accordion. The lightest wash of strings fade in and out of the track, occasionally delivering the kind of life-affirming lifts in mood which I've always associated with the band, even at their most uncompromising and impenetrable.
And that is perhaps where "Drunk and Crazy" comes in...never has a song been more appropriately named as a shuddering low fidelity rhythm stutters in behind distorted guitars and a sheen of white noise which suddenly, almost clumsily gives way to an unexpected and beautiful string quartet mid-track. A stark piano accompaniment picks out the melody which just about survives from the opening section, and eventually the two halves of the track are reunited in a jagged but epic closing section. This is uplifting, wide-screen brilliance which builds on the more varied textures of the recent album by reuniting them with Mogwai's sense of the dramatic and absurdly epic which were less in evidence on "Hardcore...". Finally, the sombre "Does This Always Happen?" strips the instrumentation back to strings and piano, with a delicate and considered weave of guitar and bass slinking in mid-track. The insistent melody, the atmospheric strings, the spacious and dignified ending signify the new Mogwai. No need for explosions or hackneyed post-rock loud/quiet cliches. This is the sound of a band confident in it's own skin. Experimental and inventive, but utterly, compellingly beautiful.

Mogwai - Does This Always Happen?
You can purchase the "Earth Division EP" from Amazon or iTunes.