Posted in SHOFT on Thursday 10th November 2011 at 11:11pm
---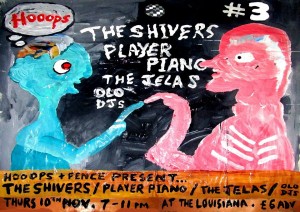 Having finally escaped from a difficult working day and made a very surreal trip on a bus which seem to hurtle dangerously through the dark countryside with little idea where it was really heading, I was slightly distracted by the time I arrived in Bristol. Deposited in the middle of the city's rush hour, I watched people bustling around all seemingly unaware that tonight was, once again, a Hooops! night. This slightly ramshackle but always entertaining happening defies any attempt at being pinned down as a club night or anything remotely similar, instead managing to encompass performance art, comedy, drama and music - often simultaneously, and managing to occupy every possible corner of the venue. But tonight, it's a stripped-back affair focused entirely on the music and occupying just one floor of The Louisiana. With some seriously good touring bands passing through town, it seems only right that the link with Fife's Fence Records should bring them here. So - for one night only I'm sure - this was Hooops! stepping back and letting the music lead the way.
I've often said how ignorant I am of local happenings, and I confess that The Jelas are a completely unfamiliar name, despite having been around for a fair few years. They are an irrepressibly energetic three piece who despite an outward appearance of utter chaos, are clearly a tight and well-rehersed machine. Back from a recent tour which saw them popping up all over the UK, The Jelas are promoting their new album "The Body Parts" which on a first listen appears to capture their oddness exactly. The rhythm section pounds out a choppy, edgy spine which the guitar jaggedly dances around. Meanwhile drummer Aled, strident bassist Natalie and guitarist Colin all chip in vocals, which range from strange chants to deranged yelps - often within the space of a single song. In discussion after the onslaught of noise and bewilderment we decided that there are definite hints of The Cardiacs here - but there is also something almost unique about the mix of math-rock technicalities and anarchic punky noise. It's enjoyable and disturbing in equal measure, and an oddly demanding listen. In short then, The Jelas are probably the ideal Hooops opening act - idiosyncratic, confusing, and captivatingly odd. There is nothing easy about this listening at all.
With nearly all of the bands managing to get lost heading back to the venue tonight, time is tight and things are quickly shifted around to accommodate the full band version of Player Piano. Having only seen Jeremy Radway before as a solo act, I'm a little unsure what to expect as a motley crew of musicians take to the stage. In the event the band is, despite only recently forming in this line-up, fantastically tight and strangely funky. Low-slung disco basslines support jerky keyboard riffs as Jeremy's damaged, soulful vocals croon and soar with support from multi-instrumentalist Rebecca Jade. With Jeremy happy to shun the limelight on stage, the star of the show quickly becomes drummer Ed Grimshaw who manages to pound out some ridiculously great disco rhythms which have apparently been transported in directly from the late 1970s. Somewhere, mid-set I decided that Jeremy is in fact the natural heir to the likes of Jeff Lynne and other purveyors of that vein of complex, crafted pop which has all but died out in the era of the throwaway download single. On the as yet unreleased new track "Everyone Knows" this reaches it's peak with swoons of vintage analogue keyboard and soaring choruses. It's pretty clear that the audience - a strangely hard to pin down collection of local regulars, Fence devotees and curious passers-by - is loving every minute of this. It's a short set, but feels effortlessly tight and bodes well for the rumour of a future album release.
There is a buzz of anticipation for The Shivers, borne of the great reception their record has garnered in the UK since being released by Fence no doubt. Soon, Keith and Jo take to the rather empty looking stage bathed in blue light, an unassuming pair who seem perhaps a little nervous. Taking advantage of the hush of reverence and atmosphere of expectation in the room, they begin a quiet, atmospheric take on "Love Is In The Air" from their recent album. It's still amazing to me how a duo with just keyboards and electric guitar can produce such complete sounding music, but they manage it again with "Kisses" which mutates into a jerky, funky strut with a vein-poppingly intense vocal performance from Keith. His wild stare and impassioned delivery is in total contrast to Jo's calm, understated performance which finally comes forward when she takes charge of lead vocals for a single song. Her voice is a revelation, a spine-tinglingly quiet and huskily soulful drawl which also adds a new dimension to "L.I.E" a very early Shivers track which pre-dates her arrival in New York to add colour and tone to Keith's sometimes stark early work. Clearly overwhelmed by the reaction both here and across the UK, Keith and Jo seem to be enjoying the sense of event as 'merch lady' and Jo's sister Katherine takes the stage for "Remain In The Pain Zone" - a chaotic, dramatic and hilarious romp which sees Keith rapping, strutting and over-acting his way through the song. Guitar discarded, he gestures wildly at the audience as the churning organ supplies a sort of demented vaudeville backdrop. The reaction is overwhelming, even the band appearing a little stunned at just how well it goes down - but this is Hooops! and it's just the kind of thing we've come to expect. Closing with an affecting, slow-core take on "More", the title track of the current album, The Shivers leave the audience appropriately baying for an encore. It's been a pretty successful night.
Making my customary dash for the last train home with the final note still hanging in the air, I wondered where and when Hooops! might pop up next, and just what it had in store. If it's about a sense of occasion, then despite being a more sedate affair tonight was very special indeed, with some of the genuinely warmest reaction from an audience I've ever seen at a Bristol gig. Shorn of its usual chaos and confusion, tonight was almost entirely about the music - and while Hooops! is attracting touring bands of this calibre and pairing them up with eclectic and challenging local acts, its all going to be fine. Trust me. Or more accurately, trust Hooops!

Posted in SHOFT on Thursday 27th October 2011 at 7:10am
---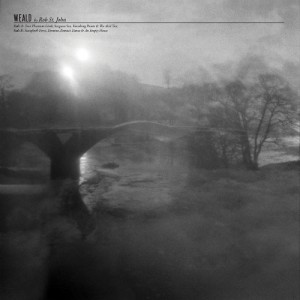 Receiving mail always used to be an event - records from distant parts, written off for but then forgotten, finally arriving. The thrill of unpacking an LP for the first time, examining the sleeve, anticipating hearing it. All these things have changed - reasonably fast broadband means that there's very little time for the suspense to build before music lands in your inbox, and even when there is a physical artefact to appreciate, it usually involves a trip to the sorting office to rescue it from being kicked around the floor by bored postmen who don't attempt delivery until they're certain you've gone out. But rather unexpectedly last week I got a little hint of how it used to be on the arrival of Rob St. John's album "Weald". Unpacking the record is a joy, a beautiful monochrome gatefold sleeve containing a reassuringly heavy chunk of vinyl. There are lyrics, things to read and look at while the record spins. This is how it should be....always. Thankfully, Matthew at Song, By Toad Records gets this. It's not going to make him or indeed St. John an overnight pop sensation perhaps, but in terms of a record release feeling like an event, they've both just about nailed it.
I suppose I should be talking about the music - but perhaps I've been a bit sidetracked by that sense of suspense and anticipation too? Taking a moment to examine the cover, it appears at first to show a pleasant enough image - a misty, chill morning scene in the fens perhaps? But there is a rather eerie loneliness about the image too - and something of this beautiful but stark landscape seems to haunt the album right from the start on recent single "Your Phantom Limb", which sets off with warm analogue hiss and crackle, the tune slowly winding into action. St. John's vocals are quiet, sorrow inflected, quintessentially English in tone and timbre. It's like a traditional ballad dragged forward five centuries, as a winding, clockwork whirr seems to propel this brief, melodic introduction. The chiming guitars of "Sargasso Sea" herald one of the faster paced compositions here, with a sweeping optimistic chorus which is perhaps a little uncharacteristic on the album. There is also a warm, deliciously fuzzy bassline sneaking around the track until the closing instrumental section where it drives things towards a sparkling tangle of noisy guitars. Subdued and mournful, "Vanishing Points" is a return to quieter territory. Delicate guitar melodies and a wash of atmospheric sounds supply a canvas for St. John's lyrical, if somewhat maudlin wordplay as he observes in keeping with the tone of the record that "we're monochrome/we are just vanishing points". It will be an unwelcome comparison for some perhaps, but "Stainforth Force" opens like an early 1970s Pink Floyd epic, with atmospheric drifts of guitar breezing past until understated drums and a drone of harmonium arrive to support Rob's dark and defeated - sometimes near narcoleptic vocal: "not perfect/but yours to keep". There is a pastoral tone here - a sense of wide, sweeping spaces. However, the underlying darkness occasionally reveals the threat of the wilderness too.
The album hinges on "Domino" - a glacially paced blues which has the sonorous presence of a funeral march. An unwilling melody is wrung from the guitar while St. John supplies distant, half-spoken vocals which occasionally leap in frustration or pangs of desperation. A constant harmonium drone provides an atmospheric backdrop, which finally slips into the foreground as the song builds into a keening violin scraping tumult towards the end. I find myself thinking back to the atmospheric recordings from New Zealand artists such as Peter Jeffries and Alastair Galbraith, but Rob's defiantly Lancastrian tones locate this dark beast of a song firmly in an English landscape. Who am I kidding - trying to describe this song is almost futile. It's just very, very beautiful indeed. Following the brief, melodically blues-flecked and delicate guitar instrumental of "Emma's Dance" is "An Empty House", a warmer harmonium-led piece with Rob sounding positively cheery in comparison to elsewhere on "Weald", and joined by some backing voices too. And while the lyrics might be just as introspective and hard-edged as other compositions there is a sense of completion here as the album ends with the same analogue hiss with which it began, the reel-to-reel tape stopping with a satisfying clunk.
It's fair to say that "Weald" is far from an easy listen - it demands attention, draws you into it's dark atmospherics and sometimes claustrophobic gloom, and refuses to befriend the listener casually. But the reward for your persistence is lyrical, dark and strangely uplifting music which somehow belongs to that moment where late night turns into early morning and you realise you're still awake. The shifting landscapes on which St. John builds his songs don't sit easily in any genre - so if you come equipped with blinkers looking for a folk record, a rock album or something akin to his work in other projects like eagleowl you'll probably leave feeling a little bewildered. However, taken entirely on it's own terms as it begs to be, "Weald" is a beautifully gloomy and wonderfully atmospheric record which is quite unlike anything else you're going to hear this year. If you'll take only one bit of advice from this pompous old blogger though, I'd urge you to go to Song, By Toad and buy the vinyl. Even if you just use the free download code to suck the MP3s into your iPod at the first opportunity, there is something very special about holding and examining this record as you listen. A vinyl fetish? Maybe. A proper old-fashioned record release? Definitely.
Rob St. John's "Weald" is available as a gatefold vinyl LP from Song, By Toad Records which is exactly how you should buy it. Reluctantly, I'll also mention that you can find the album on Amazon MP3.

Rob St. John - Your Phantom Limb

Posted in SHOFT on Tuesday 18th October 2011 at 8:10am
---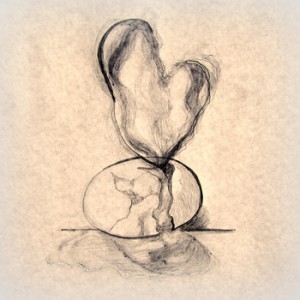 I realise I'm way behind the rest of the blogging world where this record is concerned. The general musical miserableness of returning from a packed week of shows in Glasgow to a rather empty gig calendar, along with a flurry of criticism for the blog has seemed to put me off my stride a bit. I'm allegedly a grown-up who can handle constructive criticism, but I struggle with the idea that a blog - essentially an individual and personal response to music - can be described as "too positive". I have limited time, with real life hovering menacingly over me while I tap out this stuff - but yes, perhaps I could use that time to spit bile and negativity - goodness knows there are plenty of targets out there! However, I'm sticking to my guns and I still plan only to write about things which I love and which excite me enough to put fingers to keyboard in the wish to tell people how great they are. I still maintain this blog is the modern equivalent of how a good few years back I'd be dashing over to a friend's house with a hastily dubbed cassette, exclaiming breathlessly "you've got to hear this...". So you won't find me panning major label releases or doing demolition jobs on individuals in the industry - there's a whole mainstream music press out there just waiting for your attention if that's what you want. But I suppose I've paused a little because I wanted to attach this rant to a review of something which demonstrated what I meant better than my clumsy explanations ever could. Something which summed up those life-affirming qualities, and which demonstrated just how some music is so unconditionally engaging and fantastic that I want to write about it - and just at the right time Beerjacket has supplied exactly such a release with "The White Feather Trail".
Beerjacket is Peter Kelly - in interviews a quiet, wry and almost reluctant character - but by far one of the most dedicated musicians in the business with a remarkable catalogue of support slots for some fairly major acts. Over the course of a growing back catalogue of self-recorded and released albums, he has carved out a style and a reputation which makes the fact that "The White Feather Trail" is in fact Beerjacket's first 'studio' recording as such all the more surprising. The literate, lyrical style which Kelly has developed is perfectly demonstrated on the opening "Blood Roses" which appropriates biomedical imagery to describe an intense analysis of a relationship. Dissection and experimental cures provide an oddly jarring clinical edge to the otherwise tender, heartfelt delivery. In a Glasgow PodcArt interview Kelly was unwilling to expose the circumstances or background to this song in particular, but it's clear just how personal this work is as Kelly's voice dips and weaves around the gently picked acoustic melody with incredible dexterity. The benefits of a more structured recording environment begin to show on "Cave" which adds a banjo and vocal harmonies to a folky stomp of a song with a soaring and naggingly memorable chorus. Louise Connell otherwise known as Reverieme guests on a number of tracks - but in particular duets on fairly equal billing on "Eggshells". Her voice fits neatly into the spaces left by Kelly's sparse instrumentation as he adds archaeology to his scientifically exacting pallette of lyrics with observations like "you are the standing stone gathering moss". This addition of a female vocal counterpoint does a little to soften the sometimes uncomfortably personal intensity of the lyrics, and rather than hitting you head-on with the keenly observed emotive bombshells, phrases and snippets are left to sneak up and catch you blissfully unprepared.
Personal highlight "Island" kicks in with sinister, dark guitar textures and quiet backing vocals from Connell while Peter Kelly's voice soars over the understated musical backing. It's perhaps unsurprising that he is unwilling to give too much insight into the origin of songs, with stark and honest proclamations like "I've always been afraid of truth above all". This perhaps sums up the mood of the record - a preoccupation with honesty, both in terms of external relationships and in self-examination. It could all get very, very maudlin - but given Kelly's ability to neatly and exactingly deploy metaphor, this never quite happens and the listener is drawn, almost unwittingly, deeper into the songs. A lighter mood is created by the increased pace and bursts of melody on "Jack Chasing Jill", but the lyric is no less obliquely self-critical. This song does however amply illustrate Kelly's talent for mastering a range of styles - delivering an incredibly catchy, pop-influenced sensibility within the confines of just an acoustic guitar and voice as Louise Connell assists in closing the song with sweet, impossibly alluring harmonies. The almost traditional accompaniment and lilting delivery of "Crooked Finger" is deceptive, hiding a bitter and desperate tale, with Kelly delivering lines such as "you should take a hammer to both knees just to be sure" with a surprising relish. We'll probably never get to know quite who or what this is all about, but the painfully dark, withering sentiment is something with which we can surely all identify - even if we wouldn't perhaps be brave enough to deliver quite as starkly as this? Closing with the shuffling, upbeat road-song of "The Monsters", Kelly returns to his default position of resignation "we'll run from all the right answers/and we'll blow all of our chances". Again it's a little grim and an uncomfortable truth to face, but Kelly and Connell's vocals make it easier to bear.
And perhaps that is the key to Beerjacket? These are simple, honest stories which have a ring of truth for all of us, presented with a heart-on-sleeve openness which makes avoiding emotional engagement impossible. There is no doubt that this is lyrically a dark, compelling and bittersweet clutch of songs, tempered by remarkable musicianship and beautifully simple arrangements. I set out here trying to explain what makes me want to write about music, and this represents exactly the reason - intelligent, crafted records like "The White Feather Trail" simply deserve to be heard as widely as possible, and this is my enthusiastic, personal exhortation to go out and track it down. You could waste time sneering at the lack of honesty and authenticity in the music industry, or you could listen to Beerjacket and find something faith-reaffirming. It's your choice - but I know which course I'm going to follow...
"The White Feather Trail" is available via Beerjacket's Bandcamp as either a physical CD or a digital download. Peter's impressive back catalogue can also be found at the same site.

Beerjacket - Island

Posted in SHOFT on Tuesday 11th October 2011 at 6:10am
---
Back to reality with a bump today, as a week of musical antics and psychogeographical wanderings comes to a close. However, one of the delights of returning home is to pick through the Songs Heard On Fast Trains inbox to see what we've missed. So, here's a hastily prepared edition of "Single Tickets" to celebrate a couple of really exciting releases from bands who we've mentioned pretty often here and who have exciting developments in the pipeline...
French Wives - Numbers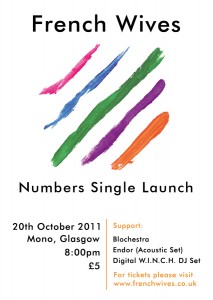 There are some bands who you just can't keep down - and who are consistently working away to get their music heard as widely as possible via endless gigs and a growing canon of self-releases or records on small independent labels.
French Wives
are just such an outfit, and this release finds them in the midst of recording their debut album with
Tony Doogan
and feeling pretty damn excited about the results. Excited enough to release some of the early fruits as a single - and "Numbers" is testament to just how exciting this record is going to be. If you've heard the bands previous EPs and singles, you'll be familiar with their brand of intelligent, multi-layered pop - but this track tantalisingly hints at further developments of their sound and unmistakably shows the benefits of bands working with producers who truly understand what they're trying to achieve.
Built around a core of insistent drums, an epic wash of strings and an absurdly catchy chorus, "Numbers" is scattered with plenty of dramatic lifts and swoops of deliciously crunchy guitar riffs courtesy of Scott Macpherson. The carefully arranged strings, led by Siobahn Anderson's violin, embellish but never drown proceedings - and perhaps the biggest benefit of the production is evident in how these wind sinuously around the track, supporting rather than dominating the proceedings as is so often the case when bands include strings in the production. Stuart Dougan's vocals soar with a confidence which has grown audibly since earlier releases, while his lyrics appear to ruminate on the apparently random nature of advantage and success in a fickle society. But if there's any justice and it's not just a "numbers game" then the hard work will pay off, and this single will achieve the recognition French Wives deserve. Whatever else it achieves, it makes the prospect of the forthcoming album on Electric Honey even more exciting. This one absolutely deserves your attention.

French Wives - Numbers
"Numbers" will be released on October 24th, and will be launched at Mono in Glasgow on October 20th with the band supported by the mighty Blochestra and an acoustic set by Endor. Tickets can be purchased online at the band's new website.
Yusuf Azak - Prizefighter EP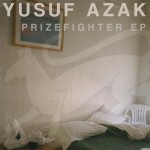 This is the first release from
Yusuf Azak
since last year's sublime debut album "Turn On The Long Wire" and in some senses it's more of the same woozy, breathless acoustic pop which earned that record a place on our end-of-year list for 2010. However, a close listen indicates a few changes in approach here too - notably things feel a little simpler and stripped-back to basics in places, with the songs rather than the unique delivery taking centre stage. Opening "Soft Vision" is the secret pop gem of the piece, with the vocals perhaps a little understated and a gorgeously dextrous acoustic guitar solo. This is coupled to an entirely singable chorus and joyous leaps in the melody as the guitar is picked, hammered and strummed to produce
Azak
's trademark complex style. However "Swim" abandons the guitar entirely, opting for a gentle piano and string accompaniment instead. This somewhat downbeat ballad explores textures and tones which have been less present in
Yusuf
's recorded work so far, and harks back to some of the more pensive moments on his first couple of self-released EPs.
"New Deal Decadence" revisits the approach taken on his debut album with a swooning, string-flecked feel. Some fantastically twangy country style guitar work adorns the middle section too, with Yusuf's voice back to it's exuberant, breathy finest as he glides around the music. Finally "Moon New Moon" is a little more lo-fi, just voice and guitar with little treatment or polish - and it displays the remarkable musical talent that sits beneath the complex layers of sound. The "Prizefighter EP" is, somewhat remarkably, a free download - and I can't recommend enough that you visit Bandcamp and download this. I hope that it's release signifies further new work from Yusuf Azak in the near future too.

Yusuf Azak - Soft Vision
The "Prizefighter EP" is available from Bandcamp now as a free download. Yusuf's debut album "Turn On The Long Wire" is stil available via Song, By Toad Records.