Posted in SHOFT on Monday 18th June 2012 at 10:06am
---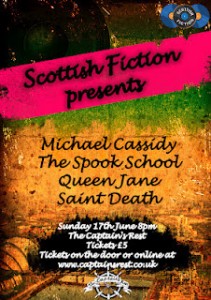 Regular readers will know that I make this trip on a near regular basis, which accounts for the disproportionate amount of Scottish music featured here. However, this time around things felt a little different - with the switch from England to Scotland much more marked as we crossed the border. No trace of the Olympics, of the Jubilee, no tattered bunting flapping from the buildings or grubby flags attached to car-bonnets. Nationalism here is a much more serious business, in the face of which the cartoon image of face-painting and "God Save The Queen" is just a bit silly really! In the midst of this the vibrant cultural scene continues to churn out surprising amounts of new, interesting music which is ably chronicled by the likes of Scottish Fiction - a blog and podcast which displays far tighter quality control and dedication than this one, and which is branching out here into promoting gigs with the first Scottish Fiction Presents... night, sitting neatly in the middle of the West End Festival and dovetailing perfectly with the Gibson Street Gala earlier today.
Descending into the bowels of Great Western Road once again, Barrhead six-piece Saint Death cram three guitarists on the Captains' tiny stage, standing at a diagonal tilt to the audience, rather like a modern day Shadows, just to squeeze in. But that's where any comparison with sixties instrumental groups most definitely ends. Initially discordant and brittle, the opening and somewhat epic piece ramps up into a sort of spaghetti-western-meets-horror film soundtrack. The doom-laden drums and portentous bass are overlaid with a rather lovely twanging solo. Its almost unclear if there is a break here, or whether this is a second coming of the initial song, but the punishingly loud piece throbs and pounds dangerously. There are vocals here but they're buried, like a distant howl. Submerged melodies and ear-splitting layers of noise are piled onto each other. It's full of false crescendos and heart-in-mouth crashes. Next up is a more traditionally constructed post-rock track which benefits from melodic keyboard interludes and which spirals into something beautifully noisy and shamelessly indulgent. It eventually collapses into itself gracefully enough, the keyboard returning to see it off with dignity. Finally "100 Times" shimmers in, an initially shoegazey drift with confident, if rather sombre vocals. There's a final, truly sinister vocal interlude before an apocalyptically chugging sludge-rock ending. Saint Death have been something of an eye- and ear-opener tonight and remain a highlight for me. Surely no band needs three guitars? But if you've got them, this is very clearly how to use them.
I've heard quite a bit of praise for Queen Jane in recent times, and exactly as predicted they managed to take up the baton of good, old fashioned Glasgow guitar pop and carry it forward into a new generation. It's angular, gleefully urgent stuff which explodes with melodies and ideas. Scratchy, complex guitar work and an almost furtively slick rhythm section keep everything tight - when the band pauses, they stop on a sixpence and the dramatic tempo changes kick in effortlessly. Meanwhile the staccato vocal delivery harks back three decades to another era of Scottish music entirely. The lyrics though are wistful, and seem to ache for a not-so-distant past where things were just, well....better somehow. Within the space of just their first track Queen Jane are brave enough to throw in a drum solo, a little calypso interlude then a searing burst of noise to end things. "Romance" sets off on a post-Postcard jangle, jittering and careering through frenetic choruses towards an all-hands-on-deck chanted break in the onslaught. When they set their minds to it, these four unassuming gents can make a heck of a noise, but it's always controlled and delivered as an integral part of the absurdly infectious pop tunes. Next up, "Confession" packs all this together with regret-laced vocals, reverb drenched shimmers of guitar and deftly delivered and dizzily complicated rhythms. Recent EP lead track "Denver" is propelled in by a clamour of keyboards before a stomping, pop anthem kicks off. It works through chorus after chorus of stirringly energetic yelping before a choppy, helicopter-blade bass brings in the closing assault. Saving something of their best for last "Fighting Man" is a wistful closer. Altogether gentler, the vocals take a more central role and showcases James McGarragle's talents in reaching for the emotive high notes. The drummer slips back behind his kit for a frenzied close with military beats and bugle-call guitars which befit the title of the track. I can see exactly why people are tipping Queen Jane for bigger things on the strength of tonight.
Decked out in oversized football strips provided by hyperactive drummer and surrogate frontman Niall McCamley, Edinburgh's much vaunted The Spook School bound on stage and rip directly into their urgent, layered punk pop. It's scrappy, gloriously unkempt and delights in its sharp edges, stupidly catchy hooks and sudden off-kilter interludes - in fact I'm pretty sure I just heard them sing "Would you ever trust a band who think Matt Damon's really cool?" to which the correct answer was an emphatic and unanimous "No!". The rhythm section is solid and pounds relentlessly away while duel guitars skitter and scratch, before emitting swathes of feedback and eardrum bursting noise. There's just a hint of The Only Ones in the jagged but soaring guitar melodies and chugging rhythms. A ukelele is broken out for a brief and strangely woozy sea shanty, then an acoustic guitar arrives for the intelligent, clever pop of "Devil Of Mine'. Benefiting from multiple vocalists, The Spook School create a sort of twee-with-bared-teeth call-and-response dynamic which is infectious and probably as much fun to play as it is to watch. During a discussion of their attire, the band explained that one shirt was a Barcelona strip, another a rare Team Canada jersey - but Niall sported a white shirt with "I am footballer" crudely scribed on in permanent marker. With razor sharp wit an audience member asked "Is that not Rangers new top?" to a riotous reception. They close things triumphantly with their recent single "History" in all its urgent, tangled and discordant glory with its perfectly choreographed 'lalala' ending and guitar-hurling exit. It's been a good night for The Spook School and to celebrate Niall is off into the audience, taps aff and wanting to swap shirts or to exchange CDs for sweaty hugs. Somehow he's like the older kid who led the young 'uns astray. But if this is what it leads to, long may it continue.
Opening with a foot-stomping Spanish-influenced number, Michael Cassidy might seem a little out of place at the head of a noisy bill like tonight's, but his cosmopolitan and wide-angle take on the singer songwriter gig lifts him head and shoulders above similar acts. His strength lies in the sheer range of approaches to his material, which veers from scuzzy delta blues to more formal ballads. These switches of style are effortless - Cassidy's guitar playing creating a sparse but atmospheric web on which his heartfelt vocal gently rests. Another of Cassidy's strengths is his inter-song engagement with the spirited audience. He's not afraid to engage, to rib us a little and to draw people into his songs. The audience, annoyingly young and fresh-faced and hyped up by three noisy acts remain surprisingly quiet and respectful, and when they do break into a fit of giggles, Cassidy is on it straight away with wit and charm. It makes for a celebratory atmosphere which fits the sense of occasion perfectly. His closing tune "Fifteen Years" is plaintive, lyrical and strangely upbeat given the unrequited ache at its core - and it garners a rapturous reaction from the audience too, who are calling for another tune the second he takes his guitar off. Initially, I questioned the wisdom of putting the 'acoustic singer-songwriter' guy on last, but having seen Michael Cassidy's way with an audience, it made a good deal more sense.
So it's out into the night for the wander home, with a little light still evident in the western sky. It's nights like this that reaffirm my faith in music and remind me that however dull and uniform things can seem sometimes, there's always a crop of new and interesting bands about to appear from left-field to surprise me and confound my expectations. It'll be a sad day when I'm too old and jaded to appreciate that. Long may Neil of Scottish Fiction keep flagging these artists for attention too. I know from personal experience it can be a thankless and sometimes frustrating game - but tonight is testament to exactly why it's important.

Posted in SHOFT on Wednesday 6th June 2012 at 8:06am
---
Naming your band is clearly an important and formative bit of the music-making process - not least because quite often it signifies a great deal about how a band sees itself, its influences and aspirations. Having written about music for a while now, I've come to realise just how swiftly a name impacts on me too. How I can be switched off quickly by a name which just sounds like 'something I wouldn't like' and despite my best efforts to remain open-minded about music, how fickle and easily influenced I can be. So this edition of Single Tickets is dedicated to a couple of bands where at first the names have stopped me in my tracks, but where persisting beyond my own silly prejudices has led to hearing really exciting things. I'm not for a moment saying these names are wholly bad - but for me, with my musical history and influences they don't work so well. But the music does work well, very well indeed...
His Name Is Codeine - Before The Apple Fell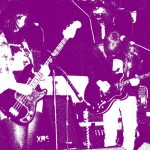 One of the worrying things about creating music can be that sense that it's all been said and done before. Thankfully, bands in their first flush of enthusiasm have the remarkable ability to batter through this barrier, and to carve their own new niches. But those accumulated layers of music history can be dangerous for other reasons - for one thing it leads to the unholy horror which is Q magazine. It also means that quite often words, snippets of music and even band names can carry heavy associations. That's just what could have happened here, as
Codeine
for me signifies that early 90s outfit which produced "Frigid Stars" - a record so close to perfect you wouldn't dare mess with it. So when this band popped up on someone's social network feed - and indeed someone who's tastes I generally find I agree with - I gave this a listen despite these early, and frankly baseless, concerns.
I've got to say, I'm very I glad I did too because Elgin based His Name Is Codeine spin some of the most enigmatic, beautifully dark noises I've heard in quite a while. From the outset of "Before The Apple Fell" there is drama and tension in the pulsing bass and churning guitars which hint at unseen threats and potential. The band also benefit from multiple vocalists, centred the powerful lead provided by Lyn Ralph with her heart-squeezingly gloomy delivery. She possesses the uncanny and sometimes unsettling ability to leap genre from a regret-laced country drawl to a howl of frustration or vengeance. When all three voices join in, the vocals become a sort of mesmerising chant. Meanwhile the guitars work gradually up to a shimmering, shuddering screed of echo-laden noise and the drums thunder urgent, distant warnings. The raw, seemingly untamed power of this sprawling, wayward music reminds me of the much-missed Thin White Rope at times as it manages to get louder and more intense with every passing moment. Eventually it reaches a point of no return where layers of noise and melody tumble over each other, guitars solo wildly and that solid rhythm section which has just a hint of the swampy tension of The Bad Seeds just keeps thundering on apparently untouched by the storm raging around it. Clocking in at well over five minutes, this isn't a throwaway pop tune by any means, but it's a very direct and specific statement of intent. This is turblent, insistent and cinematic music which leaves me breathless - it's well worth a moment of your time and little of your cash.

His Name Is Codeine - Before The Apple Fell
It's probably clear from my ramblings that I know little else about this His Name Is Codeine, and while I could pull my usual stunt of inferring and speculating from snippets of their social networking presence, I think perhaps this time preserving the mystery is much more appropriate. You can download "Before The Apple Fell" for the curious sum of US $1 from Bandcamp - which, unless the economy has collapsed even further by the time you read this, is less than a quid and worth every single penny. There are also a few videos and demos on their YouTube channel which are well worth a watch.
Thank You So Nice - Let's Make Money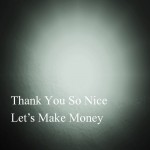 My objection to this band's name was not so reasoned - it's just odd and hugely non-descriptive of what's in the tin somehow. I know I'm
not the first person to alight on the band's name
as an issue, but there is something evocative of garden parties, weak tea and triangular cucumber sandwiches implicit in the name
Thank You So Nice
which makes it utterly incongruous for an Edinburgh-based power-pop outfit. That said, it is perhaps memorable in its strangeness and reflects a sort of uncomfortable sense of not quite fitting easily into the any particular scene or sound which
Thank You So Nice
could very easily fall victim to.
There was a period in the late 1970s and early 1980s when the more intelligent fringes of the punk movement which was otherwise busy oafishly destroying itself, edged into a more accessible but equally challenging niche. Bands like Alternative TV and The Only Ones managed to combine smart lyrics and thoughtful songwriting with some of the edge and energy which spun out from the rapidly imploding revolution. Somehow Thank You So Nice hark back to that same combination of elements, delivering short but intelligent blasts of angular pop which are very hard not to be snared by. Having said that lead track "Let's Make Money" is perhaps my least favourite of the three here, but that's not to detract from its accomplishments. With its stuttering, theatrical chorus and complicated rhythms providing a backdrop for some bitterly twisted lyrics. It's a little too petulantly twee and directly mocking for my tastes, but there's no doubting the commitment to getting the point across here. A little rougher around the edges - and for me perhaps the stand-out among the three tracks - "Out of Time" is a fuzzy, urgent pop anthem with an appealing vulnerability and desperation in the lyrics and a stupidly catchy chorus which I've caught myself singing in several unguarded moments - anything which I manage to retain for more than a few minutes in my advancing years being a good indication of its infectious charms. Finally "You Were The One" melds a frantic bassline with fuzzed-up megaphone vocals and scratchy guitars to produce an unexpectedly effective amalgam of indie-pop and garage rock. Its a short, sharp blast which knowingly and a little teasingly leaves you wanting to hear a little more.
Given what seems to be a growing resurgence of guitar music on the east coast, Thank You So Nice fit neatly with the likes of Morris Major and The Spook School in delivering clever pop music, big on melodies and bursting with enthusiasm. But the real acid test of Thank You So Nice will be sustaining the interest contained in these three, brief but sure-footed tracks across an entire album. One is due in the Autumn and if there's one thing which can can make it stand out in a year of pretty remarkable releases to date, it's channelling the tumble of musical and lyrical ideas evident here.
"Let's Make Money" is available as a free download from Bandcamp. An album "Make Love Not Money" will follow in the Autumn.

Posted in SHOFT on Wednesday 30th May 2012 at 10:05am
---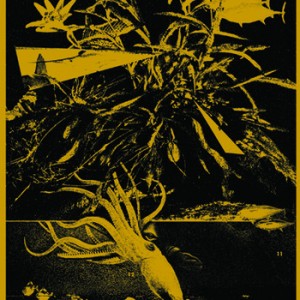 I'll be honest, I've been itching to write about North American War for a long time now, and with this new release they've finally given me the excuse I needed. Since hearing their debut EP - which is still available free from Winning Sperm Party - I've been trying to contrive a reason to feature them here. However, having not managed to make it north of the border to any of their sporadic and often short notice live appearances, it's only now with the release of this 7" single that I get to talk about this intriguing and - for me at least - rather mysterious band. It's going to become painfully clear in the next couple of paragraphs that I know woefully little about them, so readers will have to indulge me and take this at face value - because it's a damn fine record you really ought to hear.
The really unfair thing to do here would be to pull in a few reference points, make some lazy comparisons and leave it at that - and it's inevitable that reviewers with good record collections, long memories or (like me) a few years on the clock will resort to mentions of Sonic Youth. This is no bad thing, because if North American War have picked up the thread from that behemoth of US alternative rock, they've selected that brief moment when they balanced bubblegum pop and experimental guitar destruction almost perfectly. But there is far more to North American War than a set of, albeit very well chosen, influences. Not least in the laconic and brutally disinterested vocals provided by Anna Schneider which set them apart from other bands ploughing similar furrows. She carefully half-speaks the fragmented, paranoid lyrics of "Ivory And" while scratchy, urgent guitars duel for attention. Occasionally, they burst free into a squall of ungoverned white noise. But Anna never breaks her stride, carefully pacing her distant, disconnected utterances. After a brief respite, there is a storm of irrepressible, beautifully discordant guitar noise with at least three distinct melodies vying for dominance at the track's conclusion. These few moments of blissfully tinnitus-inducing racket make me want very badly to see North American War play live as soon as possible.
Meanwhile "Geraniums On A Spit" is a different proposition, opening with a delicate and almost pretty guitar melody and just slightly ominous sounding backing vocals. The vocal drifts between German and English while the bass and drums drive things forward with a little more form and pace this time. The guitars shift between their melodic, slightly off-centre drift and a satisfyingly gruff, edgy note which maintains the tension. It's never as simple as loud/quiet/loud here, with the track collapsing and reforming several times while the vocals are wound up towards the concluding - and oddly sinister refrain of "if you don't come now/I'll never get out of bed again". There are points here where they drift into that dark, uncharted territory inhabited by The Dead C and their New Zealand brethren - where the squalls of noise fuel the imagination into hearing things which aren't really there. It's unsettling, enervating and dangerously addictive stuff. While it's easy, as I hinted, to parcel off North American War in terms of bands who have done similar things historically, in pieces like this they display an acute understanding of songcraft and dynamics which is often absent in some of the more waywardly experimental guitar music out there.
It's a huge relief when a band gets me as excited about music as North American War have managed to over the course of their debut EP and this single. I started this blog to record and relate music I loved, and whilst it might seem because of that policy that there is never a shortage of things for me to get fired up about, it does sometimes spook me that not nearly enough of it is genuinely new and coming up from the grass roots. This record, and the band which made it restores enough of that faith to make me want to keep listening. I get the sense here that this is the start of a very interesting journey for North American War.

North American War - Ivory And
North American War's "Ivory And"/"Geraniums On A Spit" 7" is released today. You can purchase it in a limited, hand-painted sleeve including a digital download from Bandcamp. The debut EP is available as a free download from Winning Sperm Party, or as a cassette featuring additional tracks here on Bandcamp. They can be seen at Doune The Rabbit Hole on August 24th-26th.

Posted in SHOFT on Tuesday 29th May 2012 at 8:05am
---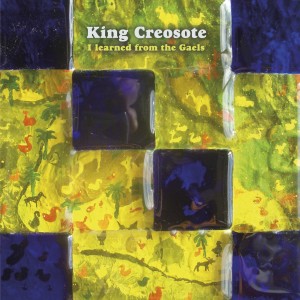 This is the first new King Creosote solo material to be widely released since 2009 - which apart from being a criminally long gap in releases, is surprising since the "Diamond Mine" effect means I can now have meaningful conversations with work colleagues about him without blank looks or nervous glances at the clock. During that time Kenny Anderson appears to have almost lost faith with the turbulent and slowly imploding music business, going as far as to provide an album via live performance only, to thwart the more mercenary elements of the business. But now, back on Domino who at least seem to understand how (and when) he works, this is the first in a series of EPs which re-visit and re-work the songs from the largely acoustic "That Might Be It, Darling" LP, which you could mostly get only by fronting up at a Fence Records event of some description. So with Kenny's profile rarely higher among the nation's music lovers, and with the industry still languishing on it's collective arse and lashing out at the hand that feeds it by way of lawsuits, talent shows and format wars, what exactly has King Creosote learned from the Gaels? If you've come looking for an honest, warts-and-all critique, you'd better leave now because Songs Heard On Fast Trains isn't the place... This release has seen days crossed off calendars in anticipation, pre-orders placed at the first possible moment, and a mercy dash to the Post Office depot to effect an emergency rescue. This is, in all fairness, unlikely to be an objective piece of writing...
There haven't been many songs which are complimentary about the 1980s. In fact musically at least there seems to be a collective amnesia about some of the aberrations which occurred during those dark, confused times as Britain began it's slow transit to modernity. Sure enough, in these similarly gloomy financial times, there is a money to be made in ironic theme nights, and it was left to the long-since decommissioned Prolapse to succinctly sum things up in their scathing piece "Deanshanger". But, calculating that I am in fact a very similar age to Kenny Anderson, its impossible to deny the influence that the eighties had on some of us who grew up during the time, and "Doubles Underneath" is King Creosote's love song for the lost decade. Shuffling in on a jaunty drumbeat with little reels of accordion and a nifty bass melody appearing on cue, Kenny is in fine voice - his oblique and cryptic lyrical opening giving way to the more direct observation that "there's definitely something up/'cause the clocks have all but stopped back in 1984". Part way through it becomes apparent that this isn't perhaps a simple nostalgic look back at the music of that bygone era, it's King Creosote's apologia for what he sees as his own past deficiencies. In his words it's the decade that came "before that 90's guff" was the one "you're overly proud of". Whilst I'm not sure his assessment of either of those periods in terms of his own releases is accurate, if this signals the rejuvenation and reinvigoration King Creosote, then that's got to be a good thing. With a reverb heavy guitar solo, and a droning organ ending this is a proper rock song which wouldn't have cut much muster back in the era of synth-pop and highly elaborate haircuts perhaps? But then again, it's maybe no accident that this EP is available on 12" only, with the heyday of the 'Maxi-Single' format being one of my fondest memories of the decade. You always knew you were in the presence of a proper fan if they had the twelve-inch...
One day I will count the references to stars in King Creosote's back catalogue - not an easy prospect, as I'm often reminded by pangs of horror that I have only the tiniest bit of his massive output here - but even so, its an image which crops up a lot. Maybe it's something about clear, northern skies and the lack of light pollution in the East Neuk of Fife? In any case "Near Star, Pole Star" is a welcome addition to this list. By far the quietest and most uncomplicated song on the EP it benefits from the initially strange but ultimately beguiling overlaying of HMS Ginafore's song "Ounces" onto its quietly direct and emotive structure. A rolling, maritime rhythm with a gentle acoustic guitar line and a woozy organ backs Kenny's plaintive vocal here. A painstakingly described would-be-relationship sees its false-start laid bare - like all the best ones, starting with dutch courage, a nervous proposal, drunken late-night coffee and alcohol induced vomiting. But it's ultimately all for nothing, a brief episode in a life described in acute, slightly raw detail with buckets of sublime pathos and a little humour. It's left to the distant, spectral and gorgeously underrated voice of HMS Ginafore to bring the song to a close.
There is of course, a whole new generation of King Creosote fans who will have heard Kenny mostly in reflective mood, with Jon Hopkins slowly manipulating a harmonium by his side. How they'll make the transition to this new material will be an interesting prospect, and "Single Cheep" is going to be the acid test. It's good old fashioned pop music, performed by a band which strides stylistically across the decades - bright acoustic guitars tangle with delicious sixties-style rock'n'roll solos and fifties-throwback vocal harmonies courtesy - in part at least - of BBC Radio Scotland DJ Vic Galloway. Meanwhile Kenny leaps for the notes and belts out the bitterness in inimitable style. In her hilarious but neatly apposite sleeve notes Nicola Meighan makes reference to Anderson and Galloway's previous exploits in the Khartoum Heroes, a band rejuvenated for a riotous Homegame 2011 performance and now occasionally to be reformed on special occasions it seems. This is very much in that spirit, a high-speed dash through an old tune now infused with new energy and a shiver of anger and frustration. Finally, and in the time-worn tradition of Fence Collective related releases, the everyone-is-in-everyone-else's-band effect arrives in earnest on "Little Man". With the majority of the vocals delivered by the tiny human dynamo that is Alan Stewart aka Gummi Bako, this was always going to get messy! It chugs and stutters in, a tangled mix of noisy, garagey guitar sounds. Gummi Bako's oddly alien vocal delivery is well-suited to the angry, frustrated lyric which complains "I'm so tired of this old life/just can't seem to get it right". With each wheel around the song, Stewart ups the ante, his voice sounding increasingly unhinged and urgent. Guitars build, an urgent patter of djembe sets up courtesy of Captain Geeko, and the organ whirls appealingly. King Creosote himself orders a final crash from the band, and the record is done...
Well, done for now at least. By my calculation there will need to be at least two more of these all too tantalisingly brief forays into the post-Mercury world of King Creosote in order to cover all of the "That Might Be It, Darling" material. These songs have burned slowly, gestating over a long period whilst the promotional duties for the project with Jon Hopkins have consumed time and energy no doubt. That these new versions haven't landed far from their stripped back, simpler cousins at all is testament to just how good they are perhaps? But where they have altered and developed, it's to become even more engaging, direct and impossible to ignore.
You can purchase King Cresote's "I Learned From The Gaels" via the Domino Records Mart, or from the Fence Webshop on proper, old fashioned 12" vinyl only. Wherever you get it, you'll find a download voucher inside. What you won't get, sadly, is any sort of preview here. Because I suspect that would make Kenny very angry indeed! King Creosote curates and headlines the Refugee Week Scotland Opening Concert on June 18th, at Glasgow's Old Fruitmarket, and can also be seen in a variety of fields across the nations this summer including Camp Bestival, Green Man and Festival No.6.