Posted in SHOFT on Thursday 16th February 2012 at 11:02pm
---
After one of the most curious evenings entertainment I've ever witnessed last night, I figured that trying to compete would be a bad thing. Thus, it was back to The 13th Note but with a very different proposition in hand - a couple of direct, noisy trios - and a bit of acoustic singer-songwriter stuff thrown in for good measure. There's something pretty special about turning up to see three acts you're either only tangentially aware of - or perhaps have never heard of - with an open mind and the safe knowledge you've only invested a few quid and might just have unearthed a gem or two. It's this kind of speculative, turn-up-on-the-night whimsy which has defined my Glasgow gig going in the past, and it's mostly been a pretty successful approach.
I'm certain there must be thousands of singer-songwriter types plying their trade around the country on any given Wednesday evening, and its equally certain that they'll be propping up the bill as some sort of support. Something gentle to play in the background while the band's mates drift in and chat excitedly. It's always going to be tricky to sort the wheat from the chaff in these situations, and there was every indication - with a crowd made up almost entirely of friends and family it seemed - that this would be one of those occthsions. However, they hadn't reckoned with Patrick Bullen and Emma Joyce who steadfastly refused to be the musical backdrop for meeting and greeting. In fact, from the start of their set they managed to command the audience's full attention - something that even managed to wrong-foot Patrick a little, as he genuinely wondered why everyone was being so quiet! The set consisted of mostly Bullen's own material, delivered confidently enough and with a whole heap of commitment which is often lacking in such acts. Bullen's voice has the ability to suitably soar into big choruses, but is perhaps most effective at its quietest and when duetting with Emma Joyce's equally powerful, clear and countrified tones. On these slower, quieter numbers it all fits together somehow and the audience are spellbound. While Bullen's own songs are perhaps a little too close to the edge of textbook 'regret' at times, a very well chosen closing cover of Ryan Adams "Oh My Sweet Carolina" sets the agenda they are striving for, and I'm fairly sure they'll get there with a little exposure. I couldn't find out much about this pair on line, but it seems that they're fairly present in the folk scene around Glasgow which no doubt provides them with the easy confidence they exuded here. Tonight though, they kept an excitable audience who'd come for noisy bands both interested and entranced. No mean feat at all.
There is something special about trios - about stripping back a band to it's absolute basic core, and still managing to make a heck of a racket. Whilst I'm sure readers will baulk at the comparison, I remember seing Buffalo Tom in a support slot in the early 90s. They wandered on stage carrying their own amps, plugged in and launched nonchalantly into a noisy, layered, emotionally charged set - before packing up and leaving with their kit. Something of this self-sufficient simplicity of the three-piece set up was captured by The Streetlight Conspiracy this evening, who sauntered on stage amiably and proceeded to blow away a probably already converted audience completely. This appears to be second time around for the band too - as they seem to have had a previous incarnation and some fairly positive press in the past. They've certainly been around long enough to have a MySpace page, but aren't quite quick enough off the blocks to have made the inevitable leap to Facebook or other social media. The three-piece stormed through a set which harked back to some of those earlier songs, as well as capturing where the band is right now - a more direct, pared-back approach which still manages to provide some wonderful spiralling highs and some menacing quieter spells. This is classy, confident Scottish pop music in the Ambulances or Attic Lights mould, but with a slightly tougher edge, in no small part due to some dizzyingly good guitar playing at times.
Finally, We Came From The Sea took to the stage - another trio, and a frighteningly youthful one at that. It was also pretty clear that they'd set up, promoted and managed tonight's show largely themselves, a DIY spirit which has to be admired. Starting with a quietly building post-rock meander, they escalated things to the inevitable explosion which, when it arrived was a pleasant surprise with squalls of hollow but explosive guitar noise not unlike the Steve Albini-era Wedding Present. In the quieter sections there was just a hint of the grace and simplicity of Codeine too, which perhaps indicates that these guys have thought a little beyond the increasingly dull quiet/loud/quiet post-rock dynamic and know their way around the construction of a song. Lyrically, the songs were at times a little unsubtle and simplistic - but considerable time and effort certainly appear to have been invested in the music where they create a suspense and menace which the words just don't quite capture yet. But then again, what do I know - the home crowd cleared loved them, and with the guts to go it alone and the support of a growing fanbase, there's not much that could stop these guys from getting a name for themselves.
Having spent the morning listening to a rather maudlin shopkeeper explaining why all young people were computer game, reality TV and social networking obsessed losers who never did anything or went anywhere, it was good to see enthusiasm both on the stage and in the audience tonight. I wondered at first if I'd picked a lean week for gigs up here in Glasgow, as there seemed to be little going on until the weekend - when as ever, things tumbled over each other for attention. It's true that arriving a week earlier or later would have presented me with a whole other set of priorities. But that would also have meant I'd miss this evening. It's just a shame the shopkeeper couldn't have been there too.

Posted in SHOFT on Wednesday 15th February 2012 at 11:02pm
---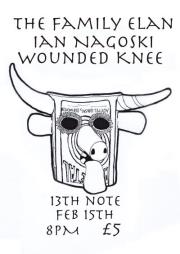 I arrived in Glasgow yesterday to find a city in chaos - a rail strike, the impending financial implosion at Rangers FC, and perhaps worst of all a city in the grip of Valentines Day. Also, the sudden realisation of the impact that devolving licensing of free events to Local Authorities may have on small arts and music events has stirred up something of a grassroots rebellion in the past day or so. In a sense tonight's show at The 13th Note is just the sort of thing which may well not happen if authorities decide to charge for such licenses. So, having skulked in my room last evening to avoid the deluge of nervously overdressed couples stalking the streets, I was eager to get out and about tonight, and this offered the ideal opportunity.
Having encountered Wounded Knee several times on record, not least on the really excellent "House Music" cassette at the tail end of last year, I was keen to see Drew Wright perform live. He took to the stage alone, with just an electric guitar. This was deployed as much as a percussion instrument as anything as he strummed out a hypnotic rhythm and started to sing. On record, there is rarely any instrumentation in the traditional sense to detract from Wright's vocal - and this was true tonight also, as his voice climbed and dipped around the rhythm. The lyrics of this extended first song seemed attuned to this too, with their reference to "the strumming of the strings of defeat and salvation". The small audience showed a great deal of appreciation to Drew's apparent surprise and delight as he continued with his setting of Burns' "My Love is Like A Red Red Rose". In the hands of Wounded Knee this became a strangely moody two string blues, full of menace and portent. Perhaps a highlight for me, unsurprisingly given my occasional theorising about music and place, described a series of walks around the countryside which rings Edinburgh as Wright observes "I am alone/never lonely". Referencing "The Highlands in miniature in your doorstep" the song revolves around a list of bus routes which make these remote country edgelands accessible. Given the themes of land, place and identity which thread through "House Music" it was good to hear this expressed on a local scale, with a genuine connection to the places clearly expressed. Wright closed with "The Deadly Wars", an old song unearthed during his residence at the School of Scottish Studies and again based on Burns. This short set was entrancing, magical and genuinely intimate in the tiny setting. Most of all, Wright's deep, resonant voice echoing around the room will stay with me for some time.
Sticking with the theme of place and displacement was Ian Nagoski. This was something of a different proposition, and one which could all have gone badly wrong with a testy and hard-to-impress Glasgow audience. The basic premise is Nagoski talking us through his development as a record collector. It will be a familiar story for any zealot or specialist - you start out feeling it's impossible to carve out a niche, and end up a specialist in a tiny area of expertise which is yours - and often pretty much yours alone. For Nagoski that specialism lay in the foreign-language 78s produced in dizzying number by the major recording companies in the US during the early part of the 20th century. Far from being a nod to a diversifying USA it was, even then, a commercial proposition - giving the Ottoman Diaspora something of home. As Nagoski admits, it was just as often schmaltz, rather bloody-handed patriotism or cheap titillation, but his breadth of knowledge of the lives of these long-dead and obscure artists brought the scratchy, aging recordings to life. It's easy to dwell on technical aspects when describing the unfamiliar in music, but Nagoski takes the social, political and geographical context and builds his stories compellingly around it. I sympathize entirely with this approach, and the concept of weaving new discoveries and their back-stories into your own narrative. I sympathised too with his thoughts on the nature of obsession and the need to create. I never dreamed I'd be sitting in the basement of The 13th Note listening to the thoughts of a quietly-spoken American enthusiast, punctuated by scratchy, pained wails transported from the distant past. If you told me I'd be here, I'd have speculated it wouldn't work. But, strangely - and compellingly - it did.
Finally, Nagoski departed by introducing The Family Elan. A three-piece focused on the multi-instrumental talents of Chris Hladowski which seemed to channel those disembodied, disenfranchised voices from their gramophone horn and deliver them afresh through thoroughly modern loudspeakers. On paper the band should be a bizarre proposition - heavily amplified bouzouki, electric bass guitar and in Mark Hearne a versatile and dynamic percussionist who is, for me, perhaps the hero here. The Family Elan are tight, taking the shifts in pace and geography in their stride as they switch between an Azerbaijani warning that you "cannot cross the mountain" and equally "must not stand on the pomegranates" alongside a trance-like, almost psychedelic take on Bollywood tunes. It's interesting to think about all those times Eastern music has influenced western - not least in the meandering 1960s love affair with mysticism. But now, oddly the reverse is true as Hladowski hefts his bouzouki, soloing like a proper rockstar and applying distortion and phaser to weirdly queasy effect. Their final track tonight, apparently from the north coast of the Black Sea ploughs a traditional enough furrow until it breaks down into a slow, trashy distorted grunge epic. It's either abject genius or superbly silly - but either way it's quite brilliantly played and hugely appreciated here.
Tonight was far from a normal night in many ways - but, it shows that no matter how diverse or eclectic the subject matter, the nature of musical or literary obsession is pretty much always the same. Whether it's expressed through a connection with a distant life, or as Ian Nagoski put it via a non-denominational 'prayer' to make things different to how they currently are, it's comforting to know I'm not alone in my approach. And given the rapt and respectful audience tonight, I think I may well have been in good company.

Posted in SHOFT on Sunday 5th February 2012 at 11:02pm
---
Many, many years ago I wrote a sort-of-review of a Lambchop gig at The Fleece which I suppose was the beginning of the kind of inconsequential-wittering-leading-to-a-review style I seem to have adopted here. Having been involved with their very earliest UK releases - something I was fairly proud of, but never really thought about until then - I found myself getting riled by the audience as we waited to go into the venue. Later I got equally upset by someone who's girlfriend didn't like trombones. At least, looking back, I can say I've been a consistently - as I put it back then - "irksome little shit". Arriving at The Fleece tonight after watching a fairly glorious sunset in Bristol while the rest of the UK shivered in a cold snap, I find myself next to someone being just a touch overbearingly smug - perhaps, I pondered unrealistically as I regarded the gent concerned - it was even the same guy from 2002? As I waited I was treated to a hilariously inaccurate potted history of King Creosote's career. Various albums were mentioned, and concerns about being "too folk" quickly dismissed as there are comfortingly "very few duff songs". Apparently "they" insist on promoting Fife which is ironic and amusing because it's the "arse end of Scotland". Quite aside that Scotland goes on quite a bit beyond Fife, and that actually the East Neuk is one of the most beautiful places I've ever spent time I'm prepared to forgive them. They're here because of the Mercury nomination, and y'know "four stars in the Guardian and all that". It's wrong of me to judge, and I realise I'm drifting into the kind of elitism I claim to despise - but, if you're going to mess with the stuff which matters to me, which sustains me and keeps me sane in troubled times, please, please do get the geography right at least. That said, the fact that there are people here who don't share the almost fanatical devotion to the Fence cause which the label regularly inspires is testament to the power which the utterly remarkable "Diamond Mine" had over an unwary public last year. It was going to be an interesting night.
First up was Delifinger moonlighting in his solo guise tonight away from OLO Worm duties. Matthew Lacey takes the stage, a slight and rather quietly unassuming figure assisted by two silent assistants who manipulate all manner of technology to produce the various beeps, squeaks and shuddering basslines which shore up Lacey's delicate twist on casio-folk. On recordings Delifinger manages to create some truly unsettling tales, just odd enough to produce collar-loosening discomfort, but never outright disturbing. It's a neat trick which is in evidence on the first couple of tracks tonight, where he drifts from unnervingly off-kilter ballads to a sort of neo-Formby strum. Somewhere mid-set, it hits a bit of a strange slump where several of the songs are paced about the same and feel a bit pedestrian and listless sitting together. It's a shame, because I know there are Delifinger songs out there which this receptive, unusually welcoming Bristol crowd would respond warmly to. However, it all fits back together in time for the last track - a sinister, discordant beast which lumbers and thumps along while it builds in tension. It was never going to be easy facing a sell-out crowd, many of whom are here solely for the main act, but despite his visible unease Delifinger managed to get a fantastic reaction. Perhaps a more intimate setting and more time to explore a wider range of material would have made all the difference here?
From my usual apologetically out-of-the-way-at-the back vantage point, I surveyed the crowd between acts, only to see an equally apologetic Dan Willson struggling through the crowd, with his guitar in hand. Eventually he found his way onto the stage, assumed his position at the microphone and managed to create an ear-splitting explosion from it! This is Withered Hand, where what might seem ramshackle, a little uncoordinated and sometimes plain disorganised suddenly drifts into sharp focus to produce some of the most lyrically incisive, truly original guitar music you'll find right now. The set settled mainly on favourites from 2009's "Good News" album, including "Cornflake", "Providence" and "No Cigarettes". Hearteningly, there was some recognition for these tunes in the bit of the audience around me, and some genuinely smitten people as Dan's self-effacing stage presence and ability to suddenly launch into these wonderful songs kept them amazingly silent. That really almost never happens at The Fleece. Some new songs were in evidence too, including "It's A Wonderful Lie" where the middle-class angst must have struck more than a few chords in the audience tonight. For me, any human being who can somehow contrive a couplet which pairs "kids with degrees" with "fake bonhomie" is a candidate for sainthood. Throwing in two personal favourites in "For The Maudlin" and "New Dawn" before a rapturous closing take on "Religious Songs" and I'm beginning to think that this is something special which might just catapult Willson into the spotlight somewhat. Later, I hear someone whistling "Religious Songs" in the gents. That has to mean something significant - but I'm not sure quite what yet?
Finally King Creosote and Jon Hopkins take the stage to the gentle piano introduction of "First Watch". Hopkins alternates between harmonium and piano, with a little electrickery thrown in to create the lush, sometimes barely present shimmer of sounds which threads through "Diamond Mine". The plan is to play through the album with a minimum of fuss or interference, and despite a microphone hitch which would throw a less experienced performer off their stride, they do just that. The audience responds with genuine warmth and enthusiasm for this material - and it's good to hear the record played live once more, which gives it a fresh lease of life for me yet again. The strength of compositions like "Bats In The Attic" and "Running On Fumes" is reinforced by Kenny's remarkable voice which sounds even better than when I last heard it. The biggest reaction is reserved for "Bubble" which someone whispers beside me "just gets me every time" before adding "I hope I don't cry tonight". For the already established fan, the question is what delights will be slipped into the remaining part of the set by an ever mischievous King Creosote - and tonight we get a set which stays fairly faithful to his previous work with Jon Hopkins starting with a trio of "Bombshell" era tracks including "Cockleshell", "Spystick" and the utterly sublime "And The Racket They Made" which practically ends up with me in tears. I pretend it's an allergy as Kenny throws in a surprise cover of Simon and Garfunkel's "The Only Living Boy in New York" before another teary goodbye to the strains of "My Favourite Girl".
Once again, it was a privilege to hear King Creosote perform and an absolute joy to see an audience who in many cases had come with a single-minded wish to hear a specific set of songs go away having had just the briefest insight into the much wider, more intriguing and delightful world of Kenny Anderson. But, having finally seen him play a set of reasonable length, without being ill or experiencing technical troubles, I'd say that Withered Hand might just have stolen the show by a whisker tonight. In any case, it was a memorable evening - and I don't think I'll see The Fleece that busy again for quite a while.

Posted in SHOFT on Sunday 5th February 2012 at 4:02pm
---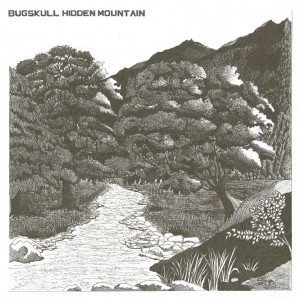 It's always a little strange when the distant past resurfaces to invade the present. Somewhere in the cupboard behind me are hundreds of cassettes dating from the early 1990s, and buried in those boxes are more than a couple featuring Bügsküll. Back then they were part of a strange musical landscape which I found myself inhabiting after almost accidentally drifting into it via my own cassette-based exploits. I find this period of musical history cropping up quite a bit lately, and it was interesting to hear some of this explored on a recent Song, By Toad podcast. Quite why it should be this music, or why it should happen right now is open to interpretation, but part of it must relate to the accessibility of simple recording technology and the complete indifference of major labels to grassroots music making at present. The interest of big business is elsewhere, seeking quick returns on multimedia tie-ins, and so once again the bedroom musicians, the hard-working local indie acts and the one-man micro-industrialists are left to pursue things on their own terms. No-one is going to get rich from music just now, but culturally we all surely stand to gain? There's a quote attributed to Shrimper mastermind Dennis Callaci from the turn of the last century: "Music is always better when the powers that be are out of touch, and with the internet, the major labels are going to lose control." Once again, Dennis was on the button.
Of course Bügsküll never really went away, despite my years of completely missing the point - and you can find out more about their exploits here. But what about Bügsküll in 2012? Well, in some aspects reassuringly little has changed. Now focused on the originally Portland, Oregon based but now continent-spanning duo of Sean Byrne (Austin, TX) and Aaron Day (Berlin), there is a refreshing directness which harks right back to those days of cassette releases and home recording. Their basic premise remains intact as Byrne's often delicate, heartfelt nearly-folk songs collide with scraps of recovered sound, simmer in tumults of generated noise and are steeped in analogue hiss and crackle. However, listening back to some of those early cassettes on Shrimper and Eldest Son there has certainly been a distinct shift in fidelity, and a move away from the way songs from those early recordings would dissolve frustratingly but rather beautifully into fuzzy, noisy oblivion as recording artefacts and format limitations became features of the soundscape. I'm not sure I always really understood what the band were aiming for back then - but perhaps one's musical palette matures in the same way our tastes in cuisine develop, and listening now - particularly in the context of "Hidden Mountain", I've completely fallen for the approach all over again.
This blog isn't idly named, and I listened to this for the first time speeding east and watching the sun come up over a frozen landscape. It was an oddly and absolutely fitting way to experience this release. Opening with an extended instrumental introduction in "Old Town", the title track which follows is a curious epic of pastoral Americana, which I can't help but keep replaying in my mind. It's a simple proposition - a delicate guitar melody is plucked out against an atmospheric backdrop of stuttering electronics and layers of droning noise. Perhaps the key to how this gentle, but persistent song manages to worm its way into my consciousness is the new found discipline. The noise never threatens to overwhelm Byrne's calm if melancholy vocal. Continuing in a similarly laconic mood, "The Lights" is driven by a simple but effective vocal melody, which leads a drone of keyboard and the ever present understated, folk-inflected guitar. Then, rather unexpectedly a maudlin brass section joins briefly, lifting the song into new territory before it departs. It's a breathtakingly sudden interlude. The pace picks up a little on "Wolves" but it becomes clear that this isn't by any means going to provide lighter moments. The guitar line here repeats hypnotically and and mantra-like while Byrne manages to sound even more desolate than on the slower-paced opening tracks. Somewhere here I realise that this is just what I wanted from the last Bill Callahan record, but found I lost amongst all it's extravagant complications and overly clever staging.
The elaborately named "Early Winter, Hoping for an Early Spring" appears to have taken a leaf from The Twilight Sad approach to song nomenclature. Not unlike their often bleak and mournful recordings it too has a strange metallic edge to its melody, before startling multi-tracked and distorted electronic vocals eerily join in. The curious cyber-folk saga which follows is unsettling in it's oddly warped background sounds, but remains achingly, unerringly beautiful to hear. On "Lost Cause" Byrne pitches a more personal first-person lyric, together with a whirling electronic shimmer. His voice is at its most vulnerably and sonorous finest here, as he quietly intones the regret-laced verses. Finally "To Be The Head and Not The Tail" closes the record on a comparatively and defiantly upbeat note with what is perhaps the most immediately accessible track on the record. On the surface, it seems to be a distant cousin of George Harrison's "Isnt It A Pity?", but rebuilt from shards of odd sound effects, multi-layered vocals and a steady guitar strum. The lyrics appear to concern natural selection, with an unnamed creature slinking around ensuring it's own survival. Then, the record's only electric guitar solo enters - a majestically fuzzed-up delight of an outburst, if sadly all too brief. Taking a cue from this sudden squall the track builds towards its ending with a cacophony of whirling machinery, and appropriately drenched in hiss. In lots of ways, writing about music has brought me full circle, and to be listening to Bügsküll now connects me right back to some of my earliest experiments and projects, some of which have themselves been strangely re-energised of late. It's pretty certain in fact, that if some of those earliest cassette recordings hadn't found their way into my enthusiastic but clumsy hands back then, I'd be listening to some very different music right now. The lyrics and the music here both seem to deal throughout with a sense of pent-up natural process, and asserting some sort of understanding on a complicated world. Overall, this is a masterpiece of wonderfully intelligent songwriting, barely controlled noise, and simple but beautiful construction.
This release manages also to take the recent debate about legacy formats to a curious new conclusion - being released simultaneously on three labels, each handling a different format. The CD is available from Scratch, whilst Shrimper are providing an outlet for the cassette. Perhaps most exciting though is the vinyl release on Almost Halloween Time, each of the 110 limited copies coming with a painstakingly hand-drawn sleeve - an example being seen above - by the remarkably talented label owner, Luigi Falagario.

Bügsküll - Lost Cause