Posted in SHOFT on Wednesday 4th April 2012 at 10:04pm
---
I continue to blunder through a strange period of having very little spare time to sit and think - and ultimately, therefore to write very much. But in this frustratingly busy period, I've found myself saved by a constant trickle of music in the form of singles. Whilst in previous singles columns I've looked for themes to link the releases I've chosen to consider, this time it's more about a contrast - simplicity versus complexity perhaps? Or even professional recording versus good old fashioned DIY releases. Either way, what these two releases do have in common is both a fairly unique approach to music and recording, and also the sense of a great project completed.
TishyTash - Shells EP
For most of my life, I've lived near the sea. I don't take nearly enough advantage of this, and usually end up complaining about the tourists and the traffic rather than celebrating the fact that just yards from my door is the opportunity to wander along a beach which is deserted for half of the year. This debut EP from
TishyTash
is steeped in a longing for the coast, and the frustration of being trapped inland. However
Natasha Taylor
takes her own, circuitous route to the shore. Opening with "Toddler Based Drugs", the formula for this gem of a record is made plain. An unorthodox guitar picking technique creates a shimmer of echoing, lingering notes while
Taylor
's heartfelt vocals carve out a counter melody. This isn't easy listening in some ways - exploring themes of lazily prescribed medication and living on the very edge of frustration. The gentlest hint of violin drifts in - and not just any violin, but a sixty year old vintage model dusted off for the occasion - and strangely you can hear the creaks and aches of it's age in its sometimes eerie and incongruous groans.
"Shells" tumbles in with a brighter melody which contrasts with the rumble of wind and tide which can be heard in the distance. The lyrical territory explored here seems to be obsession - collections are counted, catalogued and stored away for future reference. The vocal here is a little more raw and ungoverned, as TishyTash stretches to find notes to express the yearning for the seaside. The approach is pretty unique, sometimes almost discordant, and it takes a listen or two to fully appreciate what's going on here, but when it clicks into place this is all rather beautiful. Finally the record closes with "The Thomas Song", introduced by one of Taylor's friends ranting about the pointlessness of social networking, and railing at modern culture in general. Meanwhile, TishyTash appears to be singing a love song to a favourite duvet, which is perhaps not such a strange proposition in some ways. As that venerable violin groans into life once again, themes of ageing and passing wisdom between generations are explored.
In a world of singer-songwriters which is sometimes deadly serious and dutifully dull, TishyTash is all about the delight in creating something, sharing it with friends new and old, and most importantly in doing it all your own way. That, in itself, is worthy of your attention.

TishyTash - Toddler Based Drugs You can buy digital and physical copies of the "Shells EP" from the TishyTash Bandcamp. More information on TishyTash can be found at her website.
White Heath - In A Glasshouse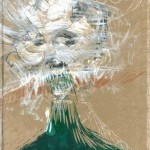 I'm painfully aware how behind the pack I am with this one, and whilst some of this is down to my usual procrastination and failure to thrive as a blogger, its also because I'm almost daunted by the scope and ambition encapsulated in this singular and somewhat epic piece of music.
White Heath
have always refused to be constrained by the modern rock band format, and have taken cues from their classical and literary influences rather than what's happening in the NME. Thus "In A Glasshouse" slips quietly into motion with delicate piano and a welcome focus on
Sean Watson
's vocals. They are perhaps a little more direct and foregrounded than on much of the material on last year's "Take No Thought For Tomorrow" album, where the grim portents and domestic melodramas were often buried under layers of wonderful noise. Lyrically this is hard to pin down, with a sense of winter chill and growing menace during the quieter opening section. Overall though, it's the stuff of dreams and nightmares - a sometimes confusing swirl of sounds and ideas which resolves into moments of genuine beauty and dazzling orchestration. Here, things begin to build gradually but implacably - with strings joining first bringing with them a few luxurious minutes of gentle harmony before urgent stabs of trombone usher in a change. Suddenly
White Heath
have mutated before our ears...
The second section of "In A Glasshouse" is pure, unabashed and unadulterated rock and roll. A stuttering, shuddering beat and sheets of razor sharp guitar underpin things, while a relentless guitar solo slinks between the beats. There are flashes of proper, old-fashioned heavy metal among squalls of punk rock noise while Watson's voice changes too, shifting from it's contemplative register to a rasping, metallic scream - sometimes within the space of a single phrase. Then for a strange, pensive moment there are just handclaps, urgent gasps of breath and sparse piano chords before the vocals arrive again to close the mammoth eight minute track in a quietly reflective, rather sombre mood. I'm not really sure what's just happened - but it feels like it could be very, very significant.

White Heath - In A Glasshouse
"In A Glasshouse" is part of a curious and intriguing multimedia project with Edinburgh-based artist Emily Hair. You can discover more - and download the track - at the website. I confess I explored the rather fine artworks and scraps of wonderful music without really finding out what was happening, but it is certainly worth your while spending a little time in this slightly dizzy and fantastically unhinged digital world.

Posted in SHOFT on Tuesday 20th March 2012 at 9:03am
---
I seem to be surrounded by single releases at the moment, and catching up on them is a huge pleasure - but inevitably means that I'm going to keep writing these increasingly lengthy 'catch up' posts about seemingly random collections of music. Today however there are a couple of potential themes - firstly all three of these acts have some connection with Edinburgh. While not always quite as productive or dynamic as Glasgow which houses the machinery of the Scottish music industry, there is a sense of something stirring on the east coast among a clutch of young bands just seeing their first releases. Secondly, these releases are by bands which are right at the start of their journey - a fragile and eventful time which often produces some of the most interesting recordings of a band's career. All of these releases deserve a listen, and ideally for you to part with the few quid necessary to get hold of them. They may just become little pieces of pop history after all!
Morris Major - Can't Go Back EP
It's been a productive winter in Edinburgh it seems, with a whole host of bands coming up with new things in the next few months. Since their debut EP graced these pages what seems only a short while ago,
Morris Major
have clearly been busy too, with a successful
Song, By Toad
gig under their belt and the recording of this new EP following swiftly in a period which for most acts is the fallow season before the year starts in earnest. This sense of urgency may come from the fact that
Morris Major
are racing against the clock - real lives bearing down on their ability to play and record together, and there is a sense of this in both the urgency of the music and
Matthew Harrison
's jaded but defiant lyrics here. As winter seems to have returned this morning, "Intrepid" is a suitable soundtrack. Its oddly summery cascade of ringing guitars are a contrast to a lyric which hinges on a journey through wintery conditions which dares to ask "
why does a nation stand still?
". There's a little nod to the notorious lack of resilience in the capital too, with the wry observation that there is a "
crisis in London town/some white stuff is falling down
".
Title track "Can't Go Back" has a pensive feel, a strange eastern European flavour adding to the air of paranoia. The guitars skitter playfully around the strangely foreign sounding tune as the lyric relates a tale of anonymity and flying under the radar - with Harrison claiming "I don't want to be seen/for reasons I just can't explain". Finally "Mines, Mills and Factories is a clever and measured post-industrial hymn to lost empire, forgotten prosperity, and dissolved pride - the work of "ignorant minds with reckless hands". Like most political songwriting this could all be very clumsy and dogmatic, but it comes across as gently human and considered, with Harrison expressing regret and frustration but never slipping into impotent rage. The churning guitars and complex basslines drive the song on with quiet insistence, just like the message here. The ability to write intelligent, captivating lyrics about something beyond love and lust is rare, and to couple it to deftly played, addictive tunes is a triumph. There may well be some changes coming up in the Morris Major camp over the next few months with members of the band scattering to the winds, and I can only hope that somehow, the inventive songwriting at the heart of these gems continues and that they resurface in some new form soon. In the meantime, download both this and their previous EP and marvel at how beautifully direct pop music can still be exciting and relevant.

Morris Major - Intrepid
The "Can't Go Back EP" will be available at Bandcamp from 1st April. Morris Major also appear at Edinburgh's Wee Red Bar on Friday 23rd March and Bannerman's on 4th April.
Letters - The Halfway House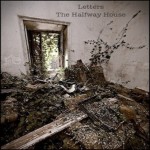 It's strange how some bands receive so much early press that they seem to have been around for a very long time, when in fact - like
Letters
their earliest recordings are probably about a year old. After being tipped as one to watch in lots of influential places around the turn of 2011,
Letters
have done their growing-up as a band in the gaze of the often congratulatory but sometimes harshly critical blogosphere. But more positively, the latest fruits of this process of public maturity can be heard on "The Halfway House" which is a taste of what's to come on their debut EP "Older Motion Pictures" due later in the spring. The basic premise here is good old fashioned, anthemic pop music. Big soaring choruses, dynamic shifts and changes in pace, and vocals which ache with commitment. That alone would make this dark, noisy pop music pretty interesting in my book. The twist here though is the cello playing of
Georgie Williamson
. Throughout the song the instrument appears in several guises - firstly acting as part of the solid rhythm section and sawing out a moody undertone, but later in it's own moments of spiralling glory as the song builds to a rousing ending.
"The Halfway House" is heartfelt, chest-swelling stuff with a lyric which switches from tiny, detailed observations to sweeping descriptions of places and journeys, the opening few lines in particular being a masterclass in scene-setting - but I'll leave those to delight you on first listen as they did me. As such this is darkly pretty, stirring and sneakily catchy stuff. You're going to see those terms crop up a lot in reviews of Letters over the next year I'm sure - but it's not lazy journalism, it's just about the best description I can string together of this gem of a song. Any early concern that Letters palette was limited by their approach and their reliance on the cello is unfounded - they have the ability to conjure with moods and tones which makes me long for the EP and eventually the album to finally hear what they're capable of. If the point of releasing these songs is to hook us in, then mission accomplished.

Letters - The Halfway House
You can buy "The Halfway House" for just a pound on iTunes, the proceeds of which will help Letters to record their debut album. If ever there was a musical cause worthy of your quid, this is probably it. Letters are touring right now with Where We Lay Our Heads, appearing at The Captains Rest in Glasgow on 22nd March before heading into the Highlands.
Radials - Radials EP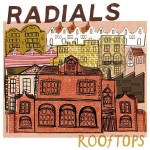 One of the first records I reviewed here was the debut album by Edinburgh based
Come On Gang!
. It was a tough one to write in many ways, as the band had already performed their farewell show and it was as much a historical document as an exciting new release from the outset. It was however a fine album of lyrically reflective, punky pop songs which has lasted well and still gets played here lots. The various members of the band have scattered to other places, such is the Edinburgh music scene, but
Radials
sees the reappearance of vocalist and drummer
Sarah Tanat-Jones
in London as part of an entirely new band. On the surface at least, things are similar to the
Come On Gang!
blueprint, with
Sarah
's wonderfully wistful, dynamic vocal gracing these four urgent, delicate tunes. Opener "Ships In The Night" burns slowly but brightly,
Sarah
's vocal reaching incredible heights over a complex pulse of bass and a beautiful tangle of indie-pop guitars. Next up "Hands" is musically equally driven, but with an almost folky vocal which keeps the song from exploding for most of it's length - but when it does so, it reaches a scorching, drum heavy ending.
"Rooftops" is a quieter proposition, delicate and restrained, but delighting in some of the most intricate guitar work to be found here. This showcases perfectly the variations in tone, pace and colour which Radials can achieve despite taking the form of a fairly traditional trio completed by Matty Saywell's guitar and Al Baker's almost superhumanly deft bass work. Finally "Dashboard" manages to deliver that most elusive of things - an English road song. The Americans have always had this cornered with their long straight highways and epic coast-to-coast journeys but Radials were built for this, with tarmac and tyres embedded in their name. A rumble of distorted bass and Sarah's regret at reaching the edge of the city and losing the open road see this fade into the distance. It's easy to forget that Radials have only existed since last Autumn, and in that time seem to have become an industrious three-person arts collective with beautiful DIY sleeves and posters, and now this EP packed with tight, complex and spiky tunes. I can't wait to hear more, and I hope I manage to see this band play live very soon.

Radials - Ships In The Night
Maintaining the DIY ethic, each CD is hand-painted and comes in a 7" single sleeve with a fold out print cover featuring four separate artworks - one for each track. Time, thought and effort have gone into producing this - from the cover, right through to the intelligent pop music which graces the disc. It seems only right you buy a copy soon, by visiting the bands online store. Radials are playing all over London, and will be appearing an Manchester's Night and Day Cafe on April 19th, and Sneaky Pete's in Edinburgh on April 20th.

Posted in SHOFT on Wednesday 14th March 2012 at 11:03pm
---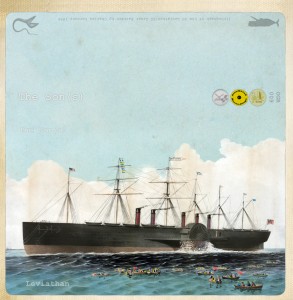 It hardly seems like a year has passed since the mysterious and much anticipated debut album from The Son(s) appeared to an expectant crowd of bloggers who seemed to have been talking about it for a very long time. In that year, having lived with the record through good times and bad, there are songs which have stood the test of longevity with ease, and most often it's those which were perhaps the more downbeat on that otherwise glossy slice of pop perfection which have aged best of all. Way back then I hinted at a touch of Americana in those more wistful, considered pieces on the record - and interestingly considering it's birth in a frozen Edinburgh winter, its hard to find a mention of "Leviathan" which doesn't make some passing hint towards America. This is I suspect, because we just don't make this kind of wide-screen, technicolour music here between our cramped, uneasily polite shores. But if last years debut was the sound of the self-assured west coast, this is the Midwest of broken and deserted places. The glamour here is faded and bitterly contemplating its grand past at the bar, and there are moments where the near-anonymous vocalist and multi-instrumentalist K.P.Son sounds worn down by life and heavily burdened by experience. In short this is another side to The Son(s) which we've perhaps only glimpsed so far. And it's nothing short of wonderful to behold.
Beginning with bright guitar chords and swooning backing vocals, "Roaring Round The House" relates a tale of battening down the hatches and hiding from the world over an incongruously optimistic musical backrdrop. As the tune shuffles gracefully into its stride, I find myself drawing comparisons with The Pernice Brothers quietly soulful finest moments. The songs here are on the whole, surprisingly brief affairs which manage to span a dizzying range of styles and instruments. Delighting in one of the finest song titles yet coined, "If I Hear You Talk Apostrophes Again..." is a wholly different beast. A relentlessly pummelling bassline and knife-sharp guitar slashes support a menacingly troubled Son, apparently out for revenge. It's all swaggering, bravado and implied threat hovering just out of the picture. After a keening guitar solo which has arrived directly from late 70s AM radio, the song closes with a malevolent chant of "When I'm king, you're first against the wall...". There is a return to the shimmering beauty of that debut album on "Cocksure Boys", where Son croons through a tale of the kind of man "who likes taking things apart/but can't put 'em back together". A plucked ukelele, dabs of brass and exotic percussion build the kind of detailed, lovingly constructed soundscape which made The Sons(s) eponymous debut an absolute must-hear on it's release.
Some kind of accommodation is achieved with "Half Lived" where the cracked Americana collides with assured, slick classic rock sounds to produce a slowly simmering anthem of frustration and dismay. Peppered with echoing guitar breaks and swathes of atmospheric keyboard, it's hard not to imagine this soundtracking a lonely night-time driving scene in the movie for which this should undoubtedly be the soundtrack. The more downbeat "Shot Out A Cannon" is a perfect showcase for the range and fractured beauty of the vocals, which climb to seemingly unscalable heights around a sparse arrangement which ebbs and flows gently from the song. Mercurial and lyrically complex, this is the longest piece on the record by virtue of an extended instrumental end section centred on flecks of simple but very effective guitar. By "There Is No-one To Thank" Son sounds redeemed, in control and with his resignation channelled into a bitterness which suits this brief, mostly acoustic finale. Gut-wrenchingly sorrowful guitar lines twine around the vocals, as finally a gentle glockenspiel seems to tap out the closing theme from "We Have All The Time In The World". This is music as last refuge in the style of Mark Eitzel, and as such it is painfully lovely - and so this all too brief EP ends with a tense ache and a sonic shrug of the shoulders as you reach for the bottle and hit play once again.
It's inspiring to hear the progression that "Leviathan" demonstrates, seeing The Son(s) comfortably growing into their unique, layered and detailed sound. But there is a darker twist to the raw material behind these songs, and a sense of disenchantment and regret which lingers around them. For us though this is no bad thing - and while it sounds somewhat uncharitable perhaps, Son's loss is our gain in the form of these six wonderfully crafted, slightly bleak compositions.

The Son(s) - There Is No-One To Thank
The "Leviathan EP" is released by Olive Grove Records on 7th May. Meanwhile you can download a free track from the EP from Soundcloud.

Posted in SHOFT on Tuesday 6th March 2012 at 8:03am
---
As 2012 finally starts to hit its stride musically, there are suddenly lots of singles around providing previews of delights to come. After glibly proclaiming the old-fashioned single largely dead sometime earlier in my musings here, I'm suddenly finding lots of bands using just one or two tracks to tease in the weeks up to an album or EP release. What's interesting too is how bands who have perhaps an EP or two under their belts are marking these releases as their 'debut single'. For me this is all good - the idea of new music from an artist you love being something of an event, along with the anticipation it builds can only be a positive thing. So here, hot on the heels of my last round-up of single releases is another one. There is lots to listen to here, and even stuff to see linked below - and you get much less rambling from me in each case too, which can only be a bonus...
Lonely Tourist - I Live Where You Are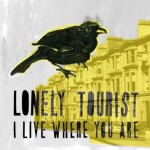 One of the highlights of 2011 was getting to hear
Lonely Tourist
for the first time, and realising with forehead-slapping dismay that while I'd been haring up and down the country seeking interesting new music, here was someone who had been busily hawking his unusual mix of modern-day folk tales, scratchy ballads and wryly observed lyrics not more than a few miles from home. With a self-released album recorded in Glasgow, and some high-profile support slots alongside the regular touring of Bristol pubs
Paul Tierney
ought to be a much bigger name by now. However, as a second album approaches perhaps things are about to turn his way?
Setting off at his now traditional breakneck pace, on "I Live Where You Are" Lonely Tourist invokes the spirit of Johnny Cash early on with a wonderfully twangy solo guitar. Recording with a full band on this first brand new material for a year, once again this bursts energetically with a tumble of rapid-fire lyrics and half-revealed dramas. The scratchy, skiffly acoustic guitar style fits surprisingly well into this setting and the whole thing cannons along at a satisfyingly breathless tilt. Touching on home with his description of a mood "as black as a winter Glasgow morning", Tierney brings the classic folk song theme of the itinerant hobo right up to date, rattling through a litany of couches, tenements and the vagaries of the rental housing market. Despite it's life-affirmingly singable refrain, this is all about uncertainty - and clinging on to the few solid things in life. Slowing to a pensive halt in the middle, the song builds to a note-bending, spirited wild-west style conclusion. If you're not singing along by now, then I despair of you.
There is an album coming along soon, and Lonely Tourist will undoubtedly bring his humbly simple live show to somewhere near you very soon. You really need to hear this, and whatever comes next...

Lonely Tourist - I Live Where You Are
Lonely Tourist has provided early access to "I Live Where You Are" via a pay-what-you-like deal at Bandcamp..
Where We Lay Our Heads - Bury You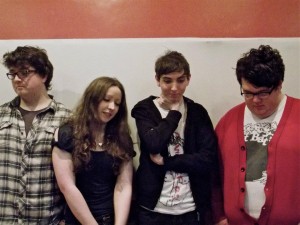 It's hard to tell if
Wull Swales
is the luckiest or unluckiest musician in Glasgow just now. Having assembled the first incarnation of
Where We Lay Our Heads
in 2011 and begun to see some genuine success with an EP and some high-profile support slots, things came to an abrupt personnel-related halt at the end of last year. However, picked up and dusted off in the best tradition of impossible-to-repress Scottish bands, the new incarnation of
WWLOH
has pretty speedily worked it's way to this debut single. Now a four-piece centred on the writing talents of
Swales
, the band appear to have undergone something of a transformation from the primarily acoustic tracks I've heard previously, and "Bury You" is the first fruit of this new approach.
Opening quietly enough, focusing on Wull's engaging vocals which proudly sport their Caledonian heritage, things take a surprisingly rocking turn as a solid rhythm section kicks in and guitars chug. This is a slow-burning, pensive piece which showcases Alison Cochrane's violin, winding in and out of the song, marking out the rhythm in the verses and soaring dizzily into the choruses. Meanwhile the vocals strike a note just between desperation and sinister obsession, working things up to a crashing ending where a tangle of edgy guitar noise gives way to allow Wull the last word. A masterpiece of dynamics, there are satisfying noisy moments coupled with dramatic silences here, which all fit surprisingly well into the heartachingly desperate minor-key epic. There's no doubting a lightness of songwriting touch here on Swales part, and coupled with a band which seems to understand perfectly how to interpret these songs I've no doubt that this new incarnation of WWLOH has the potential to surpass their previous efforts. And given the speed with which they're operating just now I'm sure they're not going to be standing still, so it's probably wise to catch them in tiny venues while you can.
Where We Lay Our Heads - Bury You
Where We Lay Our Heads release "Bury You" on 19th March, via their Bandcamp and will be taking it on a short Scottish tour with LETTERS, kicking off at The Captains Rest in Glasgow on 22nd March and proceeding to Inverness, Thurso and Skye before heading through to Edinburgh's Wee Red Bar.
Quickbeam - Seven Hundred Birds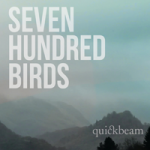 Quickbeam
were one of a slew of bands I discovered a little while back via by virtue of the ever-surprising
Glasgow PodcART
just at the right momemnt. On a train trip through bright, wintry countryside this beautifully simple mix of alluring vocals and melancholy traditional instrumentation clicked into place and sent me scurrying off to find out what I could. Apparently named for one of the ponderous, wise old Ents in 'The Lord of The Rings', any sense of whimsy ends there. But the slowed, gentle approach this suggests is an appropriate one -
Quickbeam
's music is glacial and graceful as much as it is dark and mysterious.
Previewed by a rather special video being promoted with unashamed excitement by Glasgow's emerging Comets and Cartwheels project, "Seven Hundred Birds" is the first single as such from Quickbeam despite a couple of collections of demos which have circulated among those deeply smitten by the band for a while. A plangent bass drum beats the rhythm while a harmonium moans amid spirals of wonderously mournful violin courtesy of recent new member Nichola Kerr. Monika Gromek's vocals are sparing, giving the music room to breathe - but when she sings in her wonderfully understated and gentle way, the atmosphere deepens and the tone darkens. The production and recording of "Seven Hundred Birds" is a triumph too - every gasp from the harmonium captured, silences and spaces preserved to provide a sense of depth and distance - like you're hearing something ancient and reverent. There is a line here where Gromek sings of "a painting that's escaped the frame" - and perhaps that is the best description for Quickbeam? A moment of beauty, briefly and gloriously animated.

Quickbeam - Seven Hundred Birds
You can see the video for "Seven Hundred Birds" here on Vimeo. The single is released via Comets and Cartwheels on 9th April. You can also find the recent teaser "Tide" for download at Bandcamp.