Posted in SHOFT on Monday 18th June 2012 at 11:06pm
---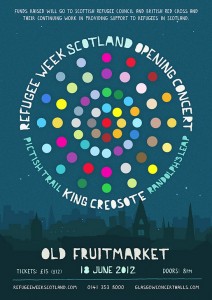 The Old Fruitmarket is a bit of a revelation. Entry is through the overbearing civic frontage of the City Halls, and then via a fairly anodyne, typically minimalist 'arts centre' type space. But buried within is an impressively cavernous, high-vaulted hall. There is a sense of the old times here - all uneven flagstone floors and curious dark corners, with fading names of fruit traders around the walls. A balcony runs high around the building, and weirdly my first thought is of the secret synagogue buried behind 19 Princelet Street. Tonight, the hall is laid out cabaret style - an odd touch perhaps but I always get the sense that organisers don't quite know what to make of Fence events - beard-stroking folkniks, or spirited outbursts of dancing? In the event tonight we were going to get a little of both. But it's important to remember that tonight had a purpose - namely in kicking off Scottish Refugee Week - and to this end the show was interspersed with short films on the themes of 'Spirit' and 'Courage'. These were understated and affecting, and managed to convey the reason that we were all, in fact, here without damaging the celebratory atmosphere. Aside from the unusual surroundings and these more down-to-earth concerns, this was a rare chance to see some of the gems of the East Neuk here in the city, alongside one of Glasgow's own finest exports. It promised to be an interesting night...
It's going to be very difficult to add to the almost fawningly fulsome praise I've already heaped on Randolph's Leap in these pages, but once again they pulled off that difficult trick of opening the show while still stamping an impression on all those present. They appear to do this by launching full tilt into a set of riotous, stomping gleeful pop which gets better with every chance to see them. Airing a number of tracks from "The Curse of the Haunted Headphones" along with some welcome new pieces, perhaps the winning bit of the formula for me tonight is their two-piece brass section, which given the space and opportunity to really belt out their accompaniment to Adam Ross' compositions has transformed the band the last couple of times I've seen them. As ever, the sporadic outbursts of irrepressible on-stage dancing and collective sing-alongs get the audience irresistibly involved in the tiny but affecting dramas at the heart of Ross' songs. During the set Adam announces that there will be a Randolph's Leap EP on Fence soon, which makes a sizeable contingent in the audience sigh with relief that they snapped up their subscription to the forthcoming "Buff Tracks" series. The band leave the stage all too soon, to a warm reaction from the audience. From the closing notes of the now traditional final tune "Crisps", it's clear some hearts have been won here tonight.
It's my first opportunity to see The Pictish Trail performing with his band tonight, and it's something of a surprise to hear how they manage to mutate Johnny Lynch's often plaintive and fragile solo efforts into hulking rock anthems. Some of the new material which will form an EP and album release later in the year is aired, not least "The Handstand Crowd" which has turned from a wistful stream of memories in St. Andrews to a chugging pop-rock epic here tonight. There's a brief electronic interlude where Johnny presses buttons and operates machinery through a cloud of dry-ice while live drums are expertly combined with the beats remarkably effectively. But ultimately there's no shying away from the big solos and crashing powerchords here as Alex Supergun and Bart Eagleowl hammer away on guitar and bass respectively on the closing pair of tracks - a punky storm through personal favourite "Ribbon" and a soaring, stop-start grind through the previously delicate "Words Fail Me Now". Overall the set feels like a success, and the band appear to have thoroughly enjoyed the experience. Johnny's stage chit-chat didn't quite land right tonight - and what would have been a two-way conversation between performer and audience in Anstruther Town Hall felt a bit more one-sided here in The Old Fruitmarket. But, musically at least, The Pictish Trail unmistakably connected with the audience via their punished eardrums and plucked heartstrings.
I'd been excited about seeing King Creosote playing something other than "Diamond Mine" for a while - despite an enduring love for that forlorn paean to East Fife. Mostly, its the thought that Kenny Anderson's vast, untapped back catalogue and the stash of new songs which surfaced on "That Might Be It, Darling" hadn't had a fair crack of the whip for a long time. Tonight, the band numbers eight - including stalwarts like Gummi Bako on guitar, Uncle Beesley on bass and rakish headgear, and Captain Geeko The Dead Aviator thumping frantically on his djembe mid stage. Add to this the additional vocals provided by the almost impossibly lovely Bam Bam and as he surveys the stage it's clear the King is in his element. The set spans his recent career, from the very recent big band reworking of "Doubles Underneath" - an irresistibly catchy, stomping affair which gets the audience shuffling in their chairs, to a spirited and acid-tongued "You've No Clue Do You?" - a much darker affair than the polished recorded version.
Somewhere in the middle of Kenny's set, something strange happens. Up to now there have been sporadic outbursts of dancing, not least from the now dangerously inebriated Edinburgh Bill who gesticulates and throws wine over himself in evident awestruck delight in the bands. But suddenly, a couple of youngsters who are hear with the Refugee Council break through the shyness barrier and start to career wildly in front of the stage. The floodgates open, and suddenly there is a miniature moshpit. True, these kids don't seem to know all the words like some of us old stalwarts do, and they haven't quite grasped the rhythm of the much more delicate "John Taylor's Month Away" as they clap along, but they're loving every single second of this. And so is the band - smiles are exchanged, lyrics are subtly changed to pay tribute to the dancers, and now even Bill is somewhere in the mess of bodies swaying dangerously around and incurring the interest of the security guy who thought he was up for a quiet night until a few minutes ago. We're treated to energetic versions of the defiant "Coast On By" and a gleeful dash through "Single Cheep" with its reportedly "unforgivable" guitar solo delivered intact. Finally, the reins are handed to Gummi Bako as the sprawling, rocking "Little Man" is given a thunderous and triumphant airing.
Perhaps the most amazing thing about King Creosote and friends is how they can take that atmosphere and spirit which starts in a tiny hall in a coastal town or around a beach bonfire, and transport it here to the middle of Glasgow on a Tuesday night. The warm, open-hearted and conspiratorial nature of the Fence Collective is a welcome opposite to the usual closed-shops of music scenes and arts movements. If there is one theme which runs through tonight's proceedings and ties it to the underlying purpose of this event it's perhaps exactly that - no matter where you end up, how you got there or why you made the journey, there's a welcome in this music which is hard to resist.