Posted in London on Tuesday 1st April 2014 at 9:04pm
---
Today we headed east, in order to travel west. The trip to Heathrow has been a fraught one in the past - either a prelude to separation, or a nervous weather-beaten dash to meet up. In either case, it has been a strange and sometimes painful excursion. This time, we wanted to make sure it was going to feel different. It was the beginning of a new era of travel for us after all... It began, ominously though, with a call downstairs. One of our angelic and innocent kittens was petting at her first kill - a baby Water Rat which had strayed from one of the Rhynes nearby no doubt. With a surprising turn of violence, she lifted the bedraggled item and hurled it a the curtains. Our trip was blessed with a sacrifice it seemed.
We set out around noon, heading for the station in a burst of sunshine. Standing with our luggage at Worle Station, it seemed improbable that we could pull this off. The train to Bristol provided entertainment in the form of an attempted fare-dodger scuppered by travelling Revenue Protection Officers. He told them he was "a very busy man!" but it didn't wash. We grabbed a leisurely drink at Temple Meads before changing to our London train. Amazingly, given First Great Western's recent record, things went smoothly and we were soon creeping under the roof of Paddington station on a surprisingly springlike afternoon. Our first stop was souvenir hunting for people we'd be meeting overseas - Paddington Bear and London related items purchased, we headed for our hotel to integrate them into our luggage.
We'd thought about a trip to Harrods for some time, and the need to pick up some small but classy things as gifts gave us the perfect opportunity. Given the pleasant afternoon we decided to walk through Hyde Park, passing the Long Water and the Serpentine, with the Albert Memorial shimmering through the haze. Thus we echoed the hidden route of the Tyburn Brook - another lost river, and another entry point into the story for me. The park was busy with Londoners surprised by the sun. A girl clad in hipster velvet rolled up her skirt to get her pale knees tanned, and the Diana Memorial Fountain was busy with paddling children and lounging tourists. The haze was in part a product of the Saharan Dust Cloud, whipped up in North Africa and deposited on us by a warm current of air. It promised terrible issues for some in coming days, but for now though it leant an unreal shimmer to the park, blooming with the new Spring.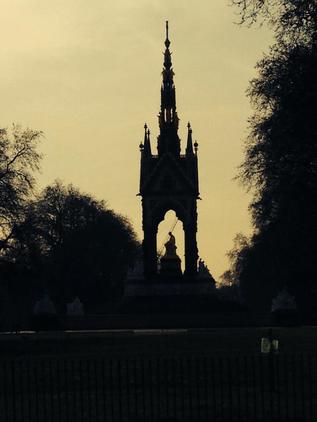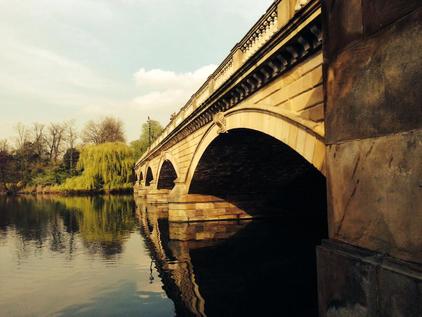 We walked along the edge of the park, diving in between some Mews to reach Knightsbridge. Harrods loomed suddenly between the buildings, inducing a gasp of surprise at its scale. Before we headed in, we stopped into a gushingly ornate Italian place for an early dinner. Watching the world go by outdoors, we contemplated our trip and its complexities. Just now, it was all possibility and potential. Things felt uncommonly good. Eventually, we headed across the street. As ever, Harrods didn't disappoint - the Food Hall heaved with ludicrous temptations, harassed businessmen picking up 'something special' competing with tourists for space. We trailed through endless departments, few of which declared their prices openly. House music thudded in the fashion quarter, while the kitchenware area was marked by calm, bucolic music. Meanwhile in Bedding, a head-scarfed Arabian woman bounced on a bed and receieved a quote of "Four thousand, seven hundred" - though it wasn't clear if this was for the whole ensemble, or just the linen. Our last stop was the foot of the Egyptian Escalator. In itself, this is a highlight of the building - a period piece which documents the craze for all things Ancient in the early 20th century - but the bizarre and gauche memorial to Diana and Dodi placed by Mohammed Al Fayed is like a magnet. It's impossible to ignore the terrible statue, while puzzling over the weirdly masonic 'pyramid and hourglass' device under the soft-focus icons of the tragic pair. We took surreptitious pictures before leaving it to the tourists.
A taxi ride back through the park in a hazy sunset completed our excursion for the day. The driver navigated us into Bayswater and the knotted streets of stucco-clad hotels, and we settled in for the evening. Tomorrow would be more hectic, but just for now London was strangely homely and comfortable territory.
Posted in London on Saturday 8th March 2014 at 10:03pm
---
It feels like a long time since I've done this...as the train edges into Paddington, with a defiantly strong sun burning off the misty morning cloud layer, I'm strangely nervous to be back here. It's impossible not to remember the first, tentative arrival all those years ago as the power car comes to rest a few feet from the buffer stops, and there is a mad rush for the ticket gate. Life has been busy lately - and travel plans have focused on a trip west in a few weeks time - so we've spent time at home, making a home in fact. This escape feels precious and rare, but at the same time the sense of familiarity is welcome. It seems impossible to tire of London, just like the saying goes. Our first destination though, is entirely indulgent... We start on a 205 arcing around the edge of the City. The sun is up in earnest now, and the yellow brick is springing into life. The glass facade of the new University College Hospital building reflects a view of the bus back at us as we creep along the Euston Road. The confusion of Crossrail work around Moorgate diverts the bus into unexpected territory - the grim fringe of Shoreditch along Great Eastern Road giving way to the more chic side of shabby as we emerge from Holywell Lane and head for Liverpool Street. From here a grimy windowed train takes us the short hop to Cambridge Heath station where we emerge into a sun-baked Mare Street, turning to head along the Regent's Canal towards Broadway Market. Why did we take this convoluted detour on a day dedicated to being tourists? Simple... Coffee.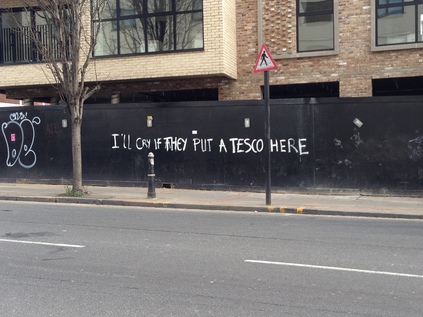 We lingered in Broadway Market long enough to enjoy two superb coffees from Climpson & Sons, before wandering north to London Fields. The park was teeming with people, with plenty of the local types in evidence. Cyclist careened along the path, dinging bells in frustration as families and hipster covens wandered, four or five abreast. It was time to move on, via London Fields station back to Liverpool Street and out onto the baked pavements of the city. Once out of the gravity of the station, the streets quietened. We slipped through Great St. Helens and into the plaza around the ancient church. Once away from Bishopsgate, the weekend quiet of the city quickly descended. Aside from a few tourists point cameras up the bulging sides of 30 St.Mary Axe, we were alone to wander the precincts of the curious 12th century building. A wedding was taking place inside, which gave a rare weekend glimpse into the interior, but we had to move on. Around the curve of St. Mary Axe and to the presciently named St. Andrew Undershaft. With the Lloyd's Building filling the view southwards, we almost failed to notice the sparkling upturned icicle of the Leadenhall Building towering above us. A tapering triangle of glass and metal, it is surprisingly elegant for a brutal, straight-edged edifice. We compared the work of modern architects before moving on into the maze of city streets. Billiter Street and Mark Lane brought us to St. Olave Hart Street, it's squat tower and gruesome doorway an old haunt I'd stopped at many times - but exploring afresh with company has become a new novelty for me. Finally we turned onto Great Tower Street and saw our goal glinting in the afternoon sunlight - The Tower of London.
Anyone who has read this sorry screed of travel details will know this is not a new part of the world to me. But, I'm almost ashamed to say I've never been inside the precincts of the tower. Today we ventured in - undeterred by the rude security staff and the high prices for audio guides, we shuffled along the cobbbled streets to Traitor's Gate. The White Tower glittered beside us, as we turned into the courtyard around the Wakefield Tower and admired the view. An accretion of architectural styles and periods, a building extended and refortified with passing years and growing threats. It felt like the foundation of modern empire: a continual shoring up of tradition with more and more martial superiority. Having watched a guard-changing ceremony while Raven's picked at unsuspecting tourists' picnics, we joined a crowd heading for the Crown Jewels. At last I'd see some of the fundamental tools of monarchy for real. We worked our way around the rather cleverly staged display, watching projections of coronations, and marvelling at the perfectly preserved artefacts. Of course the really old things were gone - destroyed by Cromwell in the revolution - but here were tokens of Carolingean splendour, designed to shamelessly announce the reinstatement of monarchy. At the key moment, as we passed the state crowns, orbs and sceptres we stepped onto a conveyor which slowly edged us by at a reasonable speed. Like some sort of gameshow with impossible prizes, we guessed the value of the Cullinan II diamond, and found ourselves out by the order of hundreds of millions. Blinking in the sunshine again, we sat awhile and appraised the situation outside the tiny, sequestered church of St. Peter Ad Vincula. Overwhelmed by royalty and the sense of enclosure we decided to head for the river.
The sunshine had brought the crowds here too, and we queued for so long beside the pier it seemed we'd quite literally miss the boat - but we made it comfortable, the crowds still lining up to board the vessel while we found a seat among a group of disinterested Spanish tourists. We finally set off, curving out into the Thames, before turning and setting off upstream with Tower Bridge and the exterior of Traitor's Gate receding behind us. Under London Bridge, and then to Blackfriars, where the Fleet was concealed today - with a Thames Waterman providing commentary along the way. Edging around the bend in the stream we left the City of London and moved along the Embankment towards Westminter Pier. The journey was all too short - a quiet, relaxing interlude before emerging again into a press of tourists around the Palace of Westminster. We made our way carefully around the confusion of pedestrian crossings at Parliament Square, looking for a good angle on St. Stephen's Tower, but continually finding ourselves thwarted by the low, early spring sun. It was chilly now, but still bright and we decided to walk along Whitehall, past the Cenotaph and the fortress-like gates of Downing Street and to Trafalgar Square where we could board a bus back to Paddington.
As we sipped champagne in a spot which has become a bit of a landmark to us, we reflected on the trip ahead of our train home. It had been a long, tiring and fulfilling day - a return to London after a period of absence longer than I can remember for a good many years. Once again, as life changes, so does my relationship with the city. I never thought I'd be a tourist in the traditional sense again - and certainly never thought I'd enjoy it so much. The memory of the boat bringing us west via the curving silver arc of river sparked an urge to be back again soon. There is an entire new park to explore out east, and many more of these tourist adventures ahead...
Posted in London on Monday 7th October 2013 at 10:10pm
---
How do you know when a journey is over?
The weekend has been long, strange and unexpectedly surreal. We set out rather later than usual on Saturday, having spent the morning at a tiny village hall in Somerset. The contrast was both curious and a little disorienting, as we arrived at Paddington and plunged headlong into a tube journey eastwards. Our regular visits to the city in recent months have fallen into a pattern - we meet with friends, enjoy company and include some of our wanderings. It's a settled, easy way of enjoying the city - it tempers the more overwhelming qualities which can surface, and it satisfies my need to wander. We've made a few plans for the weekend, and as I have an extra day off work we're in no hurry to be anywhere - the plan is for a fairly relaxing weekend before we both plunge into complicated work-related weeks. However it's pretty clear on our arrival that all is not well. We don't want to intrude on private life, and it feels like the only thing we can reasonably do is find somewhere else to be - so we make plans for a hotel stay the next night and quietly retire. It's not an easy decision for a number of reasons, but it feels right.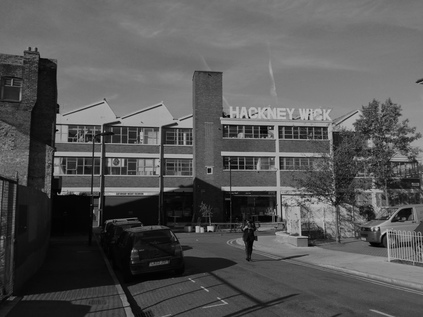 Sunday starts earlier than usual. We've a couple of targets in mind, and we take our leave swiftly and head for the tube to Stratford. A quick change to the Overground and we arrive at Hackney Wick. The morning has turned out improbably bright and we walk under clear blue skies towards The Hackney Pearl. It's just opening up, and the friendly Texan barista is happy to chat while she makes us fantastic coffee. We sit and discuss the events of the trip so far in the quiet morning, watching the Wick wake up. Hipsters emerge, pale and red-eyed for their coffee fix, while families with cute little soon-to-be-hipster kids totter and wheel about the place, heading for the station and perhaps somewhat guiltily to the magnetic retail mecca of Westfield? It's quiet, an occasional car passes and the Overground trains screech as they negotiate the curve of the line towards Stratford. The sun is high and bright when we reach the meeting point for the walk. Simon, our guide appears on his bike and suddenly our group begins to assemble. We're a truly cosmopolitan bunch - USA, Germany, Italy, Canada and of course the UK all represented. We meander around Hackney Wick and Fish Island, exploring a world of changing priorities and shifting politics. Genuine innovation - petrol, plastic, oxygen - sits alongside artifice and artistry. Street art, legal and otherwise, is significant here. Not just territorial markings but statements of purpose. The ideas of living space and industrial space are conflated - much to the local council's chagrin - and the Wick is home as much as it is work nowadays, a new role for this island of industry in some senses. Over all of this, the shadow of the Olympics lurks. I guess if you'd done this tour in 2006 it would have been very different. A tale of resistance and objection which never really disappeared, but was somehow edged out of the mainstream and into the churn and bluster of the British Left. Simon calls the issues "complex", and with a year of clear hindsight he's right - there's good stuff to be found... New bridges link Fish Island with the park, infrastructure will improve, arts funding is at a counter-economic peak here. Meanwhile, the same artists face a pricing-out of the housing and workspace market. As leases mature on these hulking, previously largely worthless industrial shells, they will be re-let at post-Olympic prices. There's already talk of Poplar and Canning Town as the new edgelands.
As we cross the Hertford Union Canal and enter Fish Island, the sun is high and inescapable. Headaches descend and we blink into the stark white of another new art space. This one is determined to survive, using the Localism Act to delay sale long enough to potentially raise the absurd amount of cash required. In some ways, it's faintly depressing - worthy, if a little textbook perhaps - but ultimately doomed to collapse into a round of squatting and frantic money-raising. It will be a news story, briefly and locally, then a sale. We pass the multi-story stable block and cross the narrow walkway over the gates of Old Ford Lock. In the distance, the old Big Breakfast TV studio cottage is dwarfed by the Olympic Stadium. I took some pictures here before the games, but never turned back to see this view once I'd crossed the Cut. It didn't seem right. Surely I was the one being watched back then? We edge along the water, finally ascending to the Greenway. At last this stretch is open again and I can complete a bit of undone business, but the sun beats even harder on the flat open expanse of pathway above the sewer. Finally we arrive at The View Tube. The Orbit towers pointlessly over us, and occasionally vehicles flit about the park. It's busy here, a little chaotic even as the barista and cashier skitters between transactions, pausing mid-sentence to weave into the cafe with plates and cups. We settle in to recover from the walk, chatting briefly to Simon before he disappears for his next assignment in Stoke Newington. I feel like I've closed a book - or at least ended a chapter. My more scattered wanders condensed into a single walk. Simon has achieved what I failed repeatedly to do - focus on the place. Eventually we head off - to Pudding Mill Lane DLR station, enclosed within the same sinister blue fencing which used to mark out the borders of the Olympic Project, now bequeathed to the ponderously slow but largely hidden Crossrail project. Briefly on our journey we pass through Westfield - busy, oddly populated by young women dressed to be out for a night rather than perched on traffic bollards outside a retail complex. We buy provisions and disappear into a taxi which takes us to Baker's Arms, and our strange, idiosyncratic hotel for the night. I still have a journey to make - into the Roding Valley via Epping Forest on a tiny bus to collect our belongings. Lea Bridge Road pulses with life even this late, but the suburbs are dark and a little uninviting - strangely more sinister than the babble of foreign voices and bustle of unfamiliarity on the main streets. The bus curls around Whipps Cross Hospital, a massive site almost entirely obscured by trees - inside Victorian asylum buildings vie with horrible modern utility blocks. There's little sense or order. Signs point to various departments based on body parts, but they're all out of place - the Chest Department sitting weirdly close to Podiatry. I'm not sorry to find myself in the anodyne, faceless suburbia once again.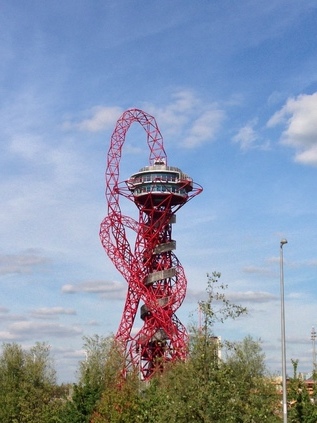 I wake early, my back aching from a night on a hard bed. The change of plans feels like it has cursed us. This extra day here was meant to be an extended adventure, but now it feels like an imposition. We set out on the No.55 towards Hackney. Progress is slow, the sun radiates in, headaches are re-calibrated and start to pulse in concert with the bus engine. We pass over Lea Bridge and the brief stripe of green which separates the bleak, collapsing kebab shops of Walthamstow from the organic vendors of Clapton. The urge to walk the valley south towards the city is strong, but there is coffee at stake here. Once free of the snarl-up of Hackney Central we're swiftly onto Mare Street and soon walking towards Broadway Market again. At Climpson and Sons we find wonderful coffee as ever, and spend some time people-watching - not least observing the seemingly endless train of employees disappearing into the basement, each a little more hipster than the last. We linger over coffee and food, the tiny store fills and empties over and again. Business seems good - no surprise with coffee this well done. We finally head out into the cool of London Fields to regroup. There's no plan and too much time - almost the worst possible situation. We're tired, tired of London almost, and disappointment is brewing into anger. In the midst of this I decide to do something which I'd never normally countenance. I head west...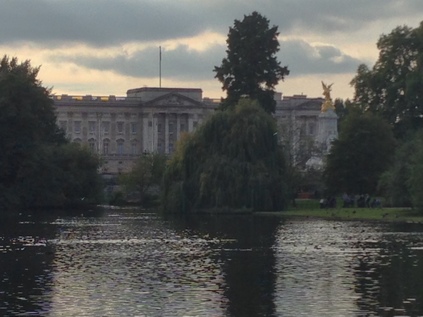 We end the day at dusk in St. James's Park. The gliding Pelicans looking sinister against the backdrop of greenery, Buckingham Palace floating through the slight evening mist. It's a beautiful, crisp afternoon. The sun is almost gone as we head for Bressenden Place, realising an entire street of buildings has disappeared leaving us disoriented. We arrive back at Paddington in darkness, thankful to be back and contemplating a cosy, restful journey. The last stragglers of the evening peak scan the board and dash for trains. We collapse onto ours and settle in for the ride - the tension and threat of London left behind as we speed west towards home. I never thought I'd feel quite so relieved, so thankful to be leaving - and I wonder about what this might mean for my future engagement with a city which has absorbed hours of my time and occupied much of my imagination. Again I sense a book closing, a work complete - but I have nothing much to show for years of trudging concrete, absorbing facts and developing allegiances.
For now, at least, my focus needs to lie to the west - and for the first time in years I find myself wondering when, and in what context I'll return here?
Posted in London on Sunday 8th September 2013 at 10:55pm
---
It has been a little while since we were in London. The fairly regular pattern of monthly visits was broken last month by some special visitors, which whisked us off around the West Country at this time of the month. So, feeling a little restless of foot, I was looking forward to being back in the city. In particular, as the summer has worn on I'm approaching a number of significant anniversaries - many of which centre on, or relate to London trips. There has barely been an entry here in the rather sparsely documented last twelve months which hasn't remarked rather incredulously at how much things have changed - but there is something interesting - if a little inevitable - about reviewing things mentally as the cycles complete and restart. A summer ago, the Olympic Games occupied my mind, the walks were almost frenzied, dogged by security and restriction. I was walking despite the city, rather than because of it. I'll say it again, how different things seem now...
We arrived via a sleepily pleasant trip to Paddington. We didn't have too much in the way of time restrictions, so we hopped on a bus to Liverpool Street which took in the West End. It was a little quieter and cooler than our last bus trip along Oxford Street, so we enjoyed sightseeing, and winced at the chances people took in dashing across the street between buses. Trafalgar Square was busy - as ever - but had a rather lazy weekend feel to it's bustle. Things felt optimistic and open, a world away from the locked-down city through which I was recalling walks. We dipped into the Fleet Valley at Ludgate Circus and climbed towards the white flank of St.Paul's, resolving to stop in soon as we skirted it and headed deeper into the City and our last stop. Liverpool Street station has become a joint favourite spot - busy and open, full of possibility, signifying a place to head out into the unknown but equally a marker on our way home. Today, we headed directly for a suburban train out of there, soon passing under Brick Lane and scurrying across the rooftops of Bethnal Green with the sun bursting irregularly from between ominous clouds. It felt good to be back.
As we descended the stairs into the rather noisome tunnel at Cambridge Heath I could detect disquiet. Why had I brought us to this strange, semi-derelict corner of the city? This didn't ease once we turned onto Mare Street with its mix of kebab shops, overstuffed convenience stores and tumbled together housing. We crossed the canal and turned west into Andrews Road - one of my earliest Hackney Walks took this route, the proud gasholders dominating the skyline while the modernist roofline of Ash Grove Bus Depot sneaks into view between blocks. Neither of these architectural highlights were doing much to ease the sense of being somewhere less than pleasant, but the first hints of hipster Hackney saved me - as a pop-up shop outside an industrial unit yielded treasures... 1950s 'atomic' themed curtain fabric, heritage boardgames - we chatted a little before heading on beside the canal and turning into the bustle of Broadway Market. I was of course instantly forgiven, the low brick shops flanked a busy street market, several live musicians competed for audience, the smells of bread, coffee, meet and painfully-hip moustache wax filled the Hackney morning air. We dived in...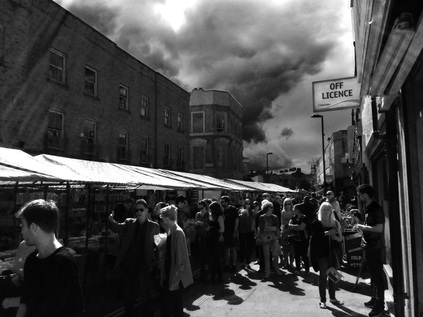 After visiting a fascinating store where a local trader was selling her fabric crafts, we wandered into the market. Almost right away we found ourselves, almost involuntarily, in the line for a coffee stall. The small crew of guys running it weren't hurrying, but the long queue said it all. The facial hair quotient too, spoke volumes - and as the neighbouring music stall played Pink Floyd we shuffled towards our brew. And when we finally got it, it was wonderful. I was transported the 4700 miles or so to Stumptown Coffee and happy mornings watching the Seattle traffic. This was good coffee, perhaps the best I've had in the UK. We pressed on - bread, meet, knitwear, books - the stalls were all just a little better thought-out than the usual fare at markets. The crowds meandered between them, sampling, purchasing, gossiping. Clouds rolled overhead and I though of my picnic plans, already beginning to feel inadequate in picturing my home-baked, rather flat bread in comparison to the shiny, dark crusts on display. Eventually we found our way to London Fields, with a sudden shower passing swiftly enough to let us sit and eat while a toddler with stabilisers, pursued some impossibly cool BMX kids around a cycle track at amazing pace and with a look of serious dedication! Out on the path where we sat, the only cycles were of the vintage, home decorated kind - and we listened to them clattering by while we drank Ginger Beer. The sun edged out - it was time to press on.
After a walk back through the market and a second visit to the coffee stall, we descended to the canal tow path. The sun seemed a little more likely to stay out now, so we started our walk east along the waterside. I recalled my last trek along here, and little had changed on the canal. Barges still doubled for cafes and market stalls, bicycles still careered stupidly along the edge of the path. The crowds seemed a little thinner - perhaps people really had resorted to this easier way of getting around last summer when it was busy? But the path remained well used as we curved south towards Old Ford Lock and crossed into Victoria Park. We found a spot beside the lake and watched the birds scudding into the water to land, routinely shaking their tail-feathers dry. Dogs hesitantly sniffed at the edge of the water, scared of the stately and surprisingly large swans. A brave little lad chased pigeons and occasionally bigger birds around, pursued by an amused parent. It was oddly idyllic - this strange corner of East London a near perfect spot this afternoon.
Our ride arrived and we headed off into Bow, sadly not heading for even more coffee at the Wick this visit. As we headed east to visit with our friends, the remnants of the Olympic Park loomed over the road. It seems strange how much time and effort I've spent walking in this patch of the city, and how there still seems so much uncharted territory. There will be future visits, more coffee, longer stays I hope. But I will always find myself comparing these jaunts to a hot, edgy summer which changed the city and certainly changed me beyond belief.