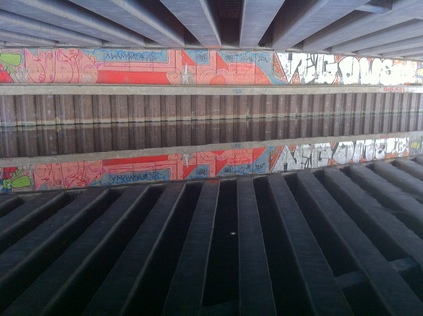 Posted in London on Saturday 18th August 2012 at 11:08pm
---
After the widely acclaimed and nominally successful staging of the Olympic Games, London has returned to a sort of strangely pensive calm. Everyone senses the Paralympics will bring a little of the magic back, but no-one really expects them to cause quite the upheaval in terms of the capital's life. Nevertheless, they want to cling to the moment - maintain a bit of the atmosphere of timelessness that the ancient tradition made modern can create. Perhaps that's wrong, and the Paralympics should cause an equivalent stir of pride and celebration? Or maybe there is in fact an honesty and purity in the feats of humanity unbound and in the sporting focus of the Paralympics - at least in comparison to the media circus of the Olympiad? In any case, I'd decided to waste no time in revisiting London, and in trying to connect with the post-Games mood. I didn't really know what to expect - and in many ways, today was a string of strangely unsatisfactory events somehow tumbling together. Such is London life, and so too is the story of this strange invasion into the Eastern fringes.
My journey up to London was fractured and feverish. The day was already shaping up to be very hot, and my mind was full of other, foolish and absurd things. It was one of those trips where I looked up and suddenly found myself in the suburbs of the city. After a fairly leisurely breakfast at Paddington I headed for the bus to take the familiar journey east. The city seemed quiet, maybe even a little subdued. The football season was starting again today, and later it would surely be the usual mad whirl? For now though it was incredibly easy to get across town, pausing only to let an eccentric old woman unload endless bags of recycled plastics at Euston, the driver patiently waiting for her multiple trips, scurrying back and forth from the bus. Another intriguing woman joined the bus, a larger-than-life African matriarch in her finery, heading for a wedding. She asked everyone where it was and how far, pointing out the destination in the invitation, and in the new spirit of London which has arisen she was never ignored. I'm not sure anyone other than the driver was much help however. I left the bus at Mile End with a half-formed plan to walk through Mile End Park to reach Roman Road. As I ascended onto the Green Bridge I was hit by a wall of intense heat. I was still struggling with the nagging issues which had dogged my journey up here, but water - specifically the Regents Canal - always soothed things it seemed. I hugged the towpath instead of straying into the landscaped and sustainable areas of parkland. I wanted continuity and industry today, over people and events. Regretfully leaving the park to head onto the street, I made for one of the exhibition spaces I planned to visit. It was closed and locked despite being due to open an hour or more before. Someone was inside, but they were obviously far too cool to let me in, perhaps regarding the exclusion of this absurd sweating, red-faced man as an act of artistic defiance. I left quickly, feeling embarrassed and wondering how to deal with the spare time I'd created? Things have a habit of resolving themselves out here, and as I build an increasingly reliable mental model of the terrain, so I find a new confidence in walking it. So I headed north alongside the canal again, diverting briefly into Victoria Park. It was busy with joggers, boaters, sunbathers and walkers. The park was feeding off the sunlight, and it's glistening, virtuous inhabitants looked with scorn on the fat, sweaty old man peering mawkishly at his 'phone. I moved on swiftly - uncomfortable with civilisation I headed back to the Canal and doubled back to the almost inconsequential junction with the Hertford Union Canal. I'd walked a brief section of this before, but was keen to follow it's path throughout. As it widened into a broad, slow cut so I noticed something bobbing in the water. Once I'd decided it probably wasn't a plastic bag my mouth dried and I wondered with some horror what I'd seen floating at a jagged, unnatural angle to the surface of the water. I edged closer and noted rhythmic pulses of ripples streaming from each corner. My curiosity soon overcame my unease and I was able to make out a moss-covered, green shelled turtle surfacing in the khaki stained waters. It was just about the only life on display, as the park was hidden behind a screen of trees and the roads above seemed quiet, except for the occasional drunken yelp from people lounging outside pubs in baking beer gardens. I tramped the long stretch of water contentedly, pausing to let occasional cyclists pass and to inspect the fascinating flight of locks.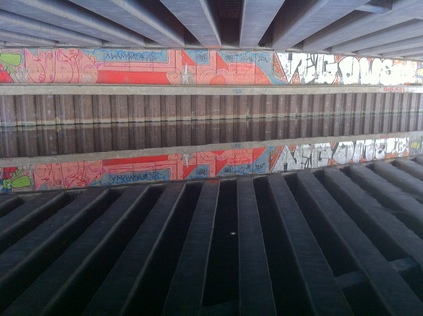 Eventually I reached familiar territory, and decided to press on. The Olympic Park now loomed large beyond the entrance to the canal where it joins the Hackney Cut. Along this stretch a series of miniature, human figurines cast in iron line the water's edge. People were walking towards me so there must be some way through, surely? Over the Cut, the closed Towpath which had first dragged me into this mess of waterways months ago basked mockingly in the sun, unused except by prowling patrols. Forced to ascend from the canal at White Post Lane, I found the fence manned half-heartedly beside an impressively security hardened gateway. An empty police landrover stood by, it's inhabitants unseen. I lingered a while, tried for some pictures, but realised I was attracting the interest of the guards. A lazy sort of interest which was soon distracted by a crowd of lost cyclists and a proper photographer. Backup was called for. It felt like this was the busiest things had been for a while. I sloped off around the corner and found "The Walls Have Ears", a street long mural celebrating the industrial success stories of Hackney Wick, alongside some of the notable local events and snippets of history. I lingered here in the incredible heat, the sunlight reflecting off the dry dusty ground. Eventually distracted by a passing freight train, my trainspotter's eye never quite closed, I headed under the station and into Wick Village. It was fruitless trying to reach the Cut again until the pleasant stretch which edges along the Tenant Managed community. I wasn't sure I was supposed to be here - it was almost deserted. Windows were open and snippets of sound drifted out of the pleasant little homes, many of them decorated colourfully or decked out in flower baskets. Utterly out of character with the shining silvery hulk of the utilitarian end of the Olympic Park just over the water. I stopped to take a picture and a voice was raised from the opposite bank: "Are you OK?". Of course I was. "What are you doing? Why are you taking pictures of me?". I assured the lime-shirted LOCOG guard I wasn't doing any such thing, and turned the tables by asking a few questions about the towpath on which he was standing. He was factual but evasive and said "You can't take pictures here, and you have to leave". I assured him I didn't and despite being initially perplexed, he eventually started to gruffly snuffle into his radio. As I sat on a conveniently shady bench near the Eastway overbridge, within moments the little orange boat left its mooring and started slowly paddling north, and a couple more bodies peeled away from the fence in the distance, and began slowly walking up the towpath...
By the time they reached the guard, I was up on the Eastway bridge. They pointed and shouted, but I was out of range. Initially feeling the triumph of defiance, I realised that it was now midday and I was flagging. I turned east and struck out along the northern fringe of the park, along the edge of the carpark beside the IBC/MPC building. The various accesses were open and active, but well-guarded with a distinct British Army presence. The soldiers were bored and seemed tired of the whole setup. One stopped me to ask if I was lost, and I assured him not. I suggested that sitting out in the sunshine was probably a popular posting today but he grimaced and said "No, it's boring to be honest pal". I asked if he'd managed to get asked in to fill empty seats during the games and he did that thing I've heard so much about from others - that subtle but ultimately firm and direct change of subject designed to dodge all potential PR pitfalls: "How about you? Did you get any tickets?". I left him sprawled in the sun and tried to negotiate the road junction. Here, the A12 is effectively a motorway and Eastway takes a strange mixture of routes onto it, with a branch swinging sharply underneath to emerge as Ruckholt Road. On the map it looked impossible, on the ground it was utter folly. Crossings were closed, paths blocked. Signs removed. I guessed and finally made it across but not without terrifying myself that I couldn't move fast enough. Turning a corner to find the finery and pomp cranked up for the Eton Manor entrance, the painted lanes on the road were a tangled mess of currently inactive Games Lanes where once there had been filter lanes for the various complex left and right turns. It's easy to see how tragic accidents occurred near here - no-one seemed to fully understand even their own path through the complex.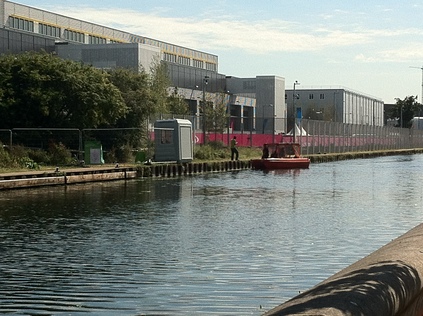 For my own part, I was now in some physical distress. Feeling every year of my age and cursing my weight and sluggishness, the sun was blinding me. I felt woozy and sick. I drank water endlessly, tried to slow my pounding heart and wipe the sweat away but couldn't seem to. A LOCOG car prowled not far from me, keeping pace with my erratic wanderings. Things were quiet enough to deploy individual security now? I wondered if I was sick, was going to collapse here out of the way of humans without cars? I felt like I was trapped in a JG Ballard world as traffic beat a strangely hypnotic rhythm over joints in bridge sections. I pushed on into Waltham Forest, as if crossing the county line would provide the mysterious sanctuary it seemed to offer in all the best films. I'll never know quite how I struggled over the bridge which spans Temple Mills Eurostar depot, which seemed endless and silent. I told myself there would be shade around the next corner, but it never came. Not until I finally careered down the stairs and collapsed into a seat on Leyton Station, the official car at last deserting me and speeding off towards Stratford. No doubt there were sufficient cameras to track my every move from here, I thought - paranoia finally being allowed some room in my racing mind. The train back to Stratford, then Liverpool Street was a blur of people and confusion. It had been a strange morning, but intentionally or otherwise I had covered the ground on this side of the Park which I feared I'd never get to walk and in this respect at least, I'd completed my circumnavigation of the park. Was I any the wiser? Probably not. The scale and complexity of the project still bewildered me, and it's effects on the surrounding communities seemed starker than ever.
I will of course be back. There is a story yet to tell here. One of legacy, of potential futures - maybe even a return to the wilderness for Stratford Marsh if developers cannot be found. For now though I tried to travel backwards in time via a visit to the Clays Lane Archive. That too was closed. I felt shut out and abandoned, and decided to find refreshment and contemplation in a city churchyard. The powerful sun still glaring at six in the evening, and questions still largely unresolved. On my journey home, the weather would get the better of a fractious group of young men on the train too, causing a disturbance and threatening passengers. The uneasy consensus that "everything is fine, we're all happy" which dominated the last few glorious Olympic weeks, is clearly over.
You can see more pictures from the walk here. As an experiment, you can also follow the route on the map below - the blue line is the walking route.