Posted in London on Sunday 2nd June 2013 at 10:06pm
---
It's fair to say that life has changed quite a bit in recent times - and while my excursions to London are less frequent they have also become a little more important in terms of keeping me connected to the city. This weekend has been a purely tourist jaunt in many ways, though even a sightseeing trip can't avoid re-treading old paths. I found myself stalking the corridors of Windsor Castle around thirty years after I last visited - but also finally explored the tunnel between South Kensington station and the museums which I'd read about so often but never actually needed to use. But on a Sunday afternoon in surprisingly good weather I found myself with a little time for the kind of wandering which wouldn't work well on the tourist itinerary.
I began in the unlikely territory of Wanstead, hopping a bus in the High Street and heading into the suburbs. Curving around the wide, yellowing expanse of Wanstead Flats, we nudged through traffic and shadowed the railway through Maryland to Stratford. In more familiar territory I disembarked and changed for the DLR. It was odd to be unencumbered - no bag, not even a coat - and I felt almost inauthentic and exposed. The DLR took me to All Saints, where I ascended and crossed onto Chrisp Street. No market today, just baked pavements and cars sluggishly trawling, banging out dance music. I felt even more out of place, unwelcome - a rare feeling here and one I wasn't expecting.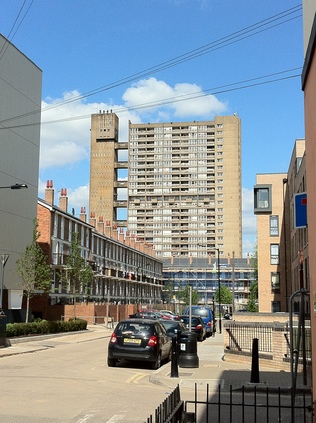 My target was the Brownfield Estate. I'd read an article which had extolled the virtues of Balfron Tower - the eastern cousin of Trellick Tower which signalled my arrival at Paddington each time I found myself in London. Trellick is brutal but oddly graceful - tall, set away from other buildings and surrounded by a low-rise development of sister blocks. Balfron Tower soon made it's presence felt too - squatter somehow, the service tower seemingly more delicate against the bulk of the utilitarian residential block. It too was the tallest building for quite a distance, but it didn't seem so completely free of clutter and couldn't been seen clearly until up close. When it did loom up out of the ground, it was stark, shocking and unsympathetic. But, doubtlessly impressive. The ground level area was dirty, empty of people and subject to redevlopment. A few children yelped by after bursting from a nearby door. A student couple looked disdainfully at me as they left the tower, scornfully regarding me flicking my camera out to get a shot of the building. Otherwise, any sound was confined to the hum of the distant East India Dock Road and an occasional Heathrow bound jet scoring the otherwise blue skies.
I picked my way north, skirting Glenkerry House - another block with a Goldfinger style tower attached - but this one was less residential and looked like some sort of lookout tower policing the Blackwall badlands. The lazy summer sunday feeling returned a little as I progressed towards Langdon Park. A bus slowly plopped over the traffic calming measures, and I found myself beside Langdon Park DLR station, where a new youth centre is being built from gleaming pink plates of copper which beat the sun back at me pleasantly. Each platform was adorned with chunky, cast metal writing which looped the name of the station in friendly hand script.
My short excursion was done - and I considered how London and it's environs could still fascinate and draw me in. From the surprising interest of Windsor Castle to the odd, magnetic presence of Ernő Goldfinger's powerfully brutal blocks, the built environment and it's affect on the city and the people remains a strange attraction. As the anniversary of the grand spectacle of 2012 approaches, and I gain a year of perspective on the feverish, almost desperate walks I undertook at such a strangely liminal time of my life, I'm beginning to understand how important the city is to me too.
Posted in London on Monday 4th March 2013 at 9:40pm
---
Flying has always been a solitary experience for me. Save for one ill-fated trip to Glasgow which I took in the company of a small group intent on birthday revelry, I've always been in the company of my own thoughts. Over the past few months I've spent a lot of time flying - and a lot of time thinking...anticipating strange new adventures to come, or miserably regarding a return to reality. In either case, I've rarely slept, and looked too often at the moving map telling me how many of the 4792 miles I'd covered so far. The thing was it didn't feel very far at all...the journey to Heathrow was fraught with obstacles, but once I was in the air it was a mere few footsteps. That was of course until my last jaunt with it's abortive first attempt to pressurise the cabin and a return to Heathrow.
But that seemed like a lifetime ago. This flight had been different. In company I felt calmer, the flight felt shorter, I even slept a little. The last hours dragged of course. We were eager to land - and we did so in suprisingly pleasant weather, not unlike what we'd left in Seattle. It was cold and bright - still Winter in March here. We lingered a while in Terminal 5, just enjoying being here without the pressure of a departure. Then the complicated journey began - five huge suitcases were lugged onto the Heathrow Express, trollied across Paddington and then into a taxi for the short run to Leinster Gardens. The grand but peeling stucco houses of this western corner of the city had been my first taste of London many years ago - but now they took on a new significance. We were back.
Our first excursion after washing away the inexplicable film of grime which air travel seems to leave, was eastwards. We headed out of the hotel and made leisurely progress towards Paddington. It became clear pretty soon that we weren't too far away at all - just at the end of Praed Street, in territory which I'd not walked since getting lost trying to walk from the station into Central London around twenty years ago! On that occasion I'd accidentally zig-zagged off the straight path and managed to get confused by the endless rows of plastered white buildings. It took a moment of panic and an A-Z to get me back on track - no GPS, no 'phone. Just a sense of direction and a map which would eventually become scuffed and torn from similar wanderings. But this little village around the station was more extensive than I remembered. A host of little restaurants - exhibiting a range of cuisines and degrees of dilapidation - alongside charmingly disorganised hardware stores, newsagents, hotels and almost concealed Orthodox churces with mysterious inscriptions on their gates. I remember finding myself here and thinking that the Bureau de Change and Aberdeen Angus Steak Houses were so metropolitan, that this must be London. My view has altered immeasurably over the intervening years, and our eastward bus step described this arc via St.Pancras, Clerkenwell and eventually the City.
So, if you'd been in the English Restaurant in Brushfield Street tonight you might have seen a tired but happy pair quietly reliving an earlier meal, savouring the novelty of being in the same place again, then slipping out into the chilly night to head back to the western suburbs. The entire journey to arrive here - from the Edgewater Hotel, via SeaTac and Heathrow, then the 205 bus route - felt like a single curve. Nowhere felt very far from anywhere anymore. The tiny village at the bottom of Praed Street could be anywhere.
Posted in London on Friday 11th January 2013 at 3:18pm
---
A trip to London has rarely seemed so bleak. I have been kidding myself for weeks that I'd do something significant or defining today, that after leaving Heathrow airport, I'd take some sort of diversionary bus ride east to find the land on which all this began. That I'd stalk the Old River Lea to rediscover the summer locations where I pored over missives from across the ocean, before walking on into the post-Olympic haze across endless expanses of empty ground resplendent with possibility. Of course I've done nothing of the sort. Fresh from a painful parting at Terminal 5, I've stumbled back to London and drowned my sorrows in free coffee. Now I'm sitting in the corner of the station, watching a disinterested falconer chase away pigeons. She chunters into a mobile 'phone while her charge strains at its leash to escape her arm and tear apart a pigeon which, wise to the incarceration, looks quizzically up at the bound bird of prey. There is some sort of metaphor here for not getting what you want, but my tired, emotionally overwhelmed brain can't quite grasp it just now.
But London hasn't always been like this of course - and just a week ago there was another trip here. Originally it would have been the trip on which I wrote about how painful and harrowing things were, but illness and re-arranged flights have changed things - strangely for the better. This left us with half a journey to London booked, which meant a Saturday afternoon departure from home. On arrival we checked into the Hilton Paddington - a hotel I'd always wanted to visit, and which I'd ended up getting an absurdly good deal on. It was by far the best hotel we'd visited during the trip - a beautiful haze of art deco features and furnishings, a curved staircase leading to a period frieze, and rooms which echoed the same heyday of the Great Western Railway perfectly. We settled into this immediately. It was our kind of place.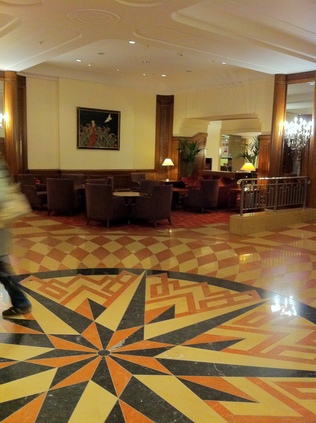 The purpose of the trip was to take in a comedy show in Wandsworth. I've walked these environs before in search of William Kent, and I knew that this wasn't going to be a salubrious jaunt. We took the bus as far as the ludicrous but oddly interesting ski-ramp roof of Vauxhall bus station, and negotiated the crossings to Wandsworth Road. Passing the hulk of New Covent Garden Flower Market, I reminisced about my 2004 wanderings here to find the address of Kent's father's print works. As we made further progress, side-streets stood out - Larkhall Park, sharing a name with one of his street addresses. Wandsworth has changed little in the intervening eight years - except for the area immediately around Vauxhall. Rebranded St.George's Wharf, an absurd skyscraper is beginnning to loom above a modern, waterfront development which rivals anything the north bank has to offer. But a walk south into the Local Authority blocks sees a distinct cultural and demographic shift. The Lost Theatre is tucked into a curious, modern building - a small but well-equipped venue which puts the audience close to the performer. The audience was a little sparser than I expected - but this provided a perfect, conversational air to Andy Zaltzman's performance. Despite asserting that he's "not a banter-based comedian", his set was gently interactive despite hauling in some of his 'greatest hits' too - including the sprawlingly silly, and very funny tale of "Mickey Paintbrush".
Heading back on the bus, it's good to be out of the cold evening and watching the lights of the city rising as we head north again towards Vauxhall. A quick change here sees us on a 436 heading along Park Lane, the hotels and car dealerships glittering in the winter night, while taxis line up to take people home from the whirling, gaudy fairground rides which are still operating in Hyde Park. It's strange to be arriving at the front of the Hilton and walking up the red carpet into the beautifully appointed reception hall, and even stranger not to be heading into the station for the ride home. There is a sense of luxury, not least at the extra days which seem endless now, and which mean that an early morning trip to Heathrow tomorrow can be deferred. London has rarely seemed so intimately scaled, so rich with possibilities and options for future visits. I think about my plan to head back into the city after the Heathrow trip - at this point almost a week away - and it still seems like the best possible idea...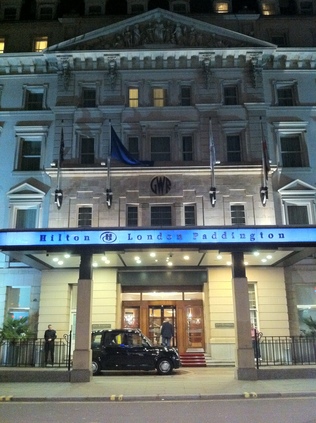 Back at Paddington, the falconer has moved on and the pigeons have returned to an unconcerned search for discarded food. My train will soon be ready for boarding, and I'm aware that it's going to be an effort to drag my aching back and legs onboard. The flight will have been airborne for almost two hours now - and will have cleared the tip of Scotland for sure. I think of Scotland, of future trips planned - and of desperate dashes around Glasgow last October. Feverish 'phonecalls from dingy music venues, pictures of junk shops, revisited locations seen through new perspectives. The year is starting from a whole new viewpoint for me, informed by that trip and all that came after it. London will figure large in this future I'm certain. It's time to go home - but it doesn't feel quite like home just now. There is something missing...
Posted in London on Monday 31st December 2012 at 11:54pm
---
I've written little in recent months, but one recurring theme has been the experience of seeing places through new eyes. It's become a defining characteristic of the second half of the year, and it's perhaps no longer surprising to me to find myself challenged or intrigued by places I thought I knew. But the last week or so has been a little different - experiencing London, and specifically some segments of it I really don't know well at all, completely afresh. Exploring in tandem with someone who has never experienced the maelstrom of the city before, and who has probably been exposed to - and equally cynically rejected - most of the storybook pre-conceptions that I arrived with all those years back. This was a strangely fitting way to end the year.
The first new horizon broached was Camberwell. Until now for me, a conspicuous gap in the atlas. It has no railway station anymore - despite once being a desirable village suburb on the southern fringe of the city. In the intense, hot whirl of the summer the BBC ran an episode of "The Secret History of Our Streets" which covered the rise and fall of the area, and the durability of some pockets of leafy perfection. At the time this seemed like an interesting but anodyne programme - why did I care about this southern suburb which wasn't even worth a stop on the train? But arriving at the junction of Camberwell Church Street and Denmark Hill, we found the intensely busy hub which is repeated all over London. The locus of thousands of lives - which really is their London, and bears little relation to the gilded gates and ancient towers north of the river. Buses edged around the traffic, the Sophocles Bakery leaked enticing fumes, the pubs belched merry punters onto the after-work streetcorners. In the midst of this, the Church Street Hotel. A strangely latin influenced hipster boutique. A strong vein of Catholic iconography, lots of bold colour and crazy tiling. A beautifully detained interior behind a suitably anonymous, toned-down grey frontage. This was our home for a couple of nights - and a base to make some early forays into the city. First impressions are of course important - but where places are concerned they are malleable. Few cities more so than London, which throws surprises in at each turn of a corner. Starting as we meant to continue, the first night was a whirl of activity. A bus to Waterloo, and dinner under a railway arch. A walk along the river, Parliament lit yellow and looking deceptively benign across the water. Then another bus along The Strand and through the City. St. Pauls gleaming above the Thames, the Bank, the towers of Bishopsgate. Then south over London Bridge and through The Borough to return to Camberwell. It was dizzying - perhaps over-ambitious for a first trip into London. But it was an arc through the layers of history which is something I've always tried to convey in words and likely failed. Tired and bewildered, Camberwell felt strangely homely on our return. The little knot of streets still busy with traffic and pedestrians, little open now except the supermarkets and convenience stores. We stop into a pub, where there is surprisingly good music being played and a pleasant babble of conversation. Despite the incredibly cosmopolitan nature of the district, the clientele is surprisingly uniform.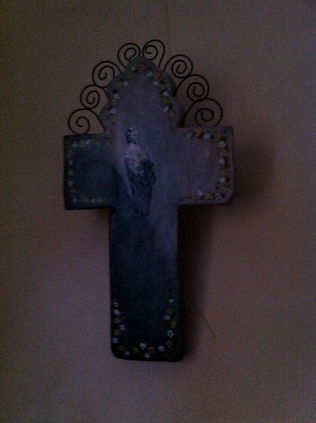 Regular readers will know that the West End is a closed book to me, as is much of Westminster and the more traditionally tourist side of London. This isn't wilful obscurantism - I'm really not fond of crowds, and my first visit to London during a cold December many years ago included being swept along Oxford Street in horribly dense eddys of humanity. I've avoided the place since - I've rarely the urge or the means to shop, and there has always been something more interesting elsewhere. Aside from the area immediately surrounding Victoria station, the environs of Buckingham Palace are equally obscure to me - but it was here that we ended up. After a superb and lazily drawn-out breakfast at a tiny cafe near Victoria, we skirted the back wall of the Palace - the drab, spike-topped cordon which would appear entirely un-royal if not for the frequent plaques warning of its special legal status, posted in suitably discreet white on grey and in a less-than-officious font of course. This approach has the advantage of concealing the grandeur until the very last second, the great facade suddenly appearing to our left, St. James' Park and the public space around the Victoria Memorial opening before us. As ever, a crowd of tourists milled and photographed. We did the same, and I confess I enjoyed it. It might have been the company of course - and certainly the novelty - but seeing this at the end of a year when royalty has been ever-present was odd and surprising. It hasn't felt particularly real to most of us I'm sure, and the dreadful TV coverage of the Jubilee did nothing but distance the Royals from the viewing population. But here, in the middle of the whirl of the city is the iconic balcony - smaller and lower, strangely close to the people milling about. Guards march back and forth, cameras flicker for the shot. We walk along Constitution Hill - our original plans changed by jetlag and time constraints. Another bus ride later I'm in more familiar territory around Marylebone, a stroll up Baker Street marvelling at the line for the Sherlock Holmes museum even at this late stage of the tourist day. Sick, dizzy and tired - it was time to head home.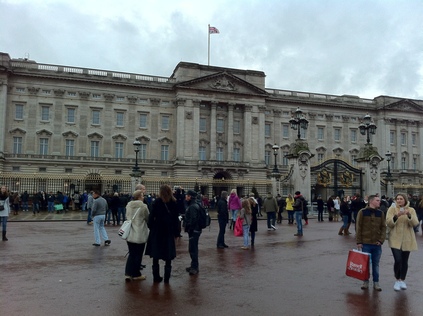 But this wasn't the end of the London experience... Travelling on the last day of the year, we returned to more familiar ground for me, descending on Bishopsgate in the early evening. If the first part of the visit had been a confusing, sometimes disconcerting whirl - I wanted this at least to reflect a little of the London which I experienced. A city where one can step back from the tumult and see the accretions of time. We wasted little time into getting out into the evening - the city was shifting into party mode, the stores closing early and the crowds beginning to appear on the street. New year in London is an event, a public spectacle of fireworks and drunkenness. We skirted this and turned east, heading for The English Restaurant in Brushfield Street. Oysters and robust, excellent fare in the dark, wood-panelled dining room was a fitting way to spend the evening. It was possibly the best meal I've ever eaten, and it was distinctly of the city. The dark but warm interior of the building discharging atmosphere, the solid Englishness of the dishes completely in context with the surroundings. In true London style, we were served by a range of non-natives - Australian barmen (naturally) and a genuinely pleasant northern waitress who was enthusiastic about the food. We wandered in the chaos of the late evening happily fed and watered. This was a new experience for me - this part of the city is about desperate, high-speed runs, about snatched moments in busy days. So to be here with accommodation on the brink of the east was a luxury. We plunged into Spitalfields, navigating around the glowering hulk of Christ Church and sliding into the darkness of Fournier Street. This part of the city seems so familiar, but it's new to see it in the dark of a winter evening. The buildings glow with an inner warmth. Generations of ghosts cluster at the windows, clamouring for a look at the gaudy, neon swirl of Brick Lane. We emerge into the maelstrom. The curry houses are doing fine trade - but still the patrons send their staff out to press-gang more trade from the streets. The New Year has been adopted by the locals here, and Indian girls totter by on impossible heels while another of their number tries to loudly encourage a drunken colleague back onto her feet. She hasn't quite made it to the new year - slumped against an old brick wall which has propped up the dissipated for many, many years. We turn a corner and regard a significant spot - the sundial on the Jamme Masjid. It's odd to be here now, tonight - completing a circuit begun years ago when I first took the picture of this curious device and it's sonorous motto. Then continued when I sent the picture flying across the world last summer - a significance which only now begins to reveal its magnitude. We stand a while, and yes - it's an emotional moment - one which closes the dizzy, unbelievable swirl of 2012 in an appropriately reflective tone.
We want to get back in time for the bells and fireworks, and take a crazy dash through the detritus of Petticoat Lane market and the commercial edgelands which divide the City from the East End here. It's been a whirl of new experiences these past few days - endless dashes from train to bus and back, time spent renewing my acquaintance with the city through entirely new eyes. I appreciate again what an enormous, unmanageable churn the city is. I remember how early on I learned to break it into chunks - the villages of London, so well illustrated by our entry point at Camberwell. Real life, of course, is always different - but to be reminded that this is practically on my doorstep is never a bad thing.