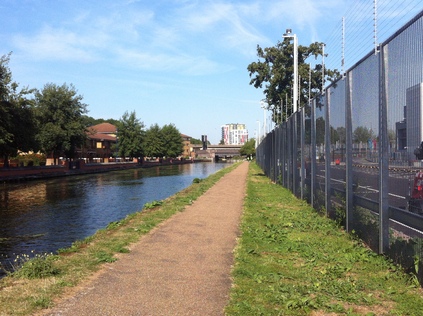 Posted in London on Saturday 15th September 2012 at 11:09pm
---
The difference today was that I had at least planned to be here. My year planner is peppered with these trips to London in the safe knowledge that they will find me exploring some new geographical obsession or other, and that I'll have a reasonably relaxing journey on the rails. Sometimes, they become little excursions beyond the city - but even then there is always the luxury of an early arrival and perhaps a bus ride. With the world of railtouring changing considerably there have been more trips than I ever quite planned, but this has lead to walks across the eastern side of the city I'd probably not have countenanced before too. In this sense at least, the fractured and haunted summer has been a success in retrospect and I look back fondly on those walks which sometimes didn't seem significant on the day, but which have clicked into place later. I could only hope today would do the same for me. Because, today I had half a plan.
Today was, essentially, a completion. I'd read online that the towpath along the Hackney Cut was open - if still patrolled by G4S around the Olympic Park perimeter. But it was open nonetheless, so after a lazy breakfast in welcome late summer sunshine I set off east on my usual bus route. It was quiet, a cool but shining morning as we headed around the arc of the bus route. I saw it through almost to its end, hopping off near Bow Garage for the walk to the Church. I stocked up on water too, it looked like later when the sun was high it was going to be hot. I dodged traffic at Bow Interchange and found the footbridge down to the towpath just how I'd seen it on that excursion months back. I pondered what that had started: campaigns, obsessions, imaginary love affairs, endless wanders. I descended slowly, savouring this progression onto what had become hallowed ground. A battle fought over a strip of scraggy land beside a turgid canal, walkers and cyclists uneasily united. It was good to be back. Quickly, The Fence is alongside. Beyond it? Nothing. No movement. The occasional distant crash or scrape as unseen contractors strip back "the overlay" from the park. Empty staff buses circuit, the contract outliving their usefulness. Occasional security cars emerge. Overhead, a helicopter constantly drones. Crossing and recrossing the park. Even now it's a focus for paranoia and concern. I walk on, past the Northern Outfall Sewer carrying the still off-limits Greenway, past Hertford Union Junction, White Post Lane. I'm on the stretch which was guarded when a small orange boat called "Vigilance" passes by. They're not interested anymore. I stop, take a picture, watch the sun bounce of the gilt lettering of Formans, speculators on the Olympic dream. I could oppose Lance Forman's take on the Games, but he's still here in the Wick, his modern but organic new headquarters swooping gracefully and cheekily nodding at the Orbit across the water. Finally I reach the closure point - further than I ever managed on this side. The little brick circle still allows cyclists to pause and read maps. The boat ties off here, the lime green shirted guards head into the park. I make a decision - I'll press on out of its gravity - I'll get free of this place at last...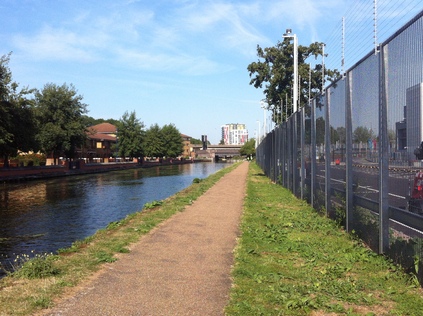 Under the Eastway bridge and into the unknown - except it's far from that, I've studied and reviewed this part of the world endlessly over the last few years. There is a gate here where the river can be closed, and on it scrawled in pen strokes which my camera can't pick up some graffiti about the Games - ending in "No Locals". The path broadens, a flat screed of yellow stones leading onwards. Almost immediately to the east the terrain is wooded and scrubby. Flats and boathouses hug the western bank, with occasional glimpses and shouts of dismay or protest from footballers on Mabley Green beyond. Boats are lazily moored once again, and I find a curling notice from British Waterways advising what should be done if birds nest on boats which need to move for the Olympics. Both British Waterways and the Games have passed into memory over the summer of course. The world has changed immeasurably down here on the river. Marshgate Bridge looms, jutting half the width of the cut and carrying Homerton Road. Buses fly back and forth and I think that this could be the place to return to civilisation. I always do this - worry about the return trip, experiencing pointless range anxiety. I don't of course. I press on by the colourful block which has replaced the defunct Lesney factory. I rather want the factory back - and while the building itself isn't entirely bad, it feels insultingly out of place in the greenery of the Lea Valley. It also looks rather empty, a woman almost nervously picking her way onto the riverside terrace with her book. Uncertain of her rights on private terrain despite living within it. I've decided now - I'll walk to Tottenham. I've no idea how far it is, but I know the escape routes there, so I'm safe to head on. To my right, the land opens out into the flat, endless football pitches of Hackney Marsh. I divert briefly to look at the expanse of grassland. Games are underway in the distance. I consider an improvised urinal in the bushes, but dog walkers emerging unexpectedly convince me otherwise. It's back to the path again, regarding what appears to be an abandoned youth facility or community centre at the end of the footbridge at Mandeville Street - the Paralympic mascot's moniker not even ironic here. Looming on the west bank is the opened carcass of Millfields Power Station. A huge, forlorn brick shank with the ribs of a great roof still extant. It broods oddly in the shimmering heat. Midges flit and the trickle of cyclists and joggers seems to die out. I feel very alone despite civilisation being mere metres away. This place has a strange, empty pulse - perhaps emanating from the overhead high voltage lines?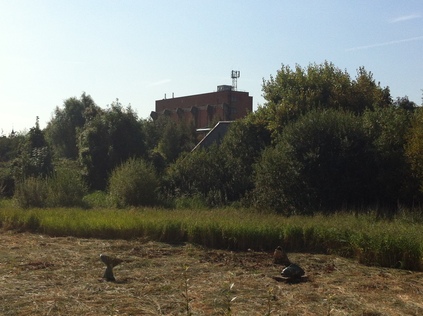 Just before Pond Lane bridge, where the towpath crosses the former structure of the tidal stop gates, I duck into a gap in the high municipal looking wall and find myself in the Middlesex Filter Beds. I'd read only a little about this site, so it was truly a voyage of discovery as I marvelled at how nature had been allowed to reclaim these vast lagoons. Picking my way along the central conduit carefully, stepping over cracked concrete and abandoned sluice winding gear, I made for a distant bench and rested. Above me, wires crackled - heading for the ghost power station which still towered over the river. Few people passed. I was alone, silent in the middle of the vast urban sprawl. A text message arrived, and I found myself composing a reply standing right at the centre of the huge concrete hub. Perhaps it was some sort of locus of microwave leylines? I headed back to the canal, crossed the bridge and pressed on to Lea Bridge where the natural river rejoined the route at a substantial weir. For all its communications importance, the bridge seemed tiny and insignificant. It wasn't right to stop here so I pushed on once again. I was tiring, and needed to keep moving. The river curves here, around the derlict emptiness of Essex Wharf and the rather pleasant new developments surrounding Millfields Recreation Ground. When the river straightens it enters a long, slow moving straight section. East of the water is Walthamstow Marsh - deceptively rural, land for grazing. It seems a world away from the buzz and clatter of the Olympic Park. I rest a while, wishing I'd deviated into the park to find a toilet. Swilling cool water and thinking about the headswimming heat. There's plenty to wonder about though - railways cross and recross the marshes here. I've seen this terrain from above so many times, and sure enough I soon pass the Anchor and Hope pub. I'd often thought I'd like to visit here one day - and almost head inside the cool, dark building. But common sense and my ability to complete the walk check me from doing so. Another time, maybe in company I mutter - though I've no idea who or when I'm thinking about. The path here deviates from the water, edging around Springfield Park. The official route of the walk is on the other bank, skirting the marsh, but I want to stay on this side for reasons I can't put a finger on. The park rises steeply away, and I think heading for the other, higher edge for facilities might just use the energy I've reserved to press on. So I do, and suddenly after a tangle of adventure play schemes and allotments, the river curves back in at my right and I'm back on course.
The last stretch is hard going - but is oddly rewarding. Busy boat houses provide a home for the canoes and rowing vessels which have passed me all morning, receiving commands from bicycling captains with loud-hailers. There has been a post-Olympic surge here, the junior section in particular is busy. Whatever the skepticism I might hold about the Games and this swathe of London, it's genuinely heartening to see this. On the east bank Springfield Marina is full of a different kind of vessel - a life on narrowboats always seemed a corny cop-out, but now I see it's attractions more clearly. Is this another mid-life crisis looming? I pause to finally empty my aching bladder at Markfield Park Cafe, in the shadow of the great Beam Engine. This one dealt in the pumping of sewage - part of the scheme which cleansed London of its filth, now regenerated into a rather fine little corner of the parkland with a museum, a cafe and places to relax and play. It felt positive and well-used. I considered lunch here, but again thought that stopping might be final. I returned to the path for the last push. Under the railway again, the curve to South Tottenham breaking off just feet from the river and the Cambridge line passing directly overhead. The river turns north and the Gospel Oak to Barking line crosses on a low bridge. Some young black guys explode from a side gate swaggering and yelling. I glance at one and with little interest he utters "Yeah. Come on then? What you gonna do then?". It's momentarily startling, but empty. He rails against everyone I guess, but fat white middle-class guys tramping river banks must be appalling to him. I press on, waiting for another walker to pass me before checking they headed in the opposite direction. Its the one time I've been even mildly concerned for my safety on the riverbank I realise. Finally, Tottenham Lock hoves into view - but just before it does, the path rises over a side-stream. Curving away in a concrete culvert is Pymmes Brook. It's an inauspicious little rivulet. Dirty and slow-moving in it's stony gully. But this leads onwards towards Tottenham where the tiny trickle of the Moselle River joins it. I have linked up with an earlier walk and it's strangely triumphant to think how there is coherence to my ramblings. I ascend to civilisation with some regret...there is more river to walk ahead, but not today.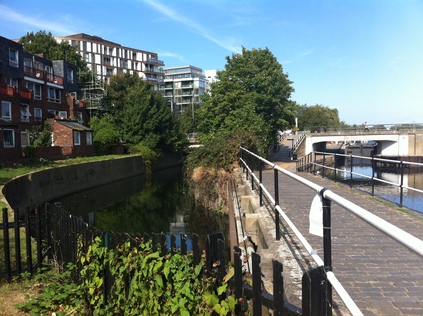 I realise I'm hungry and thirsty, and raid the newly opened Tesco near the station. Its a strange corner of public-private land here with fine new flats, a gym and a supermarket all protected by an ugly 1980s security kiosk - unmanned of course. No alcohol allowed. I munch pastries and glug fruit juice, wondering if this is allowed. Finally, dusted off and replete, I head for a train back to Liverpool Street and welcome coffee. I also realise that I booked a much later train than usual home - so there's no hurry, and I decide to use the buses to cross and recross the territory I've walked. To get a different slant on the land I've carved through by river. Thus I find myself crossing Lea Bridge and looking down on the spot I regarded it from earlier before arriving at Walthamstow Bus Station. A drunk has stumbled into a slow moving bus, an ambulance in attendance. Ill-governed crowds crush and flock to buses. I make the back seat of a 69 to Canning Town, wedged up against a tiny but pretty Polish mother. This bus takes me via Leyton, the eastern edge of the Olympic Park pushed up against the homes and shops of the borough. It's another circle complete - and another set of possibilities and gateways opened. What started with uncertain rail journeys before the bid, turned into a curious regard for this strange strip of land, and now manifests itself as an urge to walk, has come full-circle. This is now a voyage into post-Olympic London. Legacy delivered or reneged on? I find myself already wanting to be back here.
You can see more pictures from the walk here. As an experiment, you can also follow the route on the map below - the blue line is the walking route.