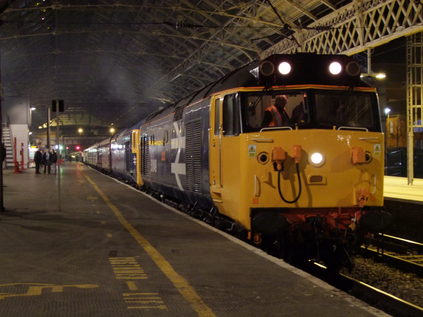 Posted in Railways on Saturday 19th November 2011 at 11:58pm
---
Yet again, this tour had already generated pages of internet debate before a wheel had turned - but for me, with a bit of a grind of a working week to deal with, I'd almost not given it a thought until yesterday when I began my wander up to Preston. But, after a comfortable night in the new Premier Inn, even the beginnings of a cold couldn't dampen the excitement. Class 50s on the mainline, into Scotland - something I'd not really expected to see with the recent history of the preserved examples of this class which is synonymous with my home area. Slogged down to the station at around 4:30am, with the sound of the engines already floating up to Fishergate as I headed over the bridge. The stock was, for the standard class folks, not the right way around - but being in the middle I wasn't too worried. Took a few quick snaps of the locos before heading for my seat. Ideally positioned beside the kitchen car for an early breakfast too, which set me up for the 700 or so miles ahead...
Just like previous winter tours which have done this route, the fog closed in somewhere around Huddersfield, just as some familiar faces joined the train. However somewhere north of York, the mists cleared and the sun came out. So, strangely, after some fast running we arrived at Edinburgh Waverley in bright winter sun to a gallery of photographers. Having focused on the 50s, I hadn't considered 57001 on the rear - now in West Coast Railways purple and fresh from an overhaul, this was a winning loco for me. As we set off in the direction we'd arrived from, a cloud of white exhaust filled the station. It seems 57001 is a surprisingly interesting example of it's class!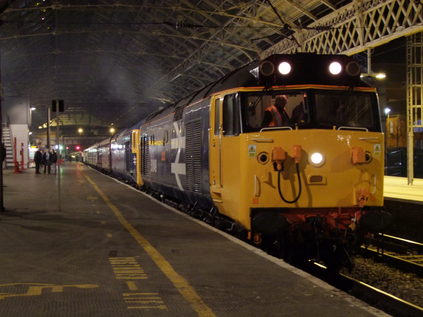 The timings for the minitour part of the day had been troublesome for a while, and here they began to become wearisome. Around forty minutes allowed for a traversal of the Suburban Lines left us waiting for ages to head for the Forth Bridge and into Fife. It was hot and sleepy on the train, and after chatting for a bit around the circle, I soon dozed off. My second visit to Fife of the year was a little less eventful than the first then. Returning to the capital for a break, we once again slogged slowly around the sub waiting for a platform in the station.
I didn't stray far, since I was feeling worse by now and the thought of a trudge into town wasn't too appealing. So shopped a bit, had a coffee and chatted to fellow passengers before assembling with the growing crowd for our train. In true Waverley style, the stock was late in, with an errant Newcraighall unit blocking the platform until after it's due time. However, once we'd struggled past the obstructive construction works on the station and onto the train, we were soon heading south into the darkness. It was a long old run back, but the locos peformed flawlessly throughout.
Winter tours can sometimes be a bit gloomy, but this was a sociable affair with some cracking locos and some fine running. It was also very probably my last trip with Spitfire of the year - it's been an interesting and unpredictable one, but again there have been some cracking trips. Here's to next year...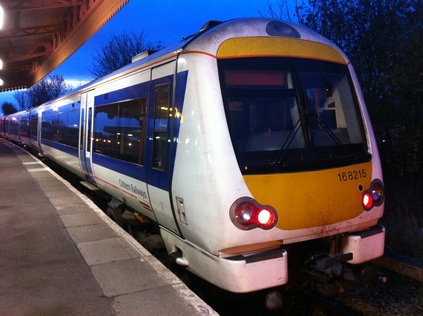 Posted in Railways on Saturday 12th November 2011 at 10:59pm
---
Over the last few weeks there has been quite a buzz about TOC-operated tours doing all kinds of interesting track - and with First Great Western soon to operate a 'Class 142 Farewell', this feels a bit like 'any old excuse' really. A more appealing prospect in traction terms though, is the London Midland operated Class 150 farewell. These stalwart units are mostly making their way down here, and as the all-new fleet of Class 172s is delivered, people are getting just a little nostalgic in the Midlands. I'd looked at the possibility of travelling on the trip, along with a number of other BLS folks, but a tricky start time meant at least one night away, so instead I decided to reverse things today and say 'hello' to the new units instead. So, armed with a West Midlands Day Ranger, I set off on a wander around the area covering track that I hadn't seen in ages - including a few surprises too!
Quickly booked the Day Ranger on arriving at New Street, and headed straight to Moor Street. I was taking a pretty relaxed attitude to today, given that there were plenty of options and a fair bit of time - but in the event a shiny new Class 172 arrived just as we entered the barriers, so we hopped on and headed for Stourbridge Junction. The units are much like their electric cousins, but have a real sense of space inside which makes them feel comfortable. At Stourbridge, a quick cross-platform move to swiftly head down the Town branch on 139002, sadly the same Parry People Mover from my last visit here a couple of years back. Stourbridge was under construction, with a new bus station being built on the site of the old one - navigated the diversions into town briefly, before heading back to the Junction. From here it was a short hop to Smethwick Galton Bridge, where we planned to head for Wolverhampton, with one eye on a very late running Arriva service from Wales, just in case it used the rare Platform 6. In the end, the next train in was Liverpool bound, so we hopped on - and with the Arriva unit apparently still running through to Birmingham we stayed on to Crewe, the northern extent of the ticket validity.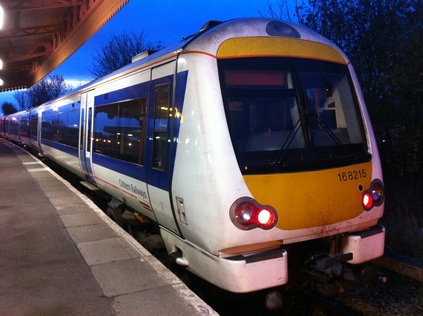 Time for an early lunch at Crewe before the 11:33 to Euston, which we covered as far as Northampton - as far as the ticket permits heading south. This was a decent length journey, if rather warm and busy journey and gave me a chance to snooze a bit having had two pretty awful nights of sleep. Over the bridge at Northampton and onto a Birmingham-bound unit. Lots of possible combinations of journey were proposed here in order to get to Stratford-on-Avon via Leamington, but none worked well - so instead we once again walked over to Moor Street to find a bit of a chaotic scene with late-running Chiltern services terminating here rather than going on to Snow Hill. This meant the next departure would be from one of the terminal platforms, which I needed - so duly waited and hopped on as far as Leamington Spa. Again, the options weren't good from here so we decided to explore the station a bit, wait a little while and then catch the terminating short working from Moor Street from one of the bay platforms. This ended it's journey in the other terminal platform at Moor Street, thus completing the set for me.
So finally, we headed back to New Street for the voyager home. I didn't spot the Class 150 tour anywhere on our journey today - but I understand it all went pretty well. However, it was really good to have a flexible, easy day out with a few interesting bits of railway thrown in. The ticket is surprisingly good value too!

Posted in SHOFT on Thursday 10th November 2011 at 11:11pm
---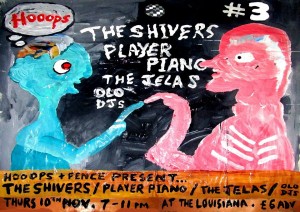 Having finally escaped from a difficult working day and made a very surreal trip on a bus which seem to hurtle dangerously through the dark countryside with little idea where it was really heading, I was slightly distracted by the time I arrived in Bristol. Deposited in the middle of the city's rush hour, I watched people bustling around all seemingly unaware that tonight was, once again, a Hooops! night. This slightly ramshackle but always entertaining happening defies any attempt at being pinned down as a club night or anything remotely similar, instead managing to encompass performance art, comedy, drama and music - often simultaneously, and managing to occupy every possible corner of the venue. But tonight, it's a stripped-back affair focused entirely on the music and occupying just one floor of The Louisiana. With some seriously good touring bands passing through town, it seems only right that the link with Fife's Fence Records should bring them here. So - for one night only I'm sure - this was Hooops! stepping back and letting the music lead the way.
I've often said how ignorant I am of local happenings, and I confess that The Jelas are a completely unfamiliar name, despite having been around for a fair few years. They are an irrepressibly energetic three piece who despite an outward appearance of utter chaos, are clearly a tight and well-rehersed machine. Back from a recent tour which saw them popping up all over the UK, The Jelas are promoting their new album "The Body Parts" which on a first listen appears to capture their oddness exactly. The rhythm section pounds out a choppy, edgy spine which the guitar jaggedly dances around. Meanwhile drummer Aled, strident bassist Natalie and guitarist Colin all chip in vocals, which range from strange chants to deranged yelps - often within the space of a single song. In discussion after the onslaught of noise and bewilderment we decided that there are definite hints of The Cardiacs here - but there is also something almost unique about the mix of math-rock technicalities and anarchic punky noise. It's enjoyable and disturbing in equal measure, and an oddly demanding listen. In short then, The Jelas are probably the ideal Hooops opening act - idiosyncratic, confusing, and captivatingly odd. There is nothing easy about this listening at all.
With nearly all of the bands managing to get lost heading back to the venue tonight, time is tight and things are quickly shifted around to accommodate the full band version of Player Piano. Having only seen Jeremy Radway before as a solo act, I'm a little unsure what to expect as a motley crew of musicians take to the stage. In the event the band is, despite only recently forming in this line-up, fantastically tight and strangely funky. Low-slung disco basslines support jerky keyboard riffs as Jeremy's damaged, soulful vocals croon and soar with support from multi-instrumentalist Rebecca Jade. With Jeremy happy to shun the limelight on stage, the star of the show quickly becomes drummer Ed Grimshaw who manages to pound out some ridiculously great disco rhythms which have apparently been transported in directly from the late 1970s. Somewhere, mid-set I decided that Jeremy is in fact the natural heir to the likes of Jeff Lynne and other purveyors of that vein of complex, crafted pop which has all but died out in the era of the throwaway download single. On the as yet unreleased new track "Everyone Knows" this reaches it's peak with swoons of vintage analogue keyboard and soaring choruses. It's pretty clear that the audience - a strangely hard to pin down collection of local regulars, Fence devotees and curious passers-by - is loving every minute of this. It's a short set, but feels effortlessly tight and bodes well for the rumour of a future album release.
There is a buzz of anticipation for The Shivers, borne of the great reception their record has garnered in the UK since being released by Fence no doubt. Soon, Keith and Jo take to the rather empty looking stage bathed in blue light, an unassuming pair who seem perhaps a little nervous. Taking advantage of the hush of reverence and atmosphere of expectation in the room, they begin a quiet, atmospheric take on "Love Is In The Air" from their recent album. It's still amazing to me how a duo with just keyboards and electric guitar can produce such complete sounding music, but they manage it again with "Kisses" which mutates into a jerky, funky strut with a vein-poppingly intense vocal performance from Keith. His wild stare and impassioned delivery is in total contrast to Jo's calm, understated performance which finally comes forward when she takes charge of lead vocals for a single song. Her voice is a revelation, a spine-tinglingly quiet and huskily soulful drawl which also adds a new dimension to "L.I.E" a very early Shivers track which pre-dates her arrival in New York to add colour and tone to Keith's sometimes stark early work. Clearly overwhelmed by the reaction both here and across the UK, Keith and Jo seem to be enjoying the sense of event as 'merch lady' and Jo's sister Katherine takes the stage for "Remain In The Pain Zone" - a chaotic, dramatic and hilarious romp which sees Keith rapping, strutting and over-acting his way through the song. Guitar discarded, he gestures wildly at the audience as the churning organ supplies a sort of demented vaudeville backdrop. The reaction is overwhelming, even the band appearing a little stunned at just how well it goes down - but this is Hooops! and it's just the kind of thing we've come to expect. Closing with an affecting, slow-core take on "More", the title track of the current album, The Shivers leave the audience appropriately baying for an encore. It's been a pretty successful night.
Making my customary dash for the last train home with the final note still hanging in the air, I wondered where and when Hooops! might pop up next, and just what it had in store. If it's about a sense of occasion, then despite being a more sedate affair tonight was very special indeed, with some of the genuinely warmest reaction from an audience I've ever seen at a Bristol gig. Shorn of its usual chaos and confusion, tonight was almost entirely about the music - and while Hooops! is attracting touring bands of this calibre and pairing them up with eclectic and challenging local acts, its all going to be fine. Trust me. Or more accurately, trust Hooops!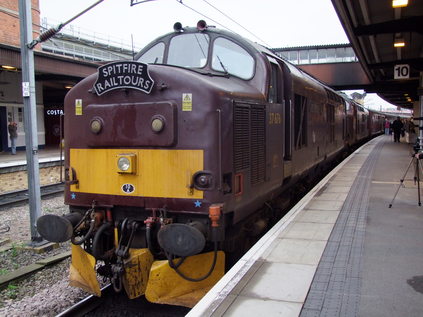 Posted in Railways on Saturday 5th November 2011 at 10:20pm
---
Who'd be a railtour promoter? As the difficult situation with timings continues, there is a huge amount of upheaval in the supply chain just now - with at least one Train Operating Company in the throes of sale, another seemingly keen to commit commercial suicide and a group of promoters which is shrinking. Some of this is an inevitable consequence of the ongoing economic mess in the real world, and some of it is about chickens coming home to roost for those who've been 'playing trains' for a while. In every case though, the great risk is that the customer loses out. That's why it's always a pleasure to do one of these essentially simple trips and see lots of people just enjoying their day out - no moans and groans, petty squabbles or public forum hissy-fits - just a couple of decent locos on a good long run.
It's also a tour from home territory - and thus one I'd always try to support. This year sporting a pick-up at Bridgwater too, the now annual "Jorvic Explorer" trip was rescheduled due to West Coast Railway Company once again overcommitting it's fragile pool of assets. For me that's a bonus as I was detained by the BLS AGM on the original date. Sadly, WCRC also seem to have worked to prevent the minitour to Monk Bretton from taking place, and amidst some very unfair stick aimed at Spitfire, the real story is far odder it seems. In any case, a quick hop to Weston on the first train saw the cafe open early as he'd heard there was a special in. He did a brisk trade in coffee and papers prior to the train arriving bang on time. On to the train, and a good breakfast before heading up the front for a chat and a cup of tea.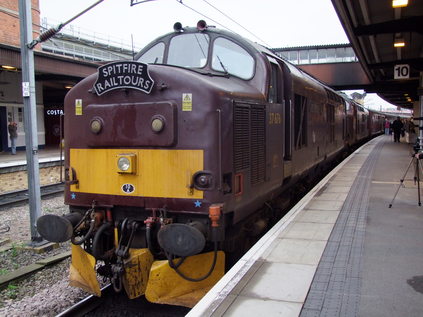 In terms of route, the trip followed the pattern set a couple of years back by this run - out via Worcester, avoiding Birmingham, the 'Old Road' to Swinton, then via Ferrybridge to York. Arriving early, there was time to wander the station a little - noting that the model railway building is being refitted as what looks like a rather fine pub - and then out into the rather grey, drizzly city for lunch and coffee. It was busy with tourists, despite being a fairly grim November weekend. Back to the station to catch up with some fellow passengers and watch the world go by before our timely departure south.
The run back will remain in my memory for a long time, as it was the first ever time Bristol Panel have let a charter train both in and out of Temple Meads before due time! Having lost a couple of minutes rejoining the mainline at Chesterfield, we had caught up very well. At Abbotswood Junction, noted we were rather early - and that we got earlier as we sped south to Bristol. It seems that a problem near Birmingham had sent everything via Worcester this evening, and consequently we were ahead of the pack. We finally rolled into Weston around 27 minutes before time - with no doubt I'd make the last train home this time!
Shorn of it's minitour, this wasn't quite the day I'd intended - but it was sociable, the locos performed well, and it was full of content punters - which any promoter is going to be pleased with these days. I hope these 'performance' issues from WCRC are solved soon - but until then, lets hope the promoters who remain serious about running railtours get the support they need from customers.