Posted in SHOFT on Tuesday 29th November 2011 at 5:11pm
---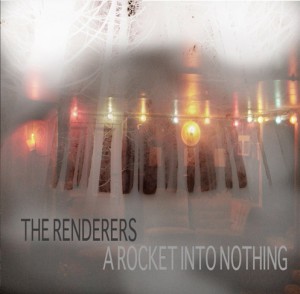 I first heard The Renderers about twenty years ago, which is a fairly terrifying realisation. My first contact with them was via the blissful, chaotic melodrama of the "Million Lights" 7" on Merge Records, which remains one of my all-time favourite singles to this day. Then I discovered a surprisingly straight-faced country pop debut album on Flying Nun called "Trail of Tears" which despite being incredibly enjoyable, rather surprised me in its clean production. A few years later they were back to their uncompromising Dunedin roots with the scorching, harrowingly fuzzed up Americana of "That Dogs Head In The Gutter Gives Off Vibrations" - but throughout these recordings Maryrose Crook's damaged, soulfully ghostly vocals remained the focal point in the storm of noise created by husband Brian. At this point I lose the scent somewhat - bored with music closer to home, I found myself listening to old things more and new things much, much less. Strange, sorry times indeed. Equally the band became a little more remote and harder to pin down, with releases scattered over a host of tiny labels all over the world. However the story has a happier ending than I might be suggesting here. I got to thinking about The Renderers again on hearing the wonderful Edinburgh School for the Deaf album earlier this year, which shares some of that insistently noisy but resolutely tuneful sensibility somehow. Memory pricked, a bit of judicious searching got me to this very recent release, the first Renderers record for a number of years - but one which manages to sound just as fresh and exciting as those first recordings from Port Chalmers did.
So, for the uninitiated, Brian and Maryrose Crook are the core of The Renderers, with a history which links them individually or collectively to a whole host of other notable acts. As the band has developed over the past two decades or so, the line-up has mutated too - in the process involving a cavalcade of some of the finest musicians in New Zealand. A physical move north to Christchurch preceded this release, as did a work-related wander around the globe, but this doesn't seem to have had a major effect on their sound which remains anchored in the noise and melody which they've explored over six albums or so now. "Down River" signals this continuity, ushered in by a shudder of feedback and a rumble of drums before Maryrose takes the song out of the swamps and into the hot, dry desert air. Brian's layering of guitar - both delicate melodies and a sheen of atmospheric noise - gently begins to conjures the mood for the rest of the record. "Shadow and It's Shadow" ups the pace somewhat, a warped sixties garage pop hit heard through damaged speakers with scouring sweeps of noise which mutate into odd, middle-eastern sounding riffs. Maryrose's voice takes on an equally sinister tone to utter the lyric - a curious collision of occult references and spiritual disconnection. The shuffling, insistent noise never quite lets up, the track fading out with Brian still cranking out white noise and screeching from his guitar. It'll probably come as no surprise that there are no obvious big hit singles in evidence, but if there is anything even remotely close here it's "This Shining Life". By far the most accessible entry point for the newcomer, Maryrose's gorgeously cracked vocal accompanies one of Brian's trademark off-kilter solos perfectly. The lyrics drip reflection and regret, and are visited by the cast of itinerant losers, angels and demons which frequently find their way into The Renderers songbook. This isn't so far from the territory covered on earlier work such as the superb "Million Lights", but it's far from a tired formula.
Brian takes the lead vocal on more of the tracks here than perhaps he has in the past, including the drunken swamp-jazz of "Restraint of Beasts" and the remarkable "Assassin", a gorgeously warped ballad which shows incredible restraint in not imploding into noisy chaos right away but working itself up to several false crescendos, each more intense than the last. His vocal, an understated, almost Dylanesque nasal drawl, suits the laconic screed of noise and the building urgency of this longer piece perfectly. "Typhoid Mary" with its churn of feedback and keening guitar solos gets perhaps closer to an anthemic chorus than The Renderers have come since their first, far more traditionally structured album. The chorus here though remains fuzzy, distant and a little off-centre, with a rare vocal duel between the Crooks before returning to the grinding noise. Then the ear-splitting entry of "Vanishing Point" chugs in with thundering bass and speaker-tearing guitar noise and maybe even a hint of distant organ as Brian rattles through an alienated, dystopian rant against an increasingly epic backdrop. The album closes with the clamouring sea shanty of "Hypnotised", which sets up a jangle of acoustic strums behind a backdrop of grumbling amps and chaotic percussion as Maryrose intones the lyric. Then, shards of jagged guitar kick in, before the whole thing fades to an uncharacteristically quiet ending,
In some respects, The Renderers are a simple enough proposition - lots of beautifully ungoverned noise, some exquisitely buried melodies and two distinct, unique voices. But its one of those 'more than the sum of the parts' moments when this all comes together at the right time, and thankfully there are plenty of those moments on "A Rocket Into Nothing". Moments where, when you don't think things can get any noisier or more chaotic, somehow Brian and Maryrose manage to take a song spinning off to new, previously unforeseen heights or stuttering, growling lows. Just now there seem to be a surprising amount of bands from my youth coming back from obscurity with, it's fair to say, some fairly variable results and a few precious memories tarnished along the way. In the midst of this it's good to reconnect with a band that's never really been away and is still capable of producing moving, vital and visceral music.
You can buy "A Rocket Into Nothing" on CD from Ba Da Bing records, or digitally via iTunes or Amazon MP3. Their back catalogue is a little harder to track down, but is worth every effort.

The Renderers - This Shining Life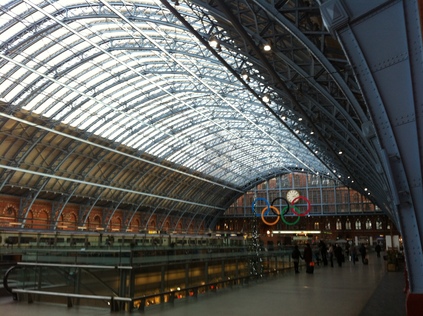 Posted in Railways on Saturday 26th November 2011 at 11:07pm
---
As the working weeks descend into a bit of a strange, stressful rut I'm once again beginning to really value these escapes. As winter approaches, railtours become sparse but cheap tickets seem marginally more plentiful, so I find myself building my own trips once again. This generally means zipping around the country, with a loose mission to cover unusual bits of line, but mostly ending up with extended coffee breaks where I can watch the world go by. In some ways I'm very easily pleased, but by others' standards Sheffield is a hell of a way to go for a cup of coffee!
Today didn't start promisingly, with the Temple Meads branch of Starbucks not open on arrival at the station. Whilst sipping hugely inferior coffee and watching the staff inside resolutely failing to open, I fired off a rather bitter email to their customer services. As I was waiting for the 07:30 this morning I was here a little longer, and the store still hadn't opened as I headed for the platform. Onto the train, which should have given me a straight-through journey to Sheffield via a diversion to Lichfield City. As I settled back, music on, I noticed the rather over-attentive Train Manager chatting generally to the carriage. Catching the end of her speech, it seemed that there was a problem with the windscreen and the unit would be swapped at Birmingham New Street. Quite why she chose to speak this monologue to each carriage in turn rather than use the perfectly adequate PA which we would all have heard, I don't know. On arrival, efforts had been made to make the switch easy, just needing to walk forward to the set in front of us. However, lots of people had been allowed to board the train before we arrived. Coupled to a problem with reservations because of the diverted route, this meant no seats for most of the people who'd booked. Some zealots ranted. I just waited, finally getting a seat just after leaving Birmingham. My ire, and my will to write a complaint letter subsided as we sped on via the Cross City Line, calling at Lichfield, then rejoining the mainline at Wichnor Junction. The first time I've done this route in daylight for a long time.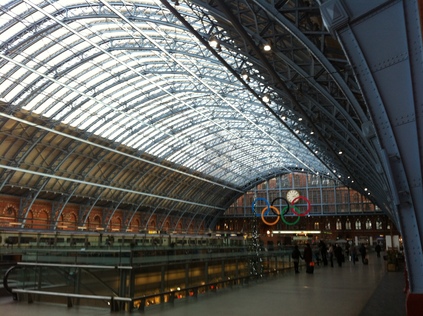 At Sheffield, I wandered out into the city and as usual took a much longer circuit to get to my coffee shop of choice than necessary. It was a bright, chilly morning up here, and finding my usual seat and watching the slightly better wrapped-up than usual population of the city wandering about was a fine way to spend an hour. Finally decided to head out into the chill, and stumbled down the hill to the station to do a bit of shopping and head for the 12:47 to London which was sitting in the bay platform 7, all ready for boarding despite being early. I planned to wander the station a bit first, but a sudden freezing shower of rain persuaded me onboard. Found a seat in First Class, and settled in for the ride down to London. Once through the East Midlands and onto the comparatively quiet Midland Main Line, I found myself dozing a bit and only really waking up properly at Luton. Enjoyed the run into London via this route immensely as it's not an arrival I've made often. Having a little more time to appreciate St.Pancras was rather good too, and I found myself wandering the upper level today rather than making a dash for the underground station. Walking around to the end of the Eurostar platforms, I realised that the main entrance arch was again open now that the hotel was complete. So, for the first time in a decade or so I headed out through this grand entrance, orienting myself by the memory of the old station - a dark, rather quiet and forlorn place with mysterious corners and grimy, forsaken spaces. It's good to see this amazing transformation, and a huge increase in services, but I do slightly miss the blackened old place, littered with trollies and silent between departures.
Down the impressive ramp and over the road for more, possibly ill-advised coffee. Then, just as the sky turned pink and the sun began to set, onto a 205 bus for the journey along the Euston Road which I've grown to love. This was the perfect time of day for it, and I had enough time not to worry about it taking a little longer than usual, as I looked for the landmarks - the mansions on top of Baker Street station, the canopy over the road at Marylebone, the beginning of the suburban sprawl as the flyover heads west and we turned south for Paddington.
The final leg of the trip home was uneventful, relaxing and a chance to finally finish Iain Sinclair's "Ghost Milk" which has dogged my travels for a while now, not being an easy read in some ways. Perhaps these trips are my very own 'grand project'? For now though, they remain a very important escape. People still think I'm fairly insane I'm sure, but they'd probably be more disturbed by my sanity if I didn't disappear around the country like this on a regular basis!

Posted in SHOFT on Friday 25th November 2011 at 11:11pm
---
Pop music - it's probably what got us all here, where we're likely listening to music we almost certainly regard as very different to those first, embarrassing purchases we made. But pop music in the sense of 'what's in the charts' is becoming a decreasingly relevant, advertising-led tie-in to the latest film or TV franchise, while the more 'adult' focused end of the music industry disappears into a gloomy zone where soundtracking 'goal of the month' or the winning moment in Masterchef is a bands crowning glory. Here then are a brace of EPs which have recently appeared which provide two different takes on intelligent, carefully built pop songs - pretty different in approach, but both making an effort to squeeze as much thought and as many ideas into the songs as possible. Mercifully for all concerned, I don't either will claim the "as seen on TV" badge any time soon, but both are worthy of your attention.
Morris Major - Itchy Blanket EP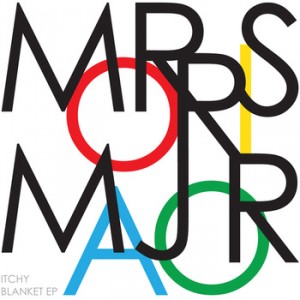 This arrived in my inbox completely by surprise and has captured a mood here at
Songs Heard on Fast Trains
.
Morris Major
, an Edinburgh-based four-piece, is the outlet for the songwriting talents of
Matthew Harrison
. And despite being a fairly straightforward proposition musically, it's those cleverly constructed tunes which lift this head and shoulders about others ploughing a similar furrow. An appealing tangle of guitars heralds "In Amongst My Ideas" which captures that fear which generations of creatives have suffered: "
I never seem to think of anything which sounds original
". There is, it's fair to say, a bit of potential middle-aged angst going on here, as the frustrations of a part time musician are explored. There's never enough time - and wouldn't it be great to wind the clock back a little, but retain all the wisdom and experience? Is music a youngsters game? Well certainly not if this slice of moderately twee, clanking, deft and clever pop music is anything to go by.
Some swish, 1950s arpeggios tinkle among the neatly tapped rhythms of "Seymour Grove", supporting a heartfelt, openly emotive cry of a vocal. as a lyricist Harrison clearly has the ability to tell a story in little tightly-packed snippets of lyrical cleverness. These songs hark back to a time when popstars were heroes, and it wears it's own icons on its sleeve clearly - with little references to The Smiths, The Go-Betweens or even maybe The Violent Femmes evident too. We're back in familiar territory as Harrison intones "My mind is worried about what my age is" on "Youth In My Heart", which is otherwise an effervescent track brimming with redemptive enthusiasm and vitality.
"Itchy Blanket" is a curious EP of likeably timeless pop which seem obsessed by the passing of time and it's effects. With it's simple but perfectly executed tunes and thoughtful songs, it suggests that Morris Major could have a huge amount more to offer before long. It's a free download from Bandcamp too, so there's really no excuse not to have a listen to this.

Morris Major - In Amongst My Ideas
Bottle of Evil - Inside Looking Out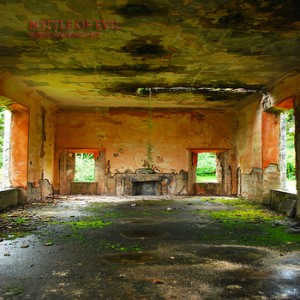 Bottle of Evil
are one of those outfits which have hovered on the edge of my consciousness for a while. Heard on podcasts and mentioned in dispatches, for whatever reason it's taken me a while to get around to a proper listen to the work of
Derek Bates
and
Steven McGilvary
until the release of this new EP prompted further investigation. "The Boatman" begins, and indeed ends as a disarmingly simple folky ballad, morphing somewhere mid-song into a shimmering, psychadelic pop sprawl. "I Can See Your Face" is a harder-edged proposition, tripping in on echoing drums and a burst of satisfyingly shoegazey noise which echoes
Bates
' previous work in
Genaro
. The drifting, dislocated vocal suits the tone perfectly. It's like the best of 1990s indie colliding with gentle acoustic pop, which is a far more appealing proposition than I make it sound, I promise! After a final, explosive chorus the temptation to go for the hackneyed 'big' ending is resisted with a gentle, sparkling fade to silence.
Next, "Move On" is a shuffling, reverb heavy slice of gorgeously shifting pop - and thus becomes perhaps my current favourite on the EP, with it's little hints at a Galaxie 500 sound buried in there somewhere. The rumble of fuzzy bass, the chiming lead guitar and the whisper of multi-tracked vocals all adding up to a delicate soundscape. Finally - and by complete contrast - "Collider" kicks off as a triumphantly fuzzed up surf instrumental, which mutates into proper old-school metal soloing. It's absurd twists, turns and shifts of tempo as it rocks out are hilarious but enjoyably well-executed. It just serves to illustrate the fact that these guys are incredibly talented musicians, who have found in this set-up the freedom to explore and enjoy their craft.
"Inside Looking Out" is a little more focused and maybe a little less consciously ambient and electronic than their self-titled debut LP which I've gone back to with a vengeance after hearing this. This EP manages to cover more ground, and touch on more potential future directions than most bands manage in a full-length recording. It can be downloaded from Bandcamp for as little as £2.

Bottle of Evil - Move On

Posted in SHOFT on Thursday 24th November 2011 at 8:11am
---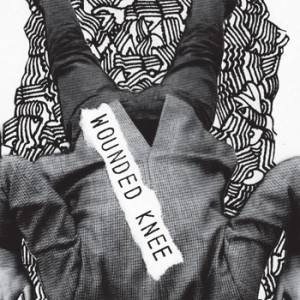 I recently read a blog which suggested that somehow releasing things on cassette was some sort of wilful hipster act of assured obscurity. As someone who ran a tiny label long before CD writers and blank media were cheap enough to consider and before the internet made it easy to distribute music, I suppose I recognise a necessity and a pragmatism in the format which might be lost on those who've grown up buying CDs or downloading digital music. For me then, perhaps releasing cassettes - despite their recent decline towards obsolescence - still has a sense of purpose. And after all, it's still perhaps one of the most direct and accessible routes available between the musician and the listener. So, I can't help but wonder how the writer who dismissed cassette releases as largely an act of vanity will regard this release from Gerry Loves Records - which is essentially a cassette re-release of an already out-of-print tape. Is it the ultimate in vanity releases, or is it perhaps just the right way to treat this unusual music?
Wounded Knee is Drew Wright - a Leith-based singer of strange, disembodied shanties and oddly soulful folk tunes - and this cassette, clocking in at around an hour and a total of 21 compositions, is an expansive and sometimes confusing ramble through his world. The project hinges on Drew's voice, which delivers sonorous, melodic incantations over the most minimal of instrumentation. Occasionally there is some electronic percussion, perhaps a dusting of droning keyboards, and a range of background atmospherics - but rarely are these intrusive and they almost never stray into the foreground. For the most part in fact, they are mixed low and almost hidden while Drew's voice is left to carve out the melody. That said, there are a couple of curious and playful instrumentals scattered throughout - such as the kazoo powered "Scotsport" which provides a reasonable approximation of an already pretty strange 1970s STV theme tune. But it's important not to mistake low-tech for low quality - and while there is little in the way of polish or production here, there is nothing throwaway about the songs Drew has selected. His lyrics, particularly mark out a strange tension between simple lilting delivery, traditional song constructions, and more complex lyrical preoccupations. Wright's songs owe more to the spirit of the rural Highlands than the cityscapes of the Central Belt, and on "Muckle Sang" he takes us rambling into the hills in search of spiritual enlightenment with the landscape becoming "the temple/where we contemplate the infinite" before concluding that perhaps it's nature he's been worshipping all along. "Lowland Lullaby" explores similar territory, alongside a simple and beautifully direct melody picked out on a cheap keyboard. Whilst the songs are timeless, they are precisely located in a geography which seems to seep into their bones.
Another advantage of homegrown cassette recordings was always their ability to allow artists to respond quickly to life around them without storing up songs for the next expensive recording session. Thus, some of the songs on "House Music" reflect an overtly political response to events which is barbed and acutely observed, but never overtly vitriolic. "Coffee Ballad" uses the beverage of choice around these parts to explore allegorical relationships between 'strong' and 'rich' versus 'poor' and 'bitter'. Wounded Knee's political stance is however far more directly expounded in "Anti-Facist Reel", where a twanging, warbling, almost comic background lifted directly from Rolf Harris's back catalogue sees Drew ask the very reasonable question "Why would anyone vote BNP? It's a fucking disgrace". It's a refreshingly honest take on these issues, and perhaps surprisingly it doesn't jar with the more pastoral material here at all. Wright's lyrical pallette is rich enough to encompass both the broadly political and the more personal, as amply demonstrated on "Burnett" which sets an oblique, partly-revealed domestic tale in a post-industrial edgeland landscape with "sent home on full pay/insubordination" sitting alongside "wild garlic in the air along the old railways". It is, in fact, hard to single out individual songs because every listen to this collection yields new couplets and lines which strike a chord as Drew's deep, searching voice delivers them with gravity and often perhaps, a hint of regret.
Recognising one of the points raised by our erstwhile anti-cassette blogger which perhaps has some merit, there is a question about how accessible this music is? Originally a cassette only release on Wright's own Krapp Tapes imprint - with a concious nod to Beckett of course - this re-release does at least offer a digital download to those no longer possessing - or perhaps never having seen - a working tape deck. The music too requires some effort - and for me Wounded Knee only really began to make sense once I'd immersed myself totally, headphones on, Drew's voice echoing and booming around me. It's absolutely worth the effort. These songs are subtle and poignant, often funny, but always wonderfully detailed word paintings. The lack of traditional musical backing and the curious selection of sound-effects and background noises is perhaps a little uncomfortable at first, but it works to push the voice and the words into the foreground where they belong. This tape isn't going to deliver some sort of whirling, stomping Radio 2 pleasing Mumford-like folk pastiche, but it's packed full of the hymns to the land, acutely observed stories and political statements which folk song has delivered for hundreds of years. On that basis alone it's absolutely essential listening.
Wounded Knee's "House Music" is available now from Gerry Loves Records on cassette with immediate digital download for just a fiver. You can also purchase it together with the recent 10" EP also featuring Fox Gut Daata, The Japanese War Effort and Miaoux Miaoux for a bargain price.

Wounded Knee - Muckle Sang