Posted in Updates on Tuesday 24th August 2004 at 11:16pm
---
By my reckoning, Areopagitica - the Content (Mis)management System which sits behind this site - is one year old today.

I'd long wondered about writing something like this, and its actually been a rewarding process. The code could badly do with a clean-up - having grown by accumulation over a year there are all sorts of nasty hacks. Most importantly it does almost all that all the blogging engines and website gadget type things seem to, and its comfortable for me to use daily.

One thing it won't do, probably ever, is comments. I know I have often almost commented on a blog, but have mercifully just about stopped myself from going off on some ranting tangent. After all, all opinions are apparently valid opinions in this cosmopolitan internet world. In the current era of rampant content spam, and with a history of suffering in the flames, I'd say that the important people who might want to comment are smart enough to find my email address for themselves. A truly Darwinian comment system?

In any case, for better or worse, I've spent a year on this strange little project.

Posted in Updates on Thursday 19th August 2004 at 11:13pm
---
Today, one of our Appeal Panel members mentioned that old, but evergreen adage 'may you live in interesting times'. He was naturally, entirely accurate.

It has been, of course, a strange week. A confusing mixture of encouraging work progress and frustrating personal events. Last week ended with union meetings and this one is ending with the fall out. Generally, I think my fate is decided. I will of course press on and after a rocky patch, I've been convinced that it can't just be me, despite colleagues assertions to the contrary. Having my mental health questioned in a semi-public environment was of course, frustrating and a bit strange. I think insanity prevailed, as ever.

Later in the week, I was relieved to meet up with a friend I've missed like crazy these past few weeks. I explained my odd time very clumsily of course, and probably ended up making myself seem rather ridiculous, but I suppose everyone needs someone to talk to, confide in, bounce off and generally think is pretty amazing. This won't get read, I'm safe saying these things. I just hope I haven't managed to cause trouble, which was never my intention.

Tomorrow I was supposed to be up before the Magistrate for Council Tax evasion and associated costs. It is now, I understand cancelled. No-one has yet explained to me how I can accrue court costs without a court case happening. Like I said, a bewildering week.

Looking ahead, booked tickets for The Delgados in Bristol in early October. Heard a new track at this site (which I highly recommend). Interestingly poppy new direction. Can't wait to see them again!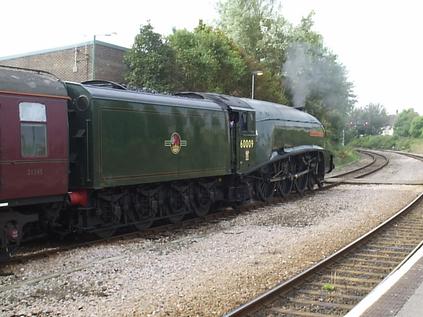 Posted in Updates on Sunday 8th August 2004 at 11:04pm
---
A rather cloudy and overcast morning. Not the best for photography, but nevertheless set off for the station to see 60009 on the Torbay Express. Stopped at the station doors by revenue protection staff, who seemed slightly amazed and rather offended that the majority of people passing through had just come to see the steam locomotive. Largest crowd I've seen at Weston for some time.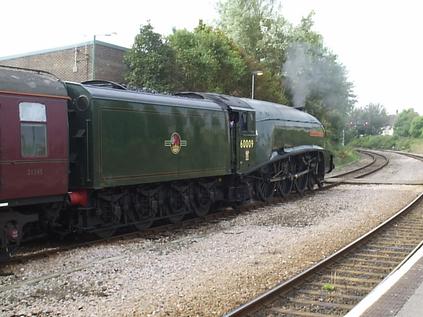 Wandered with the departing crowds over to the supermarket, where another large crowd awaited its opening time. Chatted to an acquaintance for a while, and generally hung back whilst the desperate looking multitude rammed trolleys and bumped baskets in an attempt to be first to the checkouts.
Tidied and read for awhile, and did some further work on Areopagitica. Still no release for all those who keep asking, and frankly there is unlikely ever to be one as the more shamefully convoluted the code becomes, the less inclined I am for the outside world to see it. Also noted an announcement of
GNOMEfiles.org
. Dutifully listed a couple of current projects, and watched the usage stats for
mikegtn.net
take an uncharacteristic leap!
Back to the station for the return Torbay Express, which was running somewhat early. Bumped into some of the usual suspects. A dull, wet evening with no light. Couldn't get the camera - which is still very new to me - to work at all how I'd hoped, so no pictures worthy of keeping. Fiddling with the Olympus on the way back, accidentally figured out how to adjust for light and took some stunning pictures of the car park.

Posted in Updates on Tuesday 3rd August 2004 at 9:59pm
---
Finally managed to complete a job application form in time to send it, without dithering and wondering if 'the grass is always greener' and all the usual misgivings appearing. For the past few years, for obvious reasons, I've avoided change or upheaval at work wherever possible - not a simple task in our turbulent office. The idea of a future stretching ahead with more of the same, and more decent people sacrificed to defend one or two shaky reputations frightened me into action.

Sad thing is, and I know I'm repeating myself here, I really enjoy my work. I also work with some very good people. I suppose the important consideration is that I spend huge slabs of time at work, and it needs to be more of a challenge and less of an assault course.