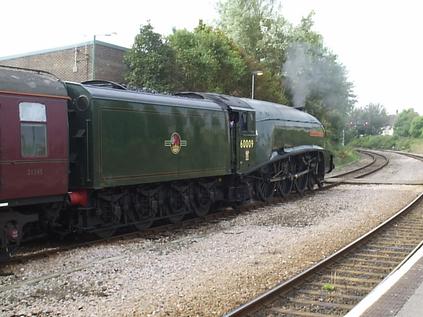 Posted in Updates on Sunday 8th August 2004 at 11:04pm
---
A rather cloudy and overcast morning. Not the best for photography, but nevertheless set off for the station to see 60009 on the Torbay Express. Stopped at the station doors by revenue protection staff, who seemed slightly amazed and rather offended that the majority of people passing through had just come to see the steam locomotive. Largest crowd I've seen at Weston for some time.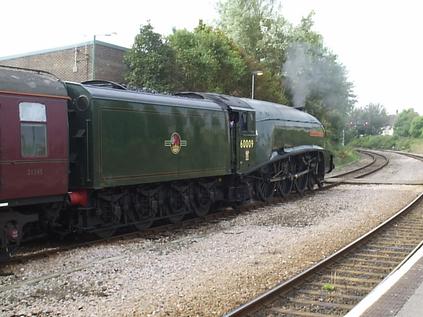 Wandered with the departing crowds over to the supermarket, where another large crowd awaited its opening time. Chatted to an acquaintance for a while, and generally hung back whilst the desperate looking multitude rammed trolleys and bumped baskets in an attempt to be first to the checkouts.
Tidied and read for awhile, and did some further work on Areopagitica. Still no release for all those who keep asking, and frankly there is unlikely ever to be one as the more shamefully convoluted the code becomes, the less inclined I am for the outside world to see it. Also noted an announcement of
GNOMEfiles.org
. Dutifully listed a couple of current projects, and watched the usage stats for
mikegtn.net
take an uncharacteristic leap!
Back to the station for the return Torbay Express, which was running somewhat early. Bumped into some of the usual suspects. A dull, wet evening with no light. Couldn't get the camera - which is still very new to me - to work at all how I'd hoped, so no pictures worthy of keeping. Fiddling with the Olympus on the way back, accidentally figured out how to adjust for light and took some stunning pictures of the car park.
Lost::MikeGTN
I've had a home on the web for more years than I care to remember, and a few kind souls persuade me it's worth persisting with keeping it updated. This current incarnation of the site is centred around the blog posts which began back in 1999 as 'the daylog' and continued through my travels and tribulations during the following years.
I don't get out and about nearly as much these days, but I do try to record significant events and trips for posterity. You may also have arrived here by following the trail to my former music blog Songs Heard On Fast Trains. That content is preserved here too.
Navigate Lost::MikeGTN Find articles by category
Search Lost::MikeGTN
Other Places...