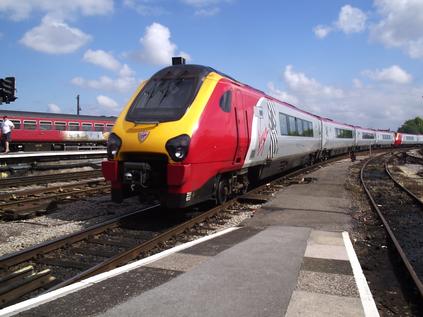 Posted in Railways on Saturday 14th August 2004 at 11:16pm
---
Despite feeling thoroughly dejected after a long and trying week, and I have to say a little physically under par too, managed to get up rather early. So, didn't have high hopes, but felt that I absolutely must get out and about.

Set out early, picked up a Rover and headed for Bristol on the 0809. Noted pet power car 43130 'Sulis Minerva' on the back. Time for a coffee, then aboard the 31's as far as Bath. Planned to get the 0945 Adelante back to Weston which was running a little late, so managed a quick walk into the city to get Peter Ackroyd's recently published new novel.

Back to Weston to pick up the first Holidaymaker special - 67003 on 1E99. I only needed one of the Class 67's out today, so not nearly as exciting as the past few weeks. Still, a pleasant and relaxing journey up to Bristol, and a chance to play with the camera a bit more in the hope of actually improving my photographs.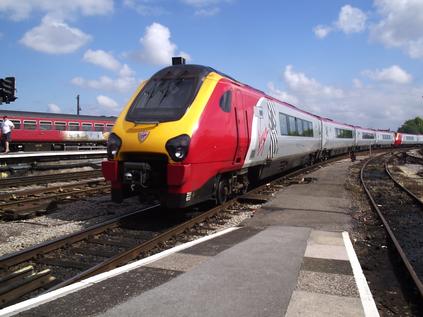 Onto 1V15 with 67001 - back from its not exactly glorious performance a few weeks back, as far as Exeter. Finally made telephone contact with friend currently in the midst of Florida's hurricanes on arriving at St Davids, and spent some time making calls to rearrange things here as a result of a delayed flight home. Much relieved. This passed some time waiting for 1V19, and 67015 - a new locomotive for me. Down to Paignton in strong sunshine along the sea wall. No time wasted on arriving, dodged holidaymakers, over the footbridge and onto the 1650 Paddington bound HST. Due to slow loading and unloading at several points, this service leaked minutes at a frightening rate! The driver made every effort to catch up however, and we fairly stormed some sections of the route, at what felt like very high speeds indeed.
Arrived at Westbury to find we'd missed the return working of the Weymouth 31's by a matter of minutes. Had wondered if we'd make it, but hoped the signal would be against them leaving Frome. Trudged dejectedly over to Platform 1 for a delayed 158 back to Bristol. Packed much of the way with people heading for nights out in Bristol and Bath.
Had aimed for the 2030 back to Weston, but spotted a 1955 Voyager on the screen. Waited, getting a few shots of the 31's shunting into the Platform 2 bays at Temple Meads. It soon became clear that the 1955 was in fact a phantom voyager! None of the staff could explain its presence in the system - very spooky! As we finally got underway, noted the twin 47's on the Eden Project Excursion train arriving on Platform 3 at Temple Meads.
Finally got back to Weston at 2102, very tired but a really good day which took my mind off work and the past week. Also much relieved that friends are all safe and well.
Lost::MikeGTN
I've had a home on the web for more years than I care to remember, and a few kind souls persuade me it's worth persisting with keeping it updated. This current incarnation of the site is centred around the blog posts which began back in 1999 as 'the daylog' and continued through my travels and tribulations during the following years.
I don't get out and about nearly as much these days, but I do try to record significant events and trips for posterity. You may also have arrived here by following the trail to my former music blog Songs Heard On Fast Trains. That content is preserved here too.
Navigate Lost::MikeGTN Find articles by category
Search Lost::MikeGTN
Other Places...