Posted in Travel on Sunday 6th April 2014 at 8:04pm
---
Having been in Seattle for a few days now, I was beginning to readjust to its unique rhythm. Our initial stay downtown had plunged me into the cosmopolitan, urban feel of the city which had begun, a long time back, to feel like a home away from home. This time I didn't feel like a stranger - more a returning ex-pat perhaps? It was interesting to prowl the streets early with Iain Sinclair's less than ringing endorsements from American Smoke in mind: tired, stressed and with a sick wife back at the hotel, he'd paced the city streets and seen only the gray reflections of clouds. Here for very different reasons, the silvery sheen of Elliot Bay reflected in tall glass blocks was like a visual sigh of relief. We'd made it. We were back.
But today, the pace changed again. With an extended visit to Montlake necessary, I had some time to cut loose and wander. A rare luxury in a trip with a packed itinerary and little scope for drift. With a Fuel coffee in hand I set off towards the Arboretum. I didn't intend to stray far - maybe to a quiet spot to read or write, while drinking? The edge of the park was abrupt, Lynn Street taking a ninety degree curve and the path heading into the trees. There were a few walkers dotted around, a bored woman scrolling listlessly at an iPad while her child clambered on the play equipment at the park entrance. I plunged into the trees feeling foreign and conspicuous, and far less acclimatised than I'd felt downtown. The tall evergreens closed around the path, and the unexpectedly clear sky all but disappeared as I pushed on. Turning a corner, a narrow but ornate bridge carried the path over the rush of Lake Washington Boulevard and into deeper wilderness. I was alone and comfortable at last. The path crested and turned north, with the rooftops of the Visitor Center below. A cursory glance at a pathside map had shown water up ahead, and my urge to walk near waterways was kindled. I edged through the drifting pedestrians and crossed the street near the Park entrance, plunging across to a viewpoint and a new path alongside an inlet of Union Bay. I sat for a moment and drained my coffee cup. It seemed wrong to have it along for this part of the walk somehow. Refreshed, I set off at a renewed pace - the slight edge of being in an entirely unknown place speeding my walk. The path meandered through dense trees and curved towards a road - the acoustic footprint of Highway 520 was near, but I had no sense of quite how near until the path dipped under a forbidding looking underpass. I was encouraged to see others passing through the concrete tunnel under the footings of the Evergreen Point Floating Bridge. Traffic pounded and echoed through the dingy gap, and only the sight of water on the other side of the span urged me to continue. I really had no sense of where I was headed. As it turned out, the scene quickly opened out into a busy, spacious picnic area on Foster Island. The lake surrounded three sides of the promontory, with a beachlike feel to the northern shore, where sailing boats scudded past at speed. The sun was high, and students from the nearby university lounged and occupied the picnic tables. I headed for the water's edge, before looking for the path off the island marked as the Marsh Trail.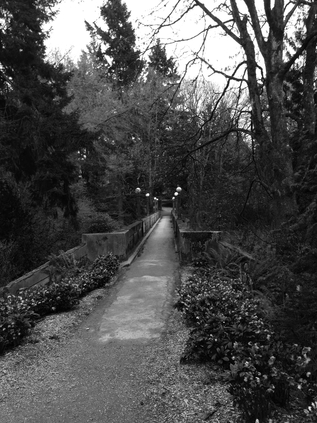 As I dived between two tall patches of rushes and scuffed along the bark trail, I realised that I was surrounded by water. This pathway floated on the scrubby marshlands at the edge of Lake Washinton. Indeed in some spots it was nearly submerged in the lake. Again, I was perturbed and considered a retreat, but the site of others coming towards me, apparently unscathed and not drenched spurred me on. The path zig-zagged out into the lake, a spur taking in a raised observation platform. Occasionally, an unguarded ramp would raise the path to wooden bridges which carried me out into clear water, descending onto further patches of marshy ground. Soon I was alone, a touch of concern arising as I really didn't know where the pathway led. A couple with a lolloping dog pursued me a distance back, and I decided to assume they knew where they were heading. They occasionally caught up as I paused to take pictures, their mutt shaking off lake water as he passed me, eliciting an apology as they overtook. The pathway descended another ramp onto Marsh Island, a boggy, half-formed mess of bark and reeds which gave a superb view across the lake to the Montlake Bridge. I resolved to get there if I could. Meanwhile the causeway and off-ramps of 520 soared above, the constant white-noise of tyres on concrete hissing ominously. From here, the scale of the tangled junction for Montlake was clear, including the 'ramps to nowhere' which it seems are a feature of road systems all over the world. Beneath the pillars, scrubby edgelands waited for reclamation. This was a zone which nature might just win back someday.
At a junction where the bark trail touched land I had a choice - continue on the shoreline, or ascend to the carpark of the former MOHAI museum site. The latter seemed a more likely way of getting to the bridge, so I turned towards the building. The empty gray hulk reflected the sounds of the highway back at me, deserted and ominous amongst the greenery of the park. Few cars were using the parking area, except for a Seattle Police vehicle which was criss-crossing the top of the ramp which led down to the lake. I didn't pause at the building - it's status wasn't clear to me, and I knew from previous experience how contrary the SPD could be. Instead I tried to look purposeful and followed the path towards the street. At the top, the cop was waiting for me: "Everything OK sir?". I replied in the affirmative and he asked me what I was doing. I told him I was walking and he asked where I was heading. Perhaps here is where I should have thought faster, or been less honest because I simply said "I'm interested in the bridge at Montlake. How do I get there?". His demeanour changed and he replied by asking if I was a tourist. I agreed I was, and he brightened visibly, before suggesting that I go downtown. "There's shopping, and the Space Needle. Nothing to see up here". I tried to explain that I was a walker, interested in canals and bridges, but he became more insistent that I shouldn't be in Montlake. Tourists belonged Downtown where they could be managed around the grid of the city. I decided that his growing coldness, his look of dismay and the handgun at his side were all good reasons to disappear. I thanked him and moved away towards the street, and he called after me that there were "...plenty of buses over there". I waved a hand behind me and struck up a pace. My experiences a summer ago had told me that some games were lost from the outset.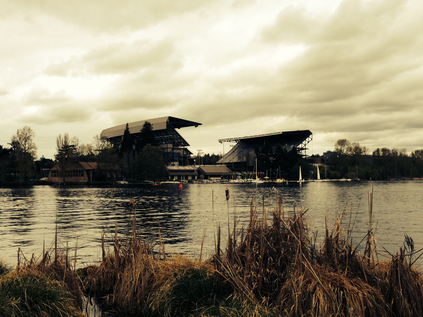 Once over the highway I cut along side streets which led me back to Montlake Boulevard. Recognising businesses and landmarks I felt a little proud of my navigation skills, and a little embarrassed that I'd let the cop send me off course so easily. Perhaps if he'd not found me inspecting an abandoned civic building he'd have been less concerned? Perhaps if I'd simply had a purpose to my walk? Even just getting from A to B seems better than "walking, just walking" as a descriptor to those people who find such things so terrifyingly inexact. I thought back to Iain Sinclair's miserable experience here, and despite my own brush with the gray edge of the city, still couldn't reconcile it.
You will shortly be able to see more pictures from the walk here. As an experiment, you can also follow the route on the map below - the blue line is the walking route.
Posted in Travel on Tuesday 7th January 2014 at 6:34pm
---
Throughout my adult life I've encountered fairly little serious prejudice, for which I'm absolutely grateful. However there are a couple of low-grade issues which seem, oddly enough, to exercise people - my hatred of cheese and my lack of a driving license. Somehow these matters, when first learned by a new acquaintance and - as we all naturally do - projected on themselves, seem to incur a shudder of distress. Imagining life without parmesan and parking fines is, it seems, almost too much to contemplate for most. However, some people just can't leave it there and assume that this is some sort of handicap. Hopefully, the travels I've recounted here will dispel that. With some forethought and planning - which are never bad things anyway - there are few places I can't get to. That said, some places are just not easy at all... Yeovil. Clinging to the southeastern boundary of Somerset, and probably not more than forty miles from home. This little corner of my home county doesn't offer much in terms of attraction, and hasn't ever been much of a draw despite its official website proclaiming that its attractions could "fill several days of a holiday". Its probably been the same for much of the rest of the population over the years too - the road network doesn't facilitate easy journeys to that area, and the railway from Taunton was erased in the sweeping closures of the 1960s. Now it's either a painfully long swing around via Bristol and Bath on the train, or a multiple bus trip. Today, we had to head for Yeovil and I wasn't optimistic. After three solid weeks of torrential rain, the Somerset Levels are a glassy sea of water. As we arrived at Weston station, a further lashing of rain was being hurled at the metal roof. It didn't feel like a good sign. The aim was to mode-shift - first to Taunton by rail for speed and convenience, then to switch to bus to get into town and pick up a No.54 out to Yeovil. A long convoluted turn through central Somerset would follow, and we'd arrive in Yeovil just before the appointed hour of 10am. As we sheltered at Taunton station, it all felt tenuous and unlikely, and I began to get why people shuddered at my carless lifestyle. That said, they'd have been up just as early given traffic onto the M5, and wouldn't probably be much ahead of us right now. But of course they'd be warm, basking in the illusion of control and listening to....
Well, listening to Billy Joel if the coffee shop we stopped into was any guide. We sipped oddly acidic, weak beverages before heading back to the bus station and onto the bus which would take us to Yeovil via Langport, Somerton and Ilchester. Some of these towns were just names on a map, or timing points on the railway which no longer had stations. Having spent my early life poring over maps of Somerset, this was something of an adventure for me. We set off, and once we'd escaped the urban sprawl of Taunton and the motorway hugging Blackbrook business area, the true scale of the flooding became evident. The bus hoved into the middle of the carriageway to plough through churning lakes of uncertain depth which lay on the road. The fields around us were a silvery mirror of water, with distant church towers rising like lighthouses. I'd seen the Sedgemoor part of the levels like this of course, the tiny roads like causeways - but the lower levels were a broader, emptier sweep of land, and thus were breathtakingly strange to see like this.
The little towns we passed through were interesting and merited mental notes to come back. Langport saw us meet the road from Bridgwater not far from where the swollen River Parrett passed under the road. It was also our first encounter with the London to Taunton railway line which really ought to have stations in these growing, prosperous spots. We met it again at pretty Somerton, an ancient capital of the Kingdom of Wessex, all sandstone buildings and market town charm. Turning south we trailed the wide floodplain of the River Cary, denied an exit to the sea by the canalised King Sedgemoor Drain, it wreaked havoc here on the valley floor instead, spilling crazily into fields and moorland. Despite the stormy start, the day was shaping up to be bright and cold. The views across waterlogged fields stretched as far as the eye could see. Finally we crossed the mighty A303, swinging beneath us and aiming directly for Stonehenge and London, before curving through tiny Ilchester and into the gravity of Yeovil.
Not much had changed from my hazy memories of twenty-odd years back. The town is still approached by a series of roundabouts and a ring road which carves unpleasantly into the town itself, betraying the forlorn backs of shops and businesses to the visitor. Beyond that I didn't remember much - a family visit and one evening for a gig on Heavenly's 'Crap Towns' tour - hadn't left me with much material to work with. So arrival at The Borough, in the middle of a fine little street of shops was a pleasant surprise. St. John's church loomed, squat and yellow in the winter sun, and was surrounded by pleasant small stores and restaurants. The place bustled in a way I hadn't remembered. In fact, my memory was of racial disharmony - attacks on take-away owners - and of anti-social behaviour. I remember us standing in a small knot at the edge of that Heavenly gig, while the local youth went wild. Not to the music. Just because they did that all the time. It was hard to settle that with the first impression today. I headed to a recently opened branch of my favourite local coffee chain and settled in to eat, drink and read - the place thrummed with a pleasant energy and was never empty. I saw out a brief rainstorm and headed onto the High Street under a rainbow. The top of the hill echoed the first impression - good old buildings, used wisely by decent stores, with the ancient street layout defining the townscape. As I slogged down hill though, things changed. Firstly The Quedam.... My father and I would joke about this - our former local radio station, Orchard FM, would advertise this shopping centre four or more times every half-hour, with an absurdly optimistic recession-defying jingle. It was looking a little tired and betraying it's late-1980s heritage. The descending curve of a street parallel to the High Street was lined with a jumble of heritage bungalow storefronts. The haphazardness was carefully planned to resemble the shopping street this may once have been, the name appropriated from the town's Roman history. The Quedam was a sham - the side of the street which abutted the High Street was mainly a series of back entrances to the stores which had their main windows looking onto the established shopping thoroughfare. There were a fair number of empty units, and few folks around on a January Tuesday. At the end of The Quedam, there was a fork in the path - a turn onto the High Street to face a despairingly ugly 1970s block, with an impossibly large discount store at its foot - or a turn into Glover's Walk. This was an earlier experiment in shopping, and linked the town to it's bus station via a brief, tiled precinct. A favourite flourish of developers thirty or so years back. Now it was a gloomy, empty walkway lined by sorry looking market stalls. A promising but beleaguered craft store solidered on, and near the Bus Station The Gorge cafe was prosperous despite it's dated red vinyl and gloomy dark wood interior.
I retraced my steps to The Borough, marvelling at how many strata of retail developments could co-exist in such a small town. Here, where the historic town market would have assembled, it was hard to envisage how a walk down the hill would become more and more depressing. I sipped coffee, relaxed and waited by the 'phone for my escape route from the town. The bus, as it left, took us a circuit of the ring road, the service lanes to the shopping centres carving off into the knot of the Town Centre, the sun glinting off the roof of the pretty church. Yeovil is a part-charming, part-horrifying mess of a town. In some ways my former conceptions were challenged, and in others confirmed. It's hard to imagine a reason to come back here for almost the same amount of time - despite the curiosity of bus routes deeper into the hinterland and the interest of it's railway heritage. Well over ten years ago, I restarted my long campaign to travel every possible railway line with an attempt to avoid Yeovil entirely, an opportunity which will be repeated soon when the lines locally are closed. It's strange how I've always felt this way about the place, despite the changes I saw today.
Posted in Travel on Sunday 15th September 2013 at 9:39pm
---
Wedged into a tiny train, far too small for the surprising amount of Sunday travellers, it's easy to be cynical about travelling around the UK by rail. Of course, I've spent a fair portion of my life doing so - but on the series of revisits in company which are now taking place, a little comfort seems far more important. I'm getting older, and wiser perhaps - and I'm very aware of the value of the little disposable income we have just now too. But that's not meant to detract in any way from an almost perfect weekend spent in my home county. Indeed the train up here yesterday was smooth, quick, relatively quiet and direct. Arrival at Foregate Street station recalled earlier visits for me - indeed one of my earliest trips in the 90s was a complicated set of connections to enable me to get here, then to head for Birmingham via the less travelled road to Snow Hill which had just re-opened. That set off a series of track collecting activities which brought together my love of geography and railways in very dangerous ways.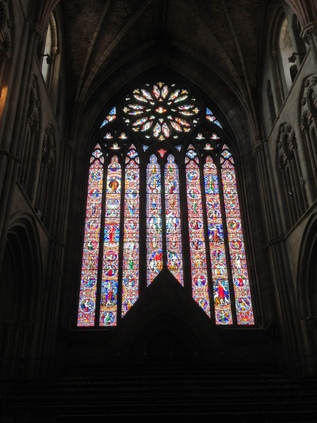 Alighting and heading down to the bustling streets is always a bit of a strange surprise. Railway stations are so often not in city centres, so to be plunged directly into one is both pleasant and strange. We soon met our friends and wandered the city. For me it was recalling how much or indeed, how little had changed since I was last here. For others it was a more novel experience. We stopped into a small pub with sloping timbers and erratic floors and found great food and even better beer. A rainstorm passed over, and we headed out into the city again, working our way towards the impressive Cathedral. It was a good while since I'd been here, and it was a delight to experience it again in newly appreciative company. We spent a good while examining the memorials, marvelling at the statuary and paying respects to Elgar, linked strongly here by music and history - a name introduced to me early at school not far away, but still not dimmed by over-familiarity like some early influences. We decided to walk out to the suburbs to our bed for the night. Out of the Cathedral precinct and down stairs, noting the historic record of flood levels as the stone walls developed a green coating of river weeds. We emerged on a broad lawn beside the Severn - the weather had brightened and the youngsters of Worcester were lounging happily. We set off along the river path - and I felt suddenly and strangely content to be beside water again. After a short walk, not entirely easy with a rolling case in tow, we arrived at the junction of the Worcester and Birmingham Canal with the River. A flight of wide-beam locks raised the water level to Diglis Basin - houseboats and barges moored alongside old industrial buildings, the sun shine now picking out the brass and bright painted designs. We slowed and entered a canalside pub, enjoying the fading evening in good company.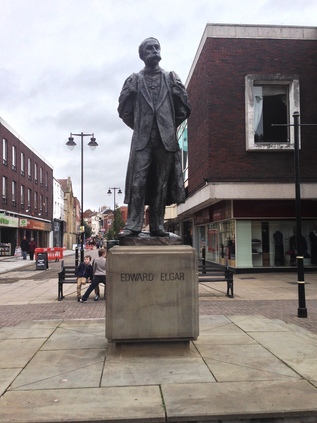 Today was a gloomier, overcast proposition but we set about finding Elgar's statue - and unexpectedly a plaque honouring his enthusiasm for cycling. Next we headed for good coffee and watched the world go by. Worcester is one of those cities which manages to stay resolutely bustling on a Sunday - not unlike Gloucester where I would often find myself heading in the winter. The city centre is blighted by unwise development and curiously bad modern buildings, but enough remains to make it a charming and resolutely English part of the world. Our travels just now are often swiftly arranged and based around limited resources but slowly we are working our way to the spots that I've loved - and some indeed that I've never visited. Long may our wandering continue...
Posted in Travel on Wednesday 7th August 2013 at 12:17pm
---
Given the competing demands of work, weddings and reorganising life here, it was inevitable that our travel schedule would get a little lighter over the course of this summer. At the end of what has seemed like a month-long heatwave too, motivation has been low and the temptation has been to mostly sit out the hot weather and the uncomfortable humidity which always accompanies it here. But this weekend was a little different because once again we had some visitors from the United States - and with three days set aside to help them explore the West of England, we to were going to get to wander a little more than usual too. Our trip started with an evening train to Bristol and a brief orientation walk, followed by dinner. We'd tried to get a table on the Glass Boat, but ended up further along Welsh Back at a strange, busy and rather disappointing eatery which was also a boat - but with a huge attached building in which we were seated. As it was Saturday evening, with the rail service curtailed comparatively early, we left the Americans to sleep off their trip and catch up on some hours in a real hotel bed having spent much of the trip so far in Youth Hostels.
Day two of our excursions began with a bus journey up to Clifton for Sunday morning coffee. It was evident that the rest of Bristol had decided to do the very same thing, and it was hard to get a seat in the tiny branch of Coffee #1. We finally managed it however, and it was as ever very good coffee. Suitably fortified we headed down through the village towards the Suspension Bridge, on the way picking up pictures with a couple of Grommits which littered the route. Obligatory pictures obtained - and despite some reluctance from our youngest visitor to set foot on Brunel's great project - we headed back into the village, and onto a bus bound for Temple Meads. The next destination was Bath - a bit of a tourist magnet perhaps, and a magnet for us too in recent times. The weather wasn't being kind, but with a few errands to run first off we managed to skip between the showers mostly. It was fun to let our newest British resident take the lead here - showing her growing knowledge of the city and its geography. We covered the usual territory - into the city, around the Abbey and to Pulteney Bridge. A lunch stop, then back to the Roman Baths. It's one of those strange omissions that only a local makes that means I'd never actually been inside before. We signed up for season tickets just in case we brought future visitors here, and descended into the building, well below street level. As we explored my childhood studies of the Roman's flooded back - hypocausts and bathing routines, temples and deities. I was really impressed with the way the baths were organised, and the journey which built up to the main event - the large hot bath. Glimpses of the bath could be seen, tantalisingly close, but then the trail would lead away again. For my money, into more interesting territory too - as the springs and underground watercourses again drew my attention much more strongly than the tourist attraction. Having surfaced, and braved tasting a little of the oddly warm, sulphurous and mineral rich water, I was convinced that perhaps the Local Authority was a suitable custodian here after all. We finished our day in the city somewhere we'd wanted to go for a while - Graze. Fine Bath Ales, good food, and "Oliver Cromwell" passing unexpectedly leading a steam special back to Bristol. A fine day.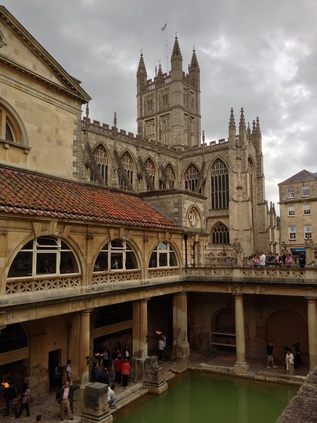 Monday dawned with dramatic clouds, and we retraced our steps to Bristol to meet the travellers at Temple Meads. After much needed coffee we boarded a busy 376 bus heading out to Wells. After escaping the rather leafy southwestern suburbs of the city - an area I rarely travel through - we climbed into the Mendips. Little villages, evidence of former railways, turns, dips and climbs took the bus onwards. Suddenly, we were descending - the misty, wide plain of the Somerset Levels spread out before us with the isolated and omnious tump of Glastonbury Tor ahead. We arrived in the centre of Wells and turned a corner to face the cathedral - as impressive as ever, perhaps even more so with the vista appearing so suddenly. Our lodgings for the night were at The Swan nearby - a beautiful old hotel nestled in the very heart of the tiny city. Once checked in, we set out for good coffee and then a trip out to Glastonbury. Old haunts for us, but good to see them with new people in tow - the Abbey was a backdrop for a photo session, and then we spent way too long drinking cider and marvelling at the awful service in the Lazy Gecko - but as ever the food was wonderful. As the weather closed in for a summery shower, we headed back to Wells and explored a little more on the way back to the hotel. Later, we got to see the Cathedral illuminated - a rather special sight indeed.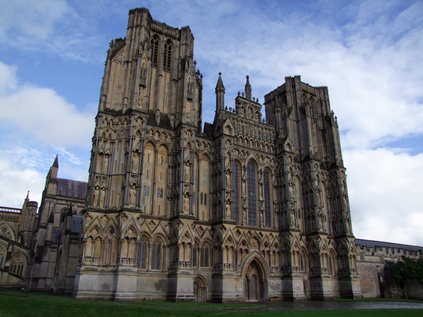 After a good breakfast the next morning, we reversed our bus journey into Bristol. The plan had been to hire a car, but this was thrown into some doubt by the slapdash nature of the rental company. However, on arriving at Temple Meads things had been sorted out, and we headed into the bowels of St.Phillip's Marsh to find the depot. A complicated transaction later and we were heading out of town on the M32, with some refreshingly good driving going on! Again we were mostly repeating our steps, but with an excited group of Americans along for the ride it was good to be back out and travelling. Leaving the motorway we headed south across Salisbury plain, and towards Stonehenge once again. It's still a wonderful sight to see it rise from the rolling hills - and it was just as strange to be close to the stones again. This time we were a little earlier, so the site was busier overall, but that also meant time to head back via Avebury where the sheer size of the circles, and the way the village is nestled among them means it's much harder to prevent access to the monoliths.
And so our whistle stop tour of the South West ended in the restaurant we'd originally hoped to visit - The Glass Boat. Good food, good company and a successful visit overall. These visits over the past few months have reawakened a sense of belonging to this part of the world which I've not had since I was a very young boy - when a trip to Somerset seemed like an adventure, and when the curious names on roadsigns seemed impossible distant. I've travelled a lot since then, but the magic has never faded. We left our three happy guests heading for their room sleepily, thence to London for a final couple of days of exploring. It's been fantastic folks - we'll head your way next time!