Posted in SHOFT on Sunday 8th May 2011 at 11:05pm
---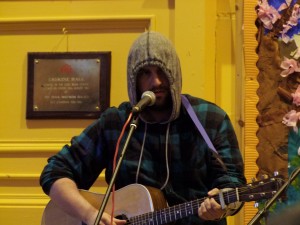 I was beginning to feel like I was on a proper holiday. Sleeping uncommonly well, getting up late, lounging around drinking coffee and actually reading and writing are luxuries at the best of times, but to have another day of fantastic music to listen to was of course the clincher. I set out for my morning wander around Anstruther, and found plenty of others doing the same - Homegamers and locals alike seemed keen to stop and chat this morning. Maybe it's because the sun had managed a weak but fairly persistent appearance? In any case, having avoided being too desperately unhealthy so far this weekend, I decided that it was compulsory to visit the Anstruther Fish Bar to find out what the fuss was about. The food was very good indeed, and just like many things which will suffer in comparison after this weekend - it'll be hard to face normal fish and chips again. In fact, in conversation this morning a couple of us had shared the worry that adjusting back to any sort real life after this would be a tricky proposition. I banished these thoughts - after all, I'm a rational creature aren't I? It's just music. Isn't it?
I headed to the Erskine Hall early, because it was clearly going to be a busy session given the acts performing this afternoon. I wasn't wrong and the hall, decked out in children's art projects hung on walls painted a queasy yellow, was soon packed for The Pictish Trail. Johnny entered with his hood pulled tightly around his face, nursing the effects of the previous evening, and leaving the small children in the audience in no doubt about the consequences of making noise. Naturally, almost on cue a little one did just that, forming an unlikely comedy duo with Johnny to kick off the set. Unsurprisingly, from the outset The Pictish Trail had the appreciative Homegame audience hooked. The appreciation shown was as much for his efforts in leading the organisation of the event and spending days running around in a blind panic making final preparations - but Johnny wasn't about to let us forget that he can sing and play wonderfully. What is perhaps most remarkable is how effortless he makes it look - just closing his eyes, opening his mouth and letting that high, clear voice soar - despite the after-effects of sugary cider and sleeplessness. This afternoon was all about singer-songwriters, and this short but accomplished set placed The Pictish Trail chief among them today. Rachel Sermanni followed, an unenviable slot in some ways as the audience shuffled around to get to the various competing sessions today. Having heard snippets of Rachel singing in various sessions and radio spots, I was intrigued to see her perform. Most remarkable though in this age of affected cool among younger musicians, was her disarming frankness when talking about her songs and their inspiration. But then she would start to sing, and none of that stuff mattered. Her frankly amazing Highland voice dipping low then soaring high over the hall. I took a quick look around the audience to gauge opinion and found them sitting rapt, staring at Rachel in disbelief. The recordings I'd heard hadn't quite prepared me for hearing her sing live, and all of those sometimes a bit fawning superlatives heaped on her in the press seemed like perhaps they might be appropriate after all. When the set finished, with Rachel clearly touched and humbled by a fantastic reception, there was a collective sigh of approval. Definitely one of the stars of the weekend.
For a number of reasons, this afternoon's session was one of my most anticipated of the entire weekend, not least because of Iona Marshall. Her recent split 10" on De-Fence Records was a quietly released gem, which seemed to slip out to little fanfare except some enthusiastic backing from Glasgow PodcArt. Iona took the stage in a tangle of leads and equipment, but manage to weave some remarkable tunes around them. Perhaps the most overtly 'Scottish' sounding of the acts today with a strong presence of the sea in many of the songs, her outwardly simple folk tunes were transported by clever use of loops, beats and clever technical tricks. As someone who has insufficient co-ordination to walk and think simultaneously sometimes, I was left dazzled by the way Iona could manipulate her voice to produce the likes of the stunning "Shtoom". Martin John Henry was a much simpler proposition - the ex-De Rosa member and his guitar alone, and blinking out over a near-full hall. He admitted to nerves so bad he couldn't look at us, but this wasn't borne out in his music. Just like his former band, this was heart-rending stuff. Simple songs, sung with passion and commitment. Someone a few seats away whispered "I'm crying! Why am I crying?" - and I'm not sure if it was the strange Homegame atmosphere, Martin's quiet but powerful voice or the aching and transporting lyrics - particularly on the sublime "New Lanark" - but it was one of those moments. There had been a lot of them today already. I wasn't sure how many more I could take. But of course, I'd have to suffer more because next up were King Creosote and Jon Hopkins. Having produced one of the finest records of the year barely weeks into 2011, this was a much anticipated performance - and as we scraped and squeaked our chairs forward to allow more people to crush into the Erskine Hall, I was glad I'd staked my spot early. Not just because of this - but because of the amazing range of talent which had been seen here today. So, the slightly terrified looking Jon Hopkins took his spot stage-left behind a harmonium, and Kenny slipped from behind the sound desk to the stage with his guitar. Low key and simple it might be - but as they quietly began "John Taylor's Month Away" the audience were spellbound. I didn't even dare whisper my aging and overused gag about the song referring to the Duran Duran bassist visiting the Priory Clinic. The duo worked their way through "Diamond Mine", claiming to be unrehearsed but reading each others cues near perfectly. The highlight for me though was "Leslie", Kenny donning his accordion with the warning "two wind instruments together, could be interesting". It was, for all the right reasons. As the audience queued to leave after an afternoon of having their heartstrings well and truly tugged at, their was the strange sight of grown, bearded and serious looking men trying to compose themselves in the late-afternoon sunshine. I had my own preoccupations too - like how to get the copy of King Creosote's new vinyl-only album back to England in one piece on the train. It seemed like such a good idea at the time...
All this distracting music left me with a quick dash back to my digs before heading out to Anstruther Town Hall once again. It seems everyone else was a little behind too, as the hall was a little slow to fill as people drifted back from some pretty special afternoon sessions. I relaxed with a pint, wandered around the hall and chatted before taking my treasured spot near the front for This Is The Kit. I'm ashamed to say that despite being based relatively locally to me, I've never caught Kate Stables performing live before. With a band assembled from bits of Fránçois & The Atlas Mountains and Rozi Plain, she skipped through a short set of fairly upbeat numbers drawn from her two albums to date. Again, this performance will drive me back to listen again to records I've neglected with fresh ears, which is never a bad thing. During this set Josh T. Pearson arrived very late indeed, and to the palpable relief of Johnny Lynch who I thought may hug him at one point. However, he's perhaps not the hugging type I thought, as his towering, shadowy presence loomed large behind me at one point while he peered out from backstage to catch the end of This Is The Kit's set. Thus, taking to the stage with no soundcheck due to some complications around his travel from Dublin, Pearson was in no mood for trifling. He stalked the stage, setting things up to his liking - the soundmen showing incredible patience as he tweaked and twiddled with things. However finally he advanced to the front of the stage and began to strum furiously at his guitar. After a little while, this curious noise resolved into "Woman, When I Raise Hell", and that sonorous pain-tinged voice boomed over the guitar notes, by turns delicate and jarring. Given that few of the songs on his recent "Last of the Country Gentlemen" record clock in much below seven minutes, there were some anxious moments around the timing - but surprisingly as he headed for his last song, Pearson found time to joke with the audience. We laughed, with a strange nervous relief rather than genuine amusement. This man has a truly dominant stage presence - and while it was perhaps the only time in the entire weekend that the sense of commonality between performer and audience disappeared, it was an amazing performance. So, with the atmosphere still heavy with the last lingering notes of Josh T. Pearson's final marathon piece, Randolph's Leap literally leapt onto the stage. It was always going to be incredibly hard to follow the previous act, but they managed it by force of sheer lunacy and exuberance. A rapid-fire cascade of songs underpinned by stomping drums, with flickers of violin and some seriously odd sound effects followed. Soon to be released "Counting Sheep" and "Deep Blue Sea" featured alongside filled-out band versions of older favourites like "Crisps" and "Squeamish". I've loved Randolph's Leap for a long time, and to see them in this setting, with an audience happy to dance like idiots to every note they played was a pretty special way to finally see them perform live. But all too soon it was over and we were only one act away from the end of the evening - but that act was Slow Club. It seems like a long time since their "Yeah, So" album stunned me into silence after happening across the band by chance in Crewe of all places, and I've managed to miss them consistently ever since. Tonight, there was plenty of evidence of what they've been up to all this time, with a whole host of new songs aired. These songs were somehow a little darker, a lot louder and Rebecca seemed to have morphed into a Janis Joplin like character, her always flexible voice focused on belting out these new songs alongside the more familiar older material. Suddenly though, something really special was happening. The guitars were unplugged and Charles and Rebecca were at the edge of the stage, singing the rather lovely "Christmas TV" at the top of their voices, accompanied by the audience. It was one of those Homegame moments again.
As the last notes faded, Johnny Lynch leapt back on to the stage urging us to "Flee, Flee for the night of our lives...". I did, to Legends in time to catch a short but storming set from FOUND performing much of their recent "Factorycraft" album, with some rarities thrown in for good measure. The Legends audience was a jubilant, feisty and roaringly drunk one, but FOUND ended things on a high for me. My lasting memory of the set will be seeing Johnny Lynch being carried aloft around Legends, surfing a crowd who wouldn't dare drop him after what he and his team of helpers had pulled off this weekend. Earlier on today, Rachel Sermanni said something which struck me enough to jot it down straight away..."This is how it should always be. All the time. Everywhere.". I think that's probably the best summation of things, better than I've managed in reams of wittering about Homegame. There had been a lot of talk about how Homegame affects people, how tough it is to get back to reality after this much fun, indeed this much alcohol. I'd doubted it would affect me, because I'm a fairly thick-skinned old character. But I knew it would - because I knew this would be one of the best weekends I was ever going to have, plain and simple.

FOUND - I'll Wake With A Seismic Head No More