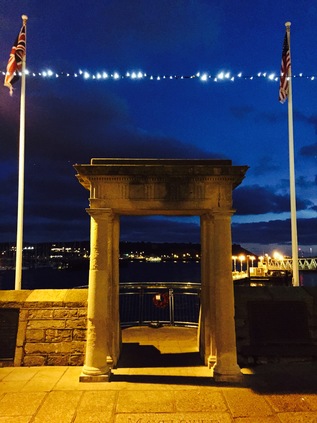 Posted in Travel on Wednesday 31st December 2014 at 10:11pm
---
It's been a long-standing tradition here to escape between Christmas and New Year. There's something about getting back out into the world after a period of staying indoors, eating and drinking which is both refreshing and cathartic. We'd thought about various trips, but as it had been a pretty hectic run up to Christmas, and with the changes around jobs and finances here it wasn't really clear if we'd manage to get away as we'd hoped. Eventually, things resolved themselves and I found a reasonably priced night at a hotel in Plymouth which I'd stayed at once for a First Great Western Customer Panel meeting. It's quite a while since I'd been to Plymouth - aside, that is from passing through on route to Cornwall or very occasionally changing trains here on jaunts around the South West. Since my last visit I'd read a lot more about the Abercrombie planned City Centre and I was keen to visit again. Also, with a tourist's eye I realised that I'd never quite made it to Plymouth Hoe or The Barbican. So, we set off around mid-day on a series of surprisingly quiet trains and in remarkably good weather. A swift change at Taunton, then a dash along the sea wall at Dawlish before cresting the South Devon Banks. It was very good to be back on the rails again.
We arrived and headed straight for the hotel to check-in and deposit our bags. At the head of the long boulevard of Armada Way, our hotel was a strange, concrete-clad example of the strangely dated architecture of the new city centre here. I'd recalled it as a drab, grey corner of the city - but once inside it was warm and clean, if a little dated. Armada Way too was looking a little better - a mixture of some very smart landscaping and some very effective Christmas decorations actually had it looking very bright and welcoming, so we headed out into the city as dusk fell. The long stretches of modernist blocks seemed softened by the silver-grey evening light and it was difficult not to feel comfortable here. Something of a contrast to previous visits. We pressed on through the impromptu fairground, still whirling and blasting ill-advised pop hits, and into the Civic Zone. The towering and ill-fitting Civic Centre, topped by a breathtaking roof sat across from the almost caricatured period-piece law courts and granite-blasted Guildhall. It is an uneasy mix - and not how the plan was meant to turn out of course, but it remains an interesting footnote in British architectural history - and despite being seen often as "how not to do things" all three buildings remain in use today.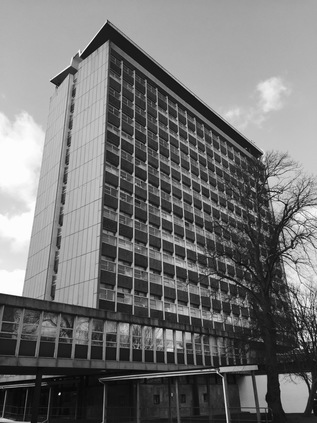 We turned aside into the backstreets between the City Centre and the Hoe and soon stumbled across the Merchant's House. An entirely different proposition which signifies the 'problem with Plymouth'. This house is first recorded as being extant in 1601, and it still sits top-heavy and ramshackle just feet from a 1950s Methodist church, hard against a modern building. While Plymouth has many such historic buildings, they're mostly crammed into the tumbling, narrow rookery of the Barbican. This strip of no-man's-land where modern and ancient meet feels difficult and unresolved. Local Authority housing blocks front the Hoe, and a crumbling row of shops face them. It's a stand-off. Happily, we found our way through and into the Barbican. Beside the Custom House in a little pub we regrouped with good food and local ale. In this cosy haunt, alongside the water, we knew we'd come to the right place. As if to cement this, as we left content and warm, we skirted the wharf and came across the Mayflower Steps. It's a remarkable spot for anyone - to contemplate the voyage which began from here, what drove it and what came of it is to contemplate the beginning of modern history in many ways. For us though, it's considerably more significant. Here the Westcountry looks West, and it echoes our own story.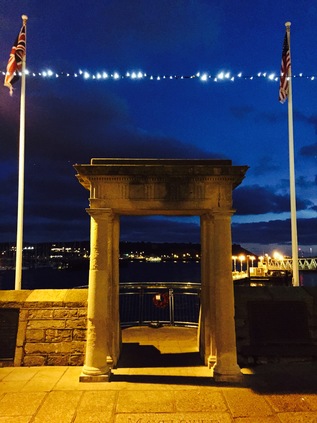 After a leisurely dinner and a comfortable night, we set out to explore further. This time we crossed onto the Hoe, ascending to view the vast War Memorial which faces down the city defiantly, aligned on the long axis of Armada Way and elevated. Beyond this, the relocated Eddystone Lighthouse is a reminder of the naval pedigree of the city. As we crested the rise here, the vast sweep of the natural harbour at the mouth of the Tamar was evident. A silvery sky reflected on the water, the near-distance shrouded in rainclouds. It was an atmospheric and stirring view which somehow made complete sense of the city and it's curious alignment. We lingered for awhile before moving off towards the Royal Citadel, skirting it's forbidding stone walls along the waterfront to find our way back to The Barbican.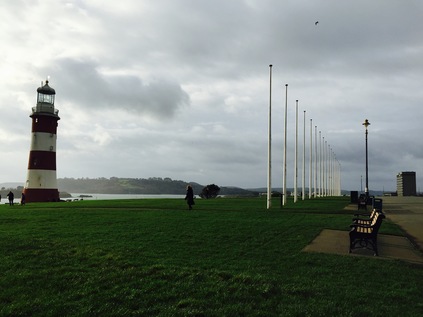 We set off home in the dark, a cosy train ride north to close our year. The train was quiet and warm, and I reflected on our travels. We hadn't managed to cover nearly the ground we'd hoped this year - but it looked like we could perhaps redress that a little now. As it was though, this trip was a good indication of how things should be - with places seen afresh and explored anew. It was a fitting way to end a tough but rewarding year, and a statement of intent for the next one.