Posted in SHOFT on Tuesday 15th May 2012 at 8:05am
---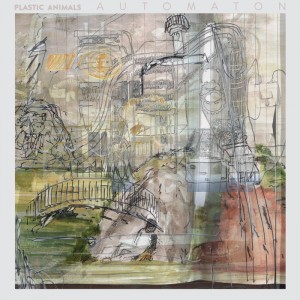 It's always tempting in a reductionist view of our complex world, to imagine there are rules - and that at some point in the past Edinburgh and Glasgow did a deal. Glasgow got the guitar bands, the downbeat Americana and the indie-pop while Edinburgh settled for the alt-folk or whatever absurd name is being applied this week - and of course that festival. Of course it didn't happen quite as cleanly as this and I suspect there was not really any Faustian pact between Provosts, but there have certainly been remarkably few good guitar bands emerging from Edinburgh in recent times. However last summer the debut EP by Plastic Animals challenged the west coast supremacy, by coupling delicate harmonies and hazy guitars in a strange collision of noise, pop and melody. I remarked at the time that it was the sort of record which harked back to a bygone age of guitar music, at the same time as sounding incredibly fresh. Well, they're back - and I'm happy to report that this second EP by Plastic Animals retains all of the texture and complexity of the first release. But there is something else here - in short, it sounds haunted. Haunted - both in the sense of the gloom which has shifted from being an undercurrent to taking a greater part in the atmosphere, and in the wash of ghostly, sometimes distant elements which make up these five, rather wonderful songs.
This five track EP opens with the distant, sparse "Yellowcraig", apparently and appropriately named for a stretch of unspoiled, windswept coastline on the Firth of Forth, and which couples the familiar nagging, hollow guitar jangle from the first EP to a distant, disembodied vocal. It's all willed back into line via a rumbling bass line which prevents everything from unravelling into the ether, and gives it an oddly sinister edge. The strangeness of the atmosphere is ramped up via weird chirps of distorted tape noise which herald a sudden but sure-footed gear change into the closing section of the song, built around a satisfyingly crunchy guitar with melodies layered over noise to spectacular effect. There is more haunting themed fun with "Ghosts" - musically more upbeat but equally hollow-eyed and strung out lyrically. Focused on a chiming guitar line and half-whispered vocals which unfurl a tale of being unable to shake off a memory. Mid-song, a shimmery, shoegazey note familiar from the first EP is added to the insistent rhythm section as guitars lines tangle and overlay to form a sonically complex mix. A down-shift in tempo heralds an utterly beautiful mess of noise and feedback which ebbs away leaving just an acoustic guitar. It's usually around this point in a review that I realise my efforts to describe music like this are largely pointless - it's just utterly lovely and you should listen to this free download at the earliest opportunity.
If there is a Plastic Animals manifesto, it's summed up by a post on their Tumblr - simply a picture of Bilinda Butcher and the word "YES". This influence is perhaps most evident on the sprawling, distorted "Sundowning". This is a hazy spectacle, sounding blissed out but bittersweet. A gorgeous drone of guitars and vocals which erupts into a sudden, earsplitting squall of noise with what sounds like an overdriven organ drone to my untrained ear, adding an oddly jaunty counterpoint to the vocals which resignedly accept "guess we'll all be dead before the summer". Unexpectedly though a tempo change propels the song into a joyous, anthemic closing section. There are various points on this EP when any sense of a repetitive formula to Plastic Animals' muse is shattered by these impeccably performed shifts of time signature, reliant on the self-assured rhythm section which underpins these hazy and sometimes seemingly chaotic bursts of energy. But the absolute highlight of the EP for me is "Pirate DVDs", kicking off as shamelessly straightforwardly sludgy garage rock with stuttering, urgent drums and distorted vocals. I'd be happy with this continuing, but it all unexpectedly gives way to sweeps of undulating surf guitar and screeds of static. There are more changes of pace and tone in a single song here than in entire albums by some bands, and it's Plastic Animals ability to perform these shifts with jawdropping suddenness but still keep the sense of a song which is one of their most remarkable skills. Whilst there are ideas aplenty here, it never ever feels like stray bits of writing bolted together. As the song winds back into life after a soporific lull its hard not to get swept along with the feedback crashing and echoing around. This track clocks in at an eventful six and a half minutes, but surprisingly commands attention all the way. Finally, the sepulchral "Slow Song" returns to the spectral theme with it's woozy, clamourous organ and distant vocals. There are hints of Grandaddy in the delivery here - and it feels achingly sad, hopeless even. But there is a note of defiance in the lyrics, and something comfortingly narcotic about the droning, fading glimmer of a tune.
There are some bands I find myself mentally willing to succeed, despite realising with some embarassment that I know relatively little about Plastic Animals beyond these two EPs. In a week when there is a huge amount of attention focused on Scottish Music and in particular the list of remarkable albums from the last year, its easy to understate the importance of the EP as a tool for a band to lay out an agenda. Across the five expansive, often lengthy tracks here Plastic Animals accomplish far more than an album's worth of ideas and sounds, once again pinning it all together via a sense of conscious design and thoughtful construction. This is despite the sense that the spiralling, dizzy sounds here are sometimes wayward, threatening to burst free and overwhelm the songs in static and noise. In the confines of a not-very-widely-read blog, it's remarkable easy to fall into the trap of trotting off comparisons and analogues for bands. However, Plastic Animals manage the trick of incorporating back-references to some of the finest elements of guitar music from the past three decades, but remaining resolutely of their own time and place.

Plastic Animals - Sundowning
The "Automaton EP" will be available on June 2nd from Bandcamp. "Ghost" is available now as a free download, and you can watch the video here. By way of launch gigs for the EP, Plastic Animals will play at Henry's Cellar Bar in Edinburgh on 3rd June and The Old Hairdressers in Glasgow on 8th June.

Posted in SHOFT on Sunday 13th May 2012 at 5:05pm
---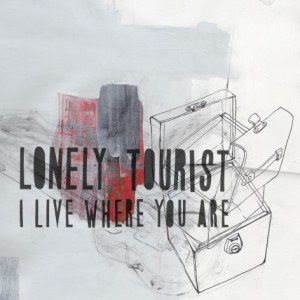 There is something compelling but dangerous about holding a mirror up to your life. Most of us stumble around weaving a fairly comprehensive web of self-deception which gets us through the week, stops us losing our minds and generally makes the everyday bits of life bearable. But imagine a record which exposes all of those awkward, hidden moments and makes them the stuff of song? Holding up a mirror and sharing the reflection is in some ways exactly what Lonely Tourist does. On this, his second album of self-contained mini-epics of realism and downbeat humour, Paul Tierney has developed the scratchy acoustic guitar and vocals sound he has deployed successfully in the past into a surprisingly full, often almost lush pop sound, which carries his lyrics of examination and resignation to new pastures. It's easy to think this kind of thing would get tired, and you'd find yourself telling Tierney to lighten-up, but it's done with such genuine pathos and good humour that you find yourself carried along with him, a strangely unsuspecting hero in these often self-deprecating songs.
The album opens with the spirited, twanging country-pop of it's title track, which I wrote about here recently. It signals something of a shift in Tierney's palette on this second album as Lonely Tourist which allows the full band sound to dominate a little more. There's certainly more variation in tone and texture this time around, and this has allowed the subject matter and lyrical preoccupations of these new songs to broaden too. However, they never stray far from the Lonely Tourist canon, and there is comforting familiarity in the themes of "A Lonely Tourist" which concerns itself with encroaching middle age and resentment for the opportunities and irresponsibilities of the young. Reflecting on a "bowl of fruit/bought and left" this lands at just the right time for me and I'm able to share in some of Tierney's frustration. The song builds, growing with his indignation before it suddenly slows to a waltz and he reasons "I can't go back/i'm a lonely tourist now". It's of course equally dangerous to assume that this is all completely autobiographical, but those little touches of local knowledge, and the focus on familiar places evident in Lonely Tourist's songs is always a source of delight to me. On "Rattling Around" the title refers back to "a lager can on the top deck of a 41", the revised route of this old stalwart bus now plying its trade between Avonmouth and Old Market. Not since Sarah Records featured catalogue number appropriate routes on their 7" labels has the local transport network found a musical outlet. But significantly, it's a little bit of Bristol registering in the songs of this expat-Glaswegian songwriter who elsewhere professes not to miss his city. But stylistically and lyrically it still looms large over "I Live Where You Are". This striving for recognition, becoming part of the "street furniture of this town" and this battle against indifference is echoed by the song's ending as it drifts away into bar chatter and clinking glasses. It's a fate many a musician will have experienced, and I sense that perhaps eulogising this in song is Lonely Tourists's way of dealing with it.
Shuddering in with a gnarled, fuzzy guitar line and reverb washed vocals "Jesus, The Don and The Dee" is a bitter break-up song, where once again travel and distance loom large in Tierney's story telling. Staged in the West End of Glasgow and involving a desertion to Aberdeen, metallic guitars kick this along at a steady pace towards a killer chorus. Swooning vocals and knots of agitated guitar provide a wonderfully bitter, resigned tone to this gem of a song which just won't shift itself from my head at present. Also memorable, I recall "The Greatest Ever Lines" from the recent set at The ABC in Glasgow. Played a little slower here, and with surprising tenderness given the subject matter, this is a dramatized first person take on plagiarism. Uncovered as our hero crashes into success and is deified as "the new Neil young", there is a paranoid dreamlike quality to this curious tale, but in another sense it's just another opportunity for Tierney to add to the unnecessary apologia for his craft as he takes on his own "fake sincerity". There's something about this lyric, and indeed the Lonely Tourist ethic which summons up for me B.S.Johnson's poem "The Short Fear" where observing that everything's already been said by someone somewhere, "The short fear is that even saying it in my own way is equally pointless". It's not the first time that Johnson and Lonely Tourist have aligned in my mind either.
"(they are on to you)" is a curious thing - a fragment which drifts in and out of the middle of the record. A bass-heavy, circular melody which reels around a scratchy electric guitar provides room for a regret tinged vocal delivery. It wheels prettily, with a shimmer of backing vocals, tangles of bright guitar and subtle beats. The lyric, a collection of observations about escape which unusually don't have a connecting narrative, slips away and then the whole thing is gone, fading into silence. For his next trick Lonely Tourist channels the spirit of George Harrison, and in the plaintively echoing vocals on "Oh My Father" he manages to create a maudlin reflection on family life. The drift of guitars and a classic pop melody allows Tierney's voice more space to reach notes his more urgently delivered songs just don't. The tale here hints at domestic strife, regret at missed opportunities, and a wish for final reconciliations. This part of the album hinges on a trio of more traditional Lonely Tourist songs where things get a little gloomier perhaps, and the poor guy gives himself a hell of a battering. On "Sick of This Winter" it's the Glasgow weather which doubles as the villain. Exploring the idea of being a stranger in your home town, Tierney resolves that the trick is in never looking back, and this song explores the merits of drifting and wasting time alongside upping sticks and moving away. It's delivered in the form of an urgent, up tempo stomping pop song which in common with the other upbeat pieces here, is incredibly infectious. Next up, opening with slurred, sampled vocals and sonorous piano chords "The Last Glass" tackles excess and willpower through the lens of a New Year's Eve promise. The stirring, organ driven chorus has something of that resolve and a sense of striving for change which hogmanay brings, but there's an unhealthy dose of fatalism in there too with the observation that "it's four deep at the bar/that's six feet down". Finally "Found Out" takes Lonely Tourist directly back to his roots with an urgently strummed, scratched out dose of bitter self-examination. It's a one-man character self-assassination which finds his own weak points, and once he has declared that he is found wanting as man and musician, he proceeds to stick the verbal boot in. Ultimately the message is that everyone will disappoint you - not least yourself - as he muses that "I wouldn't trust me". But "Found Out" hints at a redemptive character in the background keeping him on the straight and narrow. If these songs are snippers of autobiography, then for his own sake I hope there is just that.
But things aren't quite done yet - and the album comes to a close with the unlikely soundscape of "Viking Jazz" - essentially a rumbling, full-bodied post-rock anthem which turns expectations on their heads once again. Sampled voices drift around the mix, while a nagging bass melody urges the piece towards an explosion of guitars and static. This squarely challenges the idea which has been built over the course of this and his last album - namely that Lonely Tourist is just a mild-mannered, darkly self-deprecating guy with a guitar - and makes us reconsider this in terms of what "I Live Where You Are" perhaps really is: an album of wonderfully executed, classic pop songs with thoughtful if sometimes pithy and self-immolatory lyrical preoccupations. The simple fact that this is all done with grace, quick wit and ready humour prevents a descent into uneasy voyeurism or tiresomeness. While the trials and tribulations of going it alone in the cruel jungle of the music business don't perhaps loom quite as large over this second collection of Lonely Tourist songs, this time the process is turned inside out and the craft of the songwriter is exposed. It's still strangely compelling stuff.

Lonely Tourist - Jesus, The Don and The Dee
Lonely Tourist will launch "I Live Where You Are" at the Stag & Hounds in Bristol on 25th May. The album will be available from 28th May on CD or as a download from various sites, including Bandcamp.

Posted in SHOFT on Tuesday 8th May 2012 at 11:05pm
---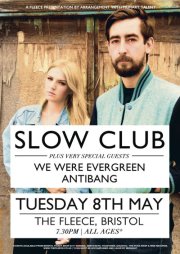 It was strange wandering around Bristol this evening on my way to The Fleece. The first day back after a Bank Holiday weekend is always a resentment-filled, depressing occasion and watching the harassed commuters stumbling along, eyes fixed down on the slick pavements didn't fill me with confidence for how this evening might pan out. Wet Tuesday evenings in Bristol aren't known for producing big audiences, and with the local crowd still coming down from the Simple Things festival at the weekend, I was worried it would be a small bunch of us turning out tonight. In the event, I needn't have worried - and this is perhaps testament to just how far tonight's headliners Slow Club have progressed in reaching new ears over the past year or so. However, once again The Fleece's odd talent for picking some incongruous support acts made for a curiously uneven evening of entertainment. Arriving late from what seems to have been a taxing journey from Leeds, Antibang appear to be taking the frustration out on the odd mixture of instruments up on the stage. They trade in a curious - and not always wholly successful - mixture of genuinely enthusiastic, raucously silly pop and deliberately off-the-wall moments of challenge. The band centres on their shouting, ranting vocalist/drummer hybrid, who gestures, moans and howls his way through the cacophony. He is supported by a second drummer, a guitarist in a cape and silver lycra leggings, and perhaps the lynch-pin of the band in the operator of their burbling, warped synthesiser sounds who also adds a female vocal counterpoint to this bewildering brew. This works best at the end of a long composition where both voices work around a theme of 'you're such a loner' and the sound coalesces into dreamy pop. Despite the meandering songs occasional crashing into outbursts of clapping, whistling, and singing in-the-round, the Bristol audience stays characteristically restrained throughout, though the band get a decent end-of-set send off. The dense, busy songs here tonight might fare a little better with considered listening on record. Antibang worked best this evening when their songs wound up into thudding, brassy confused endings. Otherwise I found Antibang a deliberately odd and occasionally uncomfortably contrived proposition. Perhaps I'm just a little bit too jaded tonight for this ranty, agit-jazz thing? Silver lycra and messianic drummer-vocalists aside, I sense there might be complicated and interesting music buried under the gimmicks and the overplayed wackiness.
Given my policy of generally not writing about things I don't completely enjoy, I've struggled with describing my experience of the previous act, and also more surprisingly with watching We Were Evergreen play tonight. On paper at least, they ought to appeal to me but I'll start with the obvious - this band is perfect. Uncomfortably, irritatingly and mind-numbingly so. The three faultlessly pretty people which form We Were Evergreen take to the stage and with an air of studied geek chic, to produce shiny, clean folk-pop which I have to confess the audience in The Fleece appears to adore. The sounds hinges on the electronic backdrops provided by Fabienne who hunches over her kit for long enough to get things going before joining in the twee dancing on stage. Singer and ukelele player Michael croons and strums between his own outbursts of joyful jigging, and it all fits seamlessly together. When they aim for Beatles-like harmonies, they land perfectly. When they add a little hint of europop fizz, it bubbles through the audience just how they wanted it to. The songs begin to blur into one for me mid-set, and I realise that this music has no edges - no peaks and dips to give me a journey to travel with the band, no surprises or twists to make me sit up and listen. Its a long, slick stream of beautifully designed but ultimately anodyne pop. There are elements here which, taken alone are fun and interesting - some of the cheesy beats which underlie the songs are infectious and I spy a little dancing at the front, and occasionally when they harmonise it makes for a pleasantly folky sound. I pick up hints of Even As We Speak but not their knack for writing engaging lyrics sadly. Ultimately I feel like I'm being conned here, and I can't quite put my finger on why. I also feel like I'm being hugely unfair, like I'm kicking a puppy which was only trying to make me happy. But this just wasn't for me. Live music is about the clicks and buzzes, spilled drinks, broken strings and false starts. It loses it's soul when it's this unblemished. We Were Evergreen are talented souls I'm certain, but I feel like they need to have their hearts broken before they'll ever truly reach mine.
I've written a great deal about Slow Club before, and I wondered how I'd add anything to my previous feverish declarations of love for the band's music. But one of the most engaging and endearing things about Charles and Rebecca's take on things is that sometimes it appears to all stumble together quite accidentally, and anything could happen on the way. Augmented tonight by their now practically full-time band comprised of Avvon and Stephen of Sweet Baboo, they take the stage with Rebecca arriving last to a huge reception. It's around now that I realise that Slow Club are reaching a much wider audience, and a glance around the now much increased all-ages audience shows a truly bewildering range of punters. It's here that as someone writing about music I should probably get sniffily elitist and suggest that these people weren't there at all the best gigs. But it genuinely never feels like that with this band - it's just really inspiring to see people listening and loving the music, and I want everyone to see why I bang relentlessly on about them. The band are also in that strange position where they are touring between releases. With last year's "Paradise" figuring heavily in the set, there are also several new songs which will form an as yet unrecorded EP. These songs are a little darker, a little slower perhaps, and interestingly Rebecca's voice is remoulded again when she sings them - switching character to become a wounded, country heroine this time around. Despite her professed "funny tummy" she is completely on form tonight - her voice reaching wonderful high notes and gravelly lows, and her between song jibes at ever-suffering Charles as barbed and witty as ever. It's really encouraging to hear these new songs get a boisterous reception from the audience alongside older material.
The highlight of the set is a truly beguiling "Hackney Marsh" where Rebecca and Charles come forward from their microphones and let their unamplified voices fill the room. The Fleece can be a pretty noisy space at the best of times, but there is pin-drop silence as they strip the song back to its roots. Even a false start and a fit of giggles can't break the spell, and neither the band nor the rapt audience are quite ready for what happens next. As the song moves into the section which is normally adorned on record by a saxophone solo, a bit of a clatter behind us signals Stephen Black clambering onto the bar and blasting out that solo as he crabwalks his way unsteadily towards the stage with a strange echo of Lisa in the opening credits of The Simpsons. Watching the surprise and delight in the room - in the audience, in the normally stoic Fleece bar staff, and up on stage - I realise it's one of those moments that you know you're going to talk about for years, and that you'll never quite do justice to in your description. With audience now hanging on every note, the set closes with "Giving Up On Love" delivered in riotous, triumphant style by the whole band again. Sometimes Bristol gigs feel a bit like a battle of wits, with the band determined to win over an audience who are doing their utmost to repel all boarders. Tonight, Slow Club had won from the moment they struck the first note, and what started as a fairly inauspicious night turned into perhaps my favourite show of the year so far.

Posted in SHOFT on Wednesday 2nd May 2012 at 7:05am
---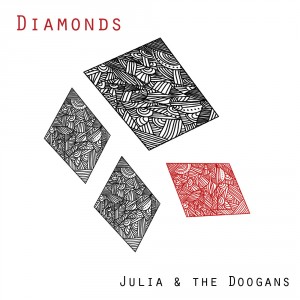 Winding the clock back a couple of years, I found myself waking up to the musical possibilities of the internet. Having spent a few years feeling pretty pessimistic about music I was getting excited again about new things and realising how foolishly pompous it was to assume that because I'd stopped listening, new things had stopped happening. Around this time I began to reinvestigate what was on the horizon in Glasgow, somewhere my own formative music steps had taken place and where I've always found something interesting going on. Largely immune to being swept along by 'scenes', there has always been a eclectic mix of new music in the city, spurred on by the almost over-abundance of venues. On the very first edition of the Glasgow PodcArt which I tentatively downloaded was a song by Julia and The Doogans - and from that moment on I was hooked by that remarkable voice and those simple, direct songs. But in those early, naieve days I had no context and what I hadn't appreciated is just how close to the grass roots I was flying here. With one, completely sold out EP under her belt, Julia was doing everything herself and working damn hard at it. And for the last two years, those of us who want to hear more have had to seek out Julia's performances or await the next in a steady flow of demos for new songs. A new release has always seemed impossibly far away in fact.
That is until now. This five-track EP is again completely self-released but as ever in the Doogan camp, it has been done professionally and with attention to detail. While there is charm and honesty in those home made sleeves which I treasure so much and endlessly bang on about, there is something pretty inspiring about seeing an artist striving for professionalism like this too. The EP begins with a with a slightly menacing melody picked on the guitar which becomes "Diamonds" - a surprisingly dark song which has featured in Julia's live set for a while now, dealing with fear - and more specifically the fear of loss. In her wonderfully dexterous voice Julia spins a tale of submission and redemption. The addition of a delightfully mournful cello and piano gives the track a curiously cinematic quality. "Those Things" is somewhat more upbeat, Renata Pilikinait?'s cello here altering its personality entirely to provide drive and momentum alongside the shuffle of drums. I've heard Julia referred to before as a 'folk singer' but she has always been insistent that she sings pop songs. This piece supports her assertion completely, with Julia's ear for a well-constructed pop tune deployed faultlessly to provide memorably sweeping choruses and an impeccable, addictive vocal melody. I've tried to describe Julia's voice previously to no avail, and I'll probably fail again here. The key is its range and agility, and the ability to switch between a folky rustic delivery and these swooning pop chorus. Never far from her Glasgow roots, the intonation doesn't adopt that weird transatlantic drawl so beloved of singer-songwriter types - but manages to stay rooted in the Central Belt.
The last couple of years have seen numerous demos and covers sneak out of the Doogan camp, and "Answer" first surfaced as one of these, with Doogan's legendary downplaying of her abilities suggesting she'd remove the download soon because it wasn't good enough. Luckily I managed to grab it before it disappeared, and the surprise is how little needed to be done to what was already a gorgeously constructed track to turn it into the version here. Jennifer Hamilton provides a little piano embellishment and this along with a skiffly tap of drums are all there is aside from Julia's voice and guitar. The lyrics describe a promise of unending support and fidelity - surely a positive declaration, but even here there is just the hint it may not be returned in kind and that it's all in vain. There is something about this quiet, resolute delivery which invites a deliciously maudlin interpretation. With its more formal song structure and picked guitars "Bound" is likely the closest Julia's brand of songwriting comes to the contested area of folk music. Appropriately the lyrics explore commitment and entanglement, and not for the first time the song's narrator is sleeplessly pondering relationships, a theme which seems to thread through this EP. Finally, employing just the piano and cello, the closing "Down The Line" provides a space where Doogan's vocals can echo and soar unrestrained. It's delicate and almost fragile, but the strength and clarity of the voice is very apparent here. And with that echo of relationships transcending distance and a lonely glockenspiel melody picked out against the moans of the cello, Julia urges us not to worry. It's easy to be lulled into a sense of security by her voice, but the dark corners of these songs remain part of their allure.
This EP is the culmination of a tremendous amount of hard work for Julia Doogan, writing, playing live and bringing together The Doogans in their current, incredibly talented form over the past two years. At the same time it represents maturing songcraft and a developing ear for melody which has resulted in this absurdly catchy and addictive release which still manages to explore complex emotional landscapes and some pretty dark spaces within the confines of short, direct pop songs. Recurring throughout this record are themes of commitment, submission and loss which sometimes set the lyrics darkly at odds with the pretty, beautifully played tunes. It's true that there are a lot of people out there with their guitars, doing the heart-on-sleeve singer-songwriter thing in a fairly adequate way. But this is something rather special, and the approach here hinges on the quality of the musicianship and songwriting and the ability to hook you in with a deft chorus or heart-achingly neat turn of phrase. I've no doubt that this EP will sell out just like it's predecessor, and I can only urge you to get in quickly and not miss out like I did last time around. Let's not leave it two years before the next one folks!

Julia and The Doogans - Those Things
You can buy the "Diamonds EP" from Bandcamp or from Julia and The Doogans own online store where it comes bundled with all manner of other items.