Posted in SHOFT on Wednesday 2nd May 2012 at 7:05am
---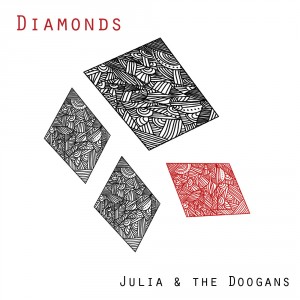 Winding the clock back a couple of years, I found myself waking up to the musical possibilities of the internet. Having spent a few years feeling pretty pessimistic about music I was getting excited again about new things and realising how foolishly pompous it was to assume that because I'd stopped listening, new things had stopped happening. Around this time I began to reinvestigate what was on the horizon in Glasgow, somewhere my own formative music steps had taken place and where I've always found something interesting going on. Largely immune to being swept along by 'scenes', there has always been a eclectic mix of new music in the city, spurred on by the almost over-abundance of venues. On the very first edition of the Glasgow PodcArt which I tentatively downloaded was a song by Julia and The Doogans - and from that moment on I was hooked by that remarkable voice and those simple, direct songs. But in those early, naieve days I had no context and what I hadn't appreciated is just how close to the grass roots I was flying here. With one, completely sold out EP under her belt, Julia was doing everything herself and working damn hard at it. And for the last two years, those of us who want to hear more have had to seek out Julia's performances or await the next in a steady flow of demos for new songs. A new release has always seemed impossibly far away in fact.
That is until now. This five-track EP is again completely self-released but as ever in the Doogan camp, it has been done professionally and with attention to detail. While there is charm and honesty in those home made sleeves which I treasure so much and endlessly bang on about, there is something pretty inspiring about seeing an artist striving for professionalism like this too. The EP begins with a with a slightly menacing melody picked on the guitar which becomes "Diamonds" - a surprisingly dark song which has featured in Julia's live set for a while now, dealing with fear - and more specifically the fear of loss. In her wonderfully dexterous voice Julia spins a tale of submission and redemption. The addition of a delightfully mournful cello and piano gives the track a curiously cinematic quality. "Those Things" is somewhat more upbeat, Renata Pilikinait?'s cello here altering its personality entirely to provide drive and momentum alongside the shuffle of drums. I've heard Julia referred to before as a 'folk singer' but she has always been insistent that she sings pop songs. This piece supports her assertion completely, with Julia's ear for a well-constructed pop tune deployed faultlessly to provide memorably sweeping choruses and an impeccable, addictive vocal melody. I've tried to describe Julia's voice previously to no avail, and I'll probably fail again here. The key is its range and agility, and the ability to switch between a folky rustic delivery and these swooning pop chorus. Never far from her Glasgow roots, the intonation doesn't adopt that weird transatlantic drawl so beloved of singer-songwriter types - but manages to stay rooted in the Central Belt.
The last couple of years have seen numerous demos and covers sneak out of the Doogan camp, and "Answer" first surfaced as one of these, with Doogan's legendary downplaying of her abilities suggesting she'd remove the download soon because it wasn't good enough. Luckily I managed to grab it before it disappeared, and the surprise is how little needed to be done to what was already a gorgeously constructed track to turn it into the version here. Jennifer Hamilton provides a little piano embellishment and this along with a skiffly tap of drums are all there is aside from Julia's voice and guitar. The lyrics describe a promise of unending support and fidelity - surely a positive declaration, but even here there is just the hint it may not be returned in kind and that it's all in vain. There is something about this quiet, resolute delivery which invites a deliciously maudlin interpretation. With its more formal song structure and picked guitars "Bound" is likely the closest Julia's brand of songwriting comes to the contested area of folk music. Appropriately the lyrics explore commitment and entanglement, and not for the first time the song's narrator is sleeplessly pondering relationships, a theme which seems to thread through this EP. Finally, employing just the piano and cello, the closing "Down The Line" provides a space where Doogan's vocals can echo and soar unrestrained. It's delicate and almost fragile, but the strength and clarity of the voice is very apparent here. And with that echo of relationships transcending distance and a lonely glockenspiel melody picked out against the moans of the cello, Julia urges us not to worry. It's easy to be lulled into a sense of security by her voice, but the dark corners of these songs remain part of their allure.
This EP is the culmination of a tremendous amount of hard work for Julia Doogan, writing, playing live and bringing together The Doogans in their current, incredibly talented form over the past two years. At the same time it represents maturing songcraft and a developing ear for melody which has resulted in this absurdly catchy and addictive release which still manages to explore complex emotional landscapes and some pretty dark spaces within the confines of short, direct pop songs. Recurring throughout this record are themes of commitment, submission and loss which sometimes set the lyrics darkly at odds with the pretty, beautifully played tunes. It's true that there are a lot of people out there with their guitars, doing the heart-on-sleeve singer-songwriter thing in a fairly adequate way. But this is something rather special, and the approach here hinges on the quality of the musicianship and songwriting and the ability to hook you in with a deft chorus or heart-achingly neat turn of phrase. I've no doubt that this EP will sell out just like it's predecessor, and I can only urge you to get in quickly and not miss out like I did last time around. Let's not leave it two years before the next one folks!

Julia and The Doogans - Those Things
You can buy the "Diamonds EP" from Bandcamp or from Julia and The Doogans own online store where it comes bundled with all manner of other items.