Posted in SHOFT on Tuesday 8th May 2012 at 11:05pm
---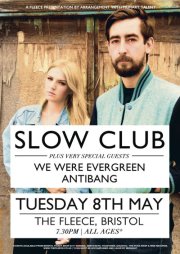 It was strange wandering around Bristol this evening on my way to The Fleece. The first day back after a Bank Holiday weekend is always a resentment-filled, depressing occasion and watching the harassed commuters stumbling along, eyes fixed down on the slick pavements didn't fill me with confidence for how this evening might pan out. Wet Tuesday evenings in Bristol aren't known for producing big audiences, and with the local crowd still coming down from the Simple Things festival at the weekend, I was worried it would be a small bunch of us turning out tonight. In the event, I needn't have worried - and this is perhaps testament to just how far tonight's headliners Slow Club have progressed in reaching new ears over the past year or so. However, once again The Fleece's odd talent for picking some incongruous support acts made for a curiously uneven evening of entertainment. Arriving late from what seems to have been a taxing journey from Leeds, Antibang appear to be taking the frustration out on the odd mixture of instruments up on the stage. They trade in a curious - and not always wholly successful - mixture of genuinely enthusiastic, raucously silly pop and deliberately off-the-wall moments of challenge. The band centres on their shouting, ranting vocalist/drummer hybrid, who gestures, moans and howls his way through the cacophony. He is supported by a second drummer, a guitarist in a cape and silver lycra leggings, and perhaps the lynch-pin of the band in the operator of their burbling, warped synthesiser sounds who also adds a female vocal counterpoint to this bewildering brew. This works best at the end of a long composition where both voices work around a theme of 'you're such a loner' and the sound coalesces into dreamy pop. Despite the meandering songs occasional crashing into outbursts of clapping, whistling, and singing in-the-round, the Bristol audience stays characteristically restrained throughout, though the band get a decent end-of-set send off. The dense, busy songs here tonight might fare a little better with considered listening on record. Antibang worked best this evening when their songs wound up into thudding, brassy confused endings. Otherwise I found Antibang a deliberately odd and occasionally uncomfortably contrived proposition. Perhaps I'm just a little bit too jaded tonight for this ranty, agit-jazz thing? Silver lycra and messianic drummer-vocalists aside, I sense there might be complicated and interesting music buried under the gimmicks and the overplayed wackiness.
Given my policy of generally not writing about things I don't completely enjoy, I've struggled with describing my experience of the previous act, and also more surprisingly with watching We Were Evergreen play tonight. On paper at least, they ought to appeal to me but I'll start with the obvious - this band is perfect. Uncomfortably, irritatingly and mind-numbingly so. The three faultlessly pretty people which form We Were Evergreen take to the stage and with an air of studied geek chic, to produce shiny, clean folk-pop which I have to confess the audience in The Fleece appears to adore. The sounds hinges on the electronic backdrops provided by Fabienne who hunches over her kit for long enough to get things going before joining in the twee dancing on stage. Singer and ukelele player Michael croons and strums between his own outbursts of joyful jigging, and it all fits seamlessly together. When they aim for Beatles-like harmonies, they land perfectly. When they add a little hint of europop fizz, it bubbles through the audience just how they wanted it to. The songs begin to blur into one for me mid-set, and I realise that this music has no edges - no peaks and dips to give me a journey to travel with the band, no surprises or twists to make me sit up and listen. Its a long, slick stream of beautifully designed but ultimately anodyne pop. There are elements here which, taken alone are fun and interesting - some of the cheesy beats which underlie the songs are infectious and I spy a little dancing at the front, and occasionally when they harmonise it makes for a pleasantly folky sound. I pick up hints of Even As We Speak but not their knack for writing engaging lyrics sadly. Ultimately I feel like I'm being conned here, and I can't quite put my finger on why. I also feel like I'm being hugely unfair, like I'm kicking a puppy which was only trying to make me happy. But this just wasn't for me. Live music is about the clicks and buzzes, spilled drinks, broken strings and false starts. It loses it's soul when it's this unblemished. We Were Evergreen are talented souls I'm certain, but I feel like they need to have their hearts broken before they'll ever truly reach mine.
I've written a great deal about Slow Club before, and I wondered how I'd add anything to my previous feverish declarations of love for the band's music. But one of the most engaging and endearing things about Charles and Rebecca's take on things is that sometimes it appears to all stumble together quite accidentally, and anything could happen on the way. Augmented tonight by their now practically full-time band comprised of Avvon and Stephen of Sweet Baboo, they take the stage with Rebecca arriving last to a huge reception. It's around now that I realise that Slow Club are reaching a much wider audience, and a glance around the now much increased all-ages audience shows a truly bewildering range of punters. It's here that as someone writing about music I should probably get sniffily elitist and suggest that these people weren't there at all the best gigs. But it genuinely never feels like that with this band - it's just really inspiring to see people listening and loving the music, and I want everyone to see why I bang relentlessly on about them. The band are also in that strange position where they are touring between releases. With last year's "Paradise" figuring heavily in the set, there are also several new songs which will form an as yet unrecorded EP. These songs are a little darker, a little slower perhaps, and interestingly Rebecca's voice is remoulded again when she sings them - switching character to become a wounded, country heroine this time around. Despite her professed "funny tummy" she is completely on form tonight - her voice reaching wonderful high notes and gravelly lows, and her between song jibes at ever-suffering Charles as barbed and witty as ever. It's really encouraging to hear these new songs get a boisterous reception from the audience alongside older material.
The highlight of the set is a truly beguiling "Hackney Marsh" where Rebecca and Charles come forward from their microphones and let their unamplified voices fill the room. The Fleece can be a pretty noisy space at the best of times, but there is pin-drop silence as they strip the song back to its roots. Even a false start and a fit of giggles can't break the spell, and neither the band nor the rapt audience are quite ready for what happens next. As the song moves into the section which is normally adorned on record by a saxophone solo, a bit of a clatter behind us signals Stephen Black clambering onto the bar and blasting out that solo as he crabwalks his way unsteadily towards the stage with a strange echo of Lisa in the opening credits of The Simpsons. Watching the surprise and delight in the room - in the audience, in the normally stoic Fleece bar staff, and up on stage - I realise it's one of those moments that you know you're going to talk about for years, and that you'll never quite do justice to in your description. With audience now hanging on every note, the set closes with "Giving Up On Love" delivered in riotous, triumphant style by the whole band again. Sometimes Bristol gigs feel a bit like a battle of wits, with the band determined to win over an audience who are doing their utmost to repel all boarders. Tonight, Slow Club had won from the moment they struck the first note, and what started as a fairly inauspicious night turned into perhaps my favourite show of the year so far.