Posted in SHOFT on Tuesday 15th May 2012 at 8:05am
---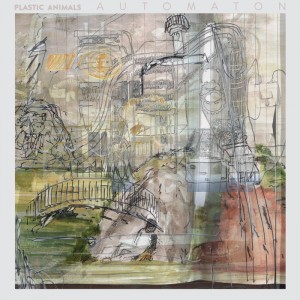 It's always tempting in a reductionist view of our complex world, to imagine there are rules - and that at some point in the past Edinburgh and Glasgow did a deal. Glasgow got the guitar bands, the downbeat Americana and the indie-pop while Edinburgh settled for the alt-folk or whatever absurd name is being applied this week - and of course that festival. Of course it didn't happen quite as cleanly as this and I suspect there was not really any Faustian pact between Provosts, but there have certainly been remarkably few good guitar bands emerging from Edinburgh in recent times. However last summer the debut EP by Plastic Animals challenged the west coast supremacy, by coupling delicate harmonies and hazy guitars in a strange collision of noise, pop and melody. I remarked at the time that it was the sort of record which harked back to a bygone age of guitar music, at the same time as sounding incredibly fresh. Well, they're back - and I'm happy to report that this second EP by Plastic Animals retains all of the texture and complexity of the first release. But there is something else here - in short, it sounds haunted. Haunted - both in the sense of the gloom which has shifted from being an undercurrent to taking a greater part in the atmosphere, and in the wash of ghostly, sometimes distant elements which make up these five, rather wonderful songs.
This five track EP opens with the distant, sparse "Yellowcraig", apparently and appropriately named for a stretch of unspoiled, windswept coastline on the Firth of Forth, and which couples the familiar nagging, hollow guitar jangle from the first EP to a distant, disembodied vocal. It's all willed back into line via a rumbling bass line which prevents everything from unravelling into the ether, and gives it an oddly sinister edge. The strangeness of the atmosphere is ramped up via weird chirps of distorted tape noise which herald a sudden but sure-footed gear change into the closing section of the song, built around a satisfyingly crunchy guitar with melodies layered over noise to spectacular effect. There is more haunting themed fun with "Ghosts" - musically more upbeat but equally hollow-eyed and strung out lyrically. Focused on a chiming guitar line and half-whispered vocals which unfurl a tale of being unable to shake off a memory. Mid-song, a shimmery, shoegazey note familiar from the first EP is added to the insistent rhythm section as guitars lines tangle and overlay to form a sonically complex mix. A down-shift in tempo heralds an utterly beautiful mess of noise and feedback which ebbs away leaving just an acoustic guitar. It's usually around this point in a review that I realise my efforts to describe music like this are largely pointless - it's just utterly lovely and you should listen to this free download at the earliest opportunity.
If there is a Plastic Animals manifesto, it's summed up by a post on their Tumblr - simply a picture of Bilinda Butcher and the word "YES". This influence is perhaps most evident on the sprawling, distorted "Sundowning". This is a hazy spectacle, sounding blissed out but bittersweet. A gorgeous drone of guitars and vocals which erupts into a sudden, earsplitting squall of noise with what sounds like an overdriven organ drone to my untrained ear, adding an oddly jaunty counterpoint to the vocals which resignedly accept "guess we'll all be dead before the summer". Unexpectedly though a tempo change propels the song into a joyous, anthemic closing section. There are various points on this EP when any sense of a repetitive formula to Plastic Animals' muse is shattered by these impeccably performed shifts of time signature, reliant on the self-assured rhythm section which underpins these hazy and sometimes seemingly chaotic bursts of energy. But the absolute highlight of the EP for me is "Pirate DVDs", kicking off as shamelessly straightforwardly sludgy garage rock with stuttering, urgent drums and distorted vocals. I'd be happy with this continuing, but it all unexpectedly gives way to sweeps of undulating surf guitar and screeds of static. There are more changes of pace and tone in a single song here than in entire albums by some bands, and it's Plastic Animals ability to perform these shifts with jawdropping suddenness but still keep the sense of a song which is one of their most remarkable skills. Whilst there are ideas aplenty here, it never ever feels like stray bits of writing bolted together. As the song winds back into life after a soporific lull its hard not to get swept along with the feedback crashing and echoing around. This track clocks in at an eventful six and a half minutes, but surprisingly commands attention all the way. Finally, the sepulchral "Slow Song" returns to the spectral theme with it's woozy, clamourous organ and distant vocals. There are hints of Grandaddy in the delivery here - and it feels achingly sad, hopeless even. But there is a note of defiance in the lyrics, and something comfortingly narcotic about the droning, fading glimmer of a tune.
There are some bands I find myself mentally willing to succeed, despite realising with some embarassment that I know relatively little about Plastic Animals beyond these two EPs. In a week when there is a huge amount of attention focused on Scottish Music and in particular the list of remarkable albums from the last year, its easy to understate the importance of the EP as a tool for a band to lay out an agenda. Across the five expansive, often lengthy tracks here Plastic Animals accomplish far more than an album's worth of ideas and sounds, once again pinning it all together via a sense of conscious design and thoughtful construction. This is despite the sense that the spiralling, dizzy sounds here are sometimes wayward, threatening to burst free and overwhelm the songs in static and noise. In the confines of a not-very-widely-read blog, it's remarkable easy to fall into the trap of trotting off comparisons and analogues for bands. However, Plastic Animals manage the trick of incorporating back-references to some of the finest elements of guitar music from the past three decades, but remaining resolutely of their own time and place.

Plastic Animals - Sundowning
The "Automaton EP" will be available on June 2nd from Bandcamp. "Ghost" is available now as a free download, and you can watch the video here. By way of launch gigs for the EP, Plastic Animals will play at Henry's Cellar Bar in Edinburgh on 3rd June and The Old Hairdressers in Glasgow on 8th June.