Posted in SHOFT on Thursday 12th July 2012 at 7:07am
---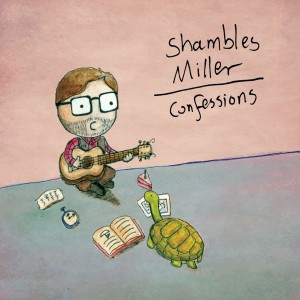 Shambles Miller retains an almost unique claim to fame here, in that he is the only artist ever to write a song with a name so long it consistently made iTunes crash. The limitations on file path lengths in older versions of Microsoft Windows aside, this is just the kind of acute observation which I'm sure would delight Miller who has a habit of turning the tiny, often mundane and minute events of everyday life into a tumble of touchingly humourous lyrics. He has maintained a slow but steady flow of releases over the past couple of years, including a pair of EPs which received a fair amount of very positive attention at the time. This, his first 'single' as such brings together a couple of more recently written songs and showcases Shambles's voice and guitar in two very different approaches to recording his songs. The skiffle-tinged shuffle of "Confessions" bursts with wry wit, David Bowie impressions and buckets of pathos. The almost impossibly catchy song is built around a rousing, sing-along chorus where Miller perhaps correctly observes "the world doesn't really need another break up song". But most songs of heartbreak aren't created quite like this, and lack the sense of self-deprecating but gentle humour which Miller manages to cram into his lyrics in every surprising couplet. I'm not going to quote huge passages of lyrics, because the surprise and delight of each line tumbling in is all part of the charm of this song. Driven by Neil Slorance's slinky double-bass playing, and with perfectly placed touches of backing vocals from Florence McDonald, there is a proper, old-fashioned and irresistible pop song at the core of this one. On "Pieces", the second track here, the instrumentation is stripped back completely leaving Shambles to deliver the song alone over an expertly picked guitar reel, uncannily sounding like a Glaswegian Billy Bragg raised on Ivor Cutler's Peel Sessions. It shares a theme with "Confessions" taking a different tack around the break-up theme, throwing in a deft W.B.Yeats reference and looking inwards for it's explanations. Shambles's vocals are laced with regret and defiance, heartfelt but never descending into schmaltz or self-pity. This is simple and direct, by the end redemptive and echoing with wisdom and experience. Despite his relatively low-key approach to self-promotion, there is much more to Shambles Miller than the average guy-and-a-guitar act. I find myself writing that a lot, but there are a bunch of musicians emanating from Glasgow - not least Randolph's Leap's Adam Ross and Beerjacket who are, along with Miller, redeeming this oft-abused art form. Coupling genuinely inventive songwriting with touches of observational comedy which shame some of the professionals in the field - and most importantly an ear for a naggingly memorable tune - Shambles's new single absolutely demands a listen.

Shambles Miller - Pieces
"Confessions" is available as a download or a physical CD release via Bandcamp. If you purchase the CD version you'll probably get a little note from Shambles along with a drawing. Mine involved a Seinfeld reference, along with a battle with an anatomically incorrect octopus. How can not want in on this kind of deal? You can also purchase Shambles's first two EPs from here for the absurdly tiny price of £1 each.
Posted in Railways on Saturday 7th July 2012 at 10:02pm
---
Despite regular gripes that there isn't much going on this summer, I have found myself with a number of fairly purposeful trips in recent times - and have a bunch of others planned. I'm not sure if this is just that opportunities I'd maybe normally have missed due to being off on a railtour have been seized or whether I'm finding ways of compensating for a working life pretty much devoid of purpose in recent times, but it's good to be able to get out, meet people and do things I'd maybe not normally choose to. That includes going to Barnsley... I'd passed through the town a number of times, but hadn't visited since April 2005, when I stopped off due to missing a connection at Meadowhall and wanting a run on a recently introduced Meridian, which then served the station. That time, I recall managing to upset a local to the point of rudeness, and still to this day didn't know quite how or why. So, today's trip promised to be an interesting reappraisal of somewhere which had left a poor impression.
The other complication was that Britain had been warned not to travel. It had rained, quite a bit in fact, and the drought of the early spring had become a deluge. The rail network had survived remarkably well - with a few common spots flooded and some landslips here and there, but mostly it was open for business. My first train was on time, and allowed welcome caffeine before the usual train to Birmingham. I'd split my ticket here to save money - but it turned out to be a blessing in some ways. The 09:03, which had originated down south and which I could have picked up at Bristol half-an-hour later, was cancelled. It had looked dubious earlier, and anyone heading north and already at the station had been ushered onto the 07:00. Conditions around Torbay were poor and services weren't getting out of the area as yet. Got my ticket stamped, had another coffee and headed for the 09:30. Oddly, found my usual seat free and despite being busy, had a fairly quiet and pleasant journey north - arriving only a few minutes later at Sheffield due to the quicker journey time on this service. A quick change onto a waiting Northern unit for Leeds, and I arrived in Barnsley only 11 minutes after I'd planned to. Typically, the friend I was meeting had some serious bus delays - so my triumph was short-lived, but this did allow an exploration of the station area. This has changed hugely since my last visit - with the large area between the town and the railway filled by a space-age, oddly Mediterranean styled building of terraces and mezzanines. It was light - the windows working like an unwelcome greenhouse in the surprising sunshine up here - and the facilities were excellent. This was not the functional, workmanlike Barnsley Interchange I recalled.
I was momentarily reminded of the rudeness from last time when I stood aside to let a buggy-pusher pass and the old folks behind me didn't agree with my chivalry. The decided I was "ignorant" but this was swiftly tempered by the jolly sparring of the couple in the excellent independent coffee shop, which reminded me of the pair who run the shop in Father Ted. Finally the bus arrived and we were out into Barnsley. The illusion created by the Interchange fell apart almost instantly, with the surrounding streets still rather drab and largely populated by closed shops and discount stores. A pedestrian walkway led through to The Civic, the main destination today. This is a rather fine Arts Centre building, spacious, including lots of different venue and exhibition spaces, and even fairly pleasant to look at. Entering via the rear, we ascended to the 28 degrees exhibition and spent a fine hour in the company of some surprising and intricate art and design work. Heading back out into the now rather warm afternoon, I had the rare pleasure of a tour of Barnsley from a near-native. This involved the markets - which rivalled most other town's efforts to be fair, and many poundshops and charity shops, one which had the unenviable accolade of being the only place I know to sell second-hand toilet seats. Finally, back to the Interchange for the journey down to Sheffield for a brief meeting.
I was surprised to find the Sheffield to Birmingham train reasonably quiet too, perhaps due to the rain - but this might be one worth using in future if it's as calm as this on a normal day. The run south was a little delayed, but very relaxing and pleasant. I'd had a fine day wandering and chatting to people - which bucked the usually rather solitary nature of these trips. I'd decided to break the trip south again at Birmingham which meant time for coffee and reflection, and the usual trains home which I rather look forward to these days. It had been an unusual day for me, but a memorable and pleasant one.

Posted in SHOFT on Friday 6th July 2012 at 9:07pm
---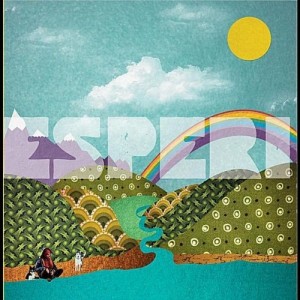 There's no doubt we live in times where it's exceptionally easy to become jaded and cynical. Not least with some aspects of the slowly crumbling music industry as it is dragged reluctantly into a world it's barely tooled-up for. Sometimes then, it's instantly clear why many artists start from an equally bleak position as they face the sometimes impenetrably huge task of getting heard widely. But then there are artists who in the face of all this seem to assume a strangely zen-like serenity whilst the rest of the sorry circus howls around them. Esperi is just such an artist. There is a small clutch of acts who share the dubious honour of having cropped up here on Songs Heard On Fast Trains on more than one occasion, and despite a general policy of trying to mention new things wherever possible this has been entirely justified in the case of Chris Marr, as he has worked through a very public process of growth and reinvention. From singer-songwriter to experimentalist, and then on to string-drenched balladeer - all that work, all that quiet dedication to his cause has paid off and can be found in his debut album "In a Moment, Emotion, Sentiment". There are some comforting, heartwarmingly familiar things here, some which will gently but insistently challenge perceptions, and finally some which will dazzle with moments of quiet and understated beauty. This is a very special record indeed...
The album opens with a wonderfully sprawling piece of music which begins with shimmering electronics and Esperi's signature toy bells, and builds through the repetition of the strange and unexplained mantra "Silo The Fire" which lends the track it's title. Just when the gentle drums and bleeps have lured you into a calm sense of security, triumphant strings erupt. It's a bold, brassy lead in to a complex and touching record. The equally expansive "Proverb" uses stabs of bright, clear strings to drive its dash from urgent, edgy verses to gently sweeping choruses. There's a point where the strings spiral gorgeously upwards and an uncharacteristically gloomy sounding Chris begins to gently work his way through a series of time-worn clichés, popping bubbles and blowing holes in their fuzzy logic as he goes: "every cloud has a silver lining/but this one's hard to see". On "Home" though, he has recovered the unashamed sense of comfort and optimism which permeates his work, and the brief, rather fragile interlude is conversely all about solidity and security. Built around his trademark toy orchestra of bells, whistles and strange devices this is short enough to possibly be overlooked as a link between tracks, but somewhere in here is the essence of Esperi and perhaps the ultimate expression of the album's title?
Following "Homer" - familiar from the recent "Melancholics Anonymous EP" - is "Lone Wolf". There is a touch of the wild west in its steel guitars and nods to country music. The vocal here is one of the most assured and solid on the album, with Chris' voice leaping dexterously around the instrumentation. The strings conspire to make the song's themes of abandonment and wilderness all the more lonely and mournful, but everything is steadfastly anchored by sonorous string bass notes. At the centre of the record are a pair of tracks "Nevertheless 1 & 2" which melt into each other, but are distinct parts of a whole. The first section is shorter and quieter - guitars twinkle through a drone of keyboards and Chris breathes memories into the microphone. The second part is a brighter, faster paced piece built on a solid foundation of bass and drums, full of spiralling guitar arpeggios and breathtaking time changes. Towards the conclusion the strings return, swooning, soaring and utterly lovely. The now ubiquitous loop pedal is deployed on "Cats and Dogs" but in fairness Esperi is one of few artists - perhaps alongside Adam Stafford - who is creatively using it as an instrument in its own right as opposed to an extraneous embellishment or an expensive gimmick. Again Chris celebrates his view of the animal kingdom here and as ever when he sees the world through the eyes of the creatures he loves, it becomes a charming, soaringly beautiful song full of lyrical twists and tricks which you just couldn't get away with through the half-open, scornful eyes of a human agent.
"Hearts" is another two part effort which initially takes a more traditional tack, but allows Marr to do what he does best - turning relationships inside out and describing their complexities in simple, heartfelt terms. His gentle, half-whispered vocals and picked guitar lines show a dexterity in his songwriting which challenges the usual 'tortured soul' approach to the genre. What promises to be a mere instrumental coda in "Hearts 2" is in fact a miniature Esperi-style symphony which hints at the more experimental side of Marr's work. This takes the central guitar theme of the first section and spins it out across a ten minute long piece of music which I'll lazily describe as a sort of acoustic post-rock anthem. Bells and glockenspiels compete with toy wind instruments, the guitar lines circle and electronics chitter and tweet. The strings return too, and the building wash of incongruous noises is suddenly allied in a final, triumphant vocal return. Despite it's length and it's strangeness, this manages to hold attention to the final note.
If you believe the hype, then all the best music arises from tension, discontent and turmoil. There's a grain of truth in that, in the sense that defiance and adversity have inspired some great art over the years. However, Esperi bucks this trend by weaving a soundtrack predominantly from simplicity, contentment and resolution. And despite the potential for this approach to a record to become over-sweetened or cloying there's certainly nothing twee about this at all. This is a record full of self-examination and personal challenge, but where the hero comes out on top for a welcome change. Full of inventively layered sounds and lyrical brilliance, "In a Motion, Emotion, Sentiment" lives up to it's curious name perfectly. It's an expression of any number of love affairs - with places and people, creatures and experiences - and it reflects the work of someone not afraid to wear his heart very much on his sleeve.

Esperi - Silo The Fire
Esperi's "In a Moment, Emotion, Sentiment" is available now as a pay-what-you-want download or a physical CD from Bandcamp. He will be appearing at Nice'N'Sleazy's in Glasgow on 23rd August with Lovers Turn To Monsters, and Cellar 35 in Aberdeen on 24th August. You can see Esperi performing "Silo The Fire", which gives an amazing insight into just how some of those sounds are created too.

Posted in SHOFT on Monday 2nd July 2012 at 7:07am
---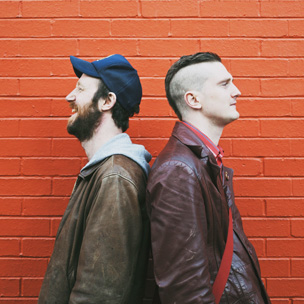 Things have been a little quiet hereabouts lately, which is no reflection on the quantity or quality of music which is around. It's more to do with the inevitable intrusions of real life and the ongoing crisis of confidence which besets me when I try to put fingers to keyboard. But then, something comes along which absolutely compels me to write - and this is just such a record. The next in a series of remarkable releases by Gerry Loves Records returns to vinyl after a dalliance with the cassette, and also preserves their approach of splitting a release across two artists. From the moment the record is unpacked that sense of something special begins, with a wonderfully understated old-school folded sleeve with photographs of each artist mounted on their respective side. I've written before about the sense of event which comes with receiving a physical release, particularly one that maybe you've anticipated for a while, and this does the job perfectly. This time around Gerry Loves have chosen to work with two solo talents who might be more familiar from their band related incarnations. Rick Redbeard is the voice behind the mesmerising and complex Phantom Band, but taking a more spartan approach here becomes the acoustic troubadour displaying a side less seen of his vocal talents. Meanwhile, Adam Stafford formerly of Y'All Is Fantasy Island is less of a stranger to releasing his own music - but he too appears to have taken a different approach to the pair of tracks featured here.
"Now We're Dancing" is a gorgeously woozy waltz, shuffling in with delicate guitars and ticking woodblocks Redbeard's voice is arresting from the outset. Redolent of an on-form Bill Callahan or Sean Byrne the delivery is carefully paced, there is a touch of familiarity from the Phantom Band but the slower pace and gentler instrumentation allows the depth, clarity and emotional gravity of his voice to be fully heard for perhaps the first time. As the song rolls along, delicate flecks of electric guitar and a wash of accordion support Rick's rich and emotive vocals. Lyrically, there is openness and simplicity in the storytelling here, laced with a wry humour and the knack of turning in a memorable chorus. The second, downloadable selection here is "All Of My Love" - a similarly paced track where Redbeard adopts a gently gloomy, electric blues which perfectly pairs with his lyrics of aging, regret and frustration. At points where his rich, deep voice echoes around the sparse corners of the song and he spins lyrics such as "I lived a lifetime of burial/before I was called to arise at your feet", there is a strangely ancient, biblical quality to things. As the slow-burning lament develops it gains funereal drums and a gnarled electric guitar line which build towards an emotionally drained, tear-stained ending.
Flipping sides, and on "Vanishing Tanks" a knot of chiming guitars accompanies Stafford's clear, clarion-call vocals and looped beatboxing, providing a remarkably full sound despite it's simplicity and sparsity in terms of instrumentation. As such it provides the bridge between the complex acapella oddness of his self-released "Awnings" project and the more accessible guitar-led songs from last year's "Build A Harbour Immediately" album. Stafford is in fine voice throughout, especially on the almost gospel-like refrain of "won't let you walk your way out of here now" which is eventually left to close the track alone as the guitars shudder to a halt. The lyrics are otherwise impenetrable and strangely intriguing, weaving a narrative of dissociation and discomfort. The download version of the single pairs this with "Russian Glass" which shudders in with a beautifully dizzy mess of new wave guitar noise and chugging bass. Again Stafford's vocal takes centre stage, reaching melodic highs and dipping to meet the hollow, reverb-drenched guitar solo which arrives. It makes for a shimmering, almost spectrally epic tone to proceedings and there's a sense the track could have continued beyond it's three minutes or so, if not constrained by the format. There is a soulful quality to both of these tracks which extends the subversion of musical styles which began on the last album, and if this pair of tracks hint at further new material, seems likely to continue.
Yet again there is a sense that Gerry Loves Records have captured a snapshot of the moment with a release which manages to be both reassuringly earthbound and edgily experimental all at once. These two artists, while plotting very different courses through the current musical landscape, seem to share a determination to do things pretty much how they want to with little sense of being like anything else happening just now. Across the four tracks here you'll find blues, gospel, spirituals and scratchy punk rock, all tumbling over each other to allow Stafford and Redbeard to express their musical ideas. Releases this packed with innovation don't come along very often, and when they do they're rarely this accessible and well-crafted.

Rick Redbeard - Now We're Dancing
The split single is available now from Gerry Loves Records and comes complete with a download code which allows you to obtain all four tracks. You can also see live videos of both Adam Stafford and Rick Redbeard's tracks.