Posted in SHOFT on Thursday 12th July 2012 at 7:07am
---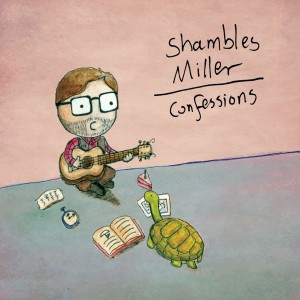 Shambles Miller retains an almost unique claim to fame here, in that he is the only artist ever to write a song with a name so long it consistently made iTunes crash. The limitations on file path lengths in older versions of Microsoft Windows aside, this is just the kind of acute observation which I'm sure would delight Miller who has a habit of turning the tiny, often mundane and minute events of everyday life into a tumble of touchingly humourous lyrics. He has maintained a slow but steady flow of releases over the past couple of years, including a pair of EPs which received a fair amount of very positive attention at the time. This, his first 'single' as such brings together a couple of more recently written songs and showcases Shambles's voice and guitar in two very different approaches to recording his songs. The skiffle-tinged shuffle of "Confessions" bursts with wry wit, David Bowie impressions and buckets of pathos. The almost impossibly catchy song is built around a rousing, sing-along chorus where Miller perhaps correctly observes "the world doesn't really need another break up song". But most songs of heartbreak aren't created quite like this, and lack the sense of self-deprecating but gentle humour which Miller manages to cram into his lyrics in every surprising couplet. I'm not going to quote huge passages of lyrics, because the surprise and delight of each line tumbling in is all part of the charm of this song. Driven by Neil Slorance's slinky double-bass playing, and with perfectly placed touches of backing vocals from Florence McDonald, there is a proper, old-fashioned and irresistible pop song at the core of this one. On "Pieces", the second track here, the instrumentation is stripped back completely leaving Shambles to deliver the song alone over an expertly picked guitar reel, uncannily sounding like a Glaswegian Billy Bragg raised on Ivor Cutler's Peel Sessions. It shares a theme with "Confessions" taking a different tack around the break-up theme, throwing in a deft W.B.Yeats reference and looking inwards for it's explanations. Shambles's vocals are laced with regret and defiance, heartfelt but never descending into schmaltz or self-pity. This is simple and direct, by the end redemptive and echoing with wisdom and experience. Despite his relatively low-key approach to self-promotion, there is much more to Shambles Miller than the average guy-and-a-guitar act. I find myself writing that a lot, but there are a bunch of musicians emanating from Glasgow - not least Randolph's Leap's Adam Ross and Beerjacket who are, along with Miller, redeeming this oft-abused art form. Coupling genuinely inventive songwriting with touches of observational comedy which shame some of the professionals in the field - and most importantly an ear for a naggingly memorable tune - Shambles's new single absolutely demands a listen.

Shambles Miller - Pieces
"Confessions" is available as a download or a physical CD release via Bandcamp. If you purchase the CD version you'll probably get a little note from Shambles along with a drawing. Mine involved a Seinfeld reference, along with a battle with an anatomically incorrect octopus. How can not want in on this kind of deal? You can also purchase Shambles's first two EPs from here for the absurdly tiny price of £1 each.
Lost::MikeGTN
I've had a home on the web for more years than I care to remember, and a few kind souls persuade me it's worth persisting with keeping it updated. This current incarnation of the site is centred around the blog posts which began back in 1999 as 'the daylog' and continued through my travels and tribulations during the following years.
I don't get out and about nearly as much these days, but I do try to record significant events and trips for posterity. You may also have arrived here by following the trail to my former music blog Songs Heard On Fast Trains. That content is preserved here too.
Navigate Lost::MikeGTN Find articles by category
Search Lost::MikeGTN
Other Places...